Fall 2021
News for Faculty and Staff
Reports of COVID-19 Decline Sharply at UGA for Second Consecutive Week
Cases down 85% over the last two weeks
For the second consecutive week, cases of COVID-19 have declined significantly at the University of Georgia, with 77 cases reported for the week of Sept. 13-19, compared to 164 cases the preceding week. The decline represents a 53% drop in cases over a one-week period and an 85% decline since the peak two weeks ago.
The University Health Center (UHC) posted the data as part of the weekly update on its website Wednesday morning. Of the 77 cases reported in DawgCheck, 51 were students, 24 were staff members and two were faculty.
UGA Delivers First $1K Vaccine Prizes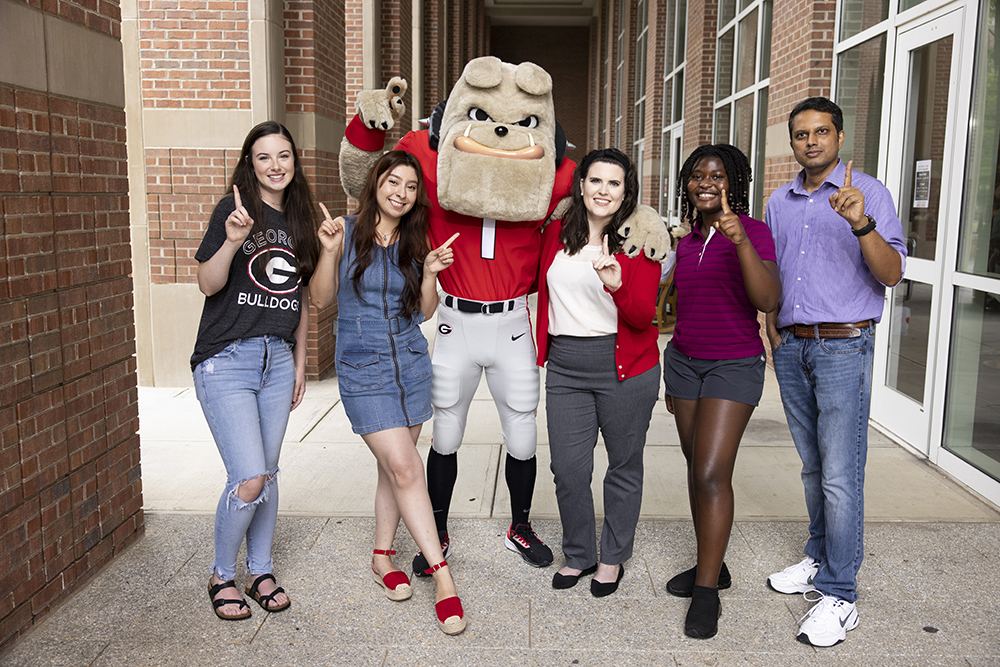 Fifty fully vaccinated members of the University of Georgia community won $1,000 last week in the first of three drawings to promote COVID-19 vaccinations on campus.
The winners, made up of UGA students, staff and faculty, were drawn from more than 21,000 entries on Sept. 15 and represent the strong commitment being taken by the UGA community to keep one another safe through vaccinations.
Get Vaccinated & Enter! 50 More Winners to be Drawn!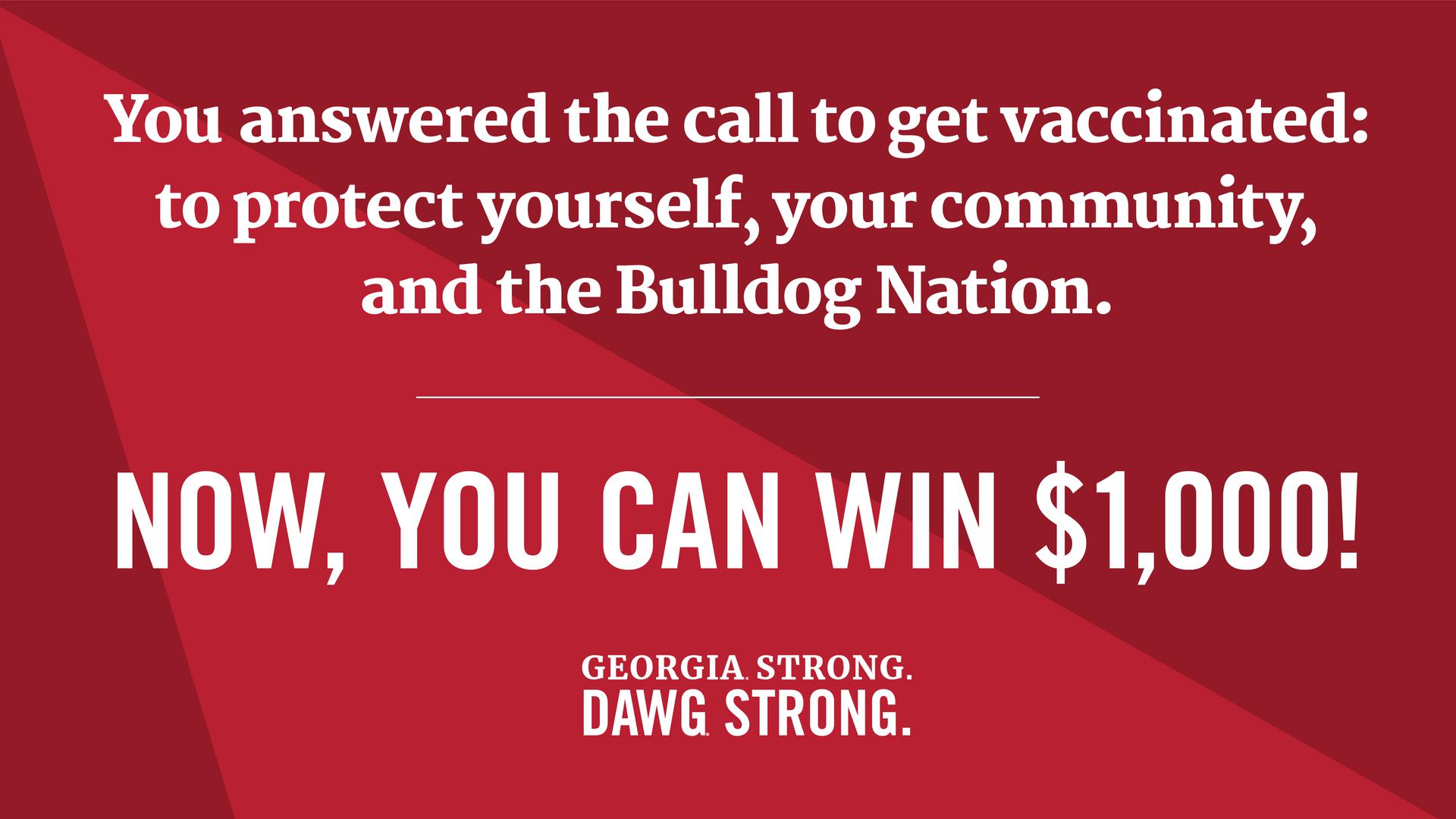 Current UGA faculty, staff and students who have received a full series of the COVID-19 vaccine—whether at the University Health Center or elsewhere—can still register to win one of 50 remaining cash prizes of $1,000. On Sept. 30 and Oct. 15, 25 additional winners will be drawn.
Not vaccinated yet? It's not too late. Individuals vaccinated in the coming weeks will be able to add their names to the pool as soon as they receive their second dose (or single dose of J&J).
Individuals who have already entered the drawing do not need to register again. Faculty and staff winners will be processed through UGA's payroll and taxed accordingly, and those at senior leadership levels (University Cabinet members and deans) will not be eligible to participate. Students will be provided the aid through their student accounts.
Getting Vaccinated On Campus
Vaccinations are available at the UHC. Click here to make an appointment. Getting your vaccine is fast, easy and at no cost to you.
Faculty, staff and students who get vaccinated at the University Health Center will receive a $20 gift card as well as a specially designed UGA T-shirt. While supplies last, options include local gift cards to Starbucks, Chick-fil-A, Rashe's Cuisine and Maepole.
Gift card and t-shirt incentives are for new vaccinations only. Share the word with friends and colleagues!
The University Health Center (UHC) continues to offer free surveillance testing for all faculty, staff and students—just as we did last year. We are open for appointments Monday through Friday from 9:00 a.m.-3:30 p.m.
The UHC can accommodate up to 800 saliva tests per day. Appointments for asymptomatic testing can be booked via the Vet View scheduling process and walk-ups are always welcome. Surveillance tests are conducted outside the UHC, separate from students who are coming inside the clinic for symptomatic testing. There is plenty of room to park, and the whole process usually takes about 5-10 minutes. Samples are processed by the Veterinary Diagnostic Laboratories, and results are provided to clients within 24-48 hours.
Based on CDC and DPH guidance, any individual, vaccinated or not, should get tested if they have had close contact with someone with COVID-19 within 3 to 5 days of that contact.
Reminders About Classroom Attendance and Supporting Students in Quarantine or Isolation
As we complete the first month of this semester, here is a reminder that instructors continue to have authority on the attendance policies and curriculum for their classes. There is no change in the guidance published at the beginning of the semester. While we have seen a significant decline in the number of students and instructors reporting positive COVID-19 tests in the last few weeks, we need to continue encouraging use of masks and other hygiene practices known to minimize the spread of COVID-19.
All instructors remain responsible for setting attendance expectations for their classes. Some classes and faculty maintain strict attendance requirements while others do not. There is no change to this policy .

Instructors are expected to accommodate students who may be required to quarantine or isolate due to COVID-19. This is not only in the best interest of the individual but also for public health. As we have done much of the last year, we should avoid creating conditions that encourage students to attend classes in-person when they should be in quarantine or isolation. Students are required to report COVID-19 positive tests on DawgCheck, and Student Care and Outreach provides them with necessary support. If you feel a student is not following this expectation, please report it to UGA COVID-19 Student Educational Response Team (CO-SERT) by sending an email to askstudentaffairs@uga.edu.

Instructors should assist students in quarantine or isolation as they would have helped students who missed classes for illness or other excused absences prior to COVID-19. With wider availability of technology in the classrooms, allowing students to attend a lecture virtually (e.g., through Zoom) is acceptable. Instructors could allow students to attend virtually in real-time ("live") or provide a recording that they could view later. Other approaches to support students with excused absence are acceptable as well.

Instructors are allowed to livestream their class to support students who need to be in quarantine or isolation. Instructors can choose to provide virtual attendance options to any student who needs to be in quarantine/isolation, or who otherwise meets the excused absence for that particular class.

Instructors who need to quarantine or isolate due to COVID-19 are allowed to teach remotely for the duration of their quarantine/isolation period, if their health permits them to do so. If you need to quarantine or isolate, please contact your Dean's office to seek permission for this temporary change in instructional format. All employees are required to report positive tests through DawgCheck.
Self-assessment Infographics
COVID-19 self-assessment infographics are available for download on the DawgCheck site. These have been approved by the Medical Oversight Task Force and reflect the most recent recommendations set forth by the CDC and DPH. We strongly encourage units to refer to these and not develop additional assessment tools, as recommendations are subject to change.
Celebrate the Launch of Mary Frances Early's Autobiography
The Mary Frances Early College of Education and the University of Georgia Libraries invite the community to celebrate the launch of Mary Frances Early's autobiography, The Quiet Trailblazer: My Journey as the First Black Graduate of the University of Georgia.
Early will participate in a virtual book discussion, in conversation with UGA Women's Basketball Coach Joni Taylor, at 2 p.m. on Tuesday, Sept. 28. Visit the registration page to sign up for the livestream event, which is part of the UGA Signature Lecture Series and is co-sponsored by the Office of the President and the Office of Alumni Relations.

Members of the UGA community, including faculty, staff, and alumni, are invited to purchase The Quiet Trailblazer, published by the Mary Frances Early College of Education and the UGA Libraries and distributed by the UGA Press. Use the code 08TRBLAZ21 by Oct. 15 to receive a 40% discount on the book and free shipping.