Reports of COVID-19 Drop at UGA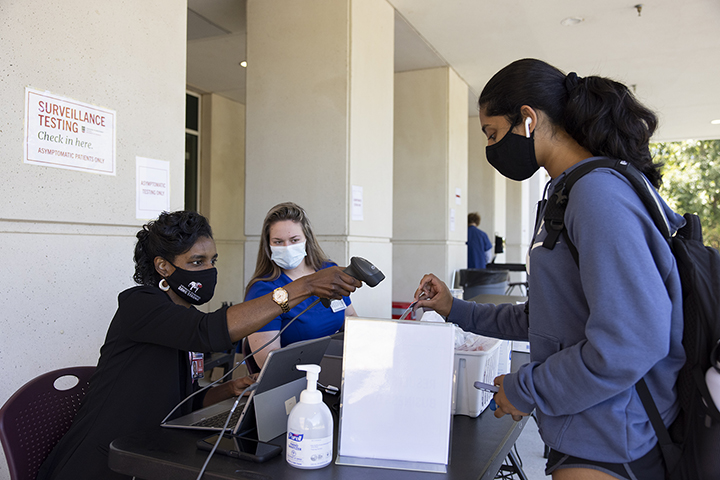 Reported cases of COVID-19 at the University of Georgia hit a new semester low as the university continues offering free vaccines and even more opportunities for testing ahead of the upcoming Fall Break. A total of 27 cases were reported for the week of Oct. 18-24, a 21% decrease from the previous week and 95% decrease from the peak of cases reported around Labor Day. The decline in cases reported on campus mirrors trends in the local community and across the state of Georgia.
The University Health Center posted the data as part of the weekly update on its website Wednesday morning. Of the 27 cases reported in DawgCheck, 20 were students and seven were staff members. No faculty members reported positive cases.
The positivity rate for UGA's surveillance testing also remained low, with five of 628 asymptomatic individuals testing positive, for a rate of 0.796%. The UHC can test up to 800 individuals a day, and this service is offered free to the campus community.
Federal COVID-19 Requirements for University of Georgia Covered Employees
Pursuant with Executive Order 14042 and COVID-19 guidance from the Safer Federal Workforce Task Force, all covered employees of federal contractors, including the University of Georgia, must be fully vaccinated by December 8, 2021. This includes any University employees (including part-time employees and student employees), who work on or in connection with a federal contract or who work in a covered contractor workplace, as those terms are broadly defined by the federal government.
Covered employees who are not currently fully vaccinated must, with few exceptions, be fully vaccinated by December 8, 2021. The new requirement defines "fully vaccinated" as being two weeks after the dose of the last vaccine. For a two-dose regimen, this means the second dose must be received by November 24, 2021 (the Wednesday before Thanksgiving) in order to comply.
Those receiving the Moderna vaccine must have received their first dose by Wednesday, October 27.
Those receiving the Pfizer vaccine must receive their first dose by Wednesday, November 3.
The Johnson & Johnson vaccine consists of a single dose. Therefore, those opting for the J&J vaccine have until Wednesday, November 24 to be vaccinated.
Click here to schedule a free COVID-19 vaccination appointment at the University Heath Center.
The Task Force's guidance also requires all employees and visitors to covered contractor workplaces to comply with current CDC guidance regarding mask wearing and physical distancing.
Initially, in the classroom setting, we will be asking that faculty and students distance to the extent practicable, though we understand that this may not be feasible in many classes.
Additional detail regarding the applicable CDC guidelines given our current level of community transmission will be shared in the coming days through updated signage at entrances to University facilities and other means. This guidance may change over time based on community transmission levels.
Pop-up Surveillance Testing
Free asymptomatic-only saliva testing is available for all UGA community members on Oct. 28 from 11 a.m. - 3 p.m. on the Tate Student Center West Lawn.
No appointment necessary. Please bring your UGA ID. Do not eat, drink, chew gum or smoke for 30 minutes before your test.
The University Health Center (UHC) also continues to offer free surveillance testing for all faculty, staff and students. The UHC is open for appointments Monday through Friday from 9:00 a.m.-3:30 p.m.
Based on CDC and DPH guidance, any individual, vaccinated or not, should get tested if they have had close contact with someone with COVID-19 within 3 to 5 days of that contact.
Availability of COVID Booster Vaccines Expanded at UHC
On October 20, 2021, the U.S. Food and Drug Administration further amended its emergency use authorization for COVID-19 vaccines. UGA faculty, staff, students, retirees, and dependents (18 and over) who have received a complete vaccine series (2 doses of Pfizer or Moderna more than 6 months ago or a single dose of Janssen completed more than 2 months ago) and who meet eligibility requirements outlined by the Georgia Department of Public Health and the Centers for Disease Control, may schedule appointments at the University Health Center to receive a booster shot. Appointments may be scheduled at patientportal.uhs.uga.edu. Individuals should bring their original vaccine card to the appointment. Vaccination status will be verified on-site.
Boosters are recommended to prolong protective immunity against the COVID-19 virus because experts are beginning to see reduced protection against mild and moderate COVID-19 disease in certain individuals.
Students may make an appointment with their assigned Medical Clinic or with the Allergy/Travel Clinic Tuesday through Friday, 8:30-11:30 a.m. and 1-4 p.m.
Faculty and staff may schedule an appointment with the Allergy/Travel Clinic at 706-542-5575. Insurance will be filed ($50 cash-pay option if uninsured; $65 for high-dose for faculty/staff and retired faculty over 65; Kaiser participants should check with their plan).

Flu shots are also available without appointment in the UHC Pharmacy Monday to Friday from 8 a.m.-5 p.m. If you do not have insurance, payment can be made by cash, check, or card at the cashier's desk following the flu shot. Students may pay online.
Can You Get the COVID-19 and Flu Vaccine at the Same Time?
Yes. If a patient is eligible, both influenza and COVID-19 vaccines can be administered at the same visit. If a patient is due for both vaccines, providers are encouraged to offer both vaccines at the same visit.
More Ways to Prevent Flu and Colds this Season
As flu and cold season approaches, remember these tips in addition to vaccination to reduce the spread of germs.
Avoid close contact with people who are sick. If you are sick, limit contact with others as much as possible to keep from infecting them.

Cover your nose and mouth with a tissue when you cough or sneeze. Throw the tissue in the trash after you use it.

Wash your hands often with soap and water. If soap and water are not available, use an alcohol-based hand rub.

Avoid touching your eyes, nose, and mouth. Germs spread this way.

Clean and disinfect surfaces and objects that may be contaminated with viruses that cause flu.