Reports of COVID-19 Remain at Low Levels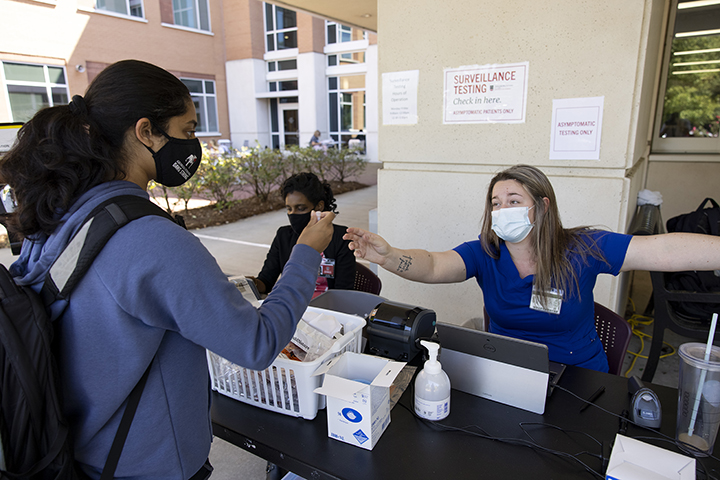 As the University of Georgia begins the second half of the fall semester, cases of COVID-19 remain at low levels. Thirty-four cases were reported for the week of Oct. 11-17, a slight increase from the previous week, but still a 93% decrease from the peak of cases reported around Labor Day. Cases continue to decline in the local community and across the state of Georgia.
The University Health Center (UHC) posted the data as part of the weekly update on its website Wednesday morning. Of the 34 cases reported in DawgCheck, 22 were students, 10 were staff members and two were faculty.
The positivity rate for UGA's surveillance testing also remained low, with eight of 630 asymptomatic individuals testing positive, for a rate of 1.270%.
COVID-19 Vaccines & Boosters
Vaccinations are available at the UHC. Click here to make an appointment. Getting your vaccine is fast, easy and at no cost to you.
UGA faculty, staff, students, retirees and dependents (18 and over) who have received the Pfizer vaccine series (2 doses completed more than six months ago) and who meet eligibility requirements outlined by the Georgia Department of Public Health and the Centers for Disease Control may also schedule appointments to receive the Pfizer COVID-19 booster shot. Appointments may be scheduled at patient portal.uhs.uga.edu. Individuals should bring their original vaccine card to the appointment. Those who have received the Moderna or Johnson & Johnson (Janssen) vaccines are not eligible to receive a Pfizer booster dose at this time, per CDC guidance. Vaccination status will be verified on-site.
Based on the FDA's authorization and CDC recommendations, the following groups are eligible to schedule appointments for the Pfizer COVID-19 booster dose if it has been at least 6 months since the completion of the primary Pfizer series:
People 65 years and older;

people aged 50-64 years with underlying medical conditions;
people aged 18-49 years with underlying medical conditions, based on their individual benefits and risks; and

people aged 18-64 years who are at increased risk for COVID-19 exposure and transmission because of occupational or institutional setting, based on their individual benefits and risks.

Boosters are recommended to prolong protective immunity against the COVID-19 virus because experts are beginning to see in certain individuals, reduced protection against mild and moderate COVID-19 disease.
The University Health Center (UHC) continues to offer free surveillance testing for all faculty, staff and students—just as we did last year. We are open for appointments Monday through Friday from 9:00 a.m.-3:30 p.m.
The UHC can accommodate up to 800 saliva tests per day. Appointments for asymptomatic testing can be booked via the Vet View scheduling process and walk-ups are always welcome. Surveillance tests are conducted outside the UHC, separate from students who are coming inside the clinic for symptomatic testing. There is plenty of room to park, and the whole process usually takes about 5-10 minutes. Samples are processed by the Veterinary Diagnostic Laboratories, and results are provided to clients within 24-48 hours.
Based on CDC and DPH guidance, any individual, vaccinated or not, should get tested if they have had close contact with someone with COVID-19 within 3 to 5 days of that contact.
Face Coverings Required on Buses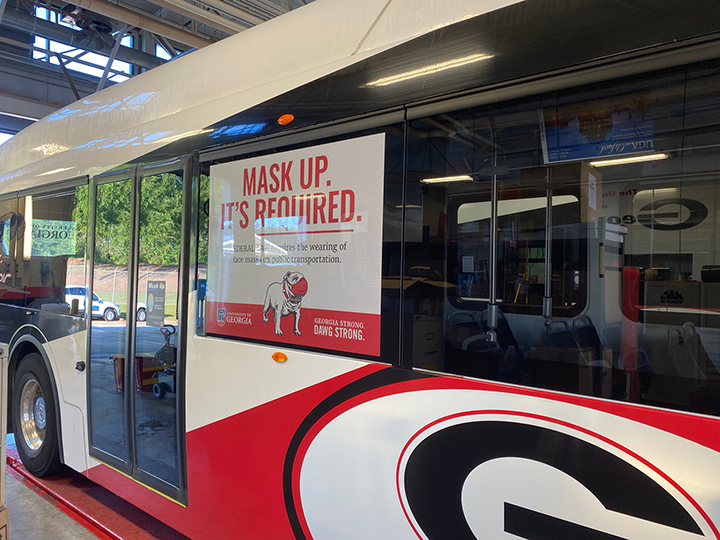 Regulations from the Transportation Security Administration require passengers to wear face masks on UGA buses, except for children under two and persons with certain disabilities. Disposable face masks are available on UGA buses for any riders who do not have a mask. If you do not want to wear a mask, please take advantage of the extra five minutes added to the period between classes, and walk to class or ride a bicycle.
Network Maintenance October 23
EITS will conduct a network maintenance that will result in complete outages of campus Internet access and campus information systems on Saturday, October 23, 2021 from 6:00 a.m. until 11:59 p.m.