Sharing the latest alumni news to help you stay connected - virtually!
HANKE APPOINTED MANAGING DIRECTOR AT EUROPA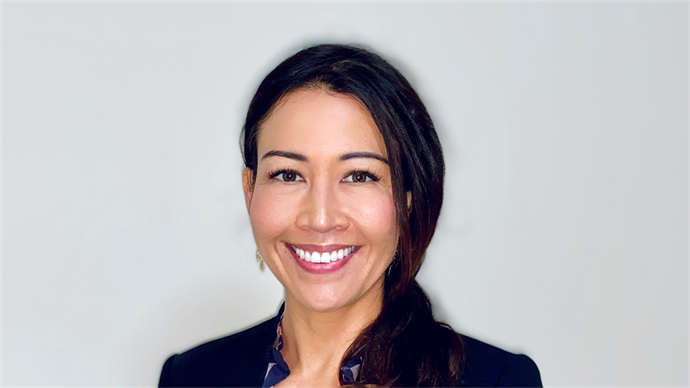 Double Dawg Rachel Hanke, BBA, '02, MAcc '02, has joined London-based Europa Capital's asset management team as Managing Director, bringing with her nearly two decades of experience in real estate portfolio and asset management.
Rob Sim, Managing Partner at Europa Capital, commented: "Rachel is an experienced portfolio and asset manager, and is an excellent addition to our team as we continue to generate growth from our value add investments. Rachel's appointment not only strengthens our senior management team but also contributes additional expertise in ESG, which is an important focus for the business overall as we continue to deliver attractive returns for our clients."
Europa Capital is a dedicated real estate investment manager focused on the European markets that specializes in investment through both equity and debt strategies to maximize value in all property classes across Europe. Full press release is available on the Europa Capital website.
CALENDLY CEO RECOGNIZED ON FORBES BILLIONAIRE LIST
UGA Leonard Leadership Scholars Faez Juneja, left, and Chris Smith talk with Calendly founder Tope Awotona, far right, before his Terry Leadership Speaker Series lecture on April 11.
Terry College students had the pleasure of hearing from Tope Awotona, BBA '02, founder and CEO of Calendly, during the recent Institute for Leadership Advancement Speaker Series. Awotona shared his personal journey of overcoming failures and obstacles as a young entrepreneur and his resiliency which is a testimony to his prosperous career. Awotona, a former management information systems major, started his career as a door to door salesman. "I learned a lot from selling alarm systems," he told students. "I learned a lot about rejection because there is no more humbling job than knocking on people's doors and having them tell you no." His ability to persevere has certainly paid off with a spot on Forbes latest World's Billionaires List. Calendly continues to prove its relevancy with the increasing demand for efficiency and convenience among business professionals. The program allows users to quickly schedule meetings utilizing their calendar information, across various platforms, a need that is clearly here to stay.
Visit the Terry News website to read more about Tope Awotona's recent visit to campus.
| | | |
| --- | --- | --- |
| | | Will Keyes, BBA '10, BS '10, MA '10, JD '13 |
TERRY COLLEGE RECOGNIZES DISTINGUISHED ALUMNI AWARD WINNERS
Each year, the Terry College of Business honors three exceptional alumni for their significant achievements to the business world and their community. On Saturday, April 30, the 2022 honorees will be recognized at the annual Alumni Awards and Gala. This year's Distinguished Alumni Award recipients are Cecil Cooke, BBA '75 and Bonney Shuman, BBA '80. Cecil is a retired executive with a distinguished career in the risk and insurance industry. He now serves as an adjunct professor in Terry's Risk Management and Insurance Program, the same program he earned a degree in while at UGA. Cooke served on the Terry College Alumni Board from 2010-2016, serving as the board chair in 2014, and currently remains an Emeritus member. He is also serves on Terry's Risk Management & Insurance Program Advisory Board and the Clarke County Mentor Program.
Bonney Shuman co-founded Bar Code Systems in 1983, which later became Stratix Corp. She served as president and chief executive officer until she sold the company in 2011. Shuman serves as a trustee of the UGA Foundation (serving as treasurer and finance chair) and is past president of the University of Georgia Alumni Association. She is on the executive committee of the Communities of Coastal Georgia Foundation and is treasurer of Christ Church, Frederica.
Will Keyes, BBA '10, BS '10, MA '10, JD '13 will receive the Outstanding Young Alumni Award. He is an Assistant United States Attorney, a federal prosecutor, for the Middle District of Georgia headquartered in Macon. Keyes also serves as an International Law Officer in the U.S. Army's Civil Affairs and Psychological Operations Command, a geopolitical mission to help other countries in their law-and-order practices. Following his time at UGA, where he earned four degrees (undergraduate degrees in economics and statistics, a master's in economics, and a law degree), he worked as an associate for Campbell & Brannon LLC before joining the U.S. Army. He was awarded the Joint Service Commendation Medal and Army Commendation Medal.
To learn more about this year's honorees, please the Alumni Awards and Gala page on our website.
BRIGHTWELL JOINS BUILDERS BOARD OF DIRECTORS
The Board of Directors of Builders, a commercial insurance leader rated "A" (Excellent) by A.M. Best, recently added two new Board members: Laura Brightwell, BBA '89, Coca-Cola Enterprises Corporate Officer Emeritus and Vice Chair of University of Georgia Terry College of Business Dean's Advisory Board; and Lauren Kirkley, current Group President of Vericast, former Harland Clarke COO.

"As Builders continues to evolve, we are committed to regularly evaluating our Board's composition to ensure we have the right mix of skills and experience to advance our goals and reflect the diverse views of Builders' policyholders and network of independent insurance agents," said Allen Richardson, Builders' Board Chairman. "I'm pleased that Ms. Brightwell and Ms. Kirkley will lead the next chapter of our work as we celebrate our 30-year anniversary in 2022. They have both demonstrated exceptional achievements in their careers, and we're looking forward to their Board leadership."

Brightwell is a respected Environment Social Governance (ESG) professional. With over 25 years corporate strategy, supply chain, public affairs, and reputation management experience, she has made significant contributions to the Terry College community including her long-standing involvement with the Terry Women's Initiative and service on the Alumni Board. Full press release available through Business Wire.
UGA ALUM BRINGS TECHNOLOGY TO HEALTHCARE STAFFING

Will Patterson, BBA '05, created the CareRev app after noticing a gap in the healthcare industry. As a registered nurse, Patterson recognized that staffing ICUs on a fixed schedule could create issues when demand for care spiked. He was also in search of flexible job opportunities that would allow him to take on an extra shift to help him pay down his student debt, but most per-diem nursing jobs required a larger commitment.

The CareRev app seeks to reduce friction on both sides by directly connecting healthcare facilities to per diem healthcare professionals. This helps the healthcare system tackle swings in demand and gives nurses greater flexibility in what or how many shifts they pick up. Patterson says that starting his business "hasn't been easy" but he keeps working on CareRev because he sees "a better future for healthcare professionals." You can learn more about Will's entrepreneurial journey here.
INAUGURAL SYMPOSIUM BOASTS STELLAR ALUMNI LINEUP
Terry College was pleased to host the inaugural Georgia MBA Alumni Symposium on March 25. This event allowed MBA alumni the opportunity to participate in a professional development conference to continue their passion for lifelong learning. Attendees enjoyed hearing from established industry leaders including keynote speaker, Dan Amos, Chairman and CEO for Aflac, Inc. Amos shared guidance from his professional journey that have allowed him to continuously be recognized for his exceptional leadership, "If you take care of your employees, your employees will take care of your business".
Following his presentation, attendees participated in a workshop led by Dr. William Faulkner, MEd '88, PhD '97, Associate Director for Executive MBA Career and Leadership. The presentation challenged the audience to discover their purpose through introspection and discovering their "why". Sentiments he shared from his recently published book, Clarity!: Strategies for Achieving Personal and Organizational Focus.

Faculty members provided an insightful panel discussion of their perspectives for the future of the business world and what to expect from the increasing use of automation and evolving changes in public policy and human capital. The panel was led by adjunct professor and Vice President of Audit Services for Cox Enterprises, Patrick Waite, featuring panelists, Dr. Santanu Chatterjee , Associate Dean For Diversity, International And Master's Programs and Director, Full-Time MBA & MS Business Analytics Programs; Dr. Laura Phillips Sawyer, Associate Professor, UGA School of Law; and Dr. Richard (Rick) Watson, Regents Professor, Department of Management Information Systems, all of whom teach in the MBA programs.
Participants then broke out into groups to learn about desired topics of interest from established faculty presenters. Dr. Don Addison, Institute for Leadership Advancement and Dr. Troy Montgomery, MBA '09, Department of Management, spoke about "Leading Change" which covered practical tools and best practices for effectively managing change, similar to the course they teach through Executive Education . Susan Brown, MBA '20, Director of Executive and Professional MBA Programs and faculty instructor, led an Immersion Session titled "Workplace Inclusion". Utilizing her experience leading cross-functional teams, Brown provided key takeaways for professionals in human resource and operations management position. Dr. Chris Cornwell, Economics Department Head, offered a third session, "Sustainability", in which he discussed the importance of corporate sustainability and the increasing adaptation of ESG regulations among the business community.
The program concluded with an appropriate send-off from fellow alum, Rodney Bullard, MBA '12, Vice President of Corporate Social Responsibility for Chick-fil-A, Inc. and Executive Director of the Chick-Fil-A Foundation. He started his presentation with a fun reveal holding his National Championship hat, his first time back on campus since the monumental win. Bullard encouraged the audience to hone in on the "S" in ESG by making an effort to create positive influence within their reach. "I believe that if you all take care of the people in your three feet radius and I take care of the people in my three feet radius, together we can change the world".
Stay tuned for announcements regarding the return of this annual event.
ALUM OF THE DAY SHEDS LIGHT INTO A DAY IN THE LIFE OF TERRY ALUMNI
Alum of the Day features alumni who share about their career, company, activities they enjoy in their downtime, favorite Georgia memories, and how they choose to give back to their community. In addition to highlighting successful alumni, a goal of the series is to show current Terry students the types of career opportunities that exist and give them great contacts in their industry. Students are encouraged to reach out to each Alum of the Day via TerryConnect to build their network.
Be sure to check out @terryalumni on Facebook and Instagram each Tuesday to see which alum is next! You can also click through our Instagram highlights to revisit previous Alum of the Day features.
2022 STUDENT OF THE YEAR - EMMA BIANCHERI
The Terry College Student of the Year Award was established by Emeritus Members of the Alumni Board to honor a current senior who best exemplifies Terry College ideals and demonstrates the skills and commitment required to succeed in college, business and life.


This year's winner, Emma Biancheri, was announced at the annual Terry College Honor's Day ceremony on April 20 at the UGA Chapel. Emma is studying Finance, International Business, and MIS. She is Vice President of the Corsair Society, Co-President of the Kennedy Society, Co-President of Women in Finance, and part of the Student Managed Investment Fund and the Terry's Women's Initiative where she was selected to be a Sea Island Scholar.

She has interned with Citi and Raymond James and participated in summits, boot camps and forums with Evercore, Credit Suisse, Bank of America and PNC Financial Services. Upon graduation, Emma will move to New York to work full time with Citi.

According to Emma, "For every positive impact Terry has had on me, I hope I have lifted someone else in return, encouraging them to achieve more and making a difference in the entire Terry community as a result."
Five finalists were selected based on academics, financial responsibility, and community and campus leadership. This year's honorees are Skylar Aledia, Sabina Ashurova, Owen Condon, and Lauren Ford.
BUSINESS LEARNING COMMUNITY - A STORY OF MENTOR SUCCESS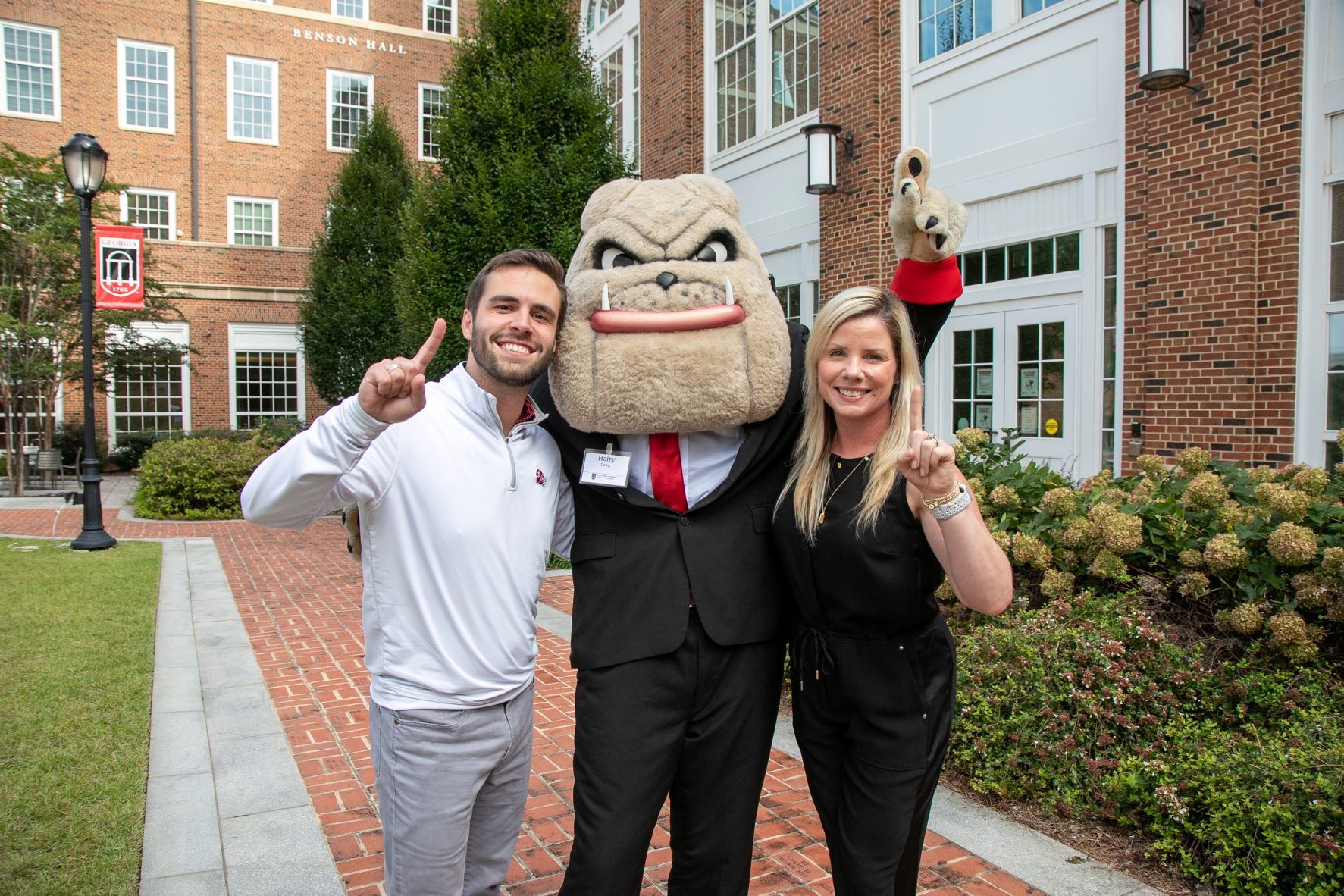 With collaboration and mentorship being key components of the Terry College of Business, we are excited to showcase the generosity of Danette Beck (BBA '94) and Brian Olsen (BBA '17). Originally linked through the Terry College mentor program during Brian's undergrad, Danette and Brian developed a strong relationship through their mutual interest in the risk management and insurance field. Danette and Brian continued to stay in touch after Brian's graduation even though Danette resides in New York and Brian in Atlanta.
With Danette serving on the Alumni Board and Brian serving on the Young Alumni Board, they have managed to stay connected and get together when they return to Athens for meetings. To recognize the valuable impact that their mentorship relationship has had for them both, Brian suggested they collaborate again by naming an alcove together in Sanford and Barbara Orkin Hall. The co-named alcove is a fitting reminder of the importance of connections and a testament to the mentorship relationship that Danette and Brian have grown over the last six years. Thank you, Danette and Brian, for your support of the Terry College of Business!
The 2022 Terry College Alumni Awards & Gala Virtual Auction is LIVE and ready for bidding! Proceeds from this year's event will benefit the Terry College Veterans Student Support Fund that aims to ease financial burdens for veterans enrolled in our undergraduate and graduate programs.
We encourage you to browse our unique selection of items and to bid often! Please note that the auction will close promptly at 9:15 pm EST on Saturday, April 30. Thank you for your support.
Terry Third Thursday is a breakfast speaker series for the Atlanta business community that features influential speakers, as well as special guests from the University of Georgia, who bring local and global perspectives on business and innovation. Join us Thursday, May 19 to hear from Ron Domanico, Executive Vice President and CFO at Brink's.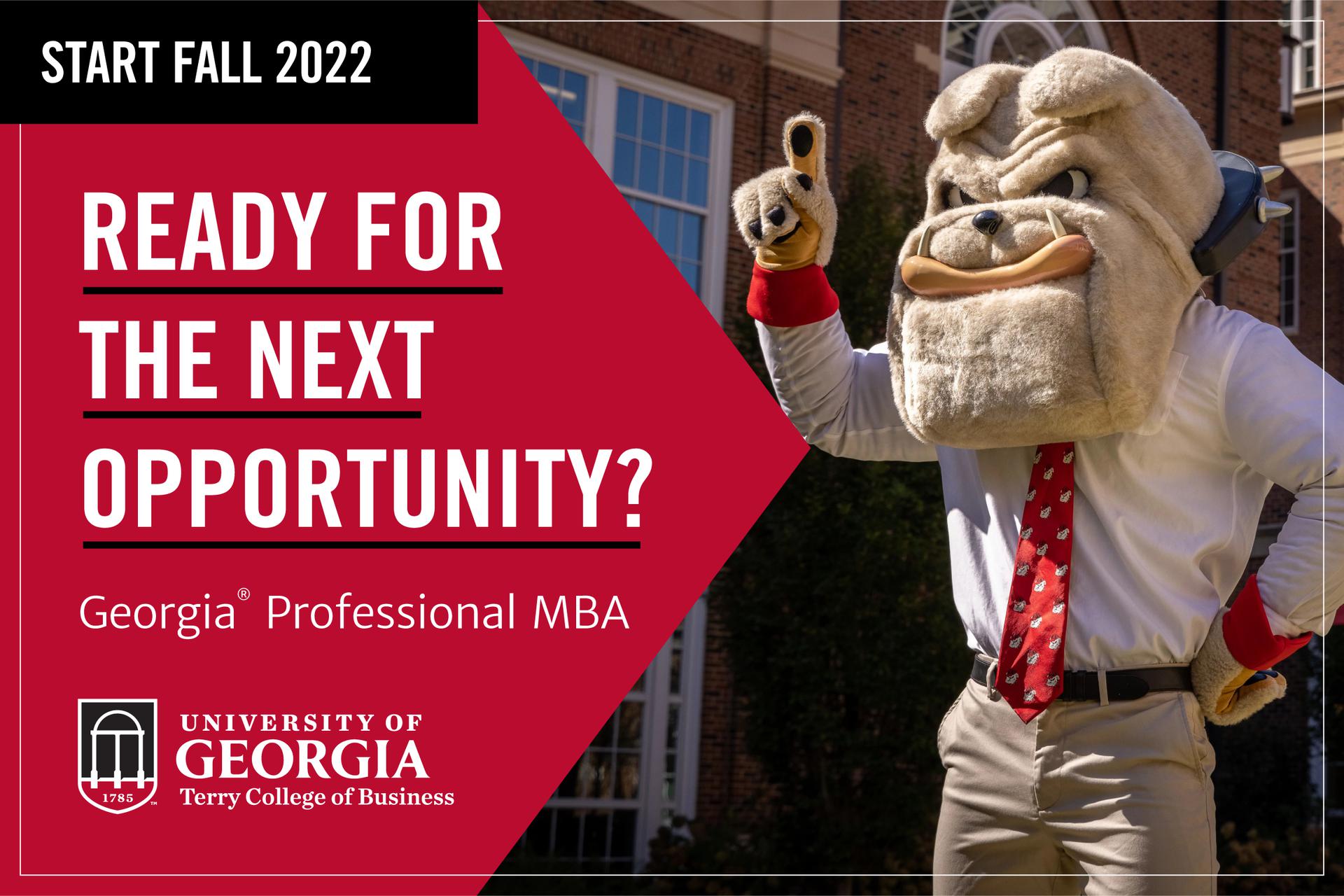 HELP US BUILD THE NEXT CLASS OF LEADERS & GROW YOUR NETWORK

Do you know someone who would be an outstanding addition to the Georgia MBA programs in Atlanta? A person who possesses a strong work ethic whom others look to for expertise and perspective?

We invite you to connect the Executive & Professional MBA Admissions team with individuals who are committed to learning, to leading, and to improving the businesses and organizations that power communities across Georgia and the world.

We take alumni referrals very seriously, so tell us who you think we should get to know. We will support them during the admissions process and determine how an MBA can enhance their potential.
You can submit your referral today using this form.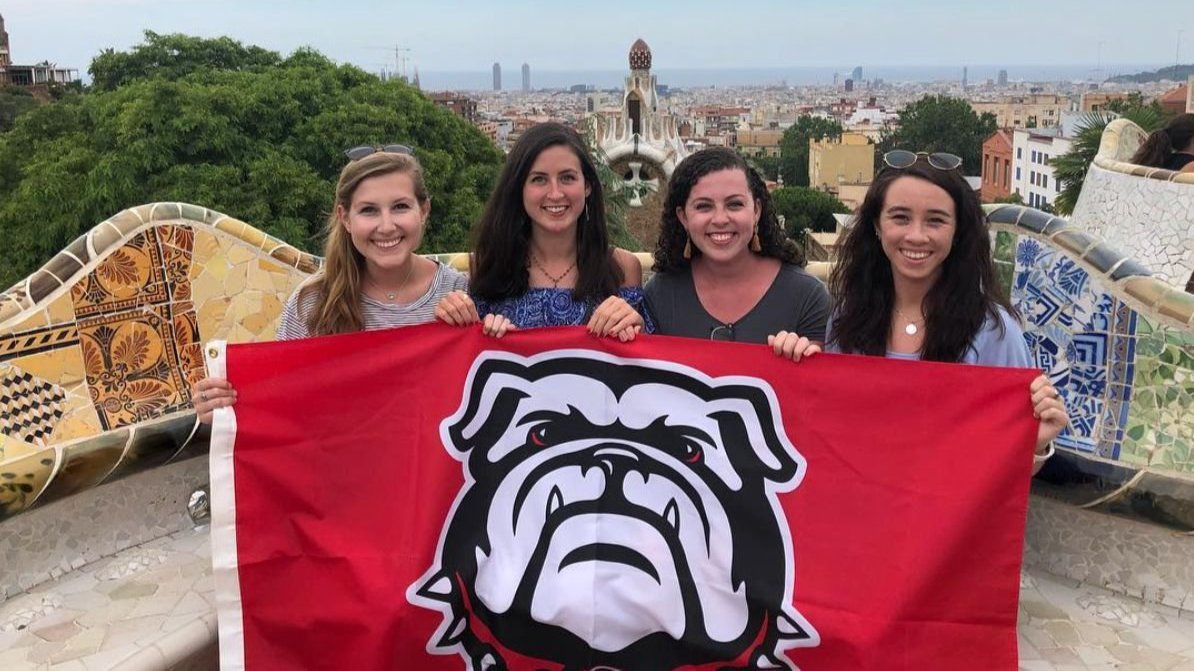 The Terry College is committed to preparing global business leaders. One of the many ways students are gaining a global business acumen is through study away and study abroad programs. Cost is the most common major barrier to study abroad participation, but you can help us close the gap.
The average cost of a study abroad experience for a student is $5,000
Nearly

1/3 of Terry

students have documented financial need
Less than

1%

of students with financial need receive scholarship support to study abroad
By contributing to the Terry College Study Abroad Scholarship Fund, your gift can grow participation and provide Terry students with unique learning opportunities that offer a life-long impact.
Follow us on social to see what's happening with Terry alumni!
Have news to share with us?
Let us know!
Click here to send us a message.
Copyright © 2022 Terry College of Business
Our mailing address is:
Terry College Office of Development & Alumni Relations
University of Georgia
600 S Lumpkin St
Athens, GA 30602