Stay connected to the Terry network with the latest alumni news!

TERRY COLLEGE RANKED AMONG TOP 20 PUBLIC BUSINESS SCHOOLS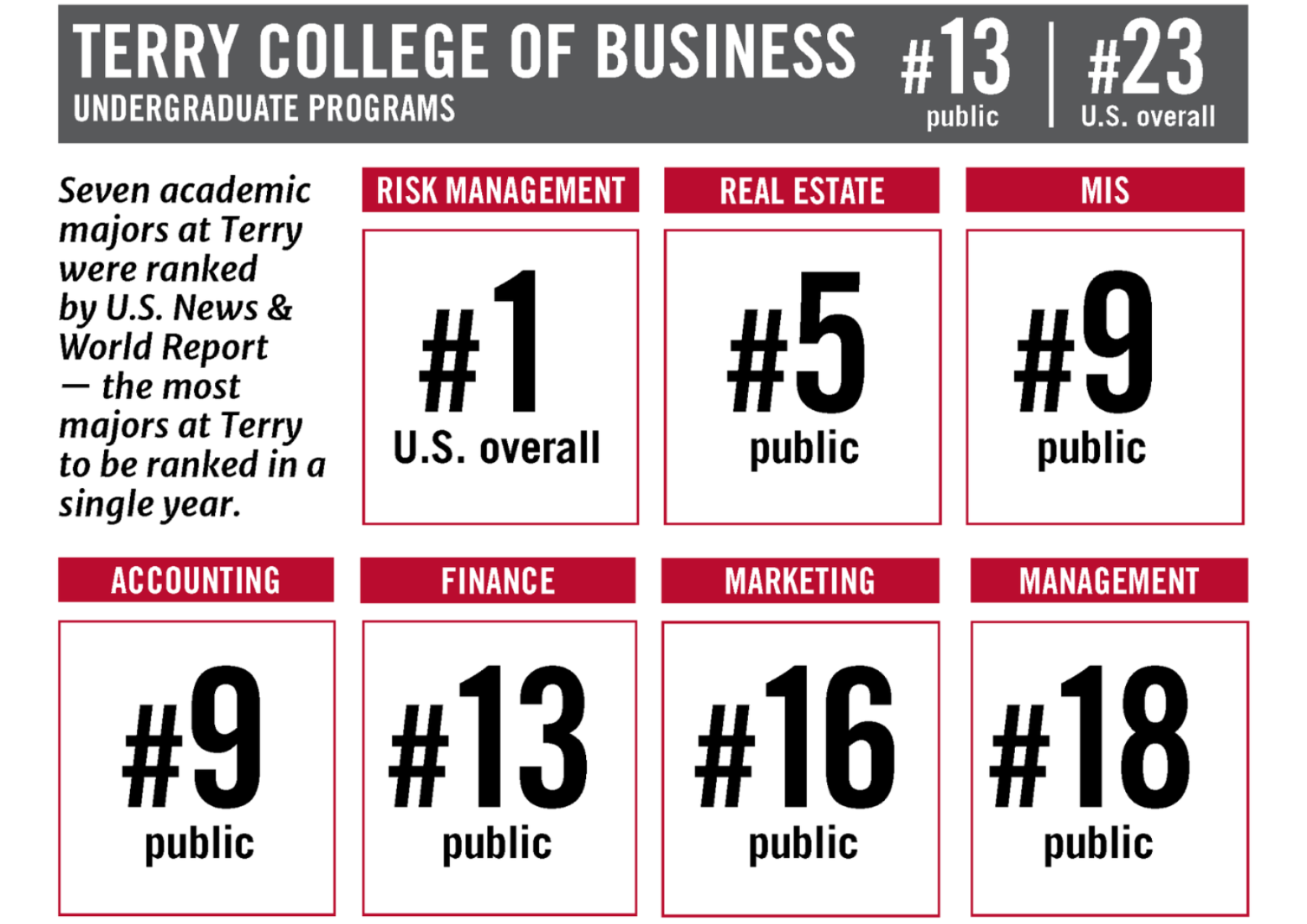 U.S. News & World Report recently released the rankings for their annual survey. Seven academic majors at Terry College were included, the most ranked by U.S. News in a single year. Terry's Risk Management and Insurance program once again led all insurance programs in the country, ranked No. 1 overall. Additionally, the Real Estate program earned a No. 5 ranking among U.S. public business schools, Management Information Systems rose one spot to No. 9 and the J.M. Tull School of Accounting also ranked 9th among publics in its field.
"This is the first time that we have had every Terry major that is surveyed by U.S. News ranked by them in the same year," said Dean Benjamin C. Ayers. "To have all seven ranked in the top 20 publics isn't just a reflection of what we are known for nationally. It makes a very strong statement about the academic reputation that spans the Terry College of Business and the tremendous opportunities available to our students."
The annual ranking of undergraduate business programs by U.S. News & World Report is based on a reputational survey of deans and senior faculty at peer institutions accredited by the Association to Advance Collegiate Schools of Business. Less than 5 percent of the more than 16,000 schools granting business degrees worldwide have earned AACSB accreditation. The University of Georgia also earned a top 20 spot in U.S. News & World Report's ranking of America's best public universities. UGA is ranked No. 16 with the University of Illinois and the University of Wisconsin, marking the sixth consecutive year that UGA has placed in the top 20.
For more information about the rankings, read the Terry News announcement here.
MATTHEW MORGAN ON THE RETURN OF LIVE MUSIC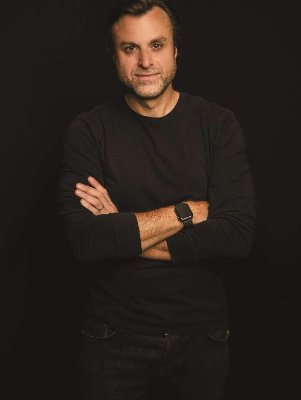 Matthew Morgan (BBS '02) is a music agent in WME's Nashville office working with big-name clients like Lizzo and Zac Brown Band. He's stayed busy, but as live music tours start to resume it feels like the activity is really ramping up.
Morgan worked to plan outdoor tours for his clients, concentrating on stadiums and amphitheaters for '21 and '22 tour dates. The rush of demand and the condensed time-frame has created a scheduling crunch for many artists. Morgan predicts that fans will see more Thursday and Sunday programming to accommodate the packed schedules at venues.
For music lovers who may feel more tentative about getting out in a crowd again, Morgan believes that if fans are able to experience socially-distanced, reduced capacity shows, they'll gain more confidence in returning to the live show environment and seek out more tickets.
Read more about what Morgan and his clients have in store over on Pollstar.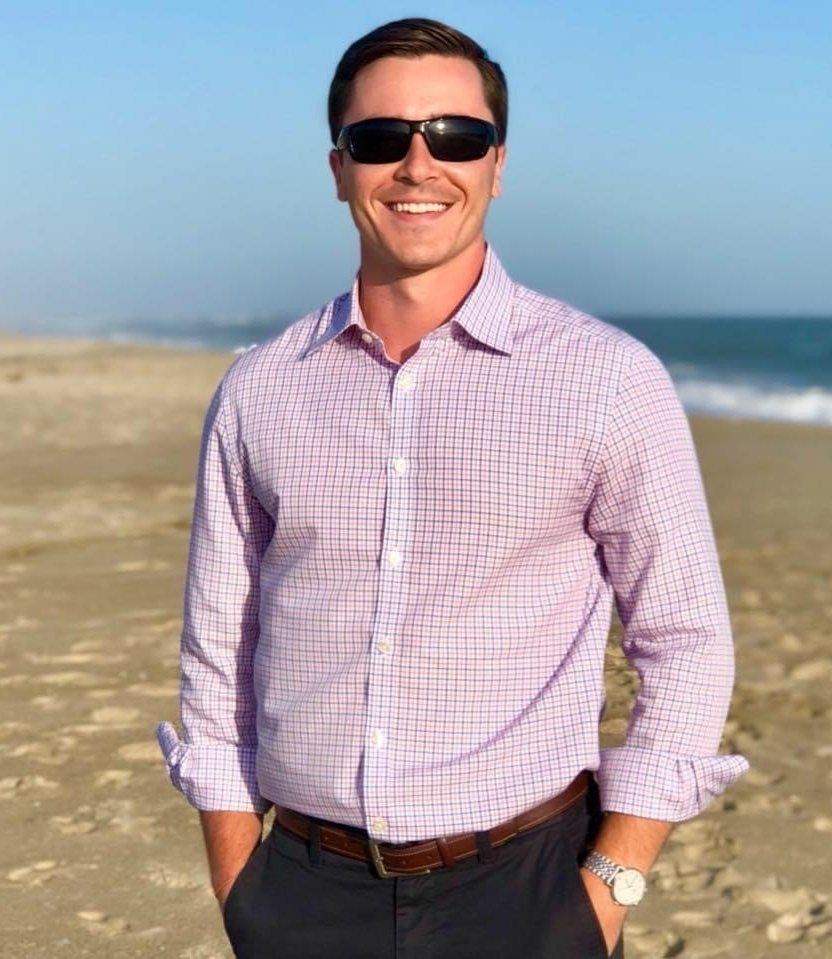 ALEX FREEDMAN TAKES ON ECOMMERCE
Alex Freedman (BBA '15) joined Techtronic Industries (TTI) as part of their Leadership Development Program, jumping into the dynamic field of eCommerce. He was attracted to the role as it offered to opportunity to be creative, try new things, and constantly learn about an ever-changing landscape.
Freedman has excelled at TTI, quickly working his way up to Director of Sales. His success had been driven by his commitment to transforming TTI's retail sector, turning the company into a market leader.
As a leader, Freedman encourages his team to remain nimble and agile and stresses the importance of staying in harmony with the other business segments they collaborate with. Learn more about Freedman and his dynamic role by getting in touch through TerryConnect.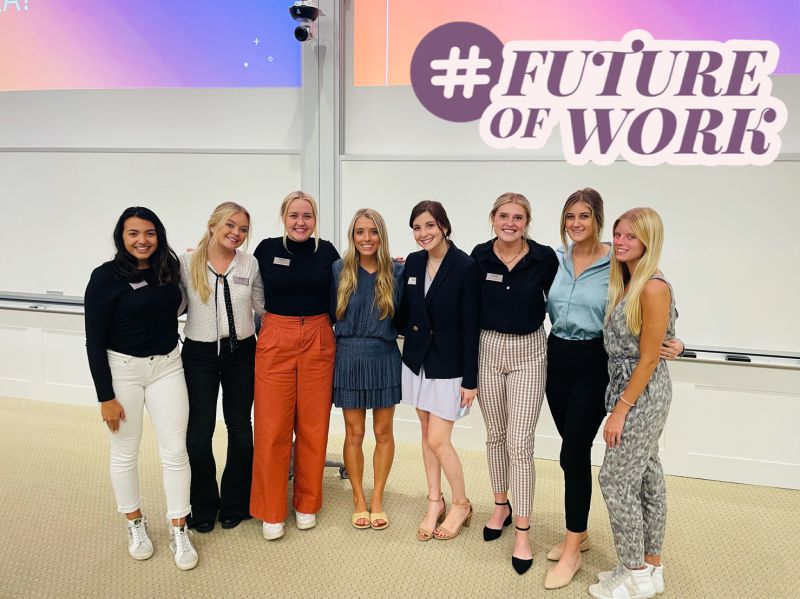 Nina McCallie, BBA '17, spoke at a recent American Marketing Association at UGA event for members of their student organization. As Client Solutions Manager for the Global Business Group at Facebook, Nina focuses on developing solutions for clients to enhance their marketing campaigns and social media strategy. She shared career advice for Terry College marketing students including tips like "seek challenges", "know your values", "pursue mentorship", and "stop comparing and run your own race". The support from alumni, like Nina, continues to expand the learning opportunities for current students and challenge them to achieve their professional goals.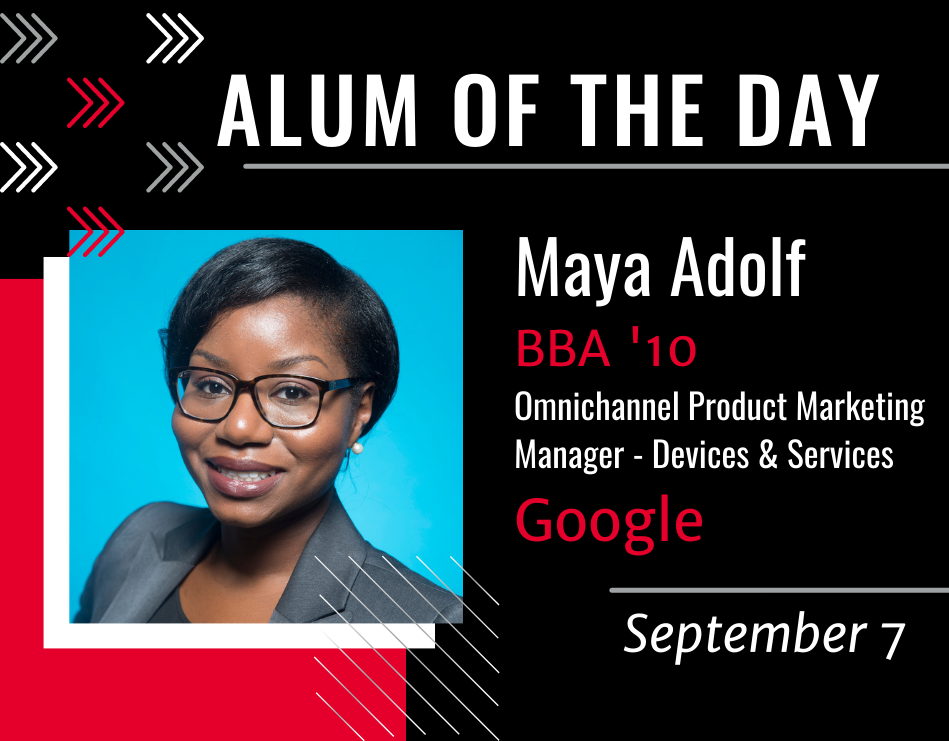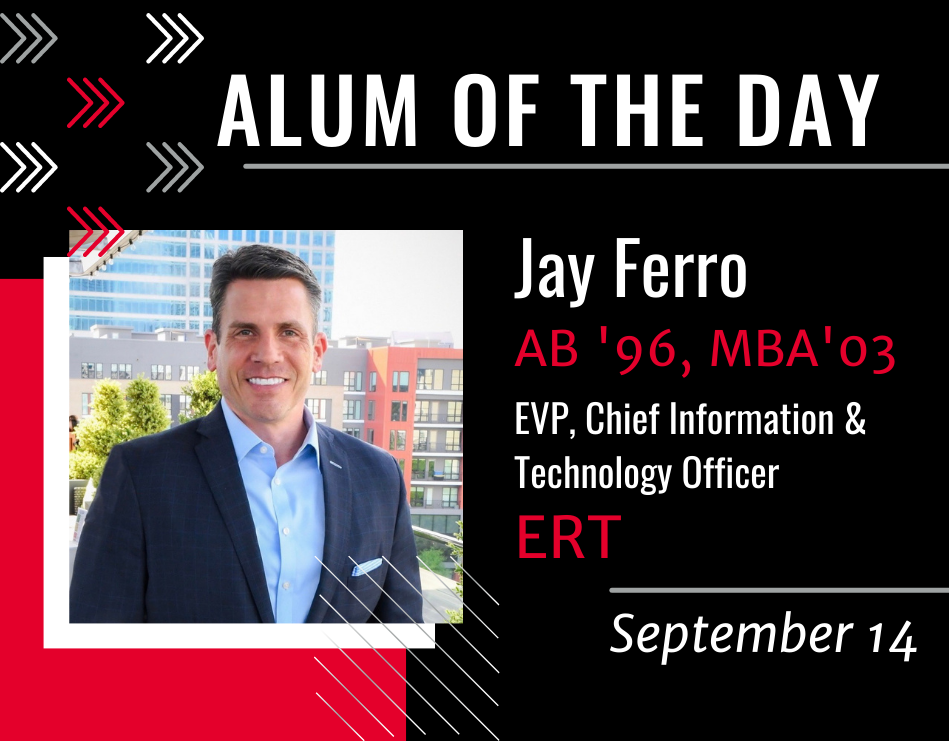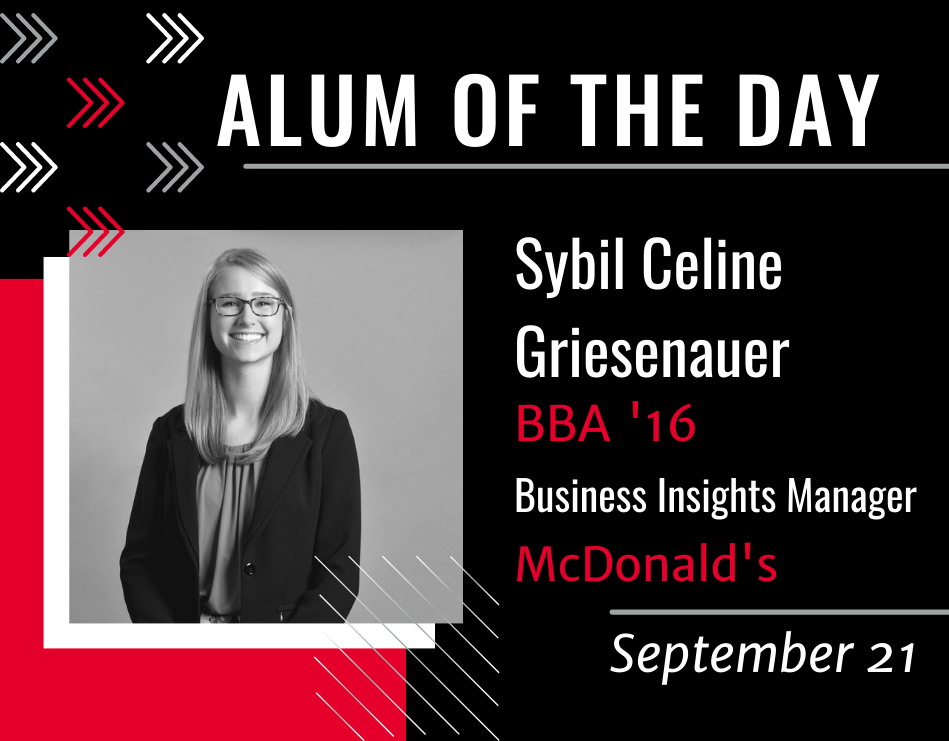 A DAY IN THE LIFE WITH TERRY ALUMNI
With an Alumni network of 70,000+ (and growing!) we're excited to bring back our Alum of the Day series on social media to spotlight just a handful of our incredible Terry Alumni.
Each alum shares a bit about their day-to-day role, what they enjoy in their downtime, and how they choose to give back within their community. The series aims to show current students what sort of career paths they can enter as a Terry grad and encourages them to connect with alumni.
Thank you to our first few Alum of the Day participants! Check our social channels each Tuesday to see which alum is next!

TERRY STUDENTS COMPETE IN UGA INNOVATION DISTRICT'S QUICK PITCH CONTENT
The UGA Innovation District and the UGA Entrepreneurship Program invited UGA students, faculty, staff, and community members to pitch their ideas to a panel of judges in 90 seconds. The competition provides participants facetime with investors and the chance to win $1,000 to help them fund the next steps for bringing their idea to life.
Five Terry students participated in the competition and second-year Full-Time MBA student Erin Parks was selected as the first-runner up. Parks' startup idea was inspired by her struggle to use all the fresh produce in her fridge before it spoiled. She pitched an app named "Eat By" that would help shoppers create an inventory of the perishables in their fridge. Based on the submitted inventory, the app would send alerts and suggested recipes to help shopper's use up their produce before it goes bad. Parks told the judges "If you had half a pound of spinach in your fridge, Eat By would send you an alert on its last day of freshness and a recipe that includes the amount of spinach you have left. "This app would help consumers save money and reduce food waste."
Congratulations to Parks and all the Terry students who competed in the Quick Pitch contest!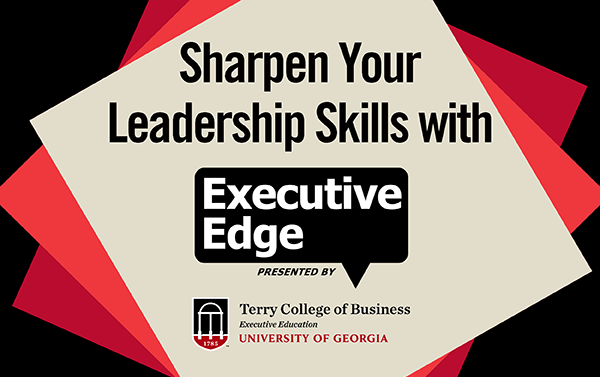 Cybersecurity Readiness: A Holistic and High-Performance Approach
Wednesday, September 29 - 12:00 pm - 1:00 pm
Author and Management Information Systems professor, Dr. Dave Chatterjee, will share insights from his recently published book, including the Commitment-Preparedness-Discipline (CPD) framework to create and sustain a high-performance information security culture. He will also provide an overview of the Cybersecurity Readiness Scorecards and the key elements of a Defense-in-Depth strategy, as well as share some takeaways from guest interviews on his Cybersecurity Readiness Podcast Series.
Account Based Marketing
Wednesday, October 13 - 12:00 pm - 1:00 pm
Dr. Piyush Kumar
Customer Centricity in Marketing
Wednesday, October 27 - 12:00 pm - 1:00 pm
Dr. Sundar Bharadwaj
Join us for the 2021 Terry College Homecoming Tailgate!
When: Saturday, October 16, 2021.
UGA vs. Kentucky weekend
Location: Coca-Cola Plaza, Terry Business Learning Community
Time: Tailgate will begin 3 hours prior to kickoff
Prepaid reservations are required by October 4, 2021.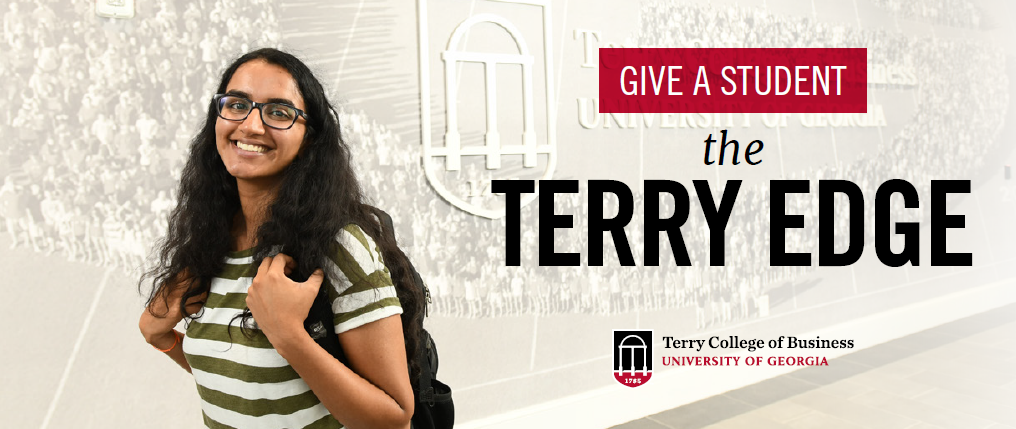 With access to state-of-the-art facilities, award-winning faculty, unmatched career services, and a sprawling alumni network, Terry students are primed for real, lasting success.
We call this The Terry Edge. Yet one-third of our students have a documented financial need.
This can prevent them from taking full advantage of all Terry has to offer. With your support, we can ensure that all students have the tools they need to achieve. Pledges starting at $15,000 can support a Terry Edge Scholarship, making a difference in a student's life as early as next fall. To learn more, please contact Cate Scruggs cgscruggs@uga.edu


Follow us on social to see what's happening with Terry alumni!
Have news to share with us?
Let us know!
Click here to send us a message.
Copyright © 2021 Terry College of Business
Our mailing address is:
Terry College Office of Development & Alumni Relations
University of Georgia
600 S Lumpkin St
Athens, GA 30602