Keeping the Terry alumni network within reach.
HANSBERGER LEADS THE STATE AS TOP WEALTH ADVISOR
A long-time Terry supporter, James (Jim) Hansberger, has been recognized on Forbes Best-In-State Wealth Advisors list as the #1 Financial Advisor in Georgia for 2022. Founder of The Hansberger Group at Morgan Stanley, he continues to remain at the forefront of competitors in private wealth management. Hansberger has been recognized as one of the top advisors in the country for nearly two decades, also securing him a spot in the Barron's Hall of Fame.

Hansberger shared his secret to success, "I believe at the heart of every great financial advisor, ultimately, there is a teacher. Our most important goal is to provide advice that leads to a lasting legacy of performance and deep personal and professional relationships".

His passion for learning extends beyond the practice through various philanthropic support across the University of Georgia. The Hansbergers have established a scholarship for students with financial need, as well as funded the James C. and Lyn Hansberger classroom in the Terry College Business Learning Community.
NEW LEADERSHIP AT CHESAPEAKE UTILITIES
Sharon Grant, MBA '10, has joined

Chesapeake Utilities Corporation

as assistant vice president and diversity officer.

Grant will oversee Chesapeake Utilities' equity, diversity and inclusion (EDI) strategy and initiatives, including its EDI Council and employee resource groups, while also collaborating across the organization with the teams responsible for the enterprise-wide environmental, social and governance plan.



"We welcome Sharon to the Chesapeake Utilities family," said William Hughston, vice president and chief human resource officer. "Sharon's unique background and experience in business operations, project management, organizational development and EDI will play a significant part in helping us build upon our strategic imperatives in the areas of diversity, equity, inclusion and engagement."



Grant is an accomplished human resources leader who most recently held the role of vice president and chief diversity officer at the Virginia Economic Development Partnership in Richmond, Virginia. There, she oversaw the design and implementation of the talent management strategy, human resources operations, employee engagement strategy, and the enterprise-wide strategic plan for diversity, equity, inclusion and belonging. Read full press release here.
SMITH JOINS PINNACLE FINANCIAL PARTNERS
Melissa Smith, BBA '98, recently joined Pinnacle Financial Partners as a senior credit officer. She will build and lead a team of credit advisors to partner with financial advisors in reviewing and structuring loans in the market. Smith is based at the firm's temporary location in Tysons Corner.

"I believe in a servant leadership model in managing my teams and working with clients," Smith said. "Credit advisors have to balance on the fine line of working in both the best interests of the firm and the client. At many institutions, that's a challenge and often leads to transactional approach of simple 'yes and no' credit decisions. At Pinnacle, though, we build strong relationships with each other based on trust so we can work together on a forward-looking credit strategy and solutions that help our clients. That approach is exactly what our community needs."

Smith earned her bachelor's degree in business administration in international business and a minor in Spanish at the University of Georgia and her MBA from Mercer University in Atlanta.

Access full press release here.
FENNELL NAMED GWINNETT DISTRICT MANAGER
Jackson EMC has announced that Jennifer Fennell, BSA '99, MBA '20, is its new Gwinnett district manager. As district manager, Fennell will be responsible for overseeing Jackson EMC's local office in Lawrenceville, including community involvement, member services and governmental affairs. She joined Jackson EMC in 2014 as a commercial and industrial marketing representative in Gwinnett County, where her responsibilities included growing Jackson EMC's footprint in Gwinnett, key account management of existing commercial and industrial customers, legislative affairs and community and economic development. She was promoted to senior business development manager in 2020.



Fennell is involved with Partnership Gwinnett where she serves as Goal One chair, executive committee member, and recently volunteered as co-chairman for its 4.0 Capital Campaign. She is president-elect of the Rotary Club of Sugarloaf, where she has been a member since 2016 and formerly served as secretary and on the membership committee. Fennell is secretary for both the Gwinnett Police Foundation and the Water Tower at Gwinnett Board. She is a member of the Gwinnett Chamber of Commerce, Georgia Economic Developers Association, Southern Economic Development Council, and Council for Quality Growth. She is currently a member of 2022 class of Leadership Georgia and a class of 2018 graduate of Leadership Gwinnett.
NEW LEADERSHIP AT COMMUNITY BANK
Community Bank has named Benjamin Brown, BBA '04 director of client experience and innovation.

In this newly created leadership role, Brown will oversee the strategy, planning and execution of the bank's client experience initiatives aimed at achieving greater client satisfaction and retention, increased efficiency, growth, and profitability. As a member of the executive team, he will oversee the marketing, communications, and employee engagement functions.



"Ben's deep relationships and connections in the community will bring tremendous value to Community Bank as we embrace the changes our industry is facing and establish ourselves as the premier independent bank in the region," said John H. Montgomery, president and chief executive officer. "He will play a pivotal role as we grow and meet the evolving needs and expectations of our client base."

Previously, Brown was CEO and director of operations of the Mon Valley Alliance and Mon Valley Alliance Foundation, which serve the Mon Valley region with industrial, business and community development activities to drive economic growth. He has been pivotal in bringing transformational projects to the region, serving as a partner to companies looking to grow and expand, and bridging the gap between private, public and governmental agencies to achieve greater progress. He has held leadership roles in the banking and financial services industry with the Bank of North Georgia and has previous experience with the Federal Reserve Bank of Atlanta.
Students visited Howden Speciality for a full day of work shadowing. The day concluded with a reception on the Howden terrace, with a view of the spectacular architecture of the modern London financial district.
Students in the Terry College Risk Management & Insurance program (RMI) recently participated in the London Insurance Market student trip. This opportunity provides current students access to commercial property and casualty insurance professionals from all over the globe in professional business settings. Participants were able to meet with London-based brokers, underwriters and reinsurers in specialty lines, such as Marine, Aviation, Cyber, Terrorism, Energy (Traditional and Green), and Economic Social Governance (ESG). They also visited Lloyd's of London, the birthplace of modern commercial insurance and the current center of global and specialty insurance trading in London, as well as an important market for US business. Students toured the facility to learn about its history and were later paired with a local broker to interact in the market with an actual account.
With a No.1 spot in U.S. News & World Report rankings, the RMI program is home to more than 500 students. To remain competitive, exposure to the global business world is crucial to their overall student experience. Support for study abroad programs like this is a top priority for Terry College and would not be possible without the generosity of our alumni and corporate partners. Individuals can contribute to the Terry College Study Abroad Scholarship Fund, to further increase participation and provide Terry students with unique learning opportunities that offer a life-long impact.
| | |
| --- | --- |
| Students standing outside The Royal Exhange, previously home to Lloyd's of London. | Boardroom of the famed Lloyd's of London. While the Lloyd's marketplace currently resides in an ultra-modern building, this room was designed to include the panels, art, and furnishings of a previous Lloyd's boardroom in a Duke's estate. |
BUSINESS LEARNING COMMUNITY - A STORY OF MENTOR SUCCESS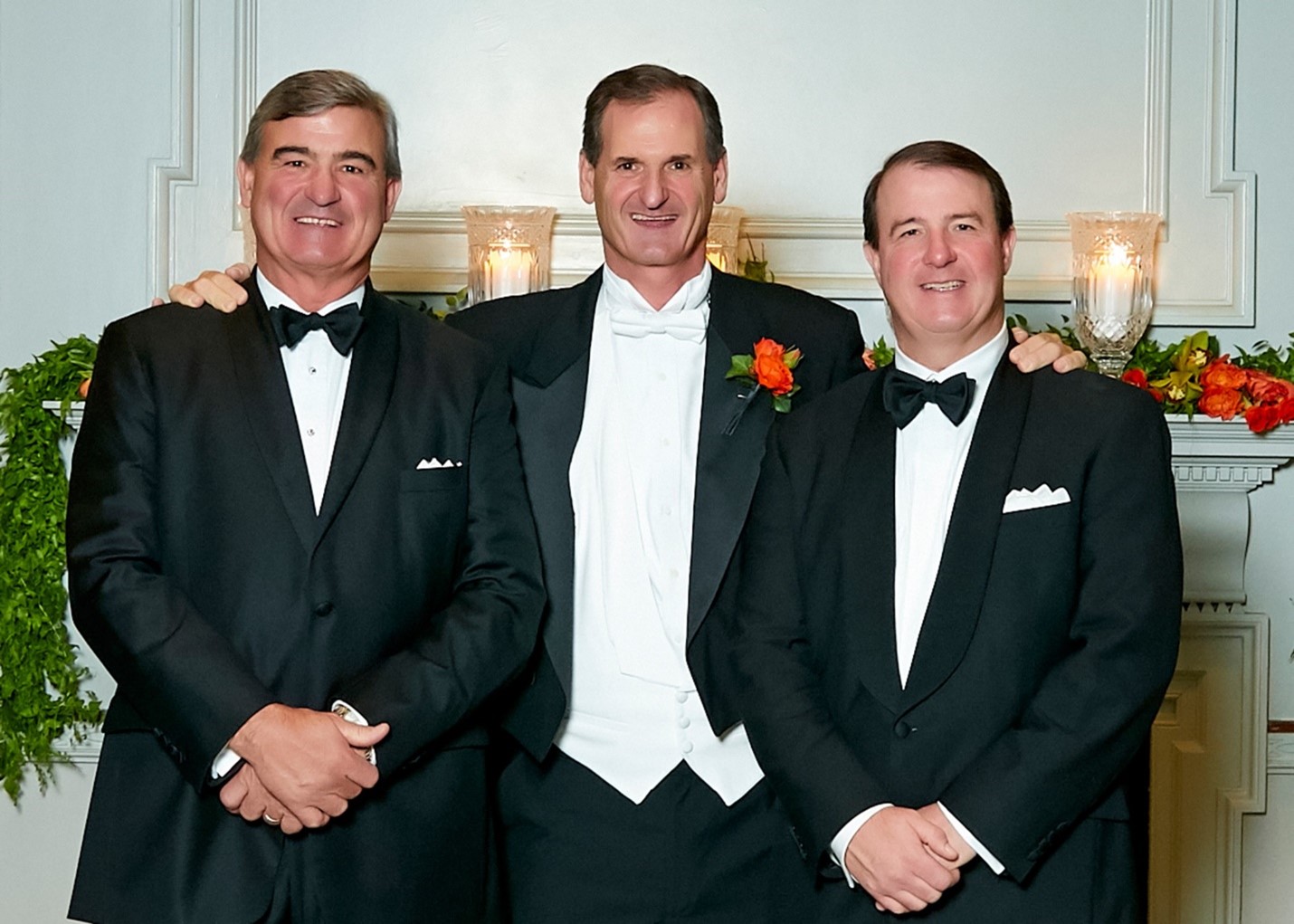 Here at the Terry College of Business, we pride ourselves on creating a family atmosphere within the walls of the Business Learning Community. The Ferguson brothers take Terry and family to the next level. The three brothers, Dick Ferguson '86, John Ferguson '87, and Ed Ferguson '93, all attended the Terry College and earned degrees in finance. Dick and Ed became successful businessmen, both currently working for Raymond James Financial. John looked to real estate for his success with CBRE Group, Inc. The Ferguson brothers enjoyed their time at the Terry College and wanted to give back significantly to students by donating to the Building Terry Campaign. Through their generous donations, Dick, John, and Ed named two interview rooms, the Ferguson Family Interview Room 1 and 2, located in Sanford & Barbara Orkin Hall. The Ferguson brothers all remain loyal supporters of the Terry College through volunteering, Board service, and more. A sincere thank you to Dick, John, and Ed Ferguson for your continued support of the Terry College of Business!
Join fellow alumni and fans at Truist Park on Tuesday, August 30 to cheer on the Atlanta Braves as they battle the Colorado Rockies at 7:20 p.m. When you purchase the specialty ticket package, you'll receive a Braves/UGA co-branded stadium seat! Ticket packages are limited, order yours today!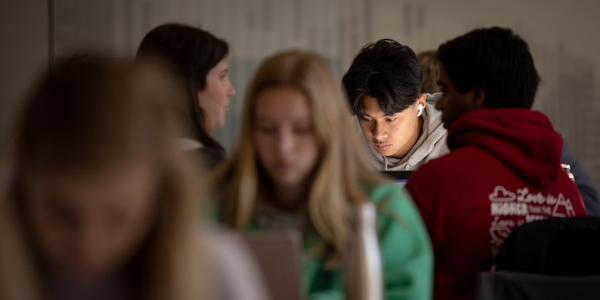 In 2020, the Terry College of Business completed a strategic plan to guide the college through 2025. Our plan is centered on four initiatives: Analytics, Innovation, Leadership, and Sustainability. Our investment in these important areas is possible thanks to the Terry Excellence Fund. A vital and versatile resource, this fund strengthens our strategic efforts, in addition to providing support for scholarships, technology, faculty research, student experiences, and much more. Private support from alumni and friends helps us prepare students to succeed in a complex global environment and ensures that Terry remains a leader in business education. Please consider making a gift to support these initiatives by the end of the fiscal year on June 30th.
Follow us on social to see what's happening with Terry alumni!
Have news to share with us?
Let us know!
Click here to send us a message.
Copyright © 2022 Terry College of Business
Our mailing address is:
Terry College Office of Development & Alumni Relations
University of Georgia
600 S Lumpkin St
Athens, GA 30602