We are honored to recognize the Terry alumni that continue to pave the way for our future generations.
The Georgia Bulldogs are National Champions! Forty-five Terry College student athletes and Terry graduate and head coach Kirby Smart overcame #1 ranked University of Alabama to bring home a national championship title to UGA for the first time in 41 years.

You, too, can be a champion off the field and celebrate with our Terry student athletes and coach by joining 10 for Terry. 10 for Terry is a monthly $10 recurring gift program benefitting the Terry Excellence Fund. Your support of the Terry Excellence Fund removes barriers to student success through scholarship support and assists in our efforts to prepare future business leaders through experiential learning opportunities on and off campus as well as through innovative programming within their coursework.
Be a champion today and join the movement!
INTRODUCING THE 2022 TERRY TRAILBLAZERS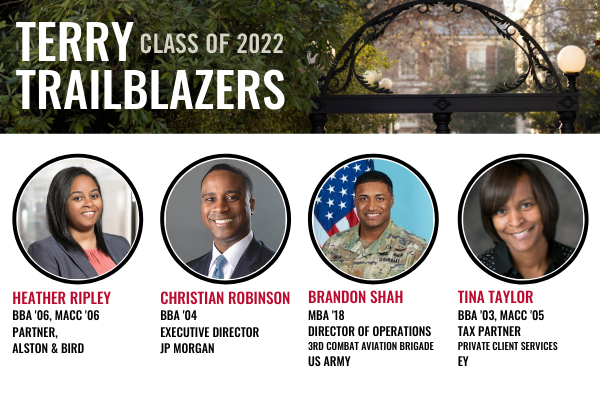 As part of Black History Month, the Terry College recognizes four outstanding African-American alumni who are pioneers in their industry. These Terry Trailblazers are business leaders who achieved career success while making a meaningful impact on their organizations and communities.
On February 24, the Class of 2022 will be recognized during the annual Terry Trailblazers program. Honorees will participate in a panel discussion to share stories from their personal career paths, as well as highlights from their time as students. Fellow alumni are invited to attend the presentation, virtually, to hear from this year's inductees.
RECENT GRAD NAMED TO 2020 BEST & BRIGHTEST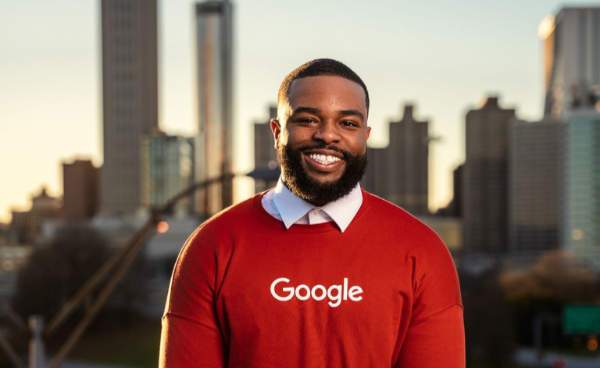 Godswill Nwankwo (BBA '21) was named to Poets & Quants Best & Brightest Class of 2020 . A graduate of the Management Information Systems department, Nwankwo held many leadership positions throughout his time at Terry, including the Black Male Leadership Society; Student Alumni Council; Minorities in Technology; National Association of Black Accountants; Terry Ambassadors; Delta Sigma Pi Professional Business Fraternity; and the Terry Student Diversity Advocacy Council Executive Board. He demonstrated high academic achievements when he was selected for the MIS Top 10% Award and Deer Run Fellows program.

Nwankwo recently joined Google as a Program Manager, for their Atlanta office. He credits his mentors for their support to grow professionally. His advice for future business students, "Find your passion and chase after it wholeheartedly. Success is not a one-stop shop. To achieve excellence, one must fail first. Life is all about learning."
FRAZIER & DEETER ANNOUNCE NEW TERRY ALUMNI PARTNERS
One of the leading accounting and advisory firms, Frazier & Deeter, recently added seven new partners to their Advisory, Audit and Tax practices. Of the seven new partners, three of them were Terry College of Business alumni, all of whom are members of the Atlanta office.

Joining the Audit Practice, young alumni board member, Reid Blalock, CPA (BBA '11, MAcc '12), and fellow Double Dawg, A.J. Hurst, CPA (BBA '08, MAcc '12). Blalock currently leads efforts for the firm's Technology practice, while Hurst maintains a leadership role in the firm's Healthcare Practice.
Eddie Bradford, CPA, CGMA (BBA '04) joined the Tax Practice, where he guides a team of experienced professionals to provide tax planning and compliance services within their Entertainment Practice.
"We are excited to add so many strong contributors to the partnership," said Seth McDaniel, Managing Partner of Frazier & Deeter. "It's an honor to lead an organization that attracts and develops talented individuals like these, who in turn deliver exceptional service to our clients."
BBR MUSIC GROUP NAMES NEW PROMOTIONS MANAGER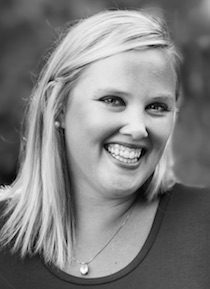 Ellen Mundy Ford (BBA '11, AB '11) just joined BBR Music Group as Manager, Syndication & Secondary Promotions. In this role, she will work with Renee Leymon, VP, Radio Syndication & Group Strategy, to lead and execute satellite radio tours, live virtual radio tours, syndication/media days and content days for the label's roster. Artists include Jason Aldean, Craig Morgan, Lainey Wilson and more.
"It was obvious that Ellen has a passion for our format and the artists, and that's a perfect fit for us," said Leymon. "We are really excited to have her."
Prior to BBR Music Group, Ford supported Works Entertainment as Day-to-Day Manager, as well as Reviver Music Group as Manager, Southeast Radio Promotion. She received dual degrees from the University of Georgia, in Management and Spanish, with a certificate in Music Business. After graduation, she served on the Terry College Young Alumni Board.

GEORGIA COMMITMENT SCHOLARSHIP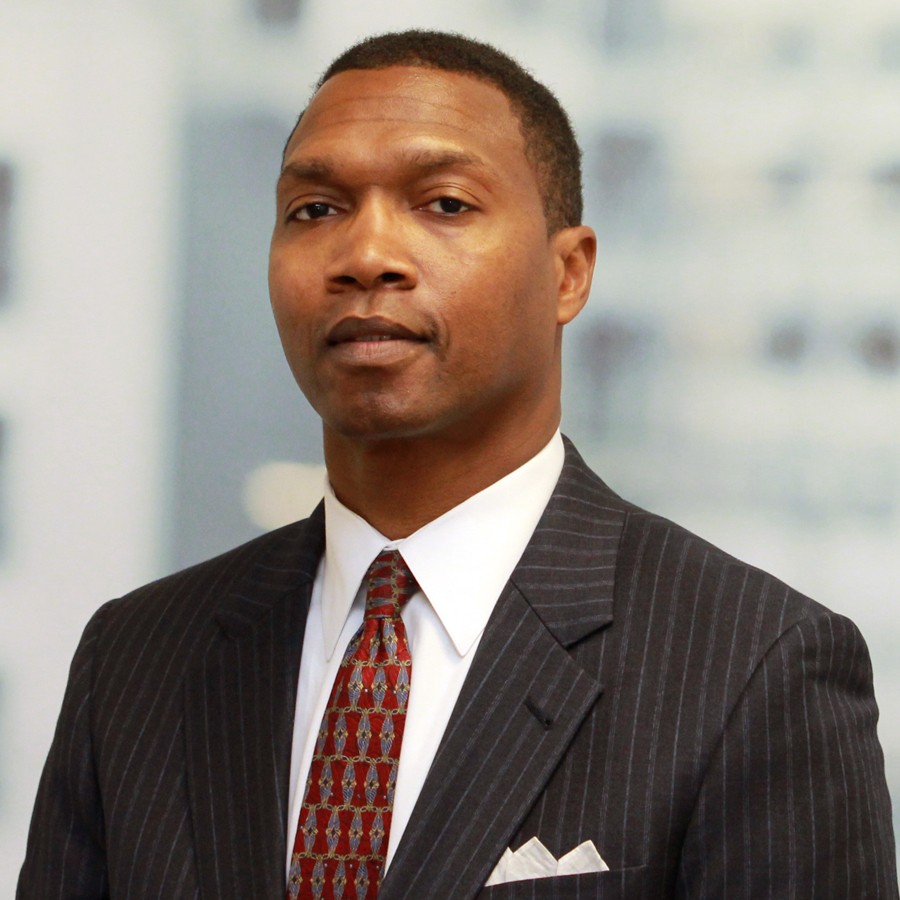 As a principal with Ernst & Young LLP, Chris Ward (BBA '87, MBA '89) has put his UGA education to good use as he advises C-level executives at Fortune 1000 companies and public sector organizations in management consulting, HR consulting and leadership development. In 2020, he was recognized for his experience and expertise as an inaugural Class of 2020 Terry Trailblazer.

Chris has also established the Chris Ward Georgia Commitment Scholarship to bring diversity to the University of Georgia and to honor the heritage of the University of Georgia's integrators, Charlayne Hunter-Gault, Hamilton Holmes, Sr. and Mary Frances Early.


The Terry College is honored to partner with Chris to ensure that students for generations to come will have the opportunity to study at UGA. We appreciate Chris' dedication, generous spirit and commitment to the students of the University of Georgia.

Congratulations to the 2021 Georgia Football players representing the Terry College of Business at the College Football National Championship! These students continue to shine on and off the field and we wish them the best of luck in their Spring semester.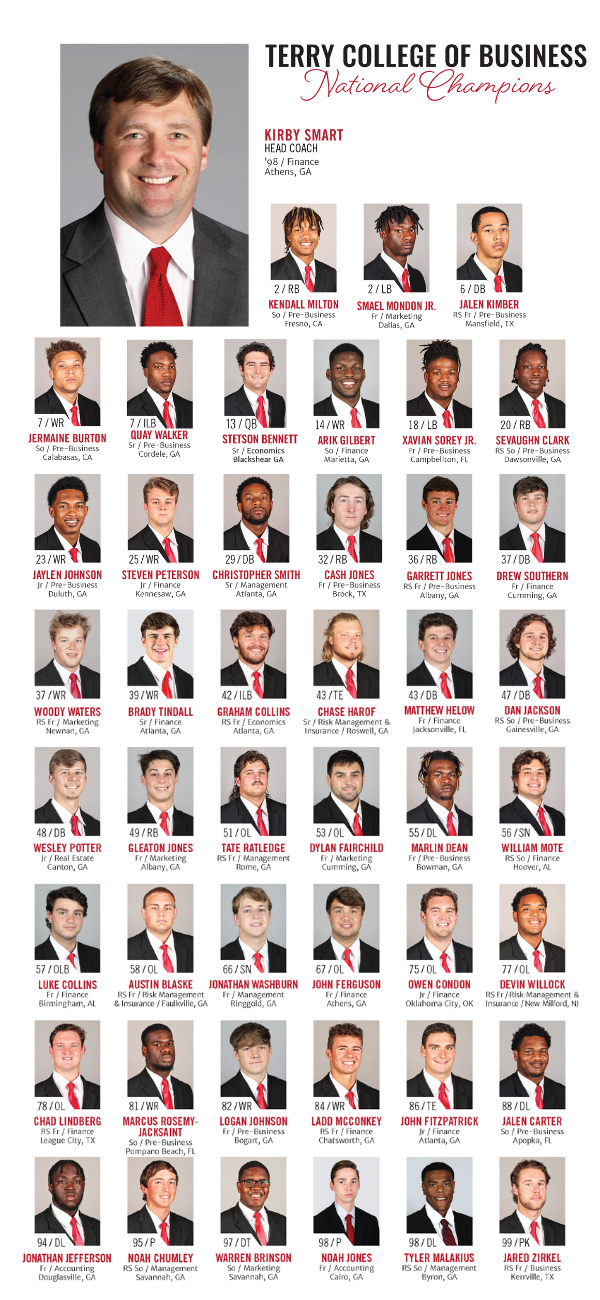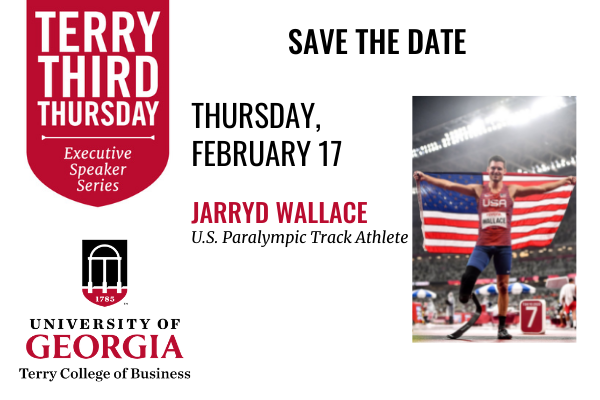 Terry Third Thursday is a breakfast speaker series for the Atlanta business community that features influential speakers, as well as special guests from the University of Georgia, who bring local and global perspectives on business and innovation. Join us Thursday, February 17 to hear from Team USA Paralympic Athlete, Jarryd Wallace.
Join Terry College MBA Alumni for an incredible day of learning, connecting and celebrating Bulldogs in Business at the 2022 Georgia MBA Alumni Symposium on March 25, 2022. The program is designed exclusively for MBA graduates to network with fellow alumni, meet and hear from industry executives, entrepreneurs, and MBA faculty who are leaders in their fields. The symposium will feature keynote speaker and Terry College alumnus, Dan Amos, Chairman, CEO, and President of Aflac, Inc.

The Dawgs clinched a National Championship win! You can be a champion too! Be a champion for the Terry College by joining Ten for Terry with a $10 monthly gift.
Collectively, your support breaks down financial barriers to help current students succeed.

Follow us on social to see what's happening with Terry alumni!
Have news to share with us?
Let us know!
Click here to send us a message.
Copyright © 2022 Terry College of Business
Our mailing address is:
Terry College Office of Development & Alumni Relations
University of Georgia
600 S Lumpkin St
Athens, GA 30602