We are excited to welcome future Terry alumni to campus as we get "Back to Business" at the BLC!
12 TERRY ALUMNI NAMED TO 40 UNDER 40
Congratulations to the 12 Terry alumni named to the UGA 40 under 40 class of 2022! Join us as we celebrate (pictured left to right, from top)
Nathan Bruno, BBA '09
Lael Chappell, BBA '06
Jake Goodman, MD, MBA, BSA '15, MBA '20
Kristen Henderson, BBA '11,
Shayla Hill, BBA '08
Leo (Chris) Kasuya, BBA '14
Min Lee, BBA '06
Brandon Martin, BBA'14
Juan Mencias, BBA '15
Andrew Rasmussen, C, BBA '05, MEd '09
Johnelle Simpson II, AB '16, BBA '16
and
Grant Thomas, AB '15, MBA '20!

To learn more about the UGA Alumni Association's 40 Under 40 program, visit alumni.uga.edu/40u40.
Each year, the Terry College recognizes two Distinguished Alumni and one individual as our Outstanding Young Alumnus. Nominate a candidate for consideration for the 2023 Terry College Alumni Awards. The deadline to complete your nomination is Thursday, August 15, 2022. Selected honorees will be recognized at the 2023 Terry College Gala.
WM EVENTS CELEBRATES GROWTH THROUGH USE OF INNOVATIVE TECHNIQUES
WM Events, a boutique agency with offices in Atlanta and Denver, is home to a unique collective of visionaries - theatrical, interior and graphic designers that are charged with bringing their client's visions to life. With the addition of several new team members, the company launched what they called "re:Event-ion", an innovative approach to digital, distanced and virtual event planning that allowed them to quickly adjust prior to the return of in-person engagement opportunities.

Olivia Allen, BBA '17, recently joined WM Events as an event planner and designer. After receiving a marketing degree from UGA's Terry College of Business, she then worked in marketing and cultural event planning in Spain and Malaysia before returning to Atlanta.

Check out the exciting collaborations that Allen and her team developed at wmevents.com.
NEW LEADERSHIP FOR THE UNITED WAY OF THE COASTAL EMPIRE
United Way of the Coastal Empire recently announced the 2022- 2023 Board of Director's Executive Committee along with new members of the Board who will help lead the organization this year.

Campaign Chair, Cindy Robinett, BBA '89,is a partner at Sterling Seacrest Pritchard and has been involved in the insurance industry since 2000. She is a graduate of the University of Georgia Terry College of Business and Emeritus Board Member.
COATS APPOINTED CHAIRMAN & CHIEF STRATEGY OFFICER
ICOA Inc., a publicly-traded Nevada-based company that acquires and operates blockchain-driven ventures has announced the appointment of Jeffrey Coats, BBA '79, as Chairman and Chief Strategy Officer. In this role, Coats will oversee ICOA's investor relations and banking relationships, as well as the required financial and corporate activities to position the company for a future NASDAQ up-listing.

Jeffrey was recently appointed by Majic Wheels Corp. to fulfil the same role and responsibilities. Like ICOA, Majic Wheels acquires and operates organizations utilizing disruptive technologies.

He has previously been a board of directors member of several publicly traded and a myriad of privately-held organizations.
Coats served as President and CEO of Autobytel/AutoWeb for over a decade, and successfully led the organization's turnaround. When asked about his new role he shared, "I am delighted to join ICOA. The company's recent acquisitions and soon-to-launch projects are all centered around blockchain - a technology that has so much to offer in many applications and industries. With the right structure, foundations and mission-critical partners in place, the opportunities are immense."
TERRY STUDENTS EXPERIENCE GLOBAL BUSINESS IN SOUTH KOREA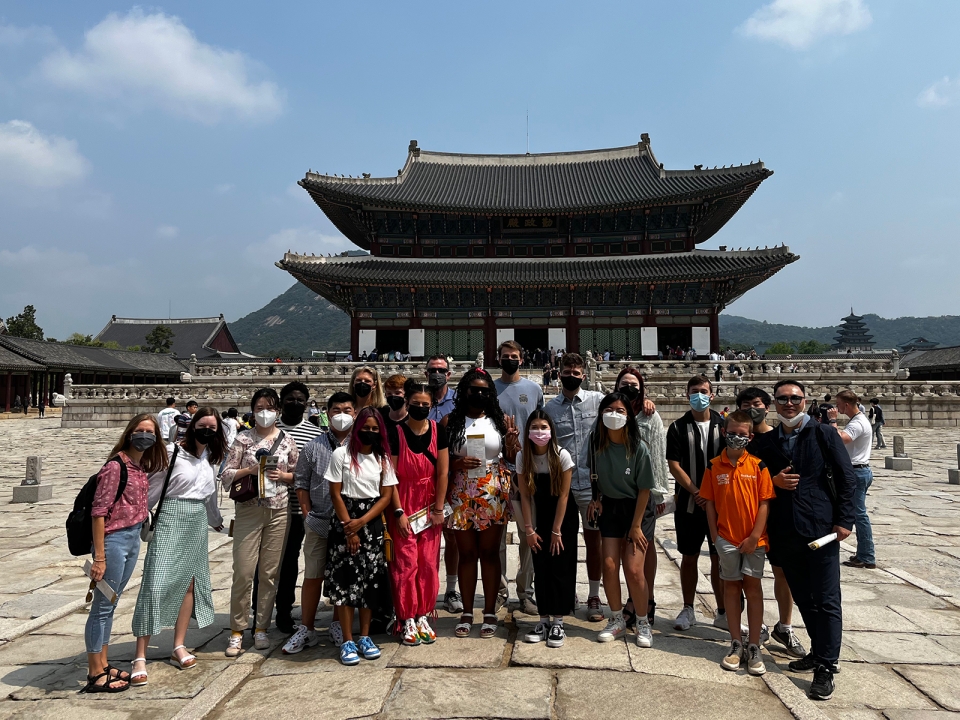 In May, a class of 14 Terry College students particpated in the first study abroad course in South Korea.
The program, led by Terry associate professor of management Daniel Gamache, provided students with the cultural background needed to understand one of Asia's leading business cultures. It also introduced them to businesspeople who worked on both sides of the Pacific. "This was an excellent opportunity for the students to experience a different culture and learn what it is like to do business in South Korea," Gamache said. "We visited a wide range of businesses — from startups to established conglomerates. We heard from a range of businesspeople including native South Koreans, ex-pats working in South Korea, and Korean Americans who lived and worked in both contexts."
"The cultural immersion I experienced has added such a unique and beneficial layer to my education, and I will carry with me through my future personal and professional endeavors," said second-year management major, Mackenzie Peed. The course highlighted the impact Korean business Chaebols such as Samsung and Hyundai have on nearly every aspect of life in South Korea. Other corporate visits to BitGlim, AsiaLab, and Zephrame, startup companies headquartered in the nation's capital, emphasized Korean entrepreneurial spirit.
"Our corporate site visits were invaluable for learning about traditional and modern business practices in Korea," said Justin Tardy, a second-year student majoring in marketing and sports management. "I feel I have a much greater understanding of what it is like to work there because of the many personal accounts we heard from those who live in Seoul."
After two weeks of site visits and cultural programs, several students remained in South Korea to intern at Seoul companies through Terry's accompanying international business internship program, gaining first-hand experience immersed in Korean work cultures. The Business in South Korea faculty-led and internship programs were organized by the Terry College International Business Programs. To read the full article about their study away experience, visit Terry News online.
BUSINESS LEARNING COMMUNITY - GROUNDBREAKING INSTRUCTION
| | |
| --- | --- |
| | For 1999 finance grad Dave Koren, giving back to the Terry College of Business was a no brainer. Dave began his professional career working in investment banking, having worked with PaineWebber & Co. in NYC, as well as Wachovia Securities and Jefferies & Company. Dave is now owner and managing partner of Wingman Partners, a franchisee of Planet Fitness and Jimmy John's restaurants, both in Los Angeles, California. Dave has invested in the Terry College and our students, and we are honored to recognize his investment through the naming of the Dave Koren Instructional Lab, a student computer lab for the MMR Program which is the first of its kind in the United States. Dave says, "UGA took a chance on me, I am looking to prove them right every chance that I get." We appreciate your dedication to the Terry College of Business, Dave! Thank you! |
Don't miss your opportunity to hear from Steve Cannon, CEO, AMB Sports + Entertainment during this month's Terry Third Thursday presentation. AMB Sports and Entertainment (AMBSE) is the for-profit holding group under the Arthur M. Blank Family of Businesses. The firm has continued to increase its positive impact on Atlanta under Cannon's leadership. Learn about his approach to bringing two of the largest events to Mercedes-Benz, including the Super Bowl LIII in 2019 and College Football Playoff Championship in 2018. With the recent announcement of Atlanta winning the bid for the 2026, we are eager to hear Cannon's vision for this historical event.
Join fellow alumni and fans at Truist Park on Tuesday, August 30 to cheer on the Atlanta Braves as they battle the Colorado Rockies at 7:20 p.m. When you purchase the specialty ticket package, you'll receive a Braves/UGA co-branded stadium seat! Ticket packages are limited, order yours today!
With access to state-of-the-art facilities, award-winning faculty, unmatched career services, and a sprawling alumni network, Terry students are primed for real, lasing success. We call this The Terry Edge. Yet, one-third of our students have a documented financial need. This can prevent them from taking full advantage of all the Terry College has to offer. With your support, we can ensure that all students have the tools they need to achieve through the Terry Edge Scholarships. Please contact Cate Scruggs if you are interested in learning more about how you can give a student the Terry Edge.
Follow us on social to see what's happening with Terry alumni!
Have news to share with us?
Let us know!
Click here to send us a message.
Copyright © 2022 Terry College of Business
Our mailing address is:
Terry College Office of Development & Alumni Relations
University of Georgia
600 S Lumpkin St
Athens, GA 30602