A monthly publication of the UGA Office of Research with the latest funding opportunities and announcements in support of our research community.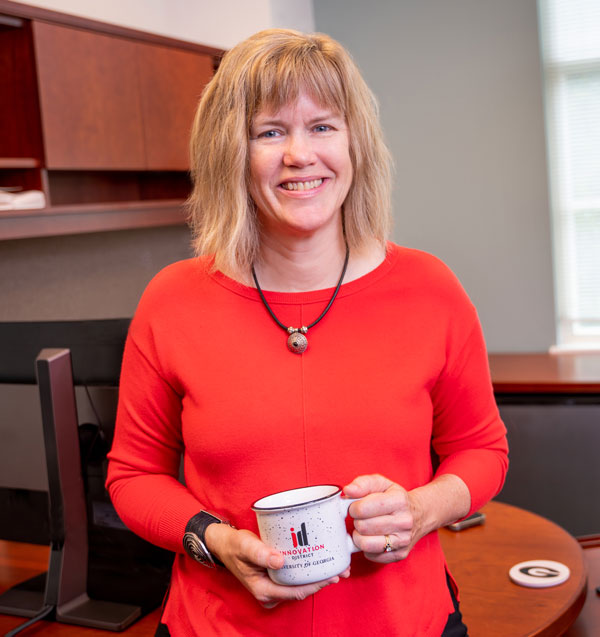 Electric mobility technology in Georgia: a research opportunity and investment in our future
In December the UGA Terry College of Business released its 39th annual Georgia Economic Outlook, which predicted that—by the end of 2022—Georgia would fully recover from the pandemic-inflicted recession. According to the projection, the state economy will grow by a robust 4.3% this year, and its unemployment rate will fall to about 3.2%, lower than pre-pandemic levels...
Deadline: April 19, 2022

$1,000,000

Funds jobs accelerator partnerships to improve the ability of distressed rural and energy communities to create high-wage jobs, accelerate the formation of new businesses and identify and maximize local assets.
Humanities & Arts Opportunities
Study in a Second Discipline Fellowships
Deadline: Feb. 18, 2022

Instructional Release

These fellowships, sponsored by the Office of the Provost, promote interdisciplinary research and teaching by providing tenured faculty an opportunity to study disciplines outside their primary discipline.
FACE Foundation Cultural Exchange Grants
No Deadline

Up to $500

Supported by Ideas for Creative Exploration, an interdisciplinary initiative for advanced research in the arts at UGA, these mini grants support creative interdisciplinary projects, with recipients eligible to receive mentorship, feedback, and up to $500 in project funds.
Arts & Humanities Grant Writing Month
February 2022 is Arts and Humanities Grant Writing month at UGA. Jason Harshman, program officer for the National Endowment for the Humanities, will present and answer questions on NEH programs and proposal strategy on Feb. 18. Register in advance for the online session. Contact Jake Maas in the Office for Proposal Enhancement with questions.
For more information and proposal support for foundation opportunities, please contact Matt Pruitt at mkpruitt@uga.edu.
Deadline: Feb. 28, 2022 (for Stage 1)

Up to $200,000 for single PI; up to $400,000 for teams

The Ewing Marion Kauffman Foundation has issued a request for proposals for the 2022 Knowledge Challenge, which aims to support projects with the potential to improve the understanding of entrepreneurship and generate practical, actionable and rigorous evidence to inform decision making and change systems.
Deadline: March 17, 2022

Up to $300,000

The Simons Foundation Autism Research Initiative (SFARI) has issued a request for applications for the SFARI Pilot Awards program, which will provide early support for exploratory ideas, particularly those with novel hypotheses.
The Whitehall Foundation Seeks Letters of Intent for Research in the Life Sciences
Deadline: April 15, 2022

$75,000

The Whitehall Foundation is interested in basic research in neurobiology, defined as invertebrate and vertebrate (excluding clinical) neurobiology, specifically investigations of neural mechanisms involved in complex functions that relate to behavior.
Shared Instrumentation Grant (SIG) Program (S10 Clinical Trial Not Allowed)
Deadline: Feb. 22, 2022

$50,000 – 600,000

The objective is to make available high-priced research instruments that can only be justified on a shared-use basis and are needed for NIH-supported projects. Provides funds to purchase or upgrade a single item of expensive, state-of-the-art, specialized, commercially available instrument or an integrated instrumentation system.
High-End Instrumentation (HEI) Grant Program (S10 Clinical Trial Not Allowed)
Deadline: Feb. 22, 2022

$600,001 – 2,00,000

Provides funds to purchase or upgrade a single item of expensive, leading-edge, specialized, commercially available instrument or an integrated instrumentation system that can only be justified on a shared-use basis and that are needed for NIH-supported projects.
Deadline: Feb. 23, 2022 (must be made by institution; self-nominations not accepted)

$150,000

The Foundation for Food & Agriculture Research is inviting applications for the new Innovator in Food & Agriculture Research Award for early-career scientists.
W.M. Keck Foundation Research Program: November Cycle
Deadline: March 15, 2022

Up to $5,000,000

The W. M. Keck Foundation Research Program supports projects in medical research and science and engineering that are distinctive and novel in their approach, question the prevailing paradigm or have the potential to break open new territory in their field.
Sign Up for Funding Alerts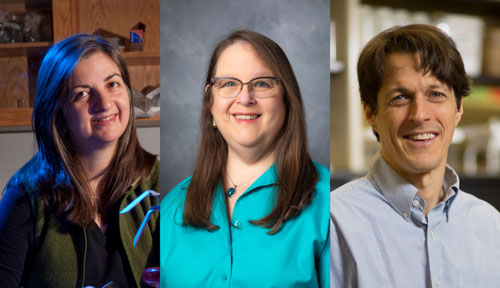 Three faculty elected AAAS Fellows
Patricia Yager (marine sciences), Jessica Kissinger (genetics) and James E. Byers (ecology) have been named Fellows of the American Association for the Advancement of Science and will be honored at the annual AAAS meeting in Philadelphia Feb. 17-20.
Karen Burg receives White House award for Mentoring
Vice President for Research Karen Burg has been named a recipient of the Presidential Award for Excellence in Science, Mathematics and Engineering Mentoring. President Joe Biden made the announcement Feb. 8, naming 117 teachers, mentors and mentoring organizations as recipients of the Presidential Awards, which honor their important roles in supporting future STEM professionals.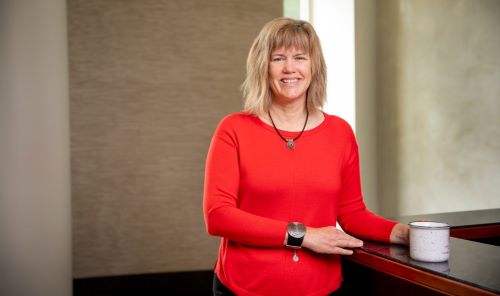 The Office of Research maintains a list of external honors and awards to encourage faculty applications.
New Research Advisory Group Formed
The Office of Research is hosting a Research Advisory Group, made up of both faculty and staff, that will work to continuously identify opportunities to improve service and support for UGA's research community.
Streamlining Chemical Receiving
The Chemical Purchasing Workgroup continues to implement changes. Effective Feb. 7, all chemical purchases began routing to Mail & Receiving Services at the Administrative Services warehouse on Atlanta Highway rather than the Central Research Stores warehouse on Will Hunter Road. Mail & Receiving staff are receiving and completing the Chematix barcoding and redelivering chemicals to campus, a change that is expected to improve efficiency and overall delivery times.
First accredited by AAHRPP in June 2018, UGA's Human Research Protection Program is undergoing reaccreditation in 2022. UGA's site visit is scheduled for March 16-17.
New NIH Mentoring Network Course
Launching Research Part 1 (Lab Readiness) is designed to inspire students to confidently explore research and acquaint them with skills they will use throughout the course of their education and career. The course is sponsored by the National Resource Mentoring Network.
Updated Boilerplate for Grant Proposals
Need boilerplate text for your grant proposals? The Office for Proposal Enhancement has updated boilerplate for centers and institutes, core facilities, institutional commitments and more.
Global Georgia Lecture: Olúfẹmi O. Táíwò
Wednesday, Feb. 16, 4 p.m. (virtual)
Táíwò, assistant professor of philosophy at Georgetown University, is the author of Reconsidering Reparations. Part of the Global Georgia Initiative of the Willson Center for Humanities and Arts, in partnership with the Department of Philosophy and the Institute for African American Studies.
NEH Program Officer Presentation and Q&A
Friday, Feb. 18, 3 p.m. (virtual)
Jason Harshman, program officer for the National Endowment for the Humanities, will present on NEH programs and proposal strategy.
2022 William A. Owens Lecture
Tuesday, Feb. 22, 10-11:30 a.m. (in person, will shift as needed)
The Owens Institute for Behavioral Research hosts Fred Oswald, professor and Herbert S. Autrey Chair in Social Sciences at Rich University, to deliver a talk on "The Practice, Culture and Future of Open Science in the Social Sciences."
Lecture by Sacha Sharp
Monday, Feb. 28, 11-12 p.m. (virtual)
Sharp, assistant professor of medicine at the Indiana University School of Medicine, discusses her dissertation, "Black Women Graduate Student's Social Media Use as a Space for Reclamation, Resistance, and Healing." Part of the McBee Institute's Critical Perspectives on Race series and the Women's Studies Program's Women's History Month series.
2022 Virtual Live Gene Brody Symposium
Wednesday, March 2, 1-2 p.m.
Kimberly Noble, professor of neuroscience and education at Columbia University, explores the relation between poverty and child development. Honors Gene Brody, Regents Professor and co-director of the Center for Family Research.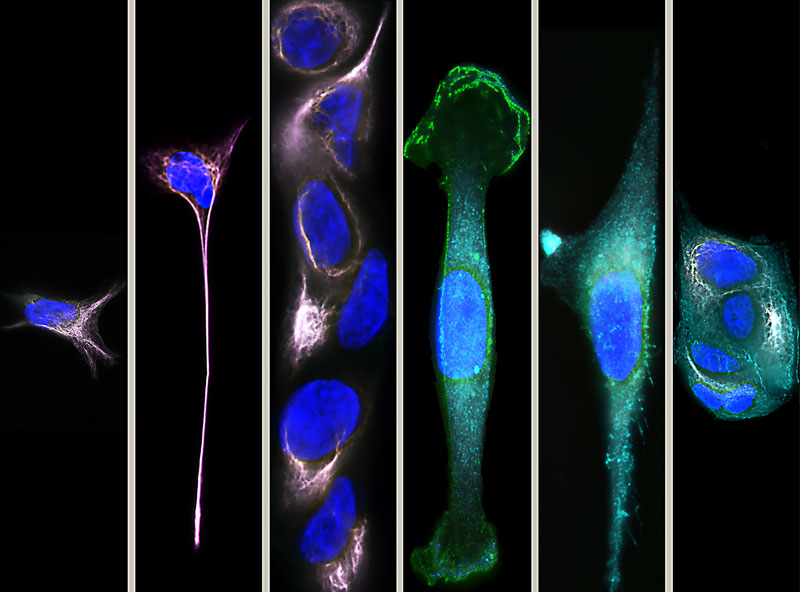 This image shows cancer cells migrating across a microfluidic device created by a UGA team led by Leidong Mao, professor of electrical and computer engineering in the College of Engineering. The device can quickly sort through more than 60 milliliters of blood samples and 100,000 cells per second. Read the full story.