Welcome to the March alumni e-newsletter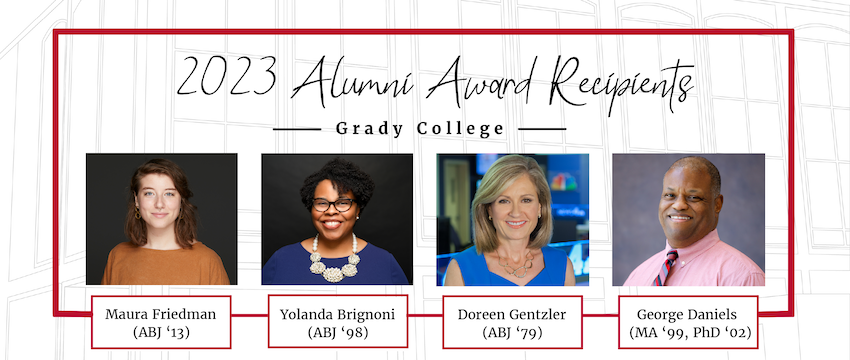 We are proud to announce our 2023 Alumni Award recipients, recognizing alumni who have established a tradition of service and achievement in their careers.

Maura Friedman (ABJ '13), a senior photo editor at National Geographic, receives the John E. Drewry Young Alumni Award, recognizing a graduate of the last decade who has experienced a successful early career.

Yolanda Taylor Brignoni (ABJ '98), the vice president of external affairs and communications at the Elizabeth Glaser Pediatric AIDS Foundation (EGPAF), receives the Mid-Career Award, recognizing a graduate for professional achievements, influence and success.

Doreen Gentzler (ABJ '79), who retired in November 2022 after a career spanning four decades, receives the John Holliman, Jr. Lifetime Achievement Award for sustained contributions to the profession throughout a career. Gentzler anchored the news on WRC/NBC4 in Washington, D.C. for 33 years.

George Daniels (MA '99, PhD '02), an associate professor and Reese Phifer Fellow of journalism and creative media at The University of Alabama in Tuscaloosa, receives the Distinguished Alumni Scholar Award.
Alumni Award recipients will be recognized at the College's annual recognition event, Grady Salutes: A Celebration of Achievement, Leadership and Commitment, on Friday, April 28.
Click here for ticket and sponsorship information.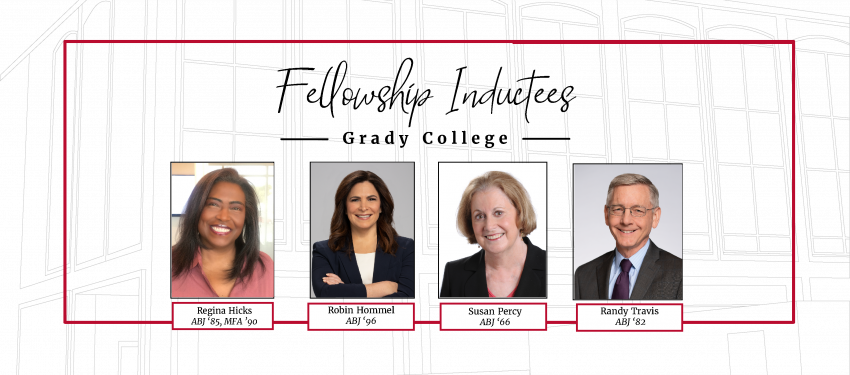 Five alumni will be inducted into the Grady Fellowship on Friday, April 28. The Grady Fellowship honors friends of the college whose accomplishments, friendship and service to the industries they serve have made a positive impact on Grady College.
Regina Hicks (ABJ '85, MFA '90) has spent her career writing for television. She is currently an executive producer and showrunner for "The Upshaws," a sitcom on Netflix that she created.
Robin Hommel (ABJ '96) is a three-time Emmy Award-winning producer and showrunner. She currently serves as the executive broadcast producer of the ABC News daytime talk show, "The View."
Susan Percy (ABJ '66) is a Metro Atlanta-based journalist who has spent most of her career in magazine journalism. She was executive editor and editor of Georgia Trend Magazine from 2001 through 2013 and editor-at-large from 2014 through 2022.
Randy Travis (ABJ '82) is a Peabody Award-winning investigative reporter for FOX 5 Atlanta. Randy joined WAGA in 1990. In 1994 he moved to the station's distinguished investigative unit, the FOX 5 I-Team.
The 2023 recipient of the John Holliman Lifetime Achievement Alumni Award, Doreen Gentzler (ABJ '79), will be inducted into the Fellowship, as well.
Dean Charles Davis is pleased to recognize Caroline Edwards (ABJ '12) as a Dean's Medalist for Leadership Excellence.
Caroline Edwards is a Private First Class Officer with the U.S. Capitol Police. Her law enforcement career started in 2017 and she has served for six years on the Department's First Responders Unit. On Jan. 6, 2021, Officer Edwards was the first police officer injured by the rioters while stationed on the West Front of the Capitol. She was knocked unconscious and suffered a traumatic brain injury. On June 9, 2022, Officer Edwards testified to the January 6th House Select Committee. She graduated from Grady College with a degree in public relations.
She will honored at the annual Grady Salutes: Celebrating Achievement, Leadership and Commitment on Friday, April 28.
Dawg Day of Giving is March 30
Dawg Day of Giving is a 24-hour, worldwide event to improve the lives of our students and build tomorrow's UGA.
Your gift strengthens the student experience by empowering our students, removing financial barriers, supporting experiential learning opportunities and providing accessible and current technology and equipment needs.
Help us turn one day of giving into a lifetime of opportunities for our students by donating any amount to the Dean's Excellence Fund.