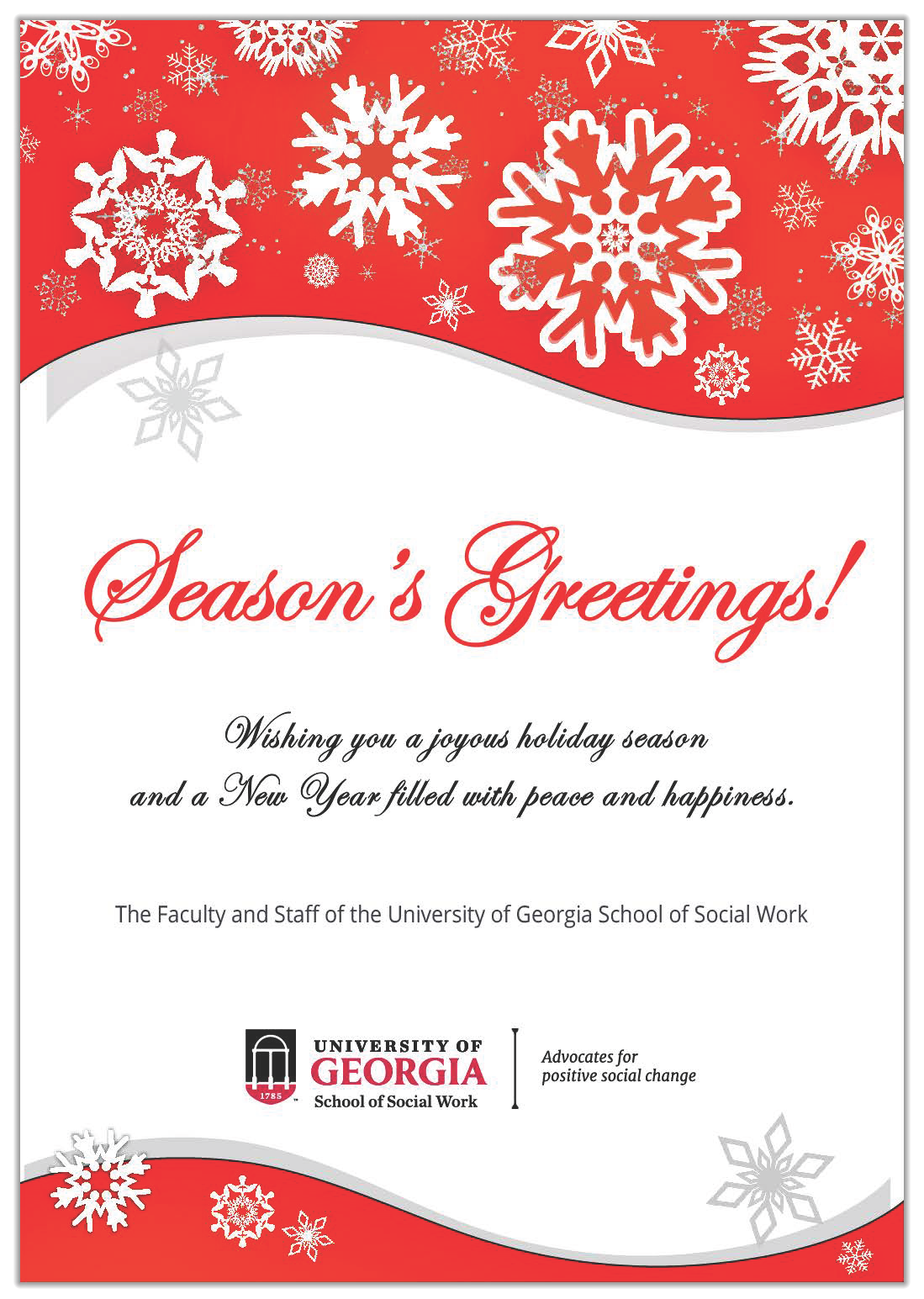 The holidays are coming, the year is winding down, and I hope everyone is looking forward to a restful break and joyful times with friends and family.
This letter also is a bittersweet one for me -- it is my last message as Dean of the School. As you know, in the spring I announced that effective Jan. 1, 2022, I would step down as Dean and return to the faculty to teach and engage in research. Looking back on the past five years makes me very proud of our School and what we've accomplished. We have done so much!
We've grown our enrollment; established an online MSW program; started Graduate (in-person and online) and Undergraduate Certificates in Nonprofit Management, a Graduate Certificate in Substance Use Counseling, and a Social Work Minor; established the annual Social Justice Symposium; created a new annual publication -- Social Justice Wanted; increased faculty publications and research expenditures; created the Center for Human Trafficking Research and Outreach and raised our U.S. News and World Report rankings from 38th to 22nd.
Whew! After all these milestones, it is now time for a new Dean to lead the School to its next level of success.
Serving as Dean of the School of Social Work at the University of Georgia has been the highlight of my career. I have treasured my students, been inspired by my faculty and staff, and am grateful to the School's numerous friends and supporters. Please know I will do everything I can to make the transition to new leadership under Interim Dean Llewellyn (Lee) Cornelius smooth and straightforward. I am confident the School of Social Work will continue on its trajectory of success in addressing social problems and promoting social justice.
Thank you for being such wonderful friends and supporters during the past five years. I have truly valued the relationships I've built, and I hope we will be able to continue our connection as I shift my professional role.
Have a wonderful holiday season!
Warmly,

Anna M. Scheyett
Dean and Professor

Cornelius Tapped as Interim Dean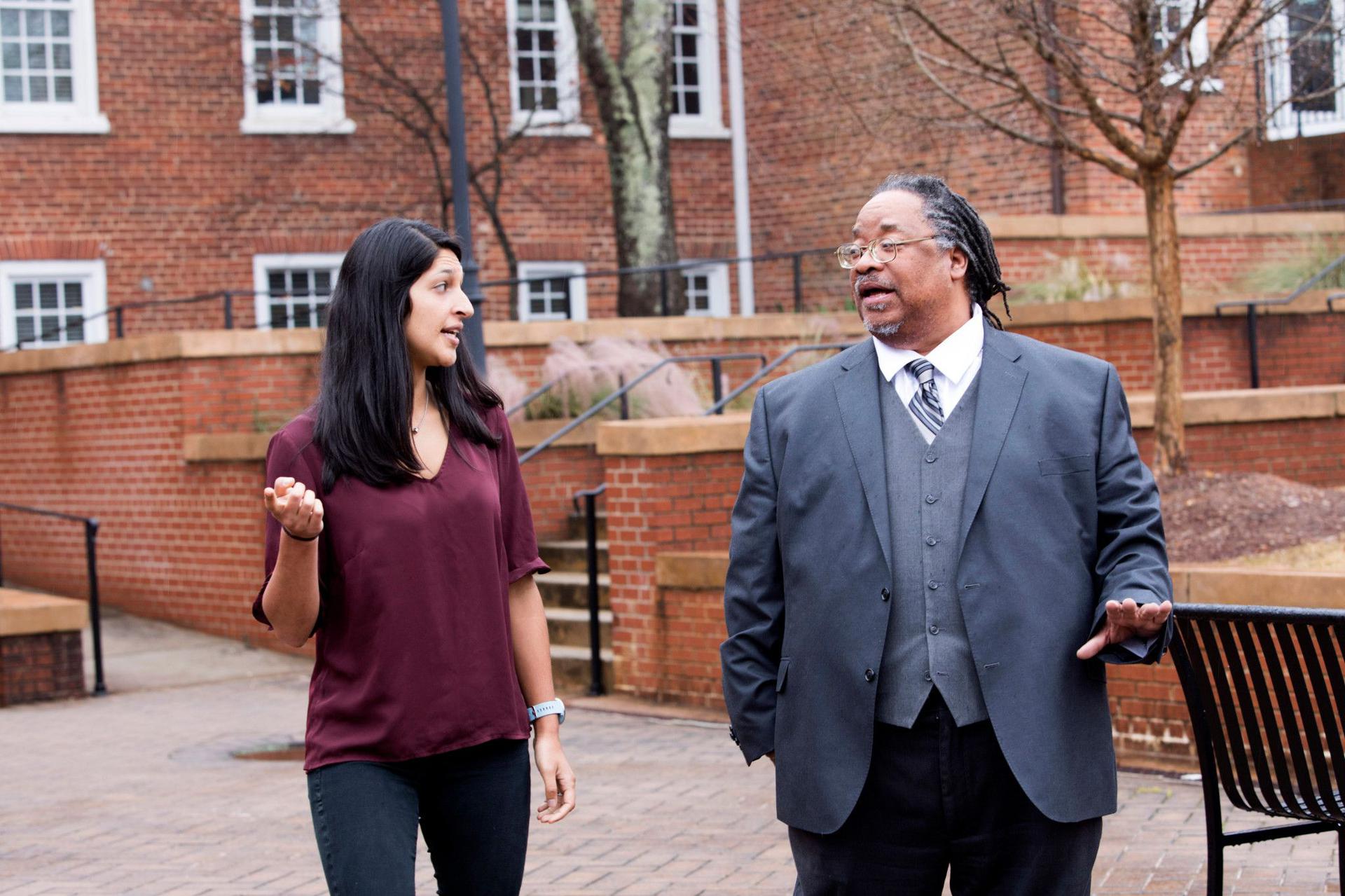 Dr. Llewellyn Cornelius (R) has been named Interim Dean of the School of Social Work. Photo by Dorothy Kozlowski/UGA.
The School of Social Work is pleased to announce that Dr. Llewellyn J. Cornelius has been named the Interim Dean, taking over leadership responsibilities as the School searches for its next dean.
Cornelius is a respected member of the School's faculty, serving as the director of the Center for Social Justice, Human and Civil Rights. He also is the Donald L. Hollowell Distinguished Professor of Social Justice and Civil Rights Studies.
Dr. Cornelius earned his Ph.D. and Master's degrees from the University of Chicago, and his Bachelor's degree from Syracuse University. Read the article from UGA today here.
Parham Policy Day Focuses on Health Services for Native Americans
On Nov. 15, the annual Parham Policy Day featured a virtual presentation from Dr. Gary Lawrence, the Director of Nursing Services with the Choctaw Nation Health Services Authority, focusing on policies, both past and present that have impacted health services for Native Americans.
More than 90 faculty and students participated, asking questions about advocacy, ways to shape policy, and the impact of COVID-19 on the health of the Choctaw Nation.
"Social workers everywhere need to learn about policy and ways to fight health disparities" said Dean Anna Scheyett. "Dr. Lawrence gives us great insight into historical trauma and current policies that put Native Americans at risk."
Lawrence is a proud member of the Choctaw Nation of Oklahoma and is a national expert in health disparities in Native American populations. He has conducted and presented his research on topics including recruitment and retention strategies and health risks/disparities in Native American populations.
Lawrence graduated from the University of Oklahoma's College of Nursing with a Doctorate in Nursing, completing his dissertation on "The Relationship Between Historical Trauma and Cultural Buffers in Choctaw Native American Indians With and Without Diagnosed Depression and Alcohol Abuse."
For nearly two decades, Parham Policy Day has highlighted the impact of social policy on society, under the leadership of Dr. June Gary Hopps, the Thomas M. "Jim" Parham Professor of Family and Children Studies.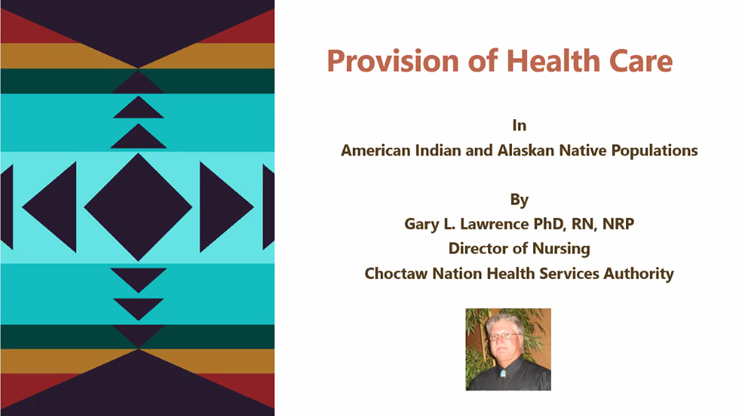 It's time to celebrate our graduates!
Fall Graduation is happening and we have 19 students from the BSW, MSW, MA NML, and PhD programs graduating. Along with UGA's graduation, there will be a drop-in at the School on Graduation Day from 10:00 am to 12:30 pm. Graduates can come to the School to pick up a congratulatory gift and have their picture taken in regalia with family, friends, and a faculty member or two. The invitation to the event is below. Hope to see you there!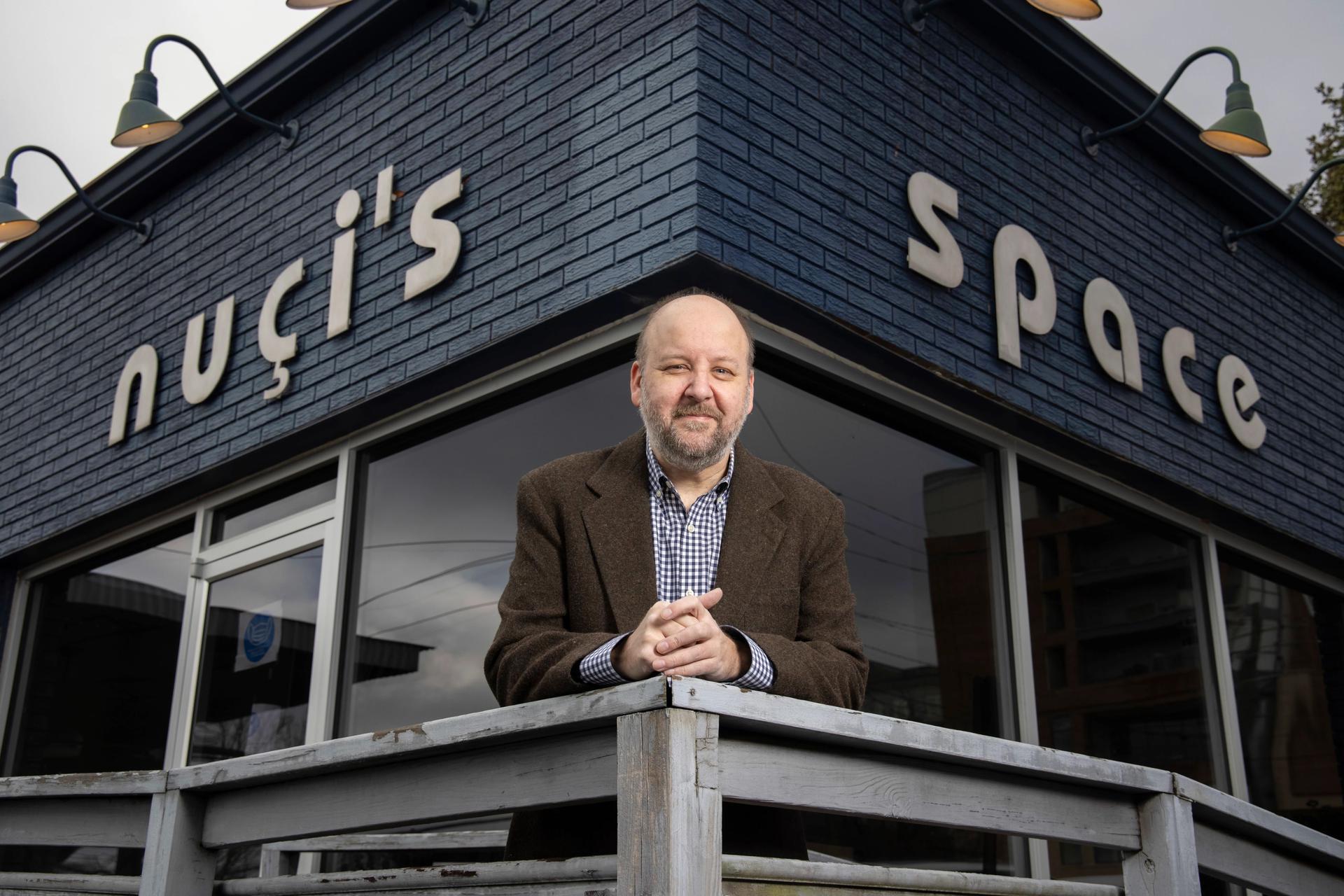 Bob Sleppy outside Nuçi's Space, where Sleppy is the executive director for the Athens nonprofit that allows musicians to meet with doctors about physical or mental health issues. Sleppy is also a UGA adjunct faculty member. Photo by Peter Frey/UGA
Bob Sleppy, BS '05, MBA '10, Cert NP Management & Leadership '11
Bob Sleppy is committed to making a difference. As the head of Nuci's Space, a non-profit organization based in Athens, Ga. focused on suicide prevention, he has built a place that supports music and the arts and offers mental health support and resources to those in need.
Sleppy is a proud alum of the University of Georgia, earning his B.S. in Psychology, as well as an MBA and a certificate in nonprofit management in 2011 from the School of Social Work. He has been included on the Bulldog 100 List recognizing the 100 fastest-growing organizations owned or operated by UGA alumni four times (2012, 2013, 2015 and 2016).
Nuçi's Space is in its 22nd year of providing mental health resources and services to musicians and other creative people living and working in the Athens area. Our mission is to prevent suicide. With a focus on musicians, Nuçi's Space advocates for and helps to alleviate the suffering of those living with a brain illness and fights to end the stigma of mental illness.
In addition to leading Nuçi's Space, Sleppy is a valued part-time lecturer for the Institute for Nonprofit Organizations at the School.
Join fellow Social Work Bulldogs committed to increasing access and affordability for the next generation. Your gift, no matter the size, empowers students to deliver innovative solutions for challenges and transform the way people experience life.