Campus Operations Updates, Social Distancing in the Classroom, University Testing Services, and more!

Spring 2021
News for Students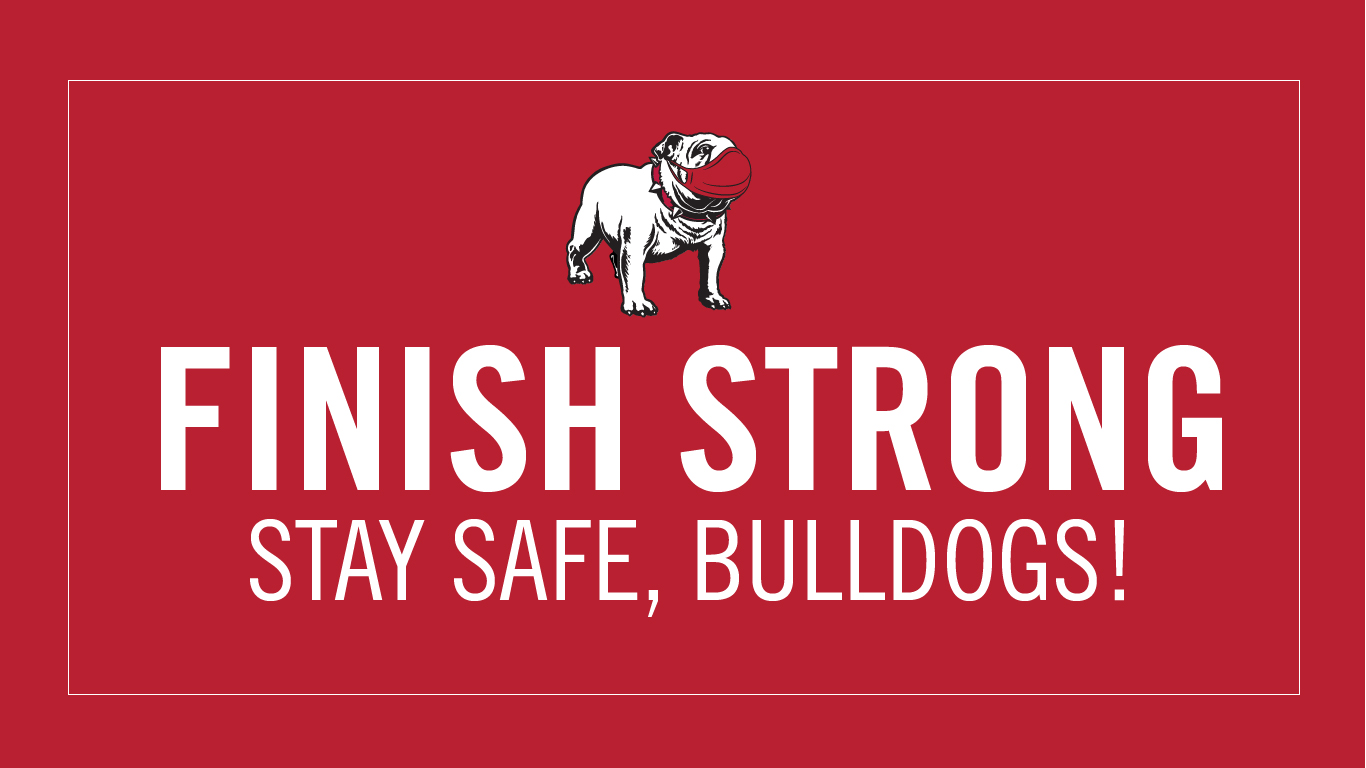 For nearly a year, this weekly email has served as an important digest of all COVID-19 updates and reminders to the UGA community. Thanks to your commitment to remaining Georgia Strong and Dawg Strong throughout the pandemic, we are now able to Finish Strong as we look towards the summer months and Fall Semester.
We are pleased to report that this week's edition will serve as the final weekly digest. We will now return to regular ArchNews messages, on an as-needed basis, to communicate timely and relevant information to the campus community.
For current updates and information, visit UGA's COVID-19 website.
UGA finishes academic year strong with lowest number of COVID-19 cases to date
Reported cases are in the single digits for the first time.
The University of Georgia is ending the academic year on a high note, with the lowest number of COVID-19 cases recorded since the university began its testing program last August. Only seven cases were reported last week—five students and two staff members. No faculty cases were reported.
Three of the cases were diagnosed through the University's surveillance testing program. A total of 252 tests were administered at the Legion Field surveillance site and in a satellite location, for a positivity rate of 1.19%. For the first time this year, no positive cases were reported at the University Health Center.
Expanded Vaccine Eligibility
Our community becomes safer and stronger with every person who is vaccinated. Vaccine administration will continue over the summer at the University Health Center. All three current vaccines are offered. Make your appointment via our portal. The UHC will provide second doses to any student, even if they have graduated before the date of their second dose of vaccine is due.
Beginning Monday, May 10, the UHC broadened eligibility for vaccination to include the following groups:
Dependents of UGA faculty, staff and students who are of age to be eligible for the vaccines (currently 16 years and older, but vaccine administration for ages 12 and up will be available soon).

UGA retirees.

Spouses and significant others of UGA retirees, faculty, staff and students.

Visitors to campus engaged in research, academic or non-academic summer engagement/transition opportunities.

Those visiting campus as part of Orientation.

Active employees and (primarily) students enrolled at other USG institutions who live in the Athens vicinity and who wish to receive vaccine at the UHC over the summer.

For those members of the expanded eligibility groups listed above, please submit this survey and the UHC will reach out to you to schedule the appointment directly.
Surveillance testing
Surveillance testing will continue in the summer and will be relocated from Legion Field to the University Health Center on Monday, May 17. Please consider getting tested prior to leaving campus for the summer if you are not fully vaccinated. Book your appointment via Vet View scheduling process.

As of Monday, May 17, we will discontinue the daily email reminder to perform the DawgCheck symptom screener. We encourage you to stay at home if you become ill or until you have excluded COVID-19 as the cause of your symptoms. UGA adheres to current CDC quarantine and isolation guidance and requires that it be followed. If you receive a positive test for COVID-19, you must continue to report it through DawgCheck.
COVID-19 Vaccination and Testing Prior to International Travel
If you are planning to travel abroad, schedule an appointment with the UHC Travel Clinic while you are planning your flight arrangements so that COVID-19 vaccination and testing can be arranged in advance as your travel date approaches. Call 706-542-5575 to schedule your appointment.
Free COVID-19 Vaccines Testing at Athens Walk-Up Clinic
The Northeast Health District will be hosting a pop-up mobile clinic in downtown Athens this Wednesday, May 12 from 11:00 a.m.-7:00 p.m. The mobile clinic will be located on College Ave. between Hancock Ave. and Washington St., near City Hall.

The COVID-19 vaccine offered will be the single-dose Johnson & Johnson's Janssen vaccine.
Although appointments are not required, anyone wishing to do so may make an appointment online or call 706-340-0996.
Resources for Student Well-being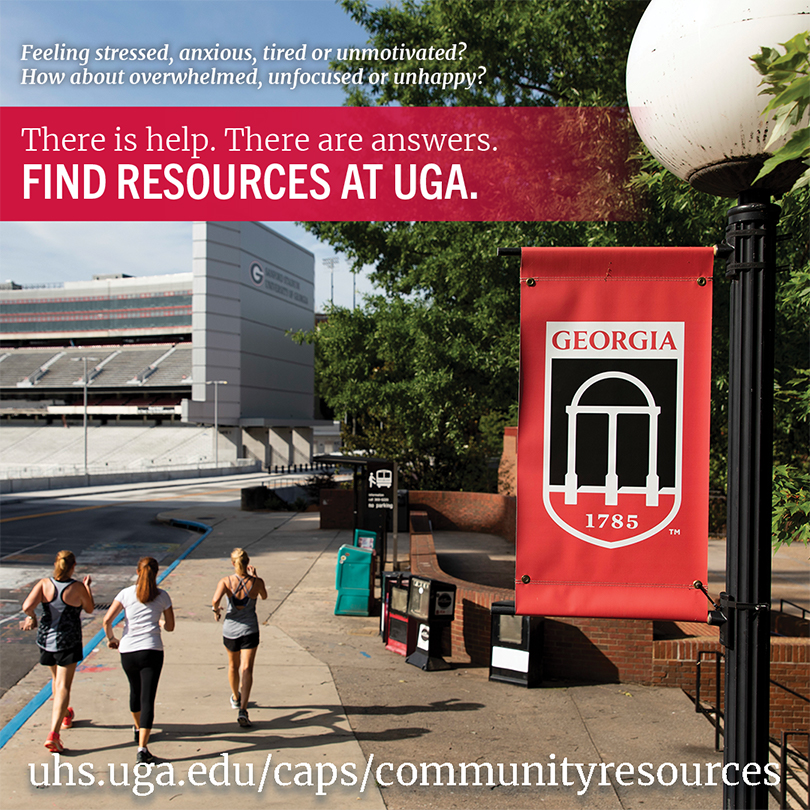 We know this has been a tough year, but springtime is upon us, and we're close to wrapping up another academic year. UGA has many resources to support students as we enter these last few weeks of the semester. In addition to accessing the resources below, we encourage you to try the following tips as you take care of your own wellbeing and those around you:
Check in with friends.

Get outside, enjoy the warmer weather and get some fresh air.

Create boundaries for yourself on social media and limit its use.

Get 7-8 hours of sleep each day. You'll experience better concentration, improved mood and have less anxiety.

Engage! Get connected and get involved. (Check out the UGA Master Calendar, the UGA Involvement Network and search lists of things to do around Athens.)
If you need emotional or academic support, please contact Student Care and Outreach, Counseling & Psychiatric Services (CAPS) or other support available on campus.
UGA offers a couple of virtual mental health resources through Therapy Assistance Online (TAO) and a partnership with Christie Campus Health.
You can reach CAPS by phone at 706-542-2273. If you would prefer to talk to a non-UGA counselor, Christie Campus Health offers a 24/7 support line at 833-910-3371.
For a more comprehensive listing of resources, please visit UGA's Student Resources for Well-being or the UGA Mental Health Initiative.
Summer Libraries Hours
UGA Libraries will be open and ready to serve the campus community throughout the summer. Librarians, archivists and staff will be available for help, research consultations and other activities—both in person and online—for students, faculty and others, whether they are taking summer classes, preparing for the fall semester, working on independent projects or have other needs.
More details about hours during the Maymester and summer session can be found here.
Because of the intercession periods, closures and holidays, we encourage patrons to check our website prior to stopping in at a library location. For up-to-date service hours at each location, as well as online chat hours, see libs.uga.edu
Seniors, Claim Your Graduation Gift!
Update your contact information to receive your welcome gift from UGA Alumni.
By updating your contact information, you'll be invited to in-person and virtual events, get connected to your local alumni chapter, and receive news from the Classic City. Think of our events and programs as your portal back to UGA.
Summer Registration Remains Open
83% of students that graduate in 4 years attend summer sessions. It is not too late to register for classes during one of the five different summer sessions offered this year. Already have plans? Many classes are offered completely online. Worried about cost? HOPE Scholarship and Pell Grants can be applied toward summer tuition.