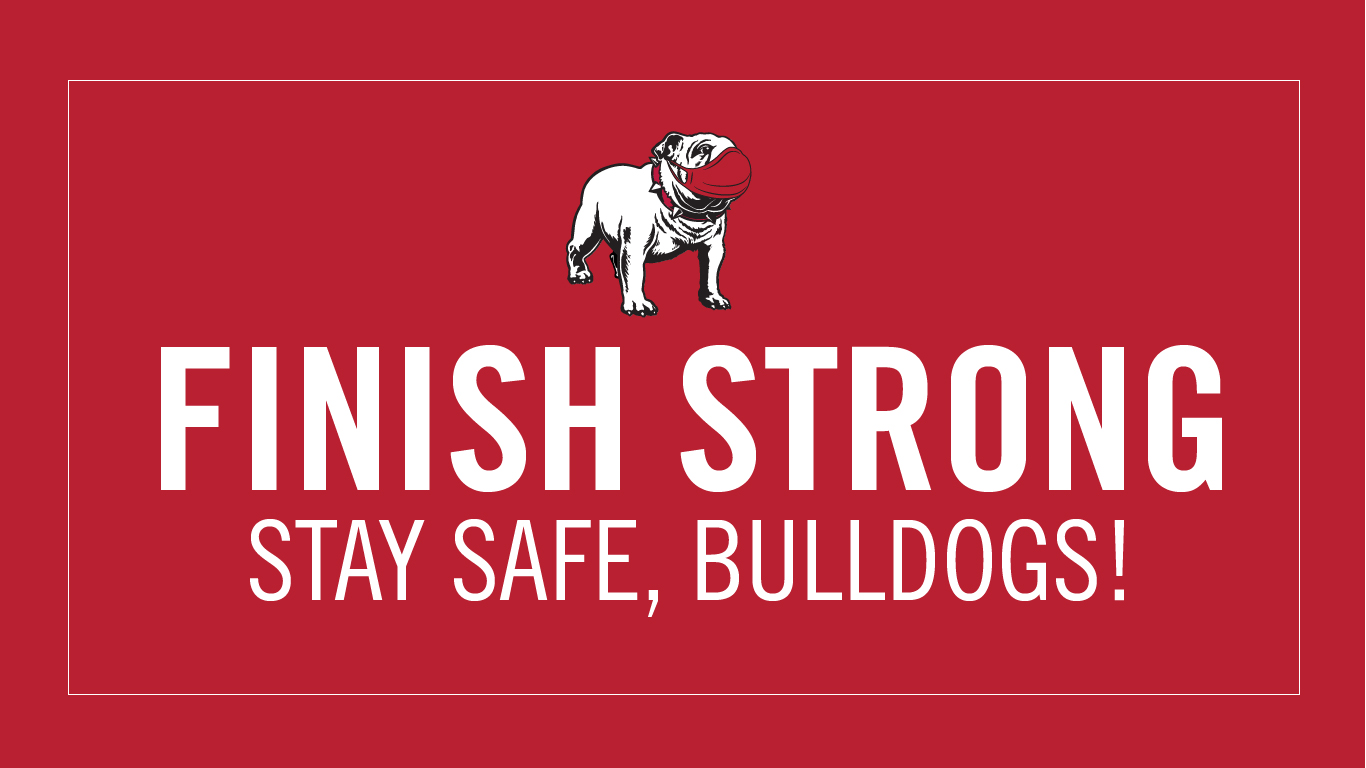 For nearly a year, this weekly email has served as an important digest of all COVID-19 updates and reminders to the UGA community. Thanks to your commitment to remaining Georgia Strong and Dawg Strong throughout the pandemic, we are now able to Finish Strong as we look toward the summer months and Fall Semester.
We are pleased to report that this week's edition will serve as the final weekly digest. We will now return to regular ArchNews messages, on an as-needed basis, to communicate timely and relevant information to the campus community.
For current updates and information, visit UGA's COVID-19 website.
Expanded Vaccine Eligibility
Our community becomes safer and stronger with every person who is vaccinated. Vaccine administration will continue over the summer at the University Health Center. All three current vaccines are offered. Make your appointment via our portal. The UHC will provide second doses to any student, even if they have graduated before the date of their second dose of vaccine is due.
Beginning Monday, May 10, the UHC broadened eligibility for vaccination to include the following groups:
Dependents of UGA faculty, staff and students who are of age to be eligible for the vaccines (currently 16 years and older, but the FDA is considering authorization for 12 and up in the near future).

UGA retirees.

Spouses and significant others of UGA retirees, faculty, staff and students.

Visitors to campus engaged in research, academic or non-academic summer engagement/transition opportunities.

Those visiting campus as part of Orientation.

Active employees and (primarily) students enrolled at other USG institutions who live in the Athens vicinity and who wish to receive vaccine at the UHC over the summer.

For those members of the expanded eligibility groups listed above, please submit this survey and the UHC will reach out to you to schedule the appointment directly.
Surveillance testing
Surveillance testing will continue in the summer and will be relocated from Legion Field to the University Health Center on Monday, May 17. Please consider getting tested prior to leaving campus for the summer if you are not fully vaccinated. Book your appointment via Vet View scheduling process.

As of Monday, May 17, we will discontinue the daily email reminder to perform the DawgCheck symptom screener. We encourage you to stay at home if you become ill or until you have excluded COVID-19 as the cause of your symptoms. UGA adheres to current CDC quarantine and isolation guidance and requires that it be followed. If you receive a positive test for COVID-19, you must continue to report it through DawgCheck.
COVID-19 Vaccination and Testing Prior to International Travel
If you are planning to travel abroad, schedule an appointment with the UHC Travel Clinic while you are planning your flight arrangements so that COVID-19 vaccination and testing can be arranged in advance as your travel date approaches. Call 706-542-5575 to schedule your appointment.
Free COVID-19 Vaccines Testing at Athens Walk-Up Clinic
The Northeast Health District will be hosting a pop-up mobile clinic in downtown Athens this Wednesday, May 12 from 11:00 a.m.-7:00 p.m. The mobile clinic will be located on College Ave. between Hancock Ave. and Washington St., near City Hall.

The COVID-19 vaccine offered will be the single-dose Johnson & Johnson's Janssen vaccine.
Although appointments are not required, anyone wishing to do so may make an appointment online or call 706-340-0996.
Stay Well with UGA's Wellbeing Programs
UGA supports opportunities for you to participate in comprehensive programs that help you achieve wellbeing in all aspects of life. Financial, personal, mental health, work/life balance wellbeing programs and more can be found on the Wellbeing page of the Human Resources website.
Summer Libraries Hours
UGA Libraries will be open and ready to serve the campus community throughout the summer. Librarians, archivists and staff will be available for help, research consultations and other activities—both in person and online—for students, faculty and others, whether they are taking summer classes, preparing for the fall semester, working on independent projects or have other needs.
More details about hours during the Maymester and summer session can be found here.
Because of the intercession periods, closures and holidays, we encourage patrons to check our website prior to stopping in at a library location. For up-to-date service hours at each location, as well as online chat hours, see libs.uga.edu
Research Operations to Remain Under Phase 3 Until Further Notice
Although the situation remains fluid and further guidance from the CDC, the USG and/or the Governor's Office is anticipated, at this time Phase 3 Research Resumption Requirements and Plans remain in effect for Summer 2021. Any adjustment of research operational requirements will be communicated promptly to campus and accompanied by updates to the Research FAQ and the Research Resumption Requirements page.
Outreach: PSO and Extension
Children's Garden Returns to Regular Hours, Eliminates Need for Reserved Visits
The Alice H. Richards Children's Garden at the State Botanical Garden of Georgia has reopened to the public, and advanced reservations for timed visits are no longer required. The full reopening was approved by UGA's Preventive Measures Advisory Board, based on updated guidelines from the CDC for outdoors experiences, scientific evidence for low rates of transmission on surfaces and an increase in community vaccination rates. Some guidelines will remain in place. Signage at the garden reminds people to maintain safe social distancing even when outside, to wear face coverings when they are not able to socially distance and to avoid crowding restrooms. The garden staff will regularly disinfect and clean frequently touched surfaces and will have the option to close areas of the garden when they are working outdoors near visitors.
Breakfast and Family Dinner To-Go Continue Through Summer
The Georgia Center is serving Breakfast on the Run with curbside service from 7:30-9:30 a.m. each weekday. Breakfasts are $5 plus tax.
Also, Bulldog Bistro chefs are preparing Take Home Family Meals for $35. The meals, which feed four to five people, include a choice of an entrée, salad, two side dishes and buttered rolls. The menu changes weekly.