Campus Operations Updates, Social Distancing in the Classroom, University Testing Services, and more!

Spring 2021
News for Students
Save the Date for the 2021 Second Year Welcome!
Rising second-year students, please note the new date for the Second-Year Welcome event this fall. More info to come as this exciting event approaches!
Second week of very low COVID-19 case count at UGA
Cases of COVID-19 at the University of Georgia remained very low for the second consecutive week. Only 18 cases were reported last week—16 students and two staff members. No faculty cases were reported.
Surveillance testing declined again from the prior week, with a total of 393 tests administered at the Legion Field surveillance site and in a satellite location. The positivity rate was 1.53 percent.
As of Sunday, May 2, the University Health Center has administered 19,682 vaccines, with 9,910 members of the UGA community being fully vaccinated. Many members of the UGA community have received their vaccines at other locations, improving overall progress toward herd immunity. All faculty, staff and students over the age of 16 are now eligible to be vaccinated, and the UHC can accommodate up to 1,000 vaccines per day.
COVID-19 Updates for the Summer
The Medical Oversight Task Force has released COVID-related updates regarding the transition to summer.
Vaccines. Service will continue over the summer at the UHC. All three current vaccines are offered. Students and employees should not delay getting vaccinated! Make your appointment via our portal.
Surveillance testing. Surveillance testing will continue in the summer and will be relocated from Legion Field to the University Health Center on Monday, May 17. Please consider getting tested prior to leaving campus for the summer if you are not fully vaccinated. Book your appointment via Vet View scheduling process.
DawgCheck. As of Monday, May 17, we will discontinue the daily e-mail reminder to perform the DawgCheck symptom screener. However, UGA adheres to current CDC quarantine and isolation guidance and requires that it be followed. If you receive a positive test for COVID-19, you must continue to report it through DawgCheck.
Positive COVID-19 Test? Report It.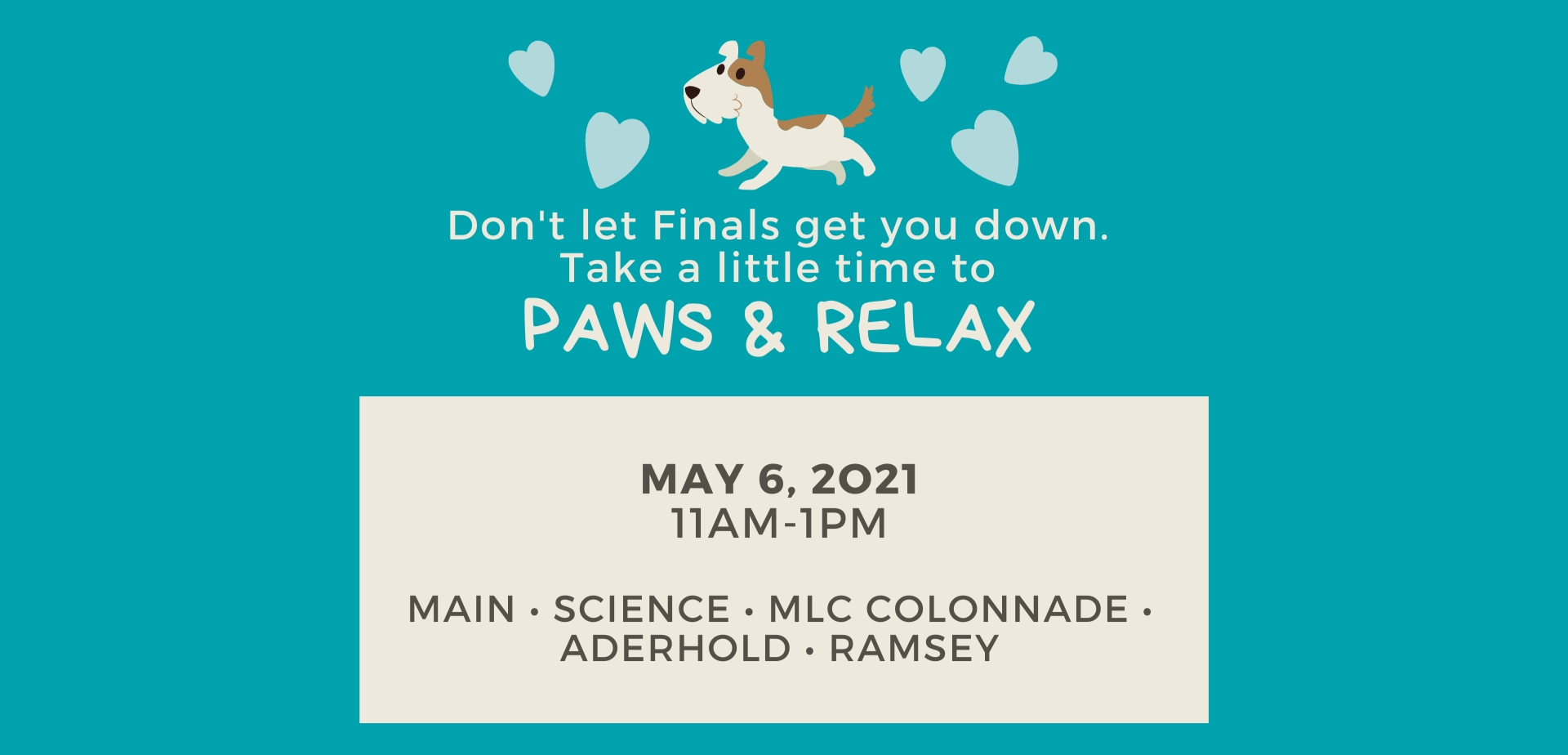 Students will have a chance to take a break from studying at one of the UGA Libraries and Paws & Relax during finals. The Main Library, Science Library, and Miller Learning Center will host therapy dogs from 11 a.m.-1 p.m. on Thursday, May 6. The outdoor event will give students a chance to get some comfort from furry friends and learn about student wellness initiatives and the University Health Center. Paws & Relax will also be held outside Ramsey and Aderhold Hall.
Resources for Student Well-being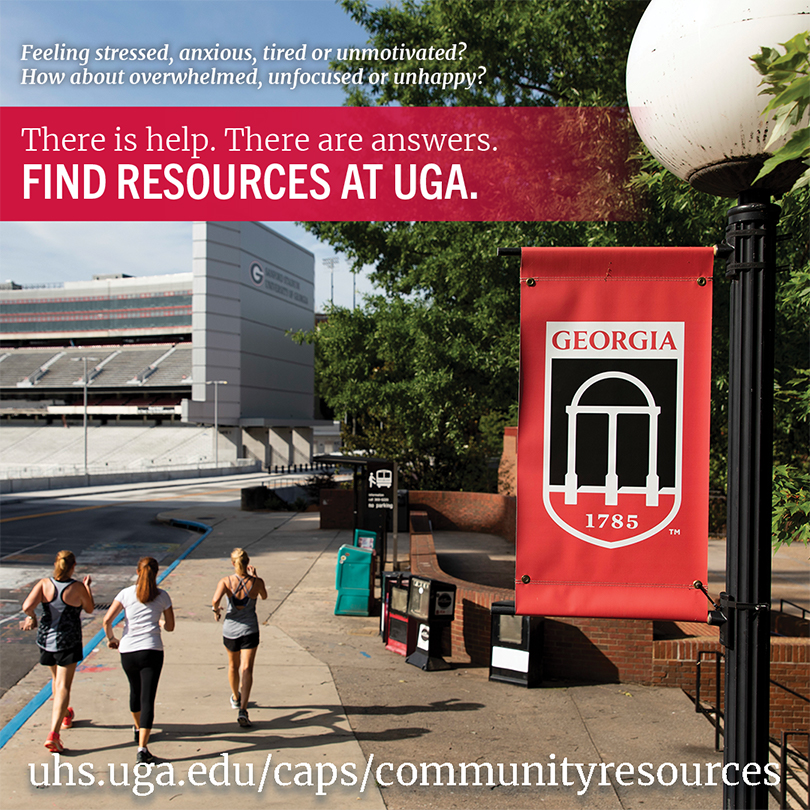 We know this has been a tough year, but springtime is upon us, and we're close to wrapping up another academic year. UGA has many resources to support students as we enter these last few weeks of the semester. In addition to accessing the resources below, we encourage you to try the following tips as you take care of your own wellbeing and those around you:
Check in with friends.

Get outside, enjoy the warmer weather and get some fresh air.

Create boundaries for yourself on social media and limit its use.

Get 7-8 hours of sleep each day. You'll experience better concentration, improved mood and have less anxiety.

Engage! Get connected and get involved. (Check out the UGA Master Calendar, the UGA Involvement Network and search lists of things to do around Athens.)
If you need emotional or academic support, please contact Student Care and Outreach, Counseling & Psychiatric Services (CAPS) or other support available on campus.
UGA offers a couple of virtual mental health resources through Therapy Assistance Online (TAO) and a partnership with Christie Campus Health.
You can reach CAPS by phone at 706-542-2273. If you would prefer to talk to a non-UGA counselor, Christie Campus Health offers a 24/7 support line at 833-910-3371.
For a more comprehensive listing of resources, please visit UGA's Student Resources for Well-being or the UGA Mental Health Initiative.
Free Virtual Fitness Class
Recreational Sports is offering free access to virtual fitness classes from May 3-14. Go from distressed to de-stressed with this limited-time fitness resource!

Fitness on-demand classes are open to the entire UGA community by following these easy steps:
We hope you will take advantage of our Fitness On-Demand library through the Advagym App during this time!
TSA Extends Face Covering Requirement on Buses and Transportation Systems
The Transportation Security Administration (TSA) has extended the face covering requirement for individuals using transportation networks, including bus systems through September 13, 2021. In accordance with the TSA policy, face coverings will remain required on UGA buses and at bus stops during this time. Thank you for helping us keep UGA healthy.
Update to Plans for Spring Commencement
In light of changing public health guidance from the CDC and DPH, as well as an updated Executive Order from the Governor, the University of Georgia is amending plans for Spring Commencement.
Eligible Spring graduates will be provided a ticket to sit on Dooley Field at Sanford Stadium, if they choose, and there will be no limit on the number of guests in the stands. The dates for the individual Undergraduate and Graduate Commencement ceremonies remain the same, spread over three days. All levels of the stadium will be open to promote social distancing, as strongly encouraged by the Governor's Executive Order. Masks will also be strongly encouraged.
This site will be updated as soon as additional details for these celebrations are available.
UGA Libraries Offer Access to Respondus
Most desktop computers at the Main and Science Libraries and the Miller Learning Center are equipped with Respondus software, although the PCs are not equipped with webcams needed for some tests.
To utilize Respondus Monitor, students may check out laptops at the circulation desks of the Main and Science Libraries or at the tech lending desk on the third floor of the Miller Learning Center. The MLC's 30 Mac desktops on the third floor are also equipped with webcams for Respondus Monitor testing.
Hours at the MLC and Main and Science Libraries have been extended to 2 a.m. Sundays through Thursdays, with earlier closings on Fridays and Saturdays. Face coverings are required at all UGA Libraries locations. For complete hours and services, as well as online resources and virtual chat, visit libs.uga.edu.
Summer Registration Remains Open
83% of students that graduate in 4 years attend summer sessions. It is not too late to register for classes during one of the five different summer sessions offered this year. Already have plans? Many classes are offered completely online. Worried about cost? HOPE Scholarship and Pell Grants can be applied toward summer tuition.
Move-out Landfill Diversion Program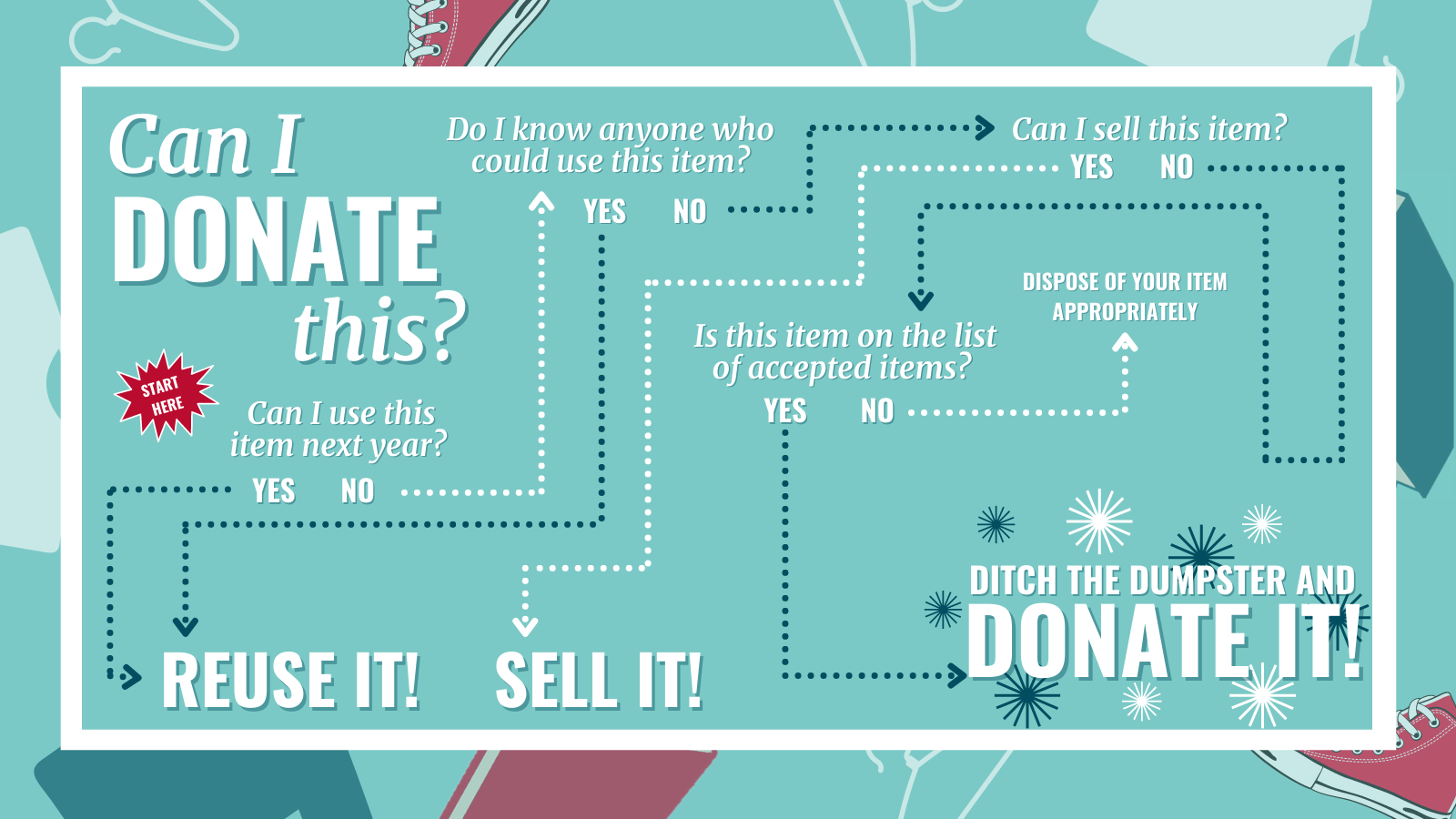 Every year at move out, University Housing donates an average of 60,000 pounds of unwanted furniture, clothing and other items through the Dawgs Ditch the Dumpster and Donate landfill diversion program. Donations go to local nonprofits such as Project Safe (a local organization that works to end domestic violence through crisis intervention and support services), America's Thrift store (benefitting Children's Healthcare of Atlanta), the UGA Swap Shop and the UGA Food Pantry.
This year's program is running through May 13. Anyone can donate by dropping off unwanted items at one of 13 locations across campus.
For more information on nonprofit partners, accepted items, a map of donation locations and volunteer opportunities, click here.