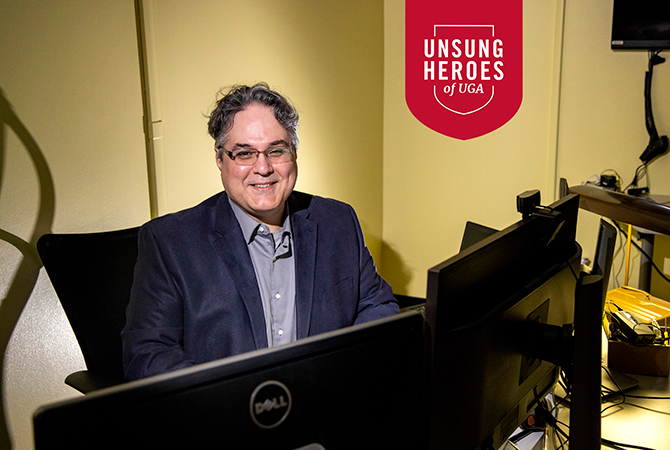 When COVID-19 forced so many things online, there needed to be an efficient way to get everyone up and running. That's where Unsung Hero Jim Henneberger, director of information technology at the University of Georgia's School of Law, came in. His duties normally include supervising and managing the computer services department. But with COVID-19, Henneberger and his team needed to adapt technology to serve students differently, from shifting exams to online course management systems to outfitting hybrid classrooms to serve remote and in-person students. Read more about how Henneberger help the School of Law implement technology changes during the pandemic.
Get a Georgia Strong/Dawg Strong T-shirt!
Members of the UGA community who get vaccinated at the UHC or get tested at the Legion Field surveillance testing site this week will receive a Georgia Strong/Dawg Strong t-shirt, while supplies last, courtesy of the President's Venture Fund.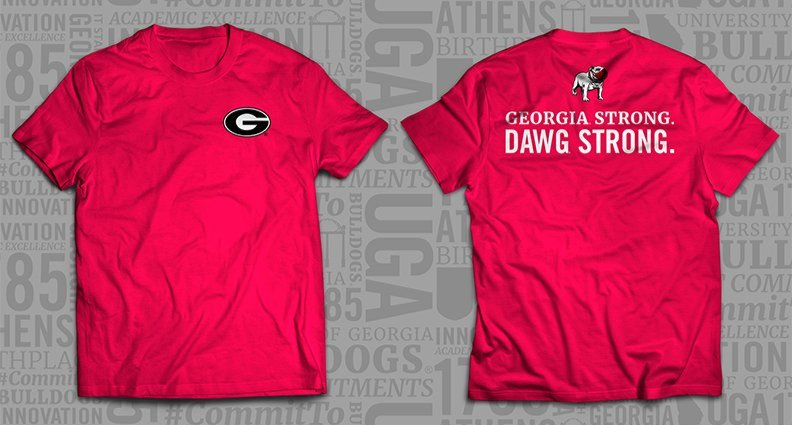 Surveillance Testing Continues at Legion Field
Testing continues to play an important role in preventing further spread
Free asymptomatic-only testing is available for all UGA community members at Legion Field. You may schedule an appointment or walk in Monday-Friday 9 a.m.-3:30 p.m. The Legion Field site testing schedule will follow the University of Georgia calendar for closure. Remember to bring your UGA ID.
Remember to Check Your Symptoms Before Coming to Campus

Stay Well with UGA's Wellbeing Programs
UGA supports opportunities for you to participate in comprehensive programs that help you achieve wellbeing in all aspects of life. Financial, personal, mental health, work/life balance wellbeing programs and more can be found on the Wellbeing page of the Human Resources website.
Resources for Supporting Your Students
As we near the end of another tough semester and head into finals and final projects, we encourage you to ensure students that UGA has many resources to support them. Please take a moment to check in with your students and ask if they need any support. You may refer to them to the following resources:
If students need emotional or academic support, please refer them to Student Care and Outreach, Counseling & Psychiatric Services (CAPS), or other supports available on campus
UGA offers a couple of virtual mental health resources, as well: Therapy Assistance Online (TAO)and a partnership with Christie Campus Health

Students can reach CAPS by phone at 706-542-2273, or if they prefer to talk to a non-UGA counselor, Christie Campus Health offers a 24/7 support line at 833-910-3371.

Encourage students to engage, get connected, and get involved (check out the UGA Master Calendar, the UGA Involvement Network, and search lists of things to do around Athens).
For a more comprehensive listing of resources, please visit UGA's Student Resources for Well-being or the UGA Mental Health Initiative.
UGA Libraries Offer Extra Support
As your students prepare for their final papers and projects for the semester, remember that the UGA Libraries are here to help. Students can chat with a librarian—either in person or online—for help in finding books, journal articles or other research materials, for figuring out their citations, and more. They can also take advantage of library study spaces and find technology—from computers and laptops to virtual reality and more—to help on their path to discovery. Find out more about library services.

Join Upcoming Sessions of Research Matters Live!
Starting in May, UGA limited submissions will migrate to InfoReady, a management system for internal competitions. This Friday, April 30, at 11 a.m., an Office of Research panel will discuss "InfoReady: A New System for UGA Limited Submissions." This webinar will provide an overview of InfoReady and walk attendees through tutorials on creating an InfoReady account, navigating the website, applying to internal competitions, managing applications and reviewing applications.
Next Tuesday, May 4, at 1 p.m., Kim Fowler from the Human Subjects Office will host the fifth and final session in the series, "Community-based Participatory Research: Consent." In this concluding session, panelists will explore the meaning of consent, why it is necessary for successful research, how to approach it appropriately, and what consent looks like in research.
Visit the RM Live website to register for either session via Zoom.
Outreach: PSO and Extension
UGA Extension Distributing Vaccine Education Resources Statewide
UGA Extension is partnering with the Georgia Department of Agriculture and Georgia Farm Bureau to provide COVID-19 vaccine education resources in every county through the Cooperative Extension network. Resources are being delivered in Spanish and English. These resources may be found here, or you can contact your local UGA Extension office for more information.
Free Online Personal Finance Course Available Through April 30
Register for a free online personal finance course offered through the UGA Center for Continuing Education & Hotel in celebration of National Financial Literacy Month. The deadline to register is April 30 at 7 p.m. Participants have 90 days to complete the 24-hour course.
Call the Georgia Center for Virtual or Hybrid Meeting Needs
The UGA Center for Continuing Education can handle your meeting or conference through a virtual or hybrid format if meeting in person is not an option.
The Georgia Center provides a professionally trained team to work with you during format development and delivery to help you best meet your objectives; a technical team assigned to work with each of your speakers; trained moderators to assist with interactive sessions; and the ability to pre-record content as well as record live sessions. Call 706-542-2654 or email the Georgia Center to learn more.
Breakfast and Family Dinner To-Go at the Georgia Center
The Georgia Center is serving Breakfast on the Run with curbside service from 7:30-9:30 a.m. each weekday. Breakfasts are $5 plus tax.
Also, Bulldog Bistro chefs are preparing Take Home Family Meals for $35. The meals, which feed four to five people, include a choice of an entrée, salad, two side dishes and buttered rolls. The menu changes weekly.