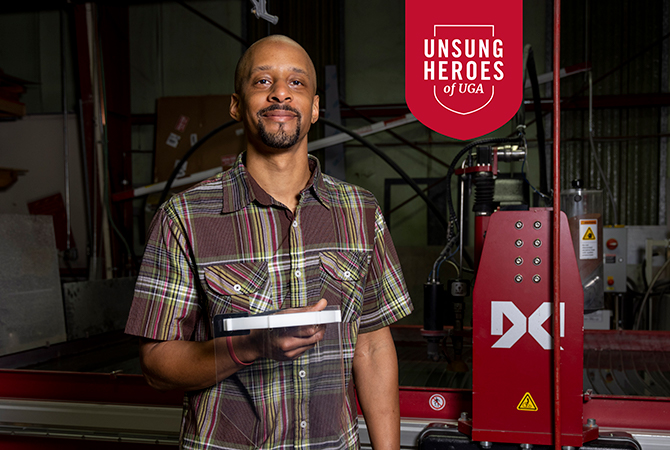 When Carlos Barrow walks into his shop, every day is a "Life is like a box of chocolates" situation — he never knows what he's going to get. As manager of the Instrument Design and Fabrication Shop at the Office of Research, he is tasked with designing and making pretty much whatever anyone needs. During the pandemic, the shop kicked into an even higher gear to provide customized equipment for UGA researchers and fill new COVID-19 supply needs. Read more about how Barrow and his team come up with innovative ways to design equipment for the university.
COVID-19 Updates for the Summer
The Medical Oversight Task Force has released COVID-related updates regarding the transition to summer.
Vaccines. Service will continue over the summer at the UHC. All three current vaccines are offered. Students and employees should not delay getting vaccinated! Make your appointment via our portal.
Surveillance testing. Surveillance testing will continue in the summer and will be relocated from Legion Field to the University Health Center on Monday, May 17. Please consider getting tested prior to leaving campus for the summer if you are not fully vaccinated. Book your appointment via Vet View scheduling process.
DawgCheck. As of Monday, May 17, we will discontinue the daily e-mail reminder to perform the DawgCheck symptom screener. However, UGA adheres to current CDC quarantine and isolation guidance and requires that it be followed. If you receive a positive test for COVID-19, you must continue to report it through DawgCheck.
Positive COVID-19 Test? Report It.

Stay Well with UGA's Wellbeing Programs
UGA supports opportunities for you to participate in comprehensive programs that help you achieve wellbeing in all aspects of life. Financial, personal, mental health, work/life balance wellbeing programs and more can be found on the Wellbeing page of the Human Resources website.
Resources for Supporting Your Students
As we near the end of another tough semester and head into finals and final projects, we encourage you to ensure students that UGA has many resources to support them. Please take a moment to check in with your students and ask if they need any support. You may refer to them to the following resources:
If students need emotional or academic support, please refer them to Student Care and Outreach, Counseling & Psychiatric Services (CAPS), or other supports available on campus
UGA offers a couple of virtual mental health resources, as well: Therapy Assistance Online (TAO)and a partnership with Christie Campus Health

Students can reach CAPS by phone at 706-542-2273, or if they prefer to talk to a non-UGA counselor, Christie Campus Health offers a 24/7 support line at 833-910-3371.

Encourage students to engage, get connected, and get involved (check out the UGA Master Calendar, the UGA Involvement Network, and search lists of things to do around Athens).
For a more comprehensive listing of resources, please visit UGA's Student Resources for Well-being or the UGA Mental Health Initiative.
Free Virtual Fitness Class
Recreational Sports is offering free access to virtual fitness classes from May 3-14. Go from distressed to de-stressed with this limited-time fitness resource!

Fitness on-demand classes are open to the entire UGA community by following these easy steps:
We hope you will take advantage of our Fitness On-Demand library through the Advagym App during this time!
Update to Plans for Spring Commencement
In light of changing public health guidance from the CDC and DPH, as well as an updated Executive Order from the Governor, the University of Georgia is amending plans for Spring Commencement.
Eligible Spring graduates will be provided a ticket to sit on Dooley Field at Sanford Stadium, if they choose, and there will be no limit on the number of guests in the stands. The dates for the individual Undergraduate and Graduate Commencement ceremonies remain the same, spread over three days. All levels of the stadium will be open to promote social distancing, as strongly encouraged by the Governor's Executive Order. Masks will also be strongly encouraged.
This site will be updated as soon as additional details for these celebrations are available.
Travel Reminders and Motor Vehicle Policy
UGA faculty and staff are currently limited to essential business travel only, which requires the completion of a Travel Authority (TA) as a pre-approval for all essential travel (in-state and out-of-state) regardless of cost, level of reimbursement or funding source. Blanket authorizations for up to one fiscal year are available for employees with frequent and reoccurring in-state essential travel. Research-related travel must be part of an approved Research Resumption Plan (RRP) under the Office of Research guidelines. In the comments section of the TA, include the RRP approval date and approver name.
As a reminder, UGA's motor vehicle policy was updated last summer to help promote a safe work environment. Each year, travelers using state vehicles should submit a Driver Acknowledgment Form and complete the "UGA Motor Vehicle Use Policy Training" in the Professional Education Portal (PEP). Those who use state vehicles at least three times per week should also complete an updated Motor Vehicle Record Request form each year.
UGA Libraries Offers Access to Respondus
Most desktop computers at the Main and Science Libraries and the Miller Learning Center are equipped with Respondus software, although the PCs are not equipped with webcams needed for some tests.
To utilize Respondus Monitor, students may check out laptops at the circulation desks of the Main and Science Libraries or at the tech lending desk on the third floor of the Miller Learning Center. The MLC's 30 Mac desktops on the third floor are also equipped with webcams for Respondus Monitor testing.
Hours at the MLC and Main and Science Libraries have been extended to 2 a.m. Sundays through Thursdays, with earlier closings on Fridays and Saturdays. Face coverings are required at all UGA Libraries locations. For complete hours and services, as well as online resources and virtual chat, visit libs.uga.edu.
Outreach: PSO and Extension
Call the Georgia Center for Virtual or Hybrid Meeting Needs
The UGA Center for Continuing Education can handle your meeting or conference through a virtual or hybrid format if meeting in person is not an option.
The Georgia Center provides a professionally trained team to work with you during format development and delivery to help you best meet your objectives; a technical team assigned to work with each of your speakers; trained moderators to assist with interactive sessions; and the ability to pre-record content as well as record live sessions. Call 706-542-2654 or email the Georgia Center to learn more.
Breakfast and Family Dinner To-Go at the Georgia Center
The Georgia Center is serving Breakfast on the Run with curbside service from 7:30-9:30 a.m. each weekday. Breakfasts are $5 plus tax.
Also, Bulldog Bistro chefs are preparing Take Home Family Meals for $35. The meals, which feed four to five people, include a choice of an entrée, salad, two side dishes and buttered rolls. The menu changes weekly.