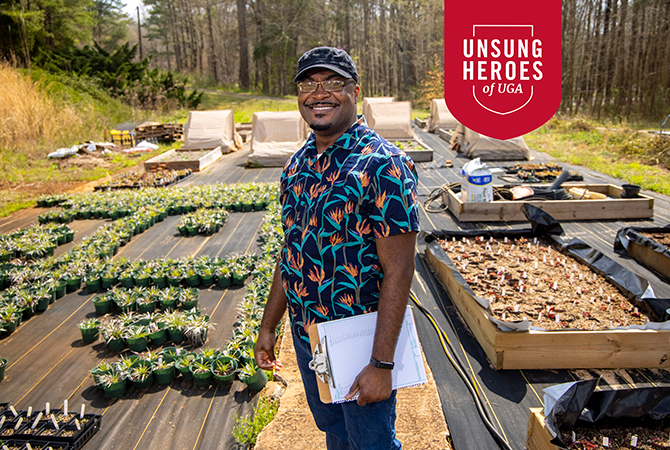 When COVID-19 hit, Will Rogers, a conservation research professional at the State Botanical Garden of Georgia, was immediately listed as an essential worker. And for good reason. "I had living collections, a lot of federally and state protected plants," said Rogers, who cares for imperiled species used for research projects funded through the National Science Foundation. Read more about how Rogers kept these special plants thriving through the pandemic, while adjusting to whatever else came his way and jumping in to help.
UGA Holds COVID-19 Vaccine Panel Discussion
Four University of Georgia experts answered some of the most frequently asked questions about COVID-19 vaccines in a recent virtual panel discussion held on campus. Moderated by Dr. Shelley Nuss, dean of the Augusta University/University of Georgia Medical Partnership, the panelists discussed a variety of topics related to vaccine safety and efficacy. And they shared their thoughts on why it is so important for everyone who is eligible and medically able to get vaccinated as part of the worldwide effort to halt the spread of the coronavirus.
Watch the complete session to learn more about how the available COVID-19 vaccines can help keep you and your family safe.
Get a Georgia Strong/Dawg Strong T-shirt!
Members of the UGA community who get vaccinated at the UHC or get tested at the Legion Field surveillance testing site this week will receive a Georgia Strong/Dawg Strong t-shirt, while supplies last, courtesy of the President's Venture Fund.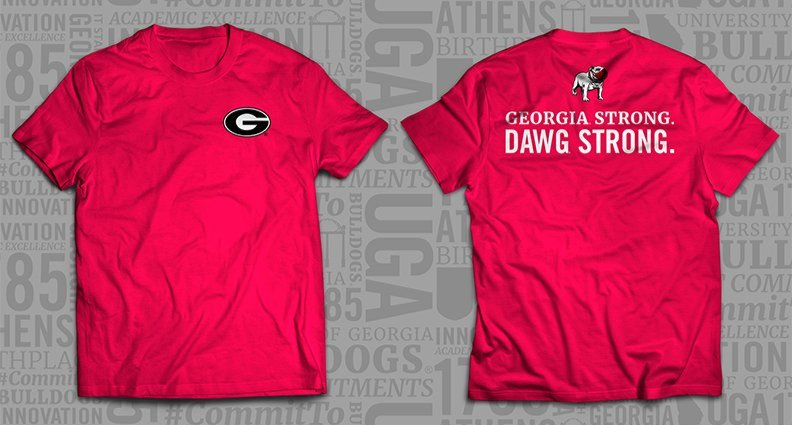 Surveillance Testing Continues at Legion Field
Testing continues to play an important role in preventing further spread
Free asymptomatic-only testing is available for all UGA community members at Legion Field. You may schedule an appointment or walk in Monday-Friday 9 a.m.-3:30 p.m. The Legion Field site testing schedule will follow the University of Georgia calendar for closure. Remember to bring your UGA ID.
Remember to Check Your Symptoms Before Coming to Campus

Stay Well with UGA's Wellbeing Programs
UGA supports opportunities for you to participate in comprehensive programs that help you achieve wellbeing in all aspects of life. Financial, personal, mental health, work/life balance wellbeing programs and more can be found on the Wellbeing page of the Human Resources website.

Join Upcoming Research Matters Live Events
Don't miss the upcoming editions of Research Matters Live! In "Community-Based Participatory Research: Selection, Inclusion & Access," to be held Tuesday, April 27, at 1 p.m., Kim Fowler from the Human Subjects Office and panelists will discuss researchers' foundational role in broadening the scope and involvement of volunteers, subjects and ideas in their various fields of research. This session will discuss what researchers can do to ensure proper selection, inclusion and access in the research community.
To see the full schedule of upcoming events or register to attend via Zoom, visit the Research Matters Live website.
Outreach: PSO and Extension
Free Online Personal Finance Course Available Through April 30
Register for a free online personal finance course offered through the UGA Center for Continuing Education & Hotel in celebration of National Financial Literacy Month. The deadline to register is April 30 at 7 p.m. Participants have 90 days to complete the 24-hour course.
Call the Georgia Center for Virtual or Hybrid Meeting Needs
The UGA Center for Continuing Education can handle your meeting or conference through a virtual or hybrid format if meeting in person is not an option.
The Georgia Center provides a professionally trained team to work with you during format development and delivery to help you best meet your objectives; a technical team assigned to work with each of your speakers; trained moderators to assist with interactive sessions; and the ability to pre-record content as well as record live sessions. Call 706-542-2654 or email the Georgia Center to learn more.
Breakfast and Family Dinner To-Go at the Georgia Center
The Georgia Center is serving Breakfast on the Run with curbside service from 7:30-9:30 a.m. each weekday. Breakfasts are $5 plus tax.
Also, Bulldog Bistro chefs are preparing Take Home Family Meals for $35. The meals, which feed four to five people, include a choice of an entrée, salad, two side dishes and buttered rolls. The menu changes weekly.
Online Spring Plant Sale Going on Now at State Botanical Garden of Georgia
Perennials, annuals, shrubs, trees and more are available from the State Botanical Garden during its spring plant sale. Order plants online and pick up at the garden at an appointed time.
Master Gardener Association's Spring Plant Sale
The Athens Area Master Gardener Association's (AAMGA) Spring Plant Sale will take place on April 24 from 8 a.m.-1 p.m. at the Athens-Clarke County Extension Office. Plants are from AAMGA members' gardens and include herbs, vegetable plants, annuals, perennials, trees, shrubs, ferns, ground covers, seedlings and bulbs.