Campus Operations Updates, Social Distancing in the Classroom, University Testing Services, and more!

Spring 2021
News for Students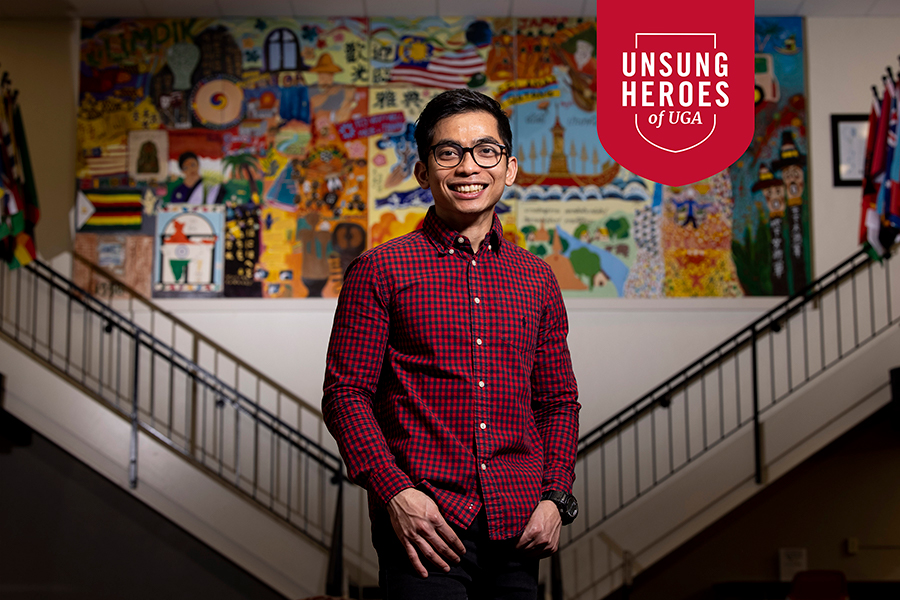 For international students, acclimating to the University of Georgia during the pandemic presented a unique challenge. Wisnu Pradana saw an opportunity. Pradana, a Fulbright Scholar who came to UGA from Indonesia in 2017, had already participated in and benefited from ISL's programs, but realized a missing piece as 2020 grew more challenging and confusing. Read more about how this student Unsung Hero helped create a culture of belonging at UGA for international students during the pandemic.
Cases of COVID-19 at UGA hold steady
Cases of COVID-19 at the University of Georgia remained flat last week at 36 total cases.
Of those who reported positive tests through the DawgCheck system, 32 were students, three were staff members, and one was a faculty member.
More surveillance tests were performed than the previous week—776 v. 638 the week before—at the Legion Field surveillance site and in a satellite location, and the positivity rate declined. Of the 776 tested, seven were positive, for a positivity rate less than 1 percent (.90 percent).
Get a Georgia Strong/Dawg Strong T-shirt!
Members of the UGA community who get vaccinated at the UHC or get tested at the Legion Field surveillance testing site this week will receive a Georgia Strong/Dawg Strong t-shirt, while supplies last, courtesy of the President's Venture Fund.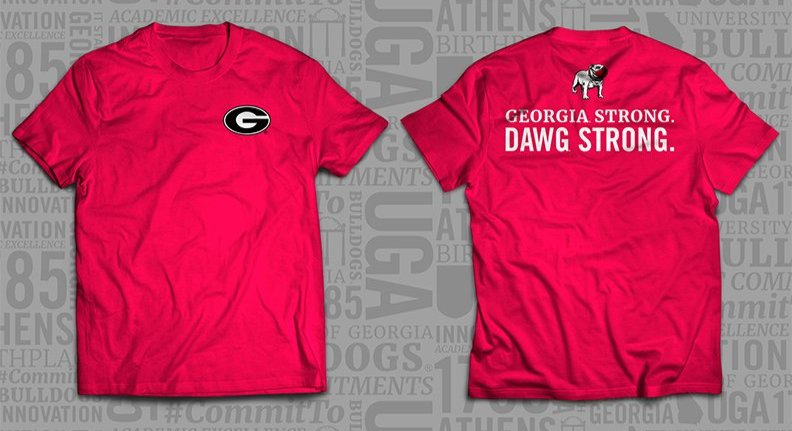 Surveillance Testing Continues at Legion Field
Testing continues to play an important role in preventing further spread
Free asymptomatic-only testing is available for all UGA community members at Legion Field. You may schedule an appointment or walk in Monday-Friday 9 a.m.-3:30 p.m. The Legion Field site testing schedule will follow the University of Georgia calendar for closure. Remember to bring your UGA ID.
Remember to Check your Symptoms Before Coming to Campus

Resources for Student Wellbeing
We know this has been a tough year, but springtime is upon us, and we're close to wrapping up another academic year. UGA has many resources to support students as we enter these last few weeks of the semester. In addition to accessing the resources below, we encourage you to try the following tips as you take care of your own wellbeing and those around you:
Check in with friends.

Get outside, enjoy the warmer weather and get some fresh air.

Create boundaries for yourself on social media and limit its use.

Get 7-8 hours of sleep each day. You'll experience better concentration, improved mood and have less anxiety.

Engage! Get connected and get involved. (Check out the UGA Master Calendar, the UGA Involvement Network and search lists of things to do around Athens.)
If you need emotional or academic support, please contact Student Care and Outreach, Counseling & Psychiatric Services (CAPS) or other support available on campus.
UGA offers a couple of virtual mental health resources through Therapy Assistance Online (TAO) and a partnership with Christie Campus Health.
You can reach CAPS by phone at 706-542-2273. If you would prefer to talk to a non-UGA counselor, Christie Campus Health offers a 24/7 support line at 833-910-3371.
For a more comprehensive listing of resources, please visit UGA's Student Resources for Wellbeing or the UGA Mental Health Initiative.
Free Online Personal Finance Course Available Through April 30
Register for a free online personal finance course offered through the UGA Center for Continuing Education & Hotel in celebration of National Financial Literacy Month. The deadline to register is April 30 at 7 p.m. Participants have 90 days to complete the 24-hour course.
Library Hours Extending
Three major study spaces on campus remain open later into the evening.
The Miller Learning Center has extended its hours of operation until 2 a.m. In addition, the Main and Science Libraries have transitioned to a closing time of 1 a.m. Sundays through Thursdays through April 25, and hours will extend to a 2 a.m. closing time April 26-May 10.
Please continue to maintain social distance and use sanitation stations. Mask use is enforced.
For more information on study spaces and hours, go to libs.uga.edu.
Celebrate National Poetry Month with the UGA Libraries
The UGA community is invited to celebrate National Poetry Month with the UGA Libraries at two student poetry readings later this month. The April 27 and 28 outdoor events will feature student poets from Stillpoint, UGA's student literary magazine. The events are hosted in conjunction with The Georgia Review, a nationally acclaimed literary-culture journal and a unit of the Libraries.
For more information on ways to celebrate National Poetry Month with the Libraries, visit libs.uga.edu or follow us on Instagram at @ugalibs.