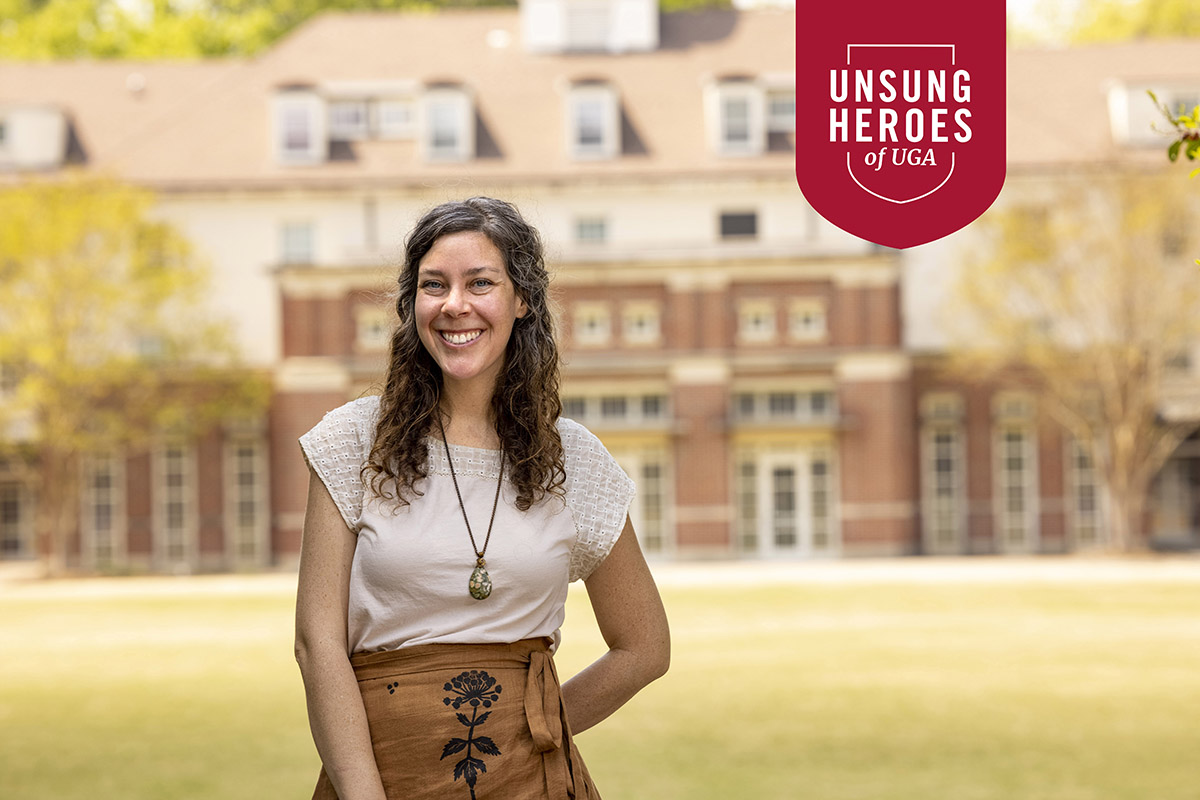 Adapting to the pandemic usually means going online and many, many Zoom meetings. And Christy Tweedy, University Housing sustainability coordinator, has definitely put in lots of Zoom time. But Tweedy's job is about the environment – understanding it, protecting it and actually getting outside in it. So instead of sitting in front of a screen talking about reusable forks, she got students outside and engaged with the campus and community. Read more about how Tweedy worked with students during the pandemic to inspire greater passion for sustainability.
Cases of COVID-19 at UGA hold steady
Cases of COVID-19 at the University of Georgia remained flat last week at 36 total cases.
Of those who reported positive tests through the DawgCheck system, 32 were students, three were staff members, and one was a faculty member.
More surveillance tests were performed than the previous week—776 v. 638 the week before—at the Legion Field surveillance site and in a satellite location, and the positivity rate declined. Of the 776 tested, seven were positive, for a positivity rate less than 1 percent (.90 percent).
COVID-19 Vaccine Update
As of Tuesday, April 13, the University Health Center (UHC) reached a milestone in its vaccine delivery efforts: extending invitations to all of our faculty, staff and students to be vaccinated. Going forward, the UHC will no longer issue invitations by email but will instead rely on individuals to schedule their vaccine appointments through the user-friendly UHC Vaccine Portal.
We remain committed to administering the vaccine as efficiently as possible until everyone who wants a vaccine gets a vaccine. This week, as an added incentive, we are offering special "Georgia Strong/Dawg Strong" T-shirts to all those inoculated at the UHC, while supplies last.
Surveillance Testing Continues at Legion Field
Testing continues to play an important role in preventing further spread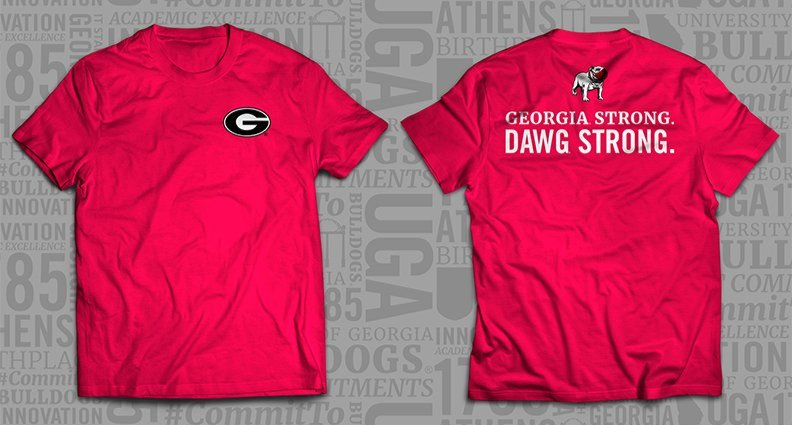 Free asymptomatic-only testing is available for all UGA community members at Legion Field. You may schedule an appointment or walk in Monday-Friday 9 a.m.-3:30 p.m. The Legion Field site testing schedule will follow the University of Georgia calendar for closure. Remember to bring your UGA ID.
***Participants will also receive a Georgia Strong/Dawg Strong t-shirt, while supplies last, courtesy of the President's Venture Fund.
Remember to Check Your Symptoms Before Coming to Campus

Stay Well with UGA's Wellbeing Programs
UGA supports opportunities for you to participate in comprehensive programs that help you achieve wellbeing in all aspects of life. Financial, personal, mental health, work/life balance wellbeing programs and more can be found on the Wellbeing page of the Human Resources website.
Resources for Your Students' Wellbeing
As we near the end of another tough semester and head into finals and final projects, we encourage you to ensure students that UGA has many resources to support them. Please take a moment to check in with your students and ask if they need any support. You may refer to them to the following resources:
If students need emotional or academic support, please refer them to Student Care and Outreach, Counseling & Psychiatric Services (CAPS), or other supports available on campus
UGA offers a couple of virtual mental health resources, as well: Therapy Assistance Online (TAO)and a partnership with Christie Campus Health

Students can reach CAPS by phone at 706-542-2273, or if they prefer to talk to a non-UGA counselor, Christie Campus Health offers a 24/7 support line at 833-910-3371.

Encourage students to engage, get connected, and get involved (check out the UGA Master Calendar, the UGA Involvement Network, and search lists of things to do around Athens).
For a more comprehensive listing of resources, please visit UGA's Student Resources for Wellbeing or the UGA Mental Health Initiative.
Celebrate National Poetry Month with the UGA Libraries
The UGA community is invited to celebrate National Poetry Month with the UGA Libraries at two student poetry readings later this month. The April 27 and 28 outdoor events will feature student poets from Stillpoint, UGA's student literary magazine. The events are hosted in conjunction with The Georgia Review, a nationally acclaimed literary-culture journal and a unit of the Libraries.
For more information on ways to celebrate National Poetry Month with the Libraries, visit libs.uga.edu or follow us on Instagram at @ugalibs.

Join Upcoming Research Matters Live Events
Don't miss the next two sessions of Research Matters Live! On Tuesday, April 27, at 1 p.m., Kim Fowler from the Human Subjects Office will lead part 4 of a five-part series on "Community-based Participatory Research." This event will cover what researchers can do to ensure proper selection, inclusion and access in the research community.
On Friday, April 30, at 11 a.m., an Office of Research panel will discuss "InfoReady: A New System for UGA Limited Submissions." This webinar will provide an overview of InfoReady and walk attendees through tutorials on creating an InfoReady account, navigating the website, applying to internal competitions, managing applications and reviewing applications.
Visit the RM Live website to register for either session via Zoom.
Outreach: PSO and Extension
UGA Pollinator Census Count April 22-23
Everyone is invited to spend 15 minutes counting pollinators on any blooming plant on UGA campus. Tables will be set up at both the D.W. Brooks garden on south campus and President's Club garden by Old College on north campus during these times. Individual counts any time during these two days are also encouraged. Come join the count!
Click here for more information and to access counting tally sheets.
Free Online Personal Finance Course Available Through April 30
Register for a free online personal finance course offered through the UGA Center for Continuing Education & Hotel in celebration of National Financial Literacy Month. The deadline to register is April 30 at 7 p.m. Participants have 90 days to complete the 24-hour course.
Call the Georgia Center for Virtual or Hybrid Meeting Needs
The UGA Center for Continuing Education can handle your meeting or conference through a virtual or hybrid format if meeting in person is not an option.
The Georgia Center provides a professionally trained team to work with you during format development and delivery to help you best meet your objectives; a technical team assigned to work with each of your speakers; trained moderators to assist with interactive sessions; and the ability to pre-record content as well as record live sessions. Call 706-542-2654 or email the Georgia Center to learn more.
Breakfast and Family Dinner To-Go at the Georgia Center
The Georgia Center is serving Breakfast on the Run with curbside service from 7:30-9:30 a.m. each weekday. Breakfasts are $5 plus tax.
Also, Bulldog Bistro chefs are preparing Take Home Family Meals for $35. The meals, which feed four to five people, include a choice of an entrée, salad, two side dishes and buttered rolls. The menu changes weekly.