Campus Operations Updates, Social Distancing in the Classroom, University Testing Services, and more!

Spring 2021
News for Students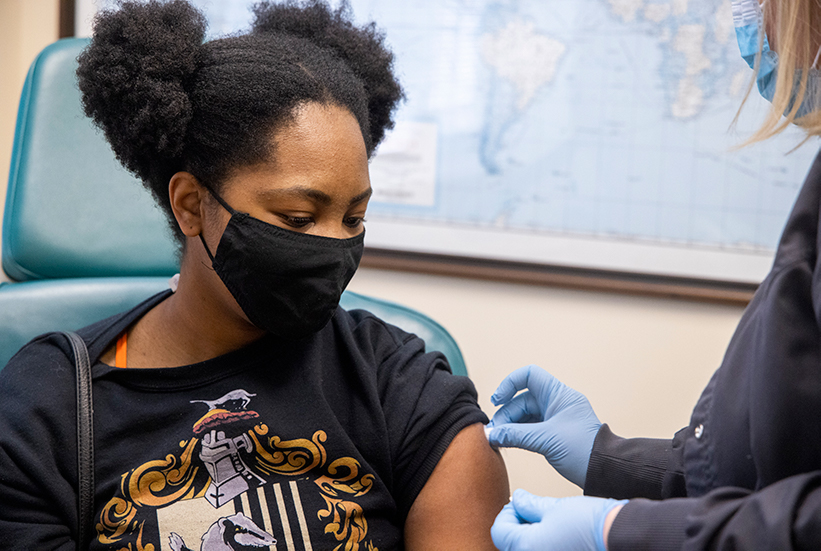 Summer and Fall semesters are right around the corner. Your commitment to health and safety protocols over the last academic year has allowed us to continue to teach, conduct research and serve the state of Georgia, and we thank you. But our work isn't done.
As we get closer to crossing the pandemic finish line, remember that the following health and safety guidelines remain a priority, even as more members of our community become vaccinated.
Vaccinate
With every person we vaccinate, our community becomes safer and stronger. All adults over the age of 16 in Georgia are now eligible for the COVID-19 vaccination. The University Health Center (UHC) is issuing invitations for appointments to our faculty, staff and students in accordance with the volume of vaccine received each week. Vaccines are only given by appointment, and we are being very careful to ensure that no vaccine is wasted. We will abide by CDC and GDPH guidelines for administration until everyone who wants a vaccine gets a vaccine. To learn more about vaccines and UGA's process for administering them, visit the UHC's FAQs.
DawgCheck
All faculty, staff and students should continue to self-monitor for any symptoms of COVID-19 and use DawgCheck every day before coming to campus, even if they've been vaccinated. Remember that every member of the UGA community is required to use DawgCheck to report a positive COVID-19 test.
Get Tested
We are still learning about how effective COVID-19 vaccines are at reducing the spread of the disease and how long they are effective, so participation in surveillance testing still plays an important role in preventing further spread. If you experience symptoms of COVID-19, especially if you've been around someone who is sick, you should get tested and stay home. We strongly encourage you to take advantage of the free surveillance testing that continues to be offered at Legion Field and pop-up locations. Testing at Legion Field can be scheduled here. Walk-up appointments can usually be accommodated at Legion Field, and pop-up saliva testing does not require pre-registration.
Stay Safe
In the coming weeks and months, we also must continue to wear our face coverings, maintain social distancing, wash our hands frequently and use hand sanitizer, even as vaccines become more prevalent. Adherence to these health and safety protocols has served our campus community well and has helped us to have a positive outlook for Fall Semester.
We are Georgia Strong, Dawg Strong, and we will Finish Strong.
Remain Vigilant: UGA Cases of COVID-19 Increase
After three consecutive weeks of consistently low reports, cases of COVID-19 at the University of Georgia have climbed back to the level recorded at the first of March: 53 cases versus 33 the previous week.

Of those who reported positive tests through the DawgCheck system, 47 were students, five were staff members and one was a faculty member.

Surveillance tests were administered to 846 individuals at the Legion Field surveillance site and in a satellite location—the lowest number of participants since UGA initiated its testing program last August. Of those tested, nine yielded positive results for a positivity rate of 1.42 percent, breaking a record of six straight weeks with a positivity rate below 1 percent.
"We've been saying all along that we are 'Georgia Strong, Dawg Strong,'" said Dr. Garth Russo, executive director of the University Health Center and chair of UGA's Medical Oversight Task Force. "Now we need to Finish Strong. We only have five more weeks in the Spring Semester, so this is not the time to let up. I urge all of the members of our campus community to be vaccinated as soon as possible."
Surveillance Testing Continues at Legion Field
Free asymptomatic-only testing is available for all UGA community members at Legion Field. You may schedule an appointment or walk in Monday-Friday 9 a.m.-3:30 p.m. The Legion Field site testing schedule will follow the University of Georgia calendar for closure. Remember to bring your UGA ID.
***Participants will receive a 25% off coupon valid at any UGA retail dining location, courtesy of the President's Venture Fund.
Remember to Check your Symptoms Before Coming to Campus

Resources for Student Wellbeing
We know this has been a tough year, but springtime is upon us, and we're close to wrapping up another academic year. UGA has many resources to support students as we enter these last few weeks of the semester. In addition to accessing the resources below, we encourage you to try the following tips as you take care of your own wellbeing and those around you:
UGA offers a couple of virtual mental health resources through Therapy Assistance Online (TAO) and a partnership with Christie Campus Health.
You can reach CAPS by phone at 706-542-2273. If you would prefer to talk to a non-UGA counselor, Christie Campus Health offers a 24/7 support line at 833-910-3371.
For a more comprehensive listing of resources, please visit UGA's Student Resources for Wellbeing or the UGA Mental Health Initiative.
Reminder: Instructional Break Tomorrow
Thursday, April 8 will be an instructional break for students. Based on recommendations from the Educational Affairs Committee, "No mandatory assignments shall be scheduled for completion during these instructional break days, either for course work or extra-curricular or co-curricular activities. It is strongly recommended that assignments and examinations not be scheduled for the day after the instructional break days."
Library Hours Extending
Three major study spaces on campus are now open later into the evening.
Beginning this week through May 10, the Miller Learning Center closes at 2 a.m. The Main and Science Libraries will transition to a closing time of 1 a.m. Sundays through Thursdays, April 5-April 25, and hours will extend to a 2 a.m. closing time April 26-May 10.
Please continue to maintain social distance and use sanitation stations. Mask use is enforced.
For more information on study spaces and hours, go to libs.uga.edu.
Summer Meal Plans Now on Sale
Are you going to be in Athens this summer? Enjoy the value, convenience and flexibility of dining on campus with a Summer Meal Plan. Dine as much as you want for an estimated $15-21 per day with an All-Access Plan. If you are living off campus, but still want to enjoy eating in our award-winning locations when you are on campus, consider a Commuter Meal Plan, which gives you a set number of meal plan blocks for just $9.40 per meal. Don't forget about Paw Points, which save you 8% at on-campus restaurants, coffee shops and markets.
This summer, O-House will provide meal plan service Monday-Friday during May session, May 17-June 4. Bolton and Village Summit will provide meal plan service Monday-Sunday during the regular summer sessions, June 7-Aug. 7.
To learn more about summer meal plans, click here.