FACS Alumni Board Welcomes New Members
The FACS Alumni Board of Directors will welcome12 new members on July 1, 2021. Congratulations to Nicki Allen (BSFCS '05), Taliah Ayers (BSFCS '16), Anna Bradley (BSHE '82, MED '84), Ashleigh Childs (BSFCS '17, MS '21), Angela Dulaney (BSFCS '16), Skye Estroff (BSFCS '15), Alex Falcucci (BSFCS '17), Silvia Giraudo (MS '84, Ph.D. '91), Maurice Harrell (BSFCS '96, MS '16), LaTrice Lyle (BSFCS '13), Jhamarcus Pharaoh (BSFCS'15, MED '18, EDS '20) and Tracy Walls (BSFCS '96). Learn more about the FACS Alumni Board.
On January 9, 1961, two courageous students, Hamilton Holmes and Charlayne Hunter, took heroic steps on the University of Georgia's campus to enroll as students, followed by Mary Frances Early, who entered graduate school that summer. Their legacies continue as they have contributed a lifetime of public service to their communities. Because of these students, the university now boasts a diverse campus made of numerous nationalities, races and ethnicities.
In recognition of the 60th anniversary of desegregation at UGA, we launched a video project to help amplify the voices of several of our Black alumni and students.
The interviews, conducted in Adinkra Hall, the home of the African-American Cultural Center in Memorial Hall, covered issues ranging from how our Black students and faculty found community at UGA to their thoughts on the desegregation milestone to ideas on how the University can be more welcoming for future Black students.
We'll post one video a month on our social media channels through August, so please follow along and let us know what you think!
Congratulations Class of 2021!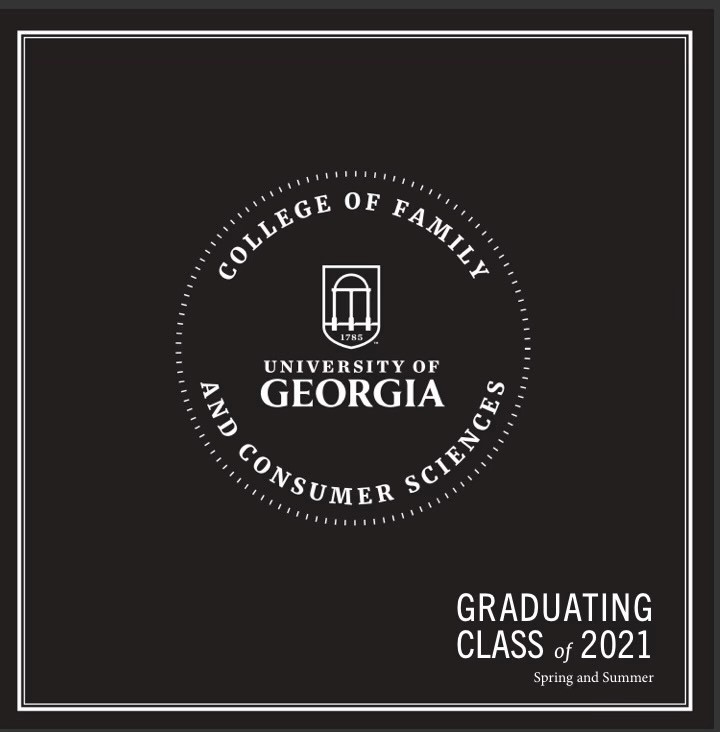 We welcomed more than 500 students into the FACS alumni family as UGA recognized spring and summer graduates of the Class of 2021 last week.
The University hosted in-person ceremonies for both undergraduate and graduate students on Friday and Saturday in Sanford Stadium.
In lieu of our traditional in-person convocation, FACS sent all graduates two copies of a printed graduation program, along with a gift from the college.
We also emailed an electronic version of the program that contains embedded videos from Dean Fox, student perspective speaker Julie Dean, student challenge speaker Isabel Rutledge and a special word from Kenneth Ivory, president of the FACS Alumni Association.
Dean Fox Announces Retirement After 10 Years in Role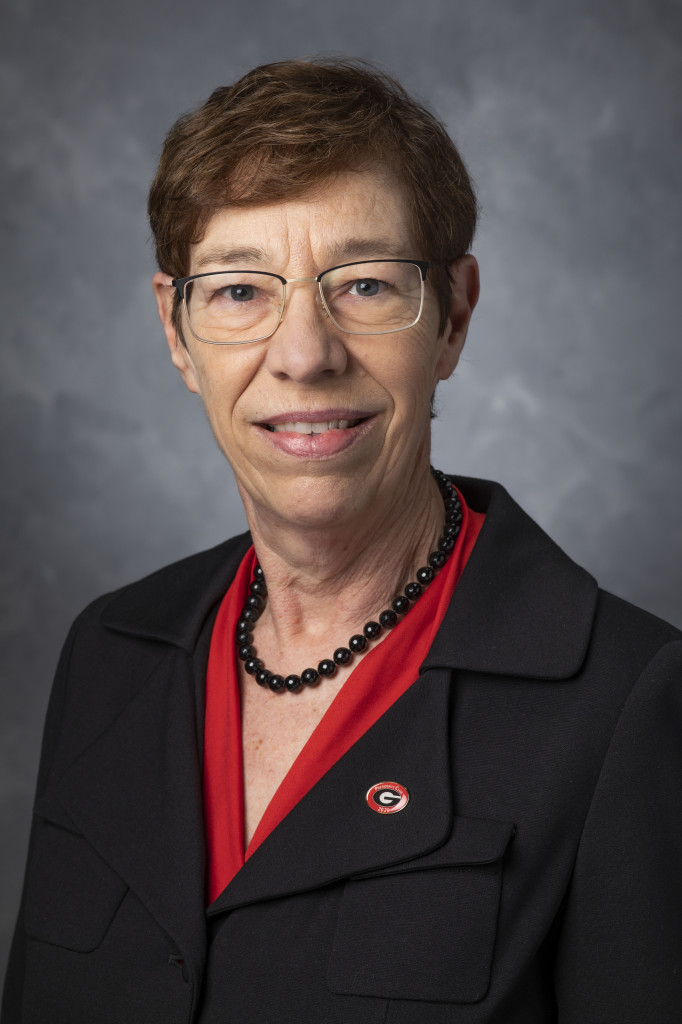 Linda Kirk Fox, who has served as dean of the University of Georgia College of Family and Consumer Sciences since 2011, has announced her plans to retire on Aug. 1, 2021.
Fox became the college's seventh dean in July 2011 with the vision of building a college of cohesive faculty and staff of well-funded and distinct programs for diverse and global learners.
Under Fox's leadership, enrollment in the college has increased by more than 20 percent; funded research has more than doubled and the number of endowed professorships has grown from five to 15, in addition to the establishment of numerous new scholarships and student support funds.
In honor of the Dean's retirement, she would like to continue her giving challenge she implemented during UGA's 2021 Giving Week. Any donor who gives $1000 or more to the Dean Linda Kirk Fox Academic Excellence Scholarship by the Dean's retirement date of August 1 will unleash a dollar for dollar matching gift from her (up to $25,000).
"I believe in investing for the future. One way my husband Wayne and I wanted to demonstrate our long-term commitment to FACS was by establishing this scholarship to recognize students with high academic achievement. I've seen firsthand the impact private giving has on our FACS students, and this is one way we can be part of their success."
Together we can make sure every deserving FACS Dawg student has a chance to thrive regardless of financial need.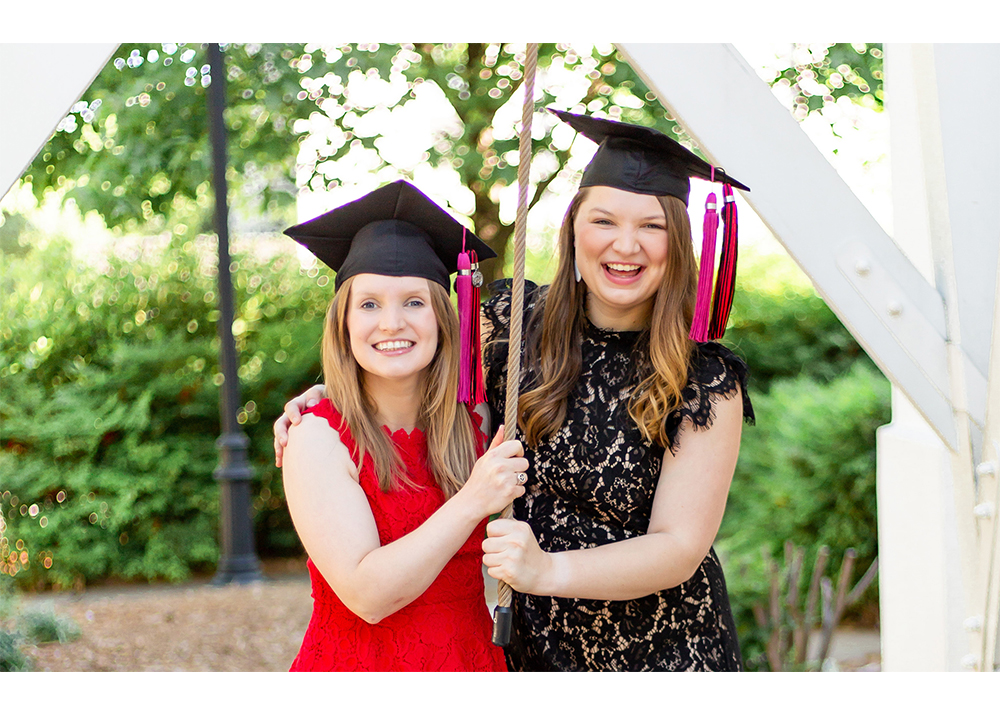 The Holley sisters' path to graduation was marked by great resilience and deep love for each other. Amelia (left) has endured more than 50 brain surgeries and experienced a stroke her senior year of high school that ended her dream of a music career. The two HDFS majors graduated together on Saturday, May 15.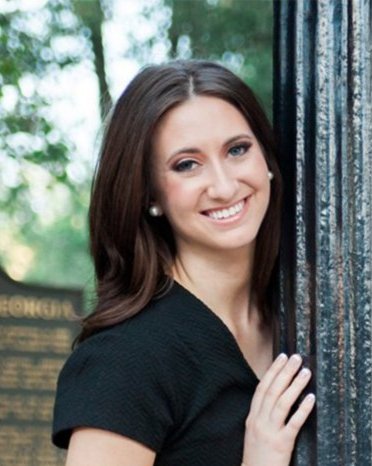 Brooke White, President-Elect for the FACS Alumni Board of Directors, graduated with her BSFCS in Human Development and Family Science in 2016, and her Juris Doctor in 2019.
She's currently an attorney and works to help people in family law and personal injury cases.
Dietetics students achieve perfect match rate
Goetz named Meigs Professor, university's highest teaching honor
Destination UGA: How one student brings joy to campus
Do you have good news to share? Have you recently received a promotion or special recognition? The FACS Alumni Association would love to hear from you! Contact us at FACSAlumni@uga.edu.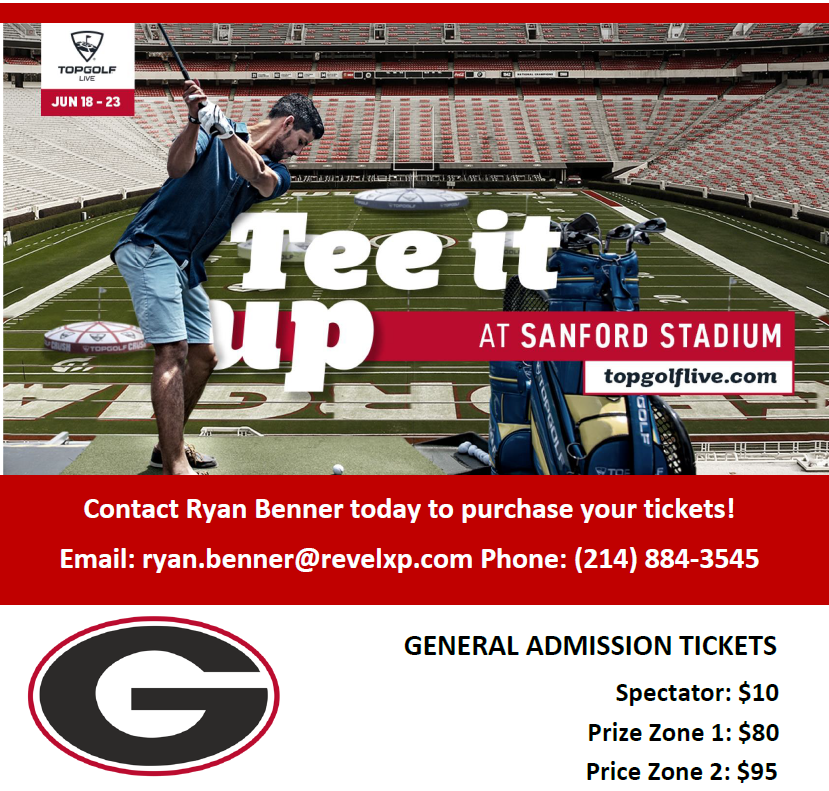 Topgolf Live at Sanford Stadium
Topgolf Live is coming to Sanford Stadium June 18 – 27! The home of the Georgia Bulldogs will be transformed into the ultimate Topgolf experience where you and your friends can hit golf balls onto the field. In addition to the Topgolf experience, Topgolf Live will create a unique event with music, various food options and a share-worthy backdrop.
If you are interested, please contact Ryan Benner at ryan.benner@revelxp.com or at 214-884-3545.

Bulldogs of all ages will don their red and black on June 12 for UGA Alumni's second annual virtual Attack the Day 5K. Sign up and hop on a treadmill, run in your neighbor hood, walk, roll, or crawl for a 5k (3.1 miles), and fill your day with Bulldog spirit!
As a FACS alumnus, you have unique opportunities to assume leadership roles, volunteer with other alumni and students and create lasting connections with the college and your classmates. How can you get involved? Make a gift, become a FACS mentor or share your story today!
The FACS Alumni Association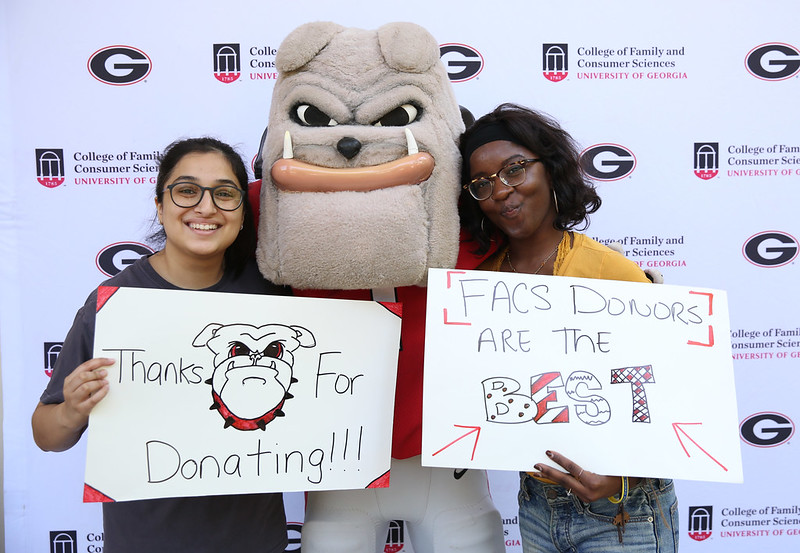 The FACS Alumni Association provides a variety of support to the college. Outreach and engagement are two familiar areas. Financial support is another area that has become a primary focus for our board.
For many years we have provided funds for two scholarships and just last year we added a third. The FACS Alumni 4-H Scholarship, The FACS Alumni Association Scholarship and FACS Alumni Family, Career and Community Leaders of America Scholarship are given annually to current students or high school students who have excelled in local, state and national leadership with their respective organizations.

Bulldog Basics is an initiative that provides toiletry and personal-care items to UGA students on the Athens campus. Students place an order through the online eStore and select one of three available pick up locations.
We invite you to join the Bulldog Basics Impact Program to help remove barriers and change the lives of students. No student should have to decide between buying textbooks or buying toiletry items. Give now to make a lasting impact.