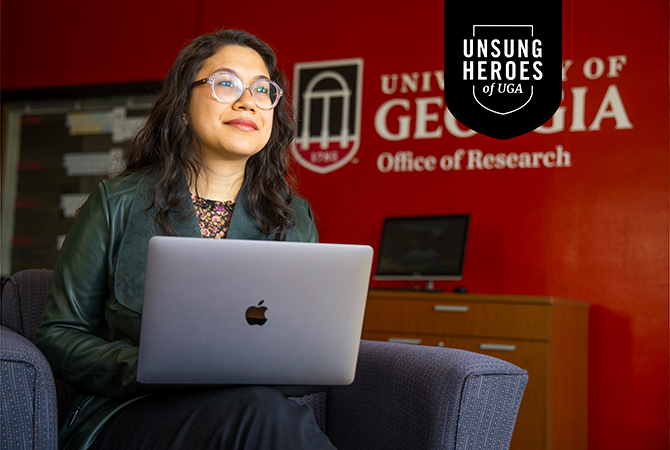 Unsung Hero Shannon Perry is an instructional designer in the office of Research Integrity & Safety Support Services. Perry receives facts, data and other material from an expert or experts and turns it into an instructional course. Since the pandemic, Perry has added COVID-related material to her roster, working on and helping create and launch several pandemic-related classes. Read more about Perry's impact behind the scenes during the pandemic.
Reminders About Vaccine Administration
All adults over the age of 16 in Georgia are now eligible for COVID-19 vaccination. The University Health Center (UHC) is issuing invitations for appointments and you will be contacted via email when it is your turn to be vaccinated. Vaccines will be given by appointment only and we ask that you remain patient. If you have already received your vaccine, you do not need to notify the UHC. To learn more details about vaccines and UGA's process for administering them, visit the UHC's FAQs.
Surveillance Testing Continues at Legion Field
Free asymptomatic-only testing is available for all UGA community members at Legion Field. You may schedule an appointment or walk in Monday-Friday 9 a.m.-3:30 p.m. The Legion Field site testing schedule will follow the University of Georgia calendar for closure. Remember to bring your UGA ID.
***Participants will receive a 25% off coupon valid at any UGA retail dining location, courtesy of the President's Venture Fund.
Remember to Check Your Symptoms Before Coming to Campus

Reminder: Instructional Break Thursday, April 8
Thursday, April 8 will be an instructional break for students. Based on recommendations from the Educational Affairs Committee, "No mandatory assignments shall be scheduled for completion during these instructional break days, either for course work or extra-curricular or co-curricular activities. It is strongly recommended that assignments and examinations not be scheduled for the day after the instructional break days."
Reminder: After Hours Parking Update
Effective April 1, high-impact parking areas will be managed after regular business hours, expanding safety, visibility and customer service measures into the evenings and weekends. These lots include: N02, N03, N04, W01, W16, Herty Drive areas and One Press Place.
UGA students, faculty and staff will be able to continue parking in these areas after-hours for free as long as their vehicle information has been added to the Parking Account Management System. UGA students, faculty and staff who do not have a UGA parking permit can pre-register their vehicle in the Parking Account Management System to avoid citations. Individuals not affiliated with UGA will need to use ParkMobile or pay stations to pay for parking.
After-hours enforcement will occur Monday-Friday from 6:00 p.m.-12:00 a.m. and Saturday-Sunday from 10:00-12:00 a.m. Click here for more information.
UGA Golf Course Offers Discount to Healthcare Workers
The UGA Golf Course is extending its university discount to healthcare workers to show gratitude to those who provide essential care to patients every day. First responders (police, firefighters and EMTs), military and Athens-Clarke County employees are also eligible for the university rate, which offers $20 off green fees.
During the COVID-19 pandemic, golf courses have provided outdoor spaces where people can be active and experience the benefits of exercise. The UGA Golf Course also has a driving range that is open to the public and offers special rates and leagues for UGA students, faculty and staff.
Healthcare workers who would like to play at the UGA Golf Course may book a tee time online and present a valid employee I.D. at check-in for the discount.

Join Upcoming Research Matters Live Events
Don't miss the upcoming edition of Research Matters Live on "Matchmaking and Community Needs," to be held Tuesday, April 6, at 1 p.m. UGA experts will provide examples of how UGA researchers can recognize, address and meet the research community's needs in their work.
To see the full schedule of upcoming events or register to attend via Zoom, visit the Research Matters Live website.
Outreach: PSO and Extension
Call the Georgia Center for your Virtual/Hybrid Meeting Needs
The UGA Center for Continuing Education can handle your meeting or conference through a virtual or hybrid format if meeting in person is not an option.
The Georgia Center provides a professionally trained team to work with you during format development and delivery to help you best meet your objectives; a technical team assigned to work with each of your speakers; trained moderators to assist with interactive sessions; and the ability to pre-record content as well as record live sessions. Call 706-542-2654 or email the Georgia Center to learn more.
Breakfast and Family Dinner To-Go at the Georgia Center
The Georgia Center is serving Breakfast on the Run with curbside service from 7:30-9:30 a.m. each weekday. Breakfasts are $5 plus tax.
Also, Bulldog Bistro chefs are preparing weekly Take Home Family Meals for $35. The meals, which feed four to five people, include a choice of an entrée, salad, two side dishes and buttered rolls. The menu changes weekly.
Development & Alumni Relations
Young Alumni Virtual Cooking Class with Peter Dale
Join the Young Alumni Leadership Council for their virtual cooking class with restaurateur Peter Dale (ABJ '99) on April 8. Meet the former 40 Under 40 and Bulldog 100 honoree whose passion for food has fueled more than a few of Athens's favorite restaurants while learning a new dish that's sure to impress.