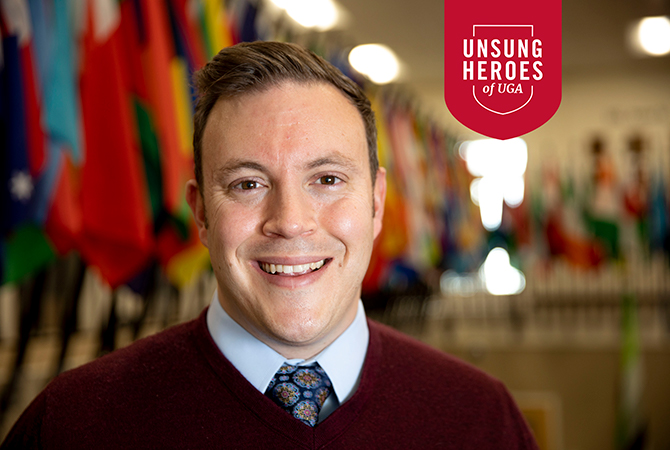 As director of International Student Life, Unsung Hero Justin Jeffery started dealing with COVID-19 early on, when most of the rest of us were just beginning to become aware of it. When the university switched to online instruction in spring 2020, his focus quickly shifted to getting resources and support to international students who were still stateside. Jeffery and his team – the folks in his department as well as campus partners like University Housing and Immigration Services – found solutions, including getting lease extensions or finding temporary housing. Read more about how Jeffery and his team came to the aid of students in an unfamiliar country under pandemic conditions.
Reports of COVID-19 at UGA Plummet
Reports of positive cases of COVID-19 at the University of Georgia dropped 30 percent over the previous week, with a total of 33 individuals reporting positive tests for Mar. 8-14. The number sets a new record for the lowest amount recorded since UGA began surveillance testing in August.
Celebrate National Nutrition Month and Support the UGA Community
UGA's Peer Nutrition Educators (PNEs) invite you to support UGA students through a virtual movement campaign. Engage with the PNEs on Instagram to show us how you move or order a National Nutrition Month T-Shirt to help raise funds and awareness of UGA's Let All the Big Dawgs Eat meal plan scholarship. Proceeds will be donated to the meal plan scholarship, which is a need-based scholarship that awards meal plans to several UGA students each fall and spring semester, as well as summer terms. Last day to order is Apr. 3.
Surveillance Testing Continues at Legion Field
Free asymptomatic-only testing is available for all UGA community members at Legion Field. You may schedule an appointment or walk in Monday-Friday 9 a.m.-3:30 p.m. The Legion Field site testing schedule will follow the University of Georgia calendar for closure. Remember to bring your UGA ID.
***Participants will receive a 25% off coupon valid at any UGA retail dining location, courtesy of the President's Venture Fund.
Remember to Check Your Symptoms Before Coming to Campus

Join Upcoming Research Matters Live Events
Don't miss the upcoming edition of Research Matters Live In "Matchmaking and Community Needs," to be held Tuesday, Apr. 6, at 1 p.m., UGA experts will provide examples of how UGA researchers can recognize, address and meet the research community's needs in their work.
To see the full schedule of upcoming events or register to attend via Zoom, visit the Research Matters Live website.
Outreach: PSO and Extension
Call the Georgia Center for your Virtual/Hybrid Meeting Needs
The UGA Center for Continuing Education can handle your meeting or conference through a virtual or hybrid format if meeting in person is not an option.
The Georgia Center provides a professionally trained team to work with you during format development and delivery to help you best meet your objectives; a technical team assigned to work with each of your speakers; trained moderators to assist with interactive sessions; and the ability to pre-record content as well as record live sessions. Call 706-542-2654 or email the Georgia Center to learn more.
Breakfast and Family Dinner To-Go at the Georgia Center
The Georgia Center is serving Breakfast on the Run with curbside service from 7:30-9:30 a.m. each weekday. Breakfasts are $5 plus tax.
Also, Bulldog Bistro chefs are preparing weekly Take Home Family Meals for $35. The meals, which feed four to five people, include a choice of an entrée, salad, two side dishes and buttered rolls. The menu changes weekly.
Development & Alumni Relations
Young Alumni Virtual Cooking Class with Peter Dale
Join the Young Alumni Leadership Council for their virtual cooking class with restaurateur Peter Dale (ABJ '99) on Apr. 8. Meet the former 40 Under 40 and Bulldog 100 honoree whose passion for food has fueled more than a few of Athens's favorite restaurants while learning a new dish that's sure to impress.
Mentorship Monday with Maria Taylor
Register for a free Mentorship Monday on May 17 from 12-1 p.m. hosted by Women of UGA. In this session, ESPN Sports Broadcaster Maria Taylor (ABJ '09, MBA '13) will talk about her career journey, what she learned along the way, and the importance of mentorship. You're also invited to an optional breakout session with Maria from 1-1:30 p.m. Registrants will be sent a Zoom link on the morning of the event.