Campus Operations Updates, Social Distancing in the Classroom, University Testing Services, and more!

Spring 2021
News for Students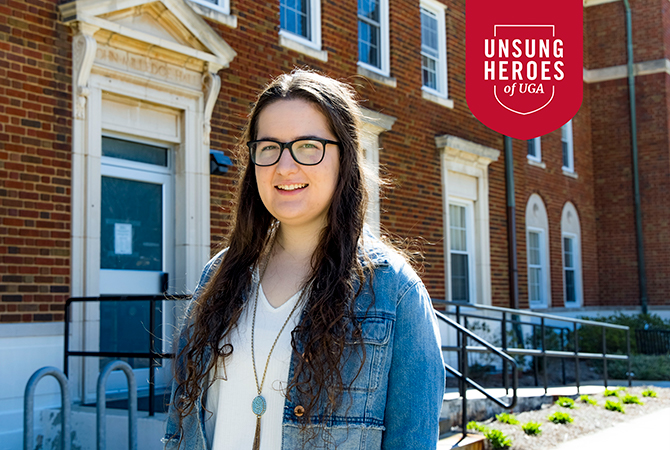 This week's student Unsung Hero, Maelyn Ehrman, is a lead tutor for the peer tutoring branch of PLaTO (Peer Learning and Teaching Others), a program of the Division of Academic Enhancement. She has been helping her fellow University of Georgia students study since her first year on campus four years ago. When in-person tutoring transitioned to Zoom during the pandemic, Ehrman embraced remote technology so she could continue to help minimize study stress for her fellow students. Read more about how Ehrman is helping alleviate student stress.
Reports of COVID-19 at UGA Plummet
Reports of positive cases of COVID-19 at the University of Georgia dropped 30 percent over the previous week, with a total of 33 individuals reporting positive tests for March 8-14. The number sets a new record for the lowest amount recorded since UGA began surveillance testing in August.
Update: New Vaccine Eligibility Authorized in Georgia
Beginning Monday, Mar. 15, the following populations are eligible for COVID-19 vaccination in Georgia: adults aged 55 and older, individuals with disabilities, and individuals 16 and older with certain medical conditions that increase their risk of severe illness from COVID-19. Please know that you will be contacted by the University Health Center when it is your turn to be vaccinated. Vaccines will only be given by appointment, and we are being very careful to ensure that no vaccine is wasted. To learn more details about vaccines and UGA's process for administering them, visit the UHC's FAQs.
Surveillance Testing Continues at Legion Field
Free asymptomatic-only testing is available for all UGA community members at Legion Field. You may schedule an appointment or walk in Monday-Friday 9 a.m.-3:30 p.m. The Legion Field site testing schedule will follow the University of Georgia calendar for closure. Remember to bring your UGA ID.
***Participants will receive a 25% off coupon valid at any UGA retail dining location, courtesy of the President's Venture Fund.
Remember to Check your Symptoms Before Coming to Campus

Library Hours to Extend
In response to student requests, extended hours at the Main Library, Science Library and the Miller Learning Center will begin Apr. 5 and continue through spring semester finals. The Miller Learning Center will close two hours later Sundays through Thursdays, closing at 2 a.m. Apr. 5-May 10. The Main and Science Libraries will transition to a closing time of 1 a.m. Apr. 5-25, and the hours will extend to a 2 a.m. closing time Apr. 26-May 10.
For more information about hours and study spaces at UGA Libraries facilities, visit libs.uga.edu.
Between the Pages Virtual Book Club: In My Place by Charlayne Hunter-Gault (ABJ'63)
STUDENTS, DON'T FORGET TO GRAB YOUR FREE COPY of In My Place by Charlayne Hunter-Gault at the bookstore while supplies last and register for the next Between the Pages virtual book club on Mar. 24 from 7-8 p.m. Meet and learn from Hunter-Gault herself through the UGA reading community reading program. Hunter-Gault is an award-winning journalist, lecturer and one of the first two Black students to enroll at the University of Georgia. Angelique Jackson (ABJ '12), a film and media reporter with Variety, will moderate the discussion with this pioneering alumni author.
North Campus Infrastructure Project Phase 1
The Facilities Management Division (FMD) has been approved to undertake the first phase of a large-scale project to renew the buried infrastructure near Herty Field, seizing a rare time when the campus occupancy is less than normal in hopes of minimizing disruption to normal operations. The preliminary work will begin south of Moore College the week of Mar. 14. Major construction activities, including fencing off the larger construction area, are anticipated to begin by Apr. 1. There will be continued work in the area until project completion, tentatively scheduled for Aug. 1. During construction, pedestrian detours will be required for several buildings. Click here for more detailed information on the scope of the project.
After Hours Parking Update
Effective Apr. 1, high-impact parking areas will be managed after regular business hours, expanding safety, visibility and customer service measures into the evenings and weekends. These lots include: N02, N03, N04, W01, W16, Herty Drive areas, and One Press Place.
UGA students, faculty and staff will be able to continue parking in these areas after-hours for free as long as their vehicle information has been added to the Parking Account Management System. UGA students, faculty and staff who do not have a UGA parking permit can pre-register their vehicle in the Parking Account Management System to avoid citations. Individuals not affiliated with UGA will need to use ParkMobile or pay stations to pay for parking.
After-hours enforcement will occur Monday-Friday from 6:00 p.m.-12:00 a.m. and Saturday-Sunday from 10:00 a.m.-12:00 a.m. Click here for more information.
Meal Plan Customers: Check Your Block and Paw Point Balances
As a reminder, meal plan blocks from the Commuter and 180 plans do NOT roll over each semester, so be sure to check your balance and use any remaining blocks by the end of the semester.
If you have fewer that 50 Paw Points and need more, you can purchase additional points in the link below. Unused points remain valid for one year after your last purchase with Paw Points.