Campus Operations Updates, Social Distancing in the Classroom, University Testing Services, and more!

Spring 2021
News for Students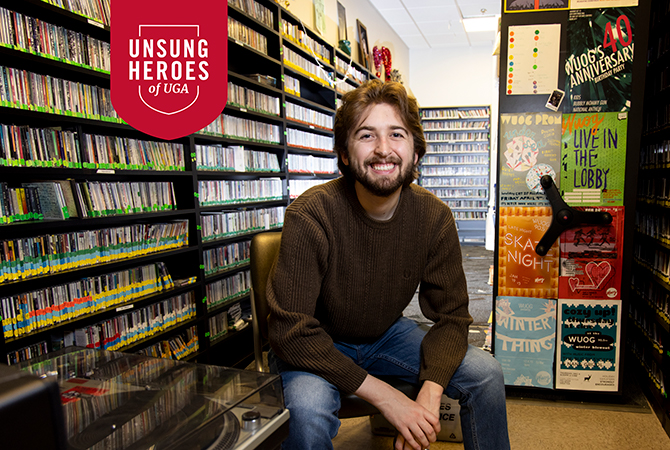 The pandemic ended the in-person meetings and operations that kept WUOG 90.5-FM energized and on the air, but Chase McGee knew the broadcast did not have to stop.
McGee, WUOG's general manager and one of our student Unsung Heroes, had already been working for a few years on figuring out ways to share broadcasts online and broadcast remotely and was ready for the opportunity. Read more about how McGee helped the WUOG team overcome the challenges presented by the pandemic to keep the station on air.
Reports of COVID-19 Continue to Decline
Reports of positive cases of COVID-19 at the University of Georgia have dropped to a new low, with 47 individuals reporting positive tests for March 1-7. That number is down 85 percent from the first week of the Spring Semester and is the lowest number reported since UGA began surveillance testing in August.
Changes to DawgCheck to Provide COVID-19 Vaccine Guidance
Starting on Monday, Mar. 15, new questions based on CDC guidance will be included in the Check for Symptoms tool to provide information and assistance based on where you are in the COVID-19 vaccine series. Supporting materials on the DawgCheck website, including FAQs, will also be updated on Monday.
Remember to Check your Symptoms Before Coming to Campus

Continue to be Safe, Bulldogs!
It is hard to believe that nearly a year has passed since COVID-19 changed all of our lives so dramatically. Even though a growing number of people will soon have access to vaccines, we must continue to follow health protocols for the health and safety of our community.
Remember to wear your face covering in classrooms, on the bus and around others—even when outside.

Social distance when- and wherever possible.

Wash your hands frequently.

Be Georgia Strong/Dawg Strong off campus, too! This is where you have the most important role in preventing the spread of COVID-19.
Surveillance Testing Continues at Legion Field
Free asymptomatic-only testing is available for all UGA community members at Legion Field. You may schedule an appointment or walk in Monday-Friday 9 a.m.-3:30 p.m. The Legion Field site testing schedule will follow the University of Georgia calendar for closure. Remember to bring your UGA ID.
***Participants will receive a 25% off coupon valid at any UGA retail dining location, courtesy of the President's Venture Fund.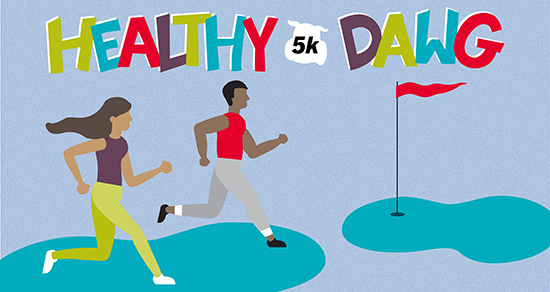 Celebrate the start of Spring by joining us at the Healthy Dawg 5k FREE fun run/walk Thursday, Mar. 11 from 7-10 a.m. on the beautiful rolling hills of the UGA Golf Course. Furry friends are welcome.
All participants will have the opportunity to donate to/order food from the locally famous Java Joy coffee cart, which will receive all proceeds! For more information on how to sign up and donate to/order from the Java Joy cart please visit here. The fun run is brought to you by the University Health Center and the UGA Golf Course.
Reminder: Instructional Break Friday, March 12
Friday, Mar. 12 will be an instructional break for students. Based on recommendations from the Educational Affairs Committee, "no mandatory assignments shall be scheduled for completion during these instructional break days, either for course work or extra-curricular or co-curricular activities. It is strongly recommended that assignments and examinations not be scheduled for the day after the instructional break days."
Libraries' Undergraduate Research Award Offers Students
Cash Prizes
UGA students can earn more than an A by meeting with a librarian. They can also win some cash, thanks to the Libraries' Undergraduate Research Awards.
With a top prize of $800, the awards provide an extra incentive for students to sign up for a free online research consultation with a librarian. Students are eligible to enter the contest for their work on any research project, including a policy paper, a scientific study, a music composition, or a thesis, whether it is for a class or not.
Click here for more information on how to enter.
TEDxUGA
UGA's leading thinkers and doers take the stage to embrace bold questions, innovative scholarship, and untold stories as the keys to rising beyond what we think is possible. This event will take place virtually on Friday, Mar. 19 at 7 p.m. $5 for students.
Between the Pages Virtual Book Club: In My Place by Charlayne Hunter-Gault (ABJ'63)
Students, grab your free copy of In My Place by Charlayne Hunter-Gault at the bookstore while supplies last and register for the next Between the Pages virtual book club on Mar. 24 from 7-8 p.m. Meet and learn from Hunter-Gault herself through the UGA reading community reading program. Hunter-Gault is an award-winning journalist, lecturer and one of the first two Black students to enroll at the University of Georgia. Angelique Jackson (ABJ '12), a film and media reporter with Variety, will moderate the discussion with this pioneering alumni author.