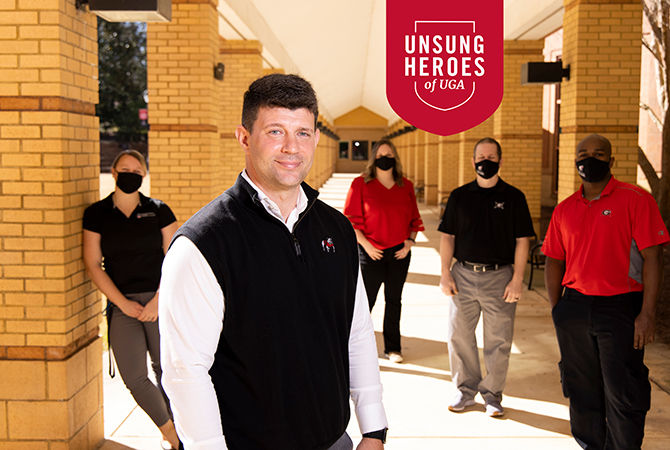 When it was time to get the University of Georgia's recreational sports facilities reopened after the COVID-19 closures, Josh Stewart was more than ready. After weeks of Zoom meetings about PPE, sanitizing procedures and how to enforce social distancing, Stewart, assistant director for facility operations at the Ramsey Student Center, knew what they needed to do and was eager to get to it. Read more about how this week's Unsung Hero helped get UGA students back to their exercise routines safely.
Changes to DawgCheck to Provide COVID-19 Vaccine Guidance
Starting on Monday, Mar. 15, new questions based on CDC guidance will be included in the Check for Symptoms tool to provide information and assistance based on where you are in the COVID-19 vaccine series. Supporting materials on the DawgCheck website, including FAQs, will also be updated on Monday.
Remember to Check Your Symptoms Before Coming to Campus

Continue to be Safe, Bulldogs!
It is hard to believe that nearly a year has passed since COVID-19 changed all of our lives so dramatically. Even though a growing number of people will soon have access to vaccines, we must continue to follow health protocols for the health and safety of our community.
Remember to wear your face covering in classrooms, on the bus and around others—even when outside.

Social distance when- and wherever possible.

Wash your hands frequently.

Be Georgia Strong/Dawg Strong off campus, too! This is where you have the most important role in preventing the spread of COVID-19.
Surveillance Testing Continues at Legion Field
Free asymptomatic-only testing is available for all UGA community members at Legion Field. You may schedule an appointment or walk in Monday-Friday 9 a.m.-3:30 p.m. The Legion Field site testing schedule will follow the University of Georgia calendar for closure. Remember to bring your UGA ID.
***Participants will receive a 25% off coupon valid at any UGA retail dining location, courtesy of the President's Venture Fund.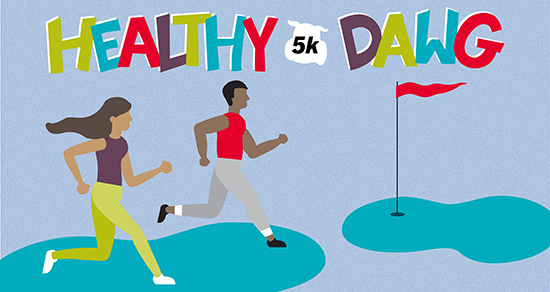 Celebrate the start of Spring by joining us at the Healthy Dawg 5k FREE fun run/walk Thursday, Mar. 11 from 7-10 a.m. on the beautiful rolling hills of the UGA Golf Course. Furry friends are welcome.
All participants will have the opportunity to donate to/order food from the locally famous Java Joy coffee cart, which will receive all proceeds! For more information on how to sign up and donate to/order from the Java Joy cart please click here. The fun run is brought to you by the University Health Center and the UGA Golf Course.
TEDxUGA
UGA's leading thinkers and doers take the stage to embrace bold questions, innovative scholarship, and untold stories as the keys to rising beyond what we think is possible. This event will take place virtually on Friday, Mar. 19 at 7 p.m. $10 for non-students.
Reminder: Instructional Break Fri. March 12
Friday, Mar. 12 will be an instructional break for students. Based on recommendations from the Educational Affairs Committee, "No mandatory assignments shall be scheduled for completion during these instructional break days, either for course work or extra-curricular or co-curricular activities. It is strongly recommended that assignments and examinations not be scheduled for the day after the instructional break days."
Summer and Fall 2021 Instructional Plans
Summer 2021 classes will continue to be offered in face-to-face, hybrid or online formats. Hybrid and online classes may be synchronous or asynchronous. The instructional formats for all classes will be published in Athena by Apr. 5, 2021.
Wider availability of vaccines over the next few months is anticipated to control the spread of COVID-19. This should allow us to resume normal operations in the Fall Semester, including a return to full in-person instruction, full capacity in our residence halls and dining facilities, and regular operations for other campus services. All research and public service operations are also expected to resume regular activities no later than Fall 2021.
We will continue to monitor the pandemic closely and will follow public health guidance from the University System of Georgia, the Department of Public Health and the Centers for Disease Control and Prevention.
Join Upcoming Research Matters Live Events

Don't miss the upcoming editions Research Matters Live! In "Cooperative Research & IRB Review," to be held Friday, Mar. 12, at 11 a.m., Katherine Bright from the Human Subjects Office will discuss new regulatory requirements and the UGA process for use of single IRBs when conducting collaborative human subjects research.
On the following Tuesday, Mar. 16, at 1 p.m., Kim Fowler from HSO will lead the second in a series of presentations on community-based participatory research, "CBPR: Connecting with Your Community."
To see the full schedule of upcoming events or register to attend via Zoom, visit the Research Matters Live website.
Outreach: PSO and Extension
Let the Georgia Center Plan and Deliver Your Virtual or Hybrid Meeting
The UGA Center for Continuing Education can handle your meeting or conference through a virtual or hybrid format if meeting in person is not an option.
The Georgia Center provides a professionally trained team to work with you during format development and delivery to help you best meet your objectives; a technical team assigned to work with each of your speakers; trained moderators to assist with interactive sessions; and the ability to pre-record content as well as record live sessions. Call 706-542-2654 or email the Georgia Center to learn more.
Development & Alumni Relations
Between the Pages Virtual Book Club: In My Place by Charlayne Hunter-Gault (ABJ'63)
Grab your copy of In My Place by Charlayne Hunter-Gault and register for the next Between the Pages virtual book club on Mar. 24 from 7-8 p.m. Meet and learn from Hunter-Gault herself through the UGA reading community reading program. Hunter-Gault is an award-winning journalist, lecturer and one of the first two Black students to enroll at the University of Georgia. Angelique Jackson (ABJ '12), a film and media reporter with Variety, will moderate the discussion with this pioneering alumni author.