Campus Operations Updates, Social Distancing in the Classroom, University Testing Services, and more!

Spring 2021
News for Students
UGA's COVID-19 Vaccination Process
The University of Georgia's Health Center is currently administering COVID-19 vaccines to faculty, staff and students who are healthcare workers or are over the age of 65. When the Georgia Department of Public Health authorizes UGA to begin vaccinating more widely—and when we receive enough vaccine to do so—we will be ready.
Dr. Garth Russo, Executive Director of the University Health Center and Chair of UGA's Medical Oversight Task Force, explains what you can expect in this walk-through of the vaccination site.
COVID-19 Cases Drop Significantly at UGA
Cases of COVID-19 at the University of Georgia have dropped significantly, falling 35 percent from the previous week among faculty, staff and students.
Overall, 68 individuals reported positive tests through the DawgCheck system for Feb. 15 – 21. Of those, 56 were students, nine were staff and three were faculty members.
Surveillance tests were administered to 1,890 individuals at the Legion Field surveillance site and at a satellite location. Of those tested, 20 yielded positive results for a positivity rate of 1.06 percent.
Surveillance Testing Continues at Legion Field
Free asymptomatic-only testing is available for all UGA community members at Legion Field. You may schedule an appointment or walk in Monday - Friday 9:00 a.m. - 3:30 p.m. The Legion Field site testing schedule will follow the University of Georgia calendar for closure. Remember to bring your UGA ID.
***Participants will receive a 25% off coupon valid at any UGA retail dining location, courtesy of the President's Venture Fund.
Pop up testing at UHC this Week
Free asymptomatic-only "pop-up" swab testing will be offered at the University Health Center:
Monday, Feb. 22 – Friday, Feb. 26.

9:00 a.m.– 12:30 p.m. and 1:30 p.m. – 3:30 p.m.

Results available the same day.

Remember to bring your UGA ID.
If you are symptomatic, please make an appointment with your UHC Primary Care Clinic.
Remember to Check your Symptoms Before Coming to Campus

Spring 2021 Intramural Sports
Between COVID-19 and cold winter days, you may be feeling disconnected and weary. Thankfully spring is right around the corner, and with warmer temperatures, come spring Rec Sports opportunities to help you get out, get active and engage!
Spring intramural sports will include team sport leagues for volleyball, softball and kickball. These leagues will be added to the many other individual sports, one-day tournaments and Esports offered through the Rec Sports' competitive sports program. Intramural sports are designed for students of all skill levels who want to play either in person or virtually. All in-person events will follow proper social distancing protocols. This is an excellent way to safely connect with friends or meet new people.
To learn more or to sign up, visit recsports.uga.edu.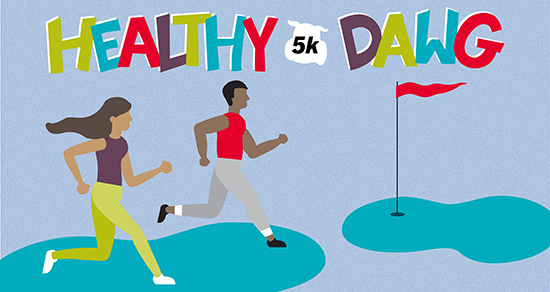 Brought to you by the University Health Center & the UGA Golf Course
Celebrate the start of Spring by joining us at the Healthy Dawg 5k FREE fun run/walk Thursday, Mar. 11 from 7 – 10 a.m. on the beautiful rolling hills of the UGA Golf Course. Furry friends are welcome.
The run/walk benefits our friends at Java Joy. All participants will have the opportunity to donate to/order food from the locally famous Java Joy coffee cart! For more information on how to sign up and order from/donate to Java Joy cart please click here.
Network Maintenance on Mar. 6
EITS will conduct network maintenance that will result in periodic, intermittent outages of campus internet access and campus information systems on Saturday, Mar. 6, 2021 from 6:00 a.m. until 11:59 p.m.
Key Points:
Systems that use services in the UGA Boyd Data Center will experience outages. This also includes UGA websites hosted in the Boyd Data Center. The University's primary web site at www.uga.edu is hosted off-campus and will remain available.

UGA's Single Sign-On (UGA SSO) also will experience outages. This means individuals will not be able to log in to many UGA-provided information systems including the following:

Zoom, DawgCheck, Athena, Banner Administrative System, Degree Works, eLearning Commons (eLC), UGA Financial Management System, UGA Budget Management System, UGAJobs, UGAmart, OneUSG Connect, and OneUSG Connect Benefits.

Individuals will experience outages accessing UGAMail, websites hosted by UGA, the Virtual Private Network (VPN), ArchPass Duo, and information systems hosted by EITS.

Wireless networks will also be unavailable including PAWS-Secure, Eduroam, and UGA_Visitors_WiFi.

All systems behind the Central Departmental firewalls will experience outages to their access to the UGA network.

All systems in the Hosted Area will experience outages.
Additional details and progress reports will be posted at status.uga.edu and on the EITS Twitter feed at @uga_eits.
Library Services on Display During Spring into Research Virtual Workshop Series
All of the tools that students need to write dynamic papers and create innovative projects will be on display in a series of workshops from the University of Georgia Libraries. In the Spring into Research workshop series, librarians and staff will lead virtual discussions on navigating library resources, from the latest online journals to historical material held in digital archives, as well as using citation management software and technologies available for data visualization, map-making, virtual reality, and more.
The series kicks off with an overview of library resources and services at 3 p.m., Monday, Mar. 8. The workshops continue weekdays through Friday, Mar. 19, offering information into a variety of tools and services, such as the Makerspace at the Science Library and the GIS Lab at the Main Library.
Libraries' Undergraduate Research Award Offers Students Cash Prizes
UGA students can earn more than an A by meeting with a librarian. They can also win some cash, thanks to the Libraries' Undergraduate Research Awards.
With a top prize of $800, the awards provide an extra incentive for students to sign up for a free online research consultation with a librarian. Students are eligible to enter the contest for their work on any research project, including a policy paper, a scientific study, a music composition, a thesis, whether it is for a class or not.
TEDxUGA
UGA's leading thinkers and doers take the stage to embrace bold questions, innovative scholarship, and untold stories as the keys to rising beyond what we think is possible. This event will take place virtually on Friday, Mar. 19 at 7 p.m. $5 for students.
New Farm to Campus Markets
Beginning Wednesday, Mar. 3, Farmers Market Friends will host weekly Farm to Campus Markets every Wednesday from 11 a.m. - 3 p.m. on the MLC South Lawn. The outdoor farmers market will sell fresh, local produce and student-crafted artworks for UGA students and the broader campus community. Participants can also learn about UGA resources related to sustainability, nutrition and addressing food insecurity.
All are welcome! Masks, social distancing and other safety protocols are required. The market is presented by Farmers Market Friends in partnership with the Office of Sustainability, Dining Services, Lamar Dodd Ambassadors, Student Government Association and others.
Meal Plan Customers: Check Your Block and Paw Point Balances
As a reminder, meal plan blocks from the Commuter and 180 plans do NOT roll over each semester, so be sure to check your balance and use any remaining blocks by the end of the semester.
If you have fewer that 50 Paw Points and need more, you can purchase additional points in the link below. Unused points remain valid for one year after your last purchase with Paw Points.