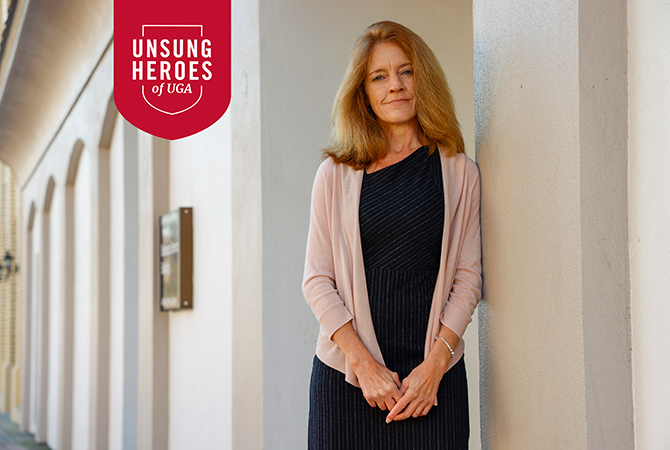 Marcie Berrong is the sort of person who handles things without much fuss. So, when the University of Georgia's office of Bursar & Treasury Services was put in charge of disbursing nearly $20 million to UGA students through the CARES Act Higher Education Emergency Relief Fund, Berrong, who is the assistant manager of Student Account Services, put her head down and got to it. Read more about Berrong's commitment to students in need.
Changes to DawgCheck to Provide COVID-19 Vaccine Guidance
Starting on Monday, Mar. 15, new questions based on CDC guidance will be included in the Check for Symptoms tool to provide information and assistance based on where you are in the COVID-19 vaccine series. Supporting materials on the DawgCheck website, including FAQs, will also be updated on Monday.
Remember to Check Your Symptoms Before Coming to Campus

Surveillance Testing Continues at Legion Field
Free asymptomatic-only testing is available for all UGA community members at Legion Field. You may schedule an appointment or walk in Monday - Friday 9:00 a.m. - 3:30 p.m. The Legion Field site testing schedule will follow the University of Georgia calendar for closure. Don't forget to bring your UGA ID.
***Participants will receive a 25% off coupon valid at any UGA retail dining location, courtesy of the President's Venture Fund.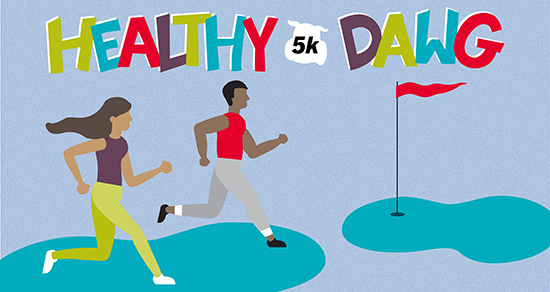 Celebrate the start of Spring by joining us at the Healthy Dawg 5k FREE fun run/walk Thursday, Mar. 11 from 7 – 10 a.m. on the beautiful rolling hills of the UGA Golf Course. Furry friends are welcome.
The run/walk benefits our friends at Java Joy. All participants will have the opportunity to donate to/order food from the locally famous Java Joy coffee cart! For more information on how to sign up and donate to/order from Java Joy cart please click here. This event is brought to you by the University Health Center and the UGA Golf Course.
Network Maintenance on Mar. 6
EITS will conduct network maintenance that will result in periodic, intermittent outages of campus internet access and campus information systems on Saturday, Mar. 6, 2021 from 6:00 a.m. until 11:59 p.m.
Key Points:
Systems that use services in the UGA Boyd Data Center will experience outages. This also includes UGA websites hosted in the Boyd Data Center. The University's primary web site at www.uga.edu is hosted off-campus and will remain available.

UGA's Single Sign-On (UGA SSO) also will experience outages. This means individuals will not be able to log in to many UGA-provided information systems including the following:

Zoom, DawgCheck, Athena, Banner Administrative System, Degree Works, eLearning Commons (eLC), UGA Financial Management System, UGA Budget Management System, UGAJobs, UGAmart, OneUSG Connect, and OneUSG Connect Benefits.

Individuals will experience outages accessing UGAMail, websites hosted by UGA, the Virtual Private Network (VPN), ArchPass Duo, and information systems hosted by EITS.

Wireless networks will also be unavailable including PAWS-Secure, Eduroam, and UGA_Visitors_WiFi.

All systems behind the Central Departmental firewalls will experience outages to their access to the UGA network.

All systems in the Hosted Area will experience outages.
Additional details and progress reports will be posted at status.uga.edu and on the EITS Twitter feed at @uga_eits.
Join RM Live on Mar. 5 to Learn about Occupational Health

Don't miss the next edition of Research Matters Live on Friday, Mar. 5, at 11 a.m. on UGA's Research Occupational Health & Safety Program. Attendees will be given an overview of the program, which recently was expanded to include an on-site clinic for the provision of free occupational health services to keep UGA's research community safe. The session will explain program enrollment and the provision of common preventative health care services, as well as answer questions about the use of UGA's Professional Education Portal to track occupational health services.
Outreach: PSO and Extension
Let the Georgia Center Plan and Deliver Your Virtual or Hybrid Meeting
The UGA Center for Continuing Education can handle your meeting or conference through a virtual or hybrid format if meeting in person is not an option.
The Georgia Center provides a professionally trained team to work with you during format development and delivery to help you best meet your objectives; a technical team assigned to work with each of your speakers; trained moderators to assist with interactive sessions; and the ability to pre-record content as well as record live sessions.
Call 706-542-2654 or email the Georgia Center to learn more.
Development & Alumni Relations
Between the Pages Virtual Book Club: In My Place by Charlayne Hunter-Gault (ABJ'63)
To honor and participate in UGA's 60th Anniversary of Desegregation, join us at Between the Pages: In My Place!
Grab your copy of In My Place by Charlayne Hunter-Gault and register for the next Between the Pages virtual book club on Mar. 24 from 7-8 p.m. Meet and learn from Hunter-Gault herself through the UGA reading community reading program! Hunter-Gault is an award-winning journalist, lecturer and one of the first two Black students to enroll at the University of Georgia. Angelique Jackson (ABJ '12), a film and media reporter with Variety, will moderate the discussion with this pioneering alumni author.