Campus Operations Updates, Social Distancing in the Classroom, University Testing Services, and more!

Spring 2021
News for Students
Summer and Fall 2021 Instructional Plans
Summer 2021 classes will continue to be offered in face-to-face, hybrid or online formats. Hybrid and online classes may be synchronous or asynchronous. The instructional formats for all classes will be published in Athena by April 5, 2021.
Wider availability of vaccines over the next few months is anticipated to control the spread of COVID-19. This should allow us to resume normal operations in the Fall Semester, including a return to full in-person instruction, full capacity in our residence halls and dining facilities, and regular operations for other campus services. All research and public service operations are also expected to resume regular activities no later than Fall 2021.
We will continue to monitor the pandemic closely and will follow public health guidance from the University System of Georgia, the Department of Public Health and the Centers for Disease Control and Prevention.
Library Services on Display During Spring into Research Virtual Workshop Series
All of the tools that students need to write dynamic papers and create innovative projects will be on display in a series of workshops from the University of Georgia Libraries. In the Spring into Research workshop series, librarians and staff will lead virtual discussions on navigating library resources, from the latest online journals to historical material held in digital archives, as well as using citation management software and technologies available for data visualization, map-making, virtual reality, and more.
The series kicks off with an overview of library resources and services at 3 p.m., Monday, Mar. 8. The workshops continue weekdays through Friday, Mar. 19, offering information into a variety of tools and services, such as the Makerspace at the Science Library and the GIS Lab at the Main Library.
Between the Pages Virtual Book Club: In My Place by Charlayne Hunter-Gault (ABJ'63)
Students, grab your free copy of In My Place by Charlayne Hunter-Gault (ABJ '63) at the bookstore while supplies last and register for the next Between the Pages virtual book club on Mar. 24 from 7-8 p.m. Meet and learn from Hunter-Gault herself through the UGA reading community reading program! Hunter-Gault is an award-winning journalist, lecturer and one of the first two Black students to enroll at the University of Georgia. Angelique Jackson (ABJ '12), a film and media reporter with Variety, will moderate the discussion with this pioneering alumni author.
Reminder of Network Maintenance on Mar. 6
EITS will conduct network maintenance that will result in periodic, intermittent outages of campus internet access and campus information systems on Saturday, Mar. 6, 2021 from 6:00 a.m. until 11:59 p.m.
Key Points:
Systems that use services in the UGA Boyd Data Center will experience outages. This also includes UGA websites hosted in the Boyd Data Center. The University's primary web site at www.uga.edu is hosted off-campus and will remain available.

UGA's Single Sign-On (UGA SSO) also will experience outages. This means individuals will not be able to log in to many UGA-provided information systems including the following:

Zoom, DawgCheck, Athena, Banner Administrative System, Degree Works, eLearning Commons (eLC), UGA Financial Management System, UGA Budget Management System, UGAJobs, UGAmart, OneUSG Connect, and OneUSG Connect Benefits.

Individuals will experience outages accessing UGAMail, websites hosted by UGA, the Virtual Private Network (VPN), ArchPass Duo, and information systems hosted by EITS.

Wireless networks will also be unavailable including PAWS-Secure, Eduroam, and UGA_Visitors_WiFi.

All systems behind the Central Departmental firewalls will experience outages to their access to the UGA network.

All systems in the Hosted Area will experience outages.
Additional details and progress reports will be posted at status.uga.edu and on the EITS Twitter feed at @uga_eits.
Reports of COVID-19 at UGA Reach Lowest Level Since Testing Began
Reports of positive cases of COVID-19 at the University of Georgia now stand at the lowest level since the University began its surveillance testing last August, with 51 individuals reporting positive tests for Feb. 22 – 28. That number is down 25 percent from the previous week.
Of those who reported positive tests through the DawgCheck system, 43 were students, six were staff and two were faculty members.
Surveillance tests were administered to 1,929 individuals at the Legion Field surveillance site and in a satellite location. Of those tested, 19 yielded positive results for a positivity rate less than 1 percent, at 0.985 percent.
Surveillance Testing Continues at Legion Field
Free asymptomatic-only testing is available for all UGA community members at Legion Field. You may schedule an appointment or walk in Monday - Friday 9:00 a.m. - 3:30 p.m. The Legion Field site testing schedule will follow the University of Georgia calendar for closure. Remember to bring your UGA ID.
***Participants will receive a 25% off coupon valid at any UGA retail dining location, courtesy of the President's Venture Fund.
Remember to Check your Symptoms Before Coming to Campus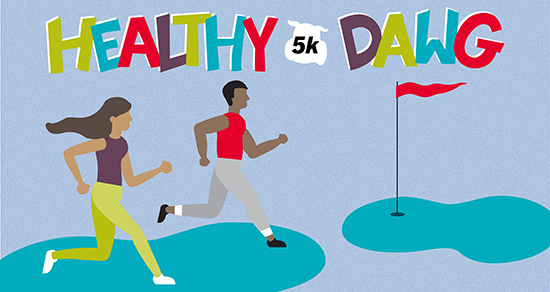 Celebrate the start of Spring by joining us at the Healthy Dawg 5k FREE fun run/walk Thursday, Mar. 11 from 7 – 10 a.m. on the beautiful rolling hills of the UGA Golf Course. Furry friends are welcome.
The run/walk benefits our friends at Java Joy. All participants will have the opportunity to donate to/order food from the locally famous Java Joy coffee cart! For more information on how to sign up and donate to/order from Java Joy cart please click here. This event is brought to you by the University Health Center and the UGA Golf Course.
New Farm to Campus Markets
Beginning Wednesday, Mar. 3, Farmers Market Friends will host weekly Farm to Campus Markets every Wednesday from 11 a.m. - 3 p.m. on the MLC South Lawn. The outdoor farmers market will sell fresh, local produce and student-crafted artworks for UGA students and the broader campus community. Participants can also learn about UGA resources related to sustainability, nutrition and addressing food insecurity.
All are welcome! Masks, social distancing and other safety protocols are required. The market is presented by Farmers Market Friends in partnership with the Office of Sustainability, Dining Services, Lamar Dodd Ambassadors, Student Government Association and others.