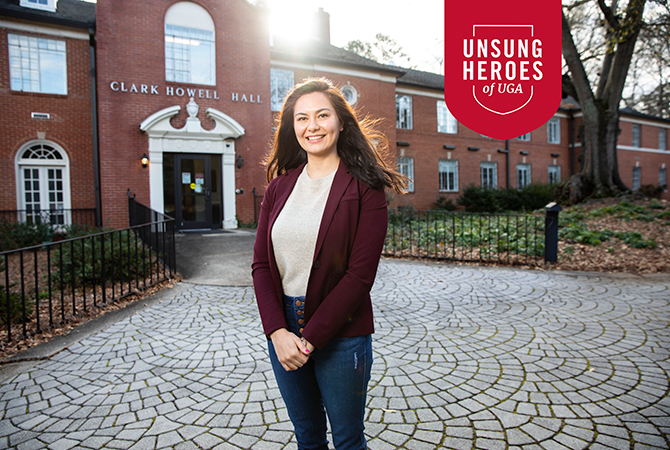 When the pandemic hit, it could have been a big problem for Unsung Hero Destiny Loyd. She is the senior program coordinator of the University of Georgia Mentor Program, which is based on building meaningful connections. But for Loyd, it was just something to figure out so the Mentor Lab could continue to elevate the quality of the program. Read more about how Loyd and her team kept students connected to their mentors throughout the pandemic.
UGA's COVID-19 Vaccination Process
The University of Georgia's Health Center is currently administering COVID-19 vaccines to faculty, staff and students who are healthcare workers or are over the age of 65. When the Georgia Department of Public Health authorizes UGA to begin vaccinating more widely—and when we receive enough vaccine to do so—we will be ready.
Dr. Garth Russo, Executive Director of the University Health Center and Chair of UGA's Medical Oversight Task Force, explains what you can expect in this walk-through of the vaccination site.
Surveillance Testing Continues at Legion Field
Free asymptomatic-only testing is available for all UGA community members at Legion Field. You may schedule an appointment or walk in Monday - Friday 9:00 a.m. - 3:30 p.m. The Legion Field site testing schedule will follow the University of Georgia calendar for closure. Don't forget to bring your UGA ID.
***Participants will receive a 25% off coupon valid at any UGA retail dining location, courtesy of the President's Venture Fund.
Pop up testing at UHC Feb. 22-26
Free asymptomatic-only "pop-up" swab testing will be offered at the University Health Center:
Monday, Feb. 22 – Friday, Feb. 26.

9:00 a.m. – 12:30 p.m. and 1:30 p.m. – 3:30 p.m.

Results available the same day.

Remember to bring your UGA I.D.
Remember to Check Your Symptoms Before Coming to Campus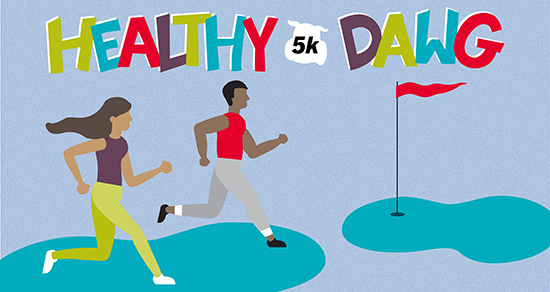 Celebrate the start of Spring by joining us at the Healthy Dawg 5k FREE fun run/walk Thursday, Mar. 11 from 7 – 10 a.m. on the beautiful rolling hills of the UGA Golf Course. Furry friends are welcome.
The run/walk benefits our friends at Java Joy. All participants will have the opportunity to donate to/order food from the locally famous Java Joy coffee cart! For more information on how to sign up and order from/donate to Java Joy cart please click here. This event is brought to you by the University Health Center & the UGA Golf Course.
Network Maintenance on Mar. 6
EITS will conduct network maintenance that will result in periodic, intermittent outages of campus internet access and campus information systems on Saturday, Mar. 6, 2021 from 6:00 a.m. until 11:59 p.m.
Key Points:
Systems that use services in the UGA Boyd Data Center will experience outages. This also includes UGA websites hosted in the Boyd Data Center. The University's primary web site at www.uga.edu is hosted off-campus and will remain available.

UGA's Single Sign-On (UGA SSO) also will experience outages. This means individuals will not be able to log in to many UGA-provided information systems including the following:

Zoom, DawgCheck, Athena, Banner Administrative System, Degree Works, eLearning Commons (eLC), UGA Financial Management System, UGA Budget Management System, UGAJobs, UGAmart, OneUSG Connect, and OneUSG Connect Benefits.

Individuals will experience outages accessing UGAMail, websites hosted by UGA, the Virtual Private Network (VPN), ArchPass Duo, and information systems hosted by EITS.

Wireless networks will also be unavailable including PAWS-Secure, Eduroam, and UGA_Visitors_WiFi.

All systems behind the Central Departmental firewalls will experience outages to their access to the UGA network.

All systems in the Hosted Area will experience outages.
Additional details and progress reports will be posted at status.uga.edu and on the EITS Twitter feed at @uga_eits.
TEDxUGA
UGA's leading thinkers and doers take the stage to embrace bold questions, innovative scholarship, and untold stories as the keys to rising beyond what we think is possible. This event will take place virtually on Friday, Mar. 19 at 7 p.m. $10 for non-students.
Library Services on Display During Spring into Research Virtual Workshop Series
Faculty, looking for a way to help your students reach the next level on their academic journey? All of the tools that students need to write dynamic papers and create innovative projects will be on display in a series of workshops from the University of Georgia Libraries.
In the Spring into Research workshop series, librarians and staff will lead virtual discussions on navigating library resources, from the latest online journals to historical material held in digital archives, as well as using citation management software and technologies available for data visualization, map-making, virtual reality and more.
The series kicks off with an overview of library resources and services at 3 p.m., Monday, Mar. 8 and continues through Friday, Mar. 19. Some sessions are specialized, so check out the schedule to see if any sessions would be perfect for your students.
Outreach: PSO and Extension
Let the Georgia Center Plan and Deliver Your Virtual or Hybrid Meeting
The UGA Center for Continuing Education can handle your meeting or conference through a virtual or hybrid format if meeting in person is not an option.
The Georgia Center provides a professionally trained team to work with you during format development and delivery to help you best meet your objectives; a technical team assigned to work with each of your speakers; trained moderators to assist with interactive sessions; and the ability to pre-record content as well as record live sessions.
Call 706-542-2654 or email the Georgia Center to learn more.