Campus Operations Updates, Social Distancing in the Classroom, University Testing Services, and more!

Spring 2021
News for Students
Tips for Learning During a Pandemic
Surveillance Testing Continues at Legion Field
Free asymptomatic-only testing is available for all UGA community members at Legion Field. You may schedule an appointment or walk in Monday - Friday 9:00 a.m. - 3:30 p.m. The Legion Field site testing schedule will follow the University of Georgia calendar for closure. While Wednesday, Feb. 17 is an instructional break day for students, the campus and Legion Field testing site will remain open and operational. Do not forget to bring your UGA ID.
***Participants will receive a 25% off coupon valid at any UGA retail dining location, courtesy of the President's Venture Fund.
Remember to Mask Up
Remember, all faculty, staff, students and visitors are required to wear an appropriate face covering while inside campus facilities/buildings where six feet social distancing may not always be possible. Click here to learn more about proper masks and masking behaviors.
Remember to Check your Symptoms Before Coming to Campus

Updated COVID-19 Guidelines for Student Organizations
The COVID-19 (Coronavirus) Guidelines for Student Organizations have recently been updated and can be found here.
Following a review by the leadership of the UGA Preventative Measures Advisory Board (PMAB), major updates/reminders address the following:
If student organizations comply with these guidelines, there is no requirement to have events and/or meetings reviewed by PMAB. Organizations are encouraged, though, to request review of events/meetings if they have further questions. Additional information can be found here.
Reminder: Instructional Break Weds. Feb. 17
Wednesday, Feb. 17 will be an instructional break for students. Based on recommendations from the Educational Affairs Committee, "No mandatory assignments shall be scheduled for completion during these instructional break days, either for course work or extra-curricular or co-curricular activities. It is strongly recommended that assignments and examinations not be scheduled for the day after the instructional break days."
Capturing Science Contest Winners Announced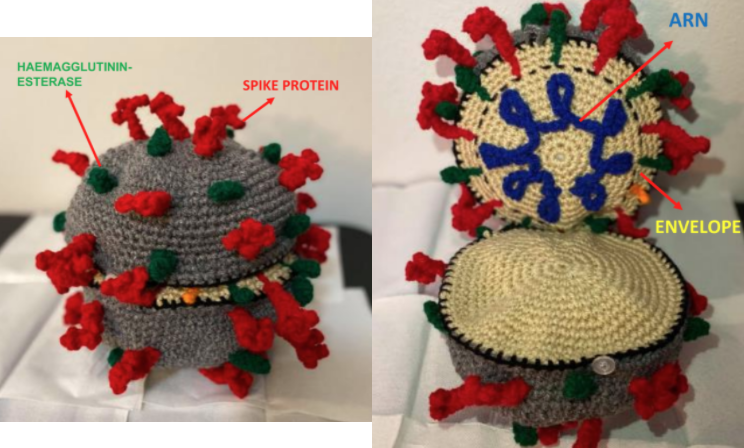 Xiomy-Janira Pinchi-Davila, a graduate student in integrated plant sciences at UGA, crocheted a three-dimensional model of the COVID-19 virus for the UGA Libraries Capturing Science Project. Her stuffed toy received honorable mention in the contest. (Submitted photo)
The UGA Libraries congratulate Fatoumata Toure, a first-year intended environmental engineering major, for winning the top prize of $1,000 in this year's Capturing Science Contest, cosponsored by the Office of Research. Fatoumata's entry, a video where she portrayed several characters while filming socially distanced, explores the issues surrounding fresh drinking water, and she also garnered a $200 special prize for incorporating social justice research into the work.