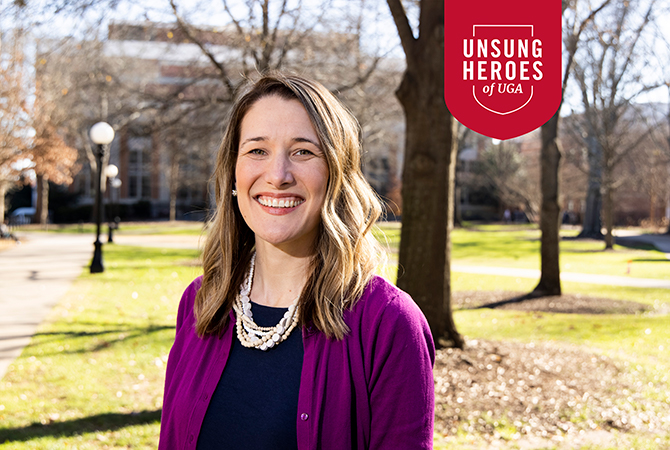 Finding necessary items during a pandemic isn't easy, and this week's Unsung Hero, Assistant Procurement Officer Claire Boyd, helps ensure the University of Georgia has everything it needs. Since early 2020, Boyd and her team have had to quickly locate all sorts of items that aren't on their usual shopping list, including air scrubbers, face masks, plexiglass shields and new signage, as well as tents and trailers so that dining services could serve students outside. Read more about how Boyd is helping keep campus safe while also supporting local businesses.
Surveillance Testing Continues at Legion Field
Free asymptomatic-only testing is available for all UGA community members at Legion Field. You may schedule an appointment or walk in Monday - Friday 9:00 a.m. - 3:30 p.m. The Legion Field site testing schedule will follow the University of Georgia calendar for closure.
***Participants will receive a 25% off coupon valid at any UGA retail dining location, courtesy of the President's Venture Fund.
Remember to Check Your Symptoms Before Coming to Campus

Recent Changes to Travel Recommendations
Effective Jan. 26, 2021, the CDC will require all air passengers entering the United States provide written documentation of a negative COVID-19 viral test within 72 hours of flight departure. Up-to-date information regarding this new testing requirement can be found here on the CDC's website. Individuals arriving from international travel should also self-quarantine and continue to monitor their health for 14 days after returning from travel. For more information, visit the CDC's travel website and the University Health Center website for post-international travel guidance. Check your symptoms each day through DawgCheck. If you are experiencing symptoms associated with COVID, contact the Health Center by calling 706-542-1162.
COVID Refresher Training Deadline Extended
The required training module, "COVID-19 Refresher Training for UGA Faculty and Staff," has been extended to Feb. 19. Please note that for anyone who has not completed the training by the initial due date of Jan. 31, will now have a "past due" message in the employee's to-do list within the Professional Education Portal (PEP). It is imperative to have all faculty and staff complete this training by Friday, Feb. 19.
Free Access to Daily Mental Wellness Support
As a member of the UGA community, you have free access to mental wellness support whenever and wherever you are. The goal of TAO, Therapy Assistance Online, is to provide online and mobile tools to help you conquer the day-to-day struggles of general stressors like anxiety and depression, or specific troubles like relationships and addiction. TAO Includes interactive sessions, mindfulness exercises and practice tools all aimed at helping you achieve your goals. Click here for more information and how to access this free resource tool.
Paw Points and Bulldog Bucks Update
Effective Feb. 15, 2021, UGA's dining commons and Quick Market locations will accept Paw Points and Bulldog Bucks. Check out menu items such as a featured sushi of the week, stuffed pasta shells with creamy pesto sauce, rotating entrée salads at the Village Summit or customizable burritos, bowls, and nachos at O-House. Menus can be viewed ahead of time on Build Your Plate. Cash, credit and debit transactions remain unavailable at this time. UGA faculty and staff can use post-tax payroll deduction to purchase a faculty staff meal plan which provides 10 meals in any of the five dining commons for only $9.40 per meal (plus tax).
Easily Find Campus Walking Routes with the UGA App
Biking and walking are great ways to get around campus. Use the Map & Directions feature on the Campus Map in the Official UGA Mobile App to get walking directions to any building on campus!
RRPs Still Required for Phase 3 On-site Research
Research Resumption Plans are still required for all new or newly resuming onsite research activity in Phase 3. Investigators currently working under an approved Research Resumption Plan do not need to submit a new plan unless their indoor occupancy plans for research spaces will change, in which case the existing RRP must be updated accordingly and resubmitted for approval. RRP requirements are detailed on the Office of Research website.
Outreach: PS&O and Extension
Let the Georgia Center Plan and Deliver Your Virtual or Hybrid Meeting
The UGA Center for Continuing Education can handle your meeting or conference through a virtual or hybrid format if meeting in person is not an option.
The Georgia Center provides a professionally trained team to work with you during format development and delivery to help you best meet your objectives; a technical team assigned to work with each of your speakers; trained moderators to assist with interactive sessions; and the ability to pre-record content as well as record live sessions.
Call 706-542-2654 or email the Georgia Center to learn more.
Development & Alumni Relations
Georgia Trailblazers
Join us on Monday, Feb. 22 at 12:00 p.m. for a virtual panel discussion with four trailblazing alumni. Christina Swoope-Carerre (BS '11), UGA's first Black female drum major; Telvis Rich (BSW '94, MSW '95), UGA's first Black SGA President; Chuck Kinnebrew (BSED '75), one of the first Black Georgia Football players; and Mary Frances Early (MMED '62, EDS '71), the University's first Black graduate. Register now to hear their inspiring stories.