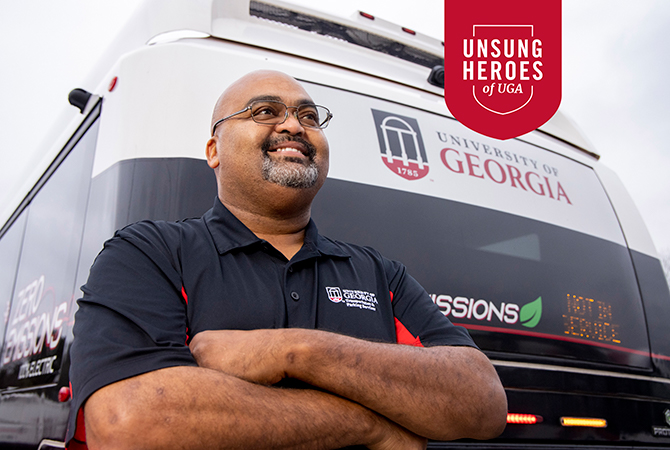 This week's Unsung Hero offers good cheer to student riders, despite the mask blocking his smile. Andrew Wells, a bus driver on the East Campus Shuttle, feels secure with the many safety measures that have been implemented so he can continue driving students where they need to go. "We're doing all that we can on our end to try to stay safe," he said, cheerfully. Read more about how Wells has supported the UGA community throughout the pandemic.
Reports of COVID-19 at UGA Decrease Again
Reports of positive cases of COVID-19 among faculty, staff and students at the University of Georgia continued to decline last week, falling nearly 30 percent from the previous week. In addition, the positivity rate for surveillance testing dropped as well.


A total of 2,407 tests were administered at the Legion Field surveillance site and in pop-up locations that included high-traffic areas on campus. Of those tested, 60 yielded positive results for a positivity rate of 2.49 percent.
Surveillance Testing Continues at Legion Field
Free asymptomatic-only testing is available for all UGA community members at Legion Field. You may schedule an appointment or walk in Monday - Friday 9:00 a.m. - 3:30 p.m. The Legion Field site testing schedule will follow the University of Georgia calendar for closure.
***Participants will receive "Be Our Guest" coupons, courtesy of the President's Venture Fund.
Remember to Check Your Symptoms Before Coming to Campus

Free Access to Daily Mental Wellness Support
As a member of the UGA community, you have free access to mental wellness support whenever and wherever you are. The goal of TAO, Therapy Assistance Online, is to provide online and mobile tools to help you conquer the day-to-day struggles of general stressors like anxiety and depression, or specific troubles like relationships and addiction. TAO Includes interactive sessions, mindfulness exercises and practice tools all aimed at helping you achieve your goals. Click here for more information and how to access this free resource tool.
Welcome Back to the Libraries & Mask Up
Team up with the student workers and patrons of UGA Libraries to keep our locations safe from the spread. Mask up while you're studying, checking out books, and any time you find yourself on UGA's campus.
Virtual Campus-Wide Read
Learn about UGA's desegregation from the on-the-ground account of journalist Calvin Trillin, who covered the historic events of 1961. As a kickoff to a campus read of his book, Trillin will participate in a virtual discussion at 4 p.m. Thursday, Feb. 4, with Charlayne Hunter-Gault, one of the two trailblazers who faced down adversity to become UGA's first Black students. The Zoom event is part of the UGA Signature Lecture series and is free and open to students, faculty, and other members of the UGA community. To register and to download your free e-book copy of Trillin's book, "An Education in Georgia," published by the UGA Press, click here.
Commit to Staying Safe, Bulldogs!
Remember to social distance and wear face coverings while on any UGA bus or waiting at the bus stop. While face coverings have been required on UGA's buses since July 2020, please familiarize yourself with the U.S. Centers for Disease Control and Prevention's recent order issued on Jan. 29, 2021 requiring face coverings on transportation systems. Please note that passengers who are not wearing a face covering will be asked to do so or may choose to disembark the bus. As a reminder, seating remains reduced and designated for social distancing. If you need an alternative bus or route, live bus tracking information is available on the UGA app with campus route options.
Neil Shubin to Deliver Virtual Boyd Lecture, Feb. 3