Campus Operations Updates, Social Distancing in the Classroom, University Testing Services, and more!

Spring 2021
News for Students
UGA Scientists Create COVID-19 Saliva Test for Campus Community
Thanks to a team of researchers from UGA's Veterinary Diagnostic Laboratories, getting tested for the coronavirus is much less obtrusive. As of Jan. 4, UGA began offering a saliva-based COVID-19 test, developed by the College of Veterinary Medicine's Diagnostic Laboratories, and is transitioning to primarily using the saliva test as the semester continues.
Important Reminder for CURRENT, REGISTERED SPRING SEMESTER STUDENTS to Complete Vaccine Survey
Please check your UGA email for the survey sent on Jan. 14 with the subject "COVID-19 Vaccine Survey – Action Requested" to access your survey link. It is important that paid faculty and staff and our current, registered Spring Semester students complete this survey and submit it by Thursday, Jan. 21. Your responses will be kept confidential and will help to inform our plan for broader vaccination of the campus community once regular shipments of the vaccine begin to arrive. We will continue to follow CDC and GDPH guidelines for administration until everyone who wants a vaccine gets a vaccine. You will be notified as additional information becomes available.
Surveillance Testing Push: Beat COVID/Beat Florida!
Get tested at any "pop-up" surveillance testing site during the week of Jan. 18 and receive a "beat Florida" t-shirt.* Through this week, capacity at the Legion Field surveillance testing site and pop-up locations across campus remains expanded to accommodate up to 1,500 tests per day (1,000 per day at Legion Field and 500 at pop-up locations with many daily options to choose from). Free, walk-up asymptomatic-only testing is available for all UGA community members.
If you would like to schedule an appointment, you may register for surveillance testing at Legion Field. Appointments or walk-ups are available Monday - Friday 9:00 a.m. - 3:30 p.m. The Legion Field site testing schedule will follow the University of Georgia calendar for closure.
***While supplies last, participants will receive t-shirts or "Be Our Guest" coupons, courtesy of the President's Venture Fund.
Required COVID-19 Training for Students
The Spring 2021 COVID-19 training module is now live in eLC. Returning students will complete a condensed "Refresher" module, while new students will complete the full version. Please be sure you have logged into eLC and completed the training prior to Jan. 31. Returning to campus safely is everyone's responsibility, and we know you will do what you can to ensure you, your fellow students and all members of the University community have a safe, healthy and successful spring semester.
Student and Faculty Requests for COVID-19-Related Accommodations
Requests from students for an accommodation due to COVID-19 will continue be handled through the Disability Resource Center's (DRC) existing accommodations process. DRC professional staff work directly with students to assess their individual needs and to develop appropriate plans for accommodations and services.
All faculty, staff and graduate assistants who received a COVID-19/ADA-related accommodation during the Fall 2020 Semester may continue to use their approved accommodations during the Spring 2021 Semester unless notified otherwise. Faculty, staff and graduate assistants may seek a new or different COVID-19 related accommodation for the 2021 Spring Semester if they fall within one of the categories for increased risk of severe illness from COVID-19, as defined by the CDC. Requests for accommodations should be submitted to Human Resources through the University's existing Americans with Disabilities Act (ADA) accommodations process.
If you have questions regarding a COVID-19 accommodation, please contact the DRC at drc@uga.edu or 706-542-8719.
Remember to Check your Symptoms Before Coming to Campus

UV Disinfection Arrays Installed at the MLC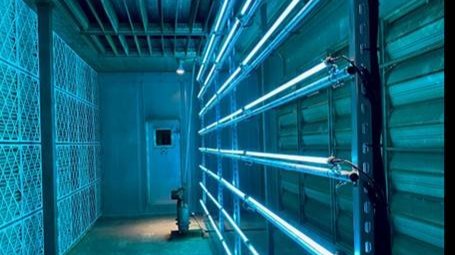 The Facility Management Division is pleased to announce that ultraviolet (UV) disinfection arrays have been installed at the Miller Learning Center (MLC) over the Winter Break. The use of UV germicidal disinfection is one of several leading strategies used to help combat SARS-CoV2, known as COVID-19. This supplements FMD's previous actions to increase the daily air changes for over 5 million square feet of academic and research space on campus. The MLC is the most heavily utilized academic building at UGA and houses classes for over 16,000 students per semester, making it an ideal location for the UV retrofit project. For more information, click here.