Your next weekly update will be in your inbox on Tuesday, Jan. 5, 2021, with back to campus information for the Spring semester. Until then, have a safe and restful holiday break!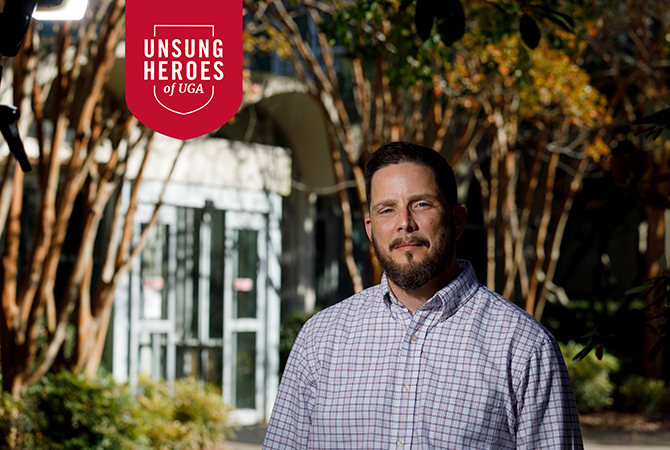 Ricky Young has dedicated his time to keeping the campus community safe. Ricky and his team of security guards stepped up as campus emptied out, ensuring a safe environment for the 500 students who remained on campus after the March closure.
In this Issue:
COVID-19 testing updates for spring semester.
Surveillance testing available through Dec. 23.
#WelcomeUGA promotes early spring semester events.
Fall and spring instruction reminders.
Phase 3 continues for spring research operations.
Support Student Emergency Fund with mask purchase.
COVID-19 Testing for Spring Semester
Before returning to campus in the spring, all faculty, staff and students are encouraged to take a COVID-19 test and self-quarantine at home. From Jan. 4 – Jan. 22, capacity at the University's surveillance testing site at Legion Field and pop-up locations across campus will be expanded to accommodate up to 1,500 tests per day (1,000 per day at Legion Field and 500 via pop-up locations). Click here to find a testing site on campus.
Last Chances to Get Tested on Campus Before the Holidays!
The University of Georgia is urging the campus community to help reduce the spread of COVID-19 by getting tested prior to heading home for the holidays.
Symptomatic individuals:
Make an appointment with your community provider.
Asymptomatic individuals:
Asymptomatic-only testing is available at Legion Field. If you would like to schedule an appointment, you may register for surveillance testing. Walk-up appointments can be made Monday – Friday 9:30 a.m. – 3:30 p.m. while spots are available. The Legion Field testing schedule will follow the University of Georgia calendar for closure except for Dec. 24, when the surveillance testing site will be closed.
Remember to use DawgCheck While Away from Campus
The University remains open after the break and will continue providing regular campus operations and student life services—such as housing, dining, health/wellness centers and campus transit—until the end of the Fall semester. If you receive a positive COVID-19 diagnosis at any point, you are required to report those results through DawgCheck, even while not on campus.

Get Your Flu Shot on Campus
Be prepared for flu season. Several options are available to get your flu shot this season.
All UGA Community (students, faculty and staff):
Walk-in flu shots are available at the UHC Pharmacy, Monday - Friday, 8 a.m. – 5 p.m.
Make an appointment with the UHC Travel Clinic: 706-542-5575.
Please bring your UGA ID and insurance information.
Free Access to Daily Mental Wellness Support
As a member of the UGA community, you have free access to mental wellness support whenever and wherever you are, whether you are home for the holidays, or staying on campus until the end of the semester. The goal of TAO, Therapy Assistance Online, is to provide online and mobile tools to help you conquer the day-to-day struggles of general stressors like anxiety and depression, or specific troubles like relationships and addiction. TAO Includes interactive sessions, mindfulness exercises and practice tools all aimed at helping you achieve your goals. Click here for more information and how to access this free resource tool.
#WelcomeUGA
The Department of Student Transitions is building a comprehensive calendar of all Spring 2021 Welcome UGA events being hosted across campus and would also like to promote and support your office's upcoming Signature Events. Student organizations, schools and colleges, and faculty and staff are encouraged to host and submit events. Your program qualifies as a Welcome UGA event if it is…
Within the first 6 weeks of the Spring 2021 semester (Jan. 11—Feb. 19).
Free and open to all UGA students.
Designed to promote student engagement and involvement with your office, staff or peers.
To increase visibility of your event, add the hashtag #WelcomeUGA to your event's social media posts and calendar submissions!
Learn more about Welcome UGA | Learn more about Student Transitions
Fall Semester Wrap Up
Faculty, please remember to submit your course grades by noon on Monday, Dec. 21. This is crucial as failure to report grades can often have significant consequences for a student's financial aid. Timely submission of grades will help ensure that we do not create more uncertainty for our students.
Join a Community of Practice
The Office of Online Learning invites you to join one of their recently launched communities of practice. These groups have been formed around faculty-identified challenges about teaching online – including facilitating synchronous sessions, designs for learning, active learning online, meaningful online discussions, and teaching large classes online.
Participants engage with colleagues and instructional designers through a Slack workspace.
Spring Semester Reminders
Spring 2021 classes will begin on Wednesday, Jan. 13, 2021. This is a change from the original date of Jan. 11, 2021. The Drop/Add period is Jan. 13-20, and the withdrawal deadline is March 23, 2021. Final exams (May 5-11, 2021) and commencement (May 14, 2021) remain unchanged.
As you plan your classes for the Spring 2021 semester, remember the newly added three, one-day "instructional breaks" (Feb. 17, March 12 and April 8). The expectations for these instructional break days were discussed in a recent meeting of the Educational Affairs Committee, which has recommended the following: "No mandatory assignments shall be scheduled for completion during these instructional break days, either for course work or extra-curricular or co-curricular activities. It is strongly recommended that assignments and examinations not be scheduled for the day after the instructional break days."
Library Hours
UGA Libraries will remain open to serve students, faculty, and the community through Dec. 24, although hours will change during the intercession period. Online resources and chat services will continue to be available as well.
Annual Leave Reminder
Please remember that for faculty and staff who accrue vacation (annual) leave, the 360-hour calendar year cap for your vacation balance is still in effect. Any vacation hours over 360 hours will be removed if not utilized by Dec. 31, 2020. December accruals are included in the balance as of Dec. 31, 2020. Although COVID-19 has restricted travel and made it more difficult to take vacation, please consider how you will utilize your leave if you are close to or over the 360-hour calendar year limit for your vacation balance. Please contact Human Resources at hrweb@uga.edu if you have any questions.
License Plate Recognition System Allows for Contactless Parking at the North and Tate Center Decks
Effective Jan. 4, 2021, the North and Tate Center parking decks will transition to a License Plate Recognition (LPR) system, which provides customers with an efficient, user-friendly, and contactless parking option. The LPR system was first introduced on campus in 2014 and has been implemented in most parking decks and select surface lots. The LPR system allows entry and exit gates to be removed, which reduces traffic in the parking area and provides contactless payment options for visitors who are able to use ParkMobile to pay for hourly parking.
Holiday Feast to go
Chefs at the UGA Center for continuing Education & Hotel are creating a Holiday Feast that's sure to please. Order this fully cooked dinner to be picked up on Dec. 18 or Dec. 23, and just heat and serve for a festive, stress-free meal. The menu is priced for families of four or eight. Individual dishes and whole pies are available as well. Place your order by Dec. 16 by calling 706-338-8781 or emailing cateringsales@georgiacenter.uga.edu.
Catered Holiday Meals Delivered Free on Campus
The UGA Center for Continuing Education & Hotel is ready to create the meal for your office event. A wide range of menu options, individually packaged with an entrée and two sides is available for groups of 10 or more, and will be delivered hot and ready to eat for $10.95 per person. Beverages and desserts are also available. Order at least three business days in advance of your event by calling 706-338-8781 on weekdays between 9 a.m. and 7 p.m.
Phase 3 Continues for Spring Research Operations
Provided circumstances do not require a return to earlier phases, UGA will remain under Phase 3 protocols at the beginning of the Spring 2021 semester. Research Resumption Plans are still required for all new or newly resuming onsite research activity. Investigators currently working under an approved Research Resumption Plan do not need to submit a new plan for spring unless their indoor occupancy plans for research spaces will change, in which case the existing RRP must be updated accordingly and resubmitted for approval. For more information, visit the Research Operations FAQ.
Development & Alumni Relations
UGA Masks for a Cause
The UGA Bookstore is selling a pair of UGA face coverings that includes $10 in support for the UGA Student Emergency Fund. Order or pick yours up today!