Campus Operations Updates, Social Distancing in the Classroom, University Testing Services, and more!

Fall 2020
News for Students
Remember to use DawgCheck While Away from Campus
While many students may have chosen not to return to Athens after Thanksgiving Break, the University remains open after the break and will continue providing regular campus operations and student life services—such as housing, dining, health/wellness centers and campus transit—until the end of the Fall semester. If you receive a positive COVID-19 diagnosis at any point, you are required to report those results through DawgCheck, even while not on campus.

You can Still Get Tested on Campus Before the Holidays!
The University of Georgia is urging the campus community to help reduce the spread of COVID-19 by getting tested prior to heading home for the holidays.
Symptomatic individuals: Students, visit with your
UHC primary care provider.
Asymptomatic individuals: Asymptomatic-only testing is available at Legion Field. If you would like to schedule an appointment, you may register for surveillance testing. Walk-up appointments can be made Monday – Friday 9:30 a.m. – 3:30 p.m. while spots are available. The Legion Field testing schedule will follow the University of Georgia calendar for closure except for Dec. 24, when the surveillance testing site will be closed.
Get Your Flu Shot on Campus
Be prepared for flu season. Several options are available to get your flu shot this season:

Make an appointment with your UHC Primary Care provider online at uhs.uga.edu or call 706-542-1162.

Make an appointment with the UHC Travel Clinic:
706-542-5575.

NEW for 2020: Walk-in flu shots are available at the UHC Pharmacy, Monday - Friday, 8 a.m. – 5 p.m.

Please bring your UGA ID and insurance information.
Free Access to Daily Mental Wellness Support
As a member of the UGA community, you have free access to mental wellness support whenever and wherever you are, whether you are home for the holidays, or staying on campus until the end of the semester. The goal of TAO, Therapy Assistance Online, is to provide online and mobile tools to help you conquer the day-to-day struggles of general stressors like anxiety and depression, or specific troubles like relationships and addiction. TAO Includes interactive sessions, mindfulness exercises and practice tools all aimed at helping you achieve your goals. Click here for more information and how to access this free resource tool.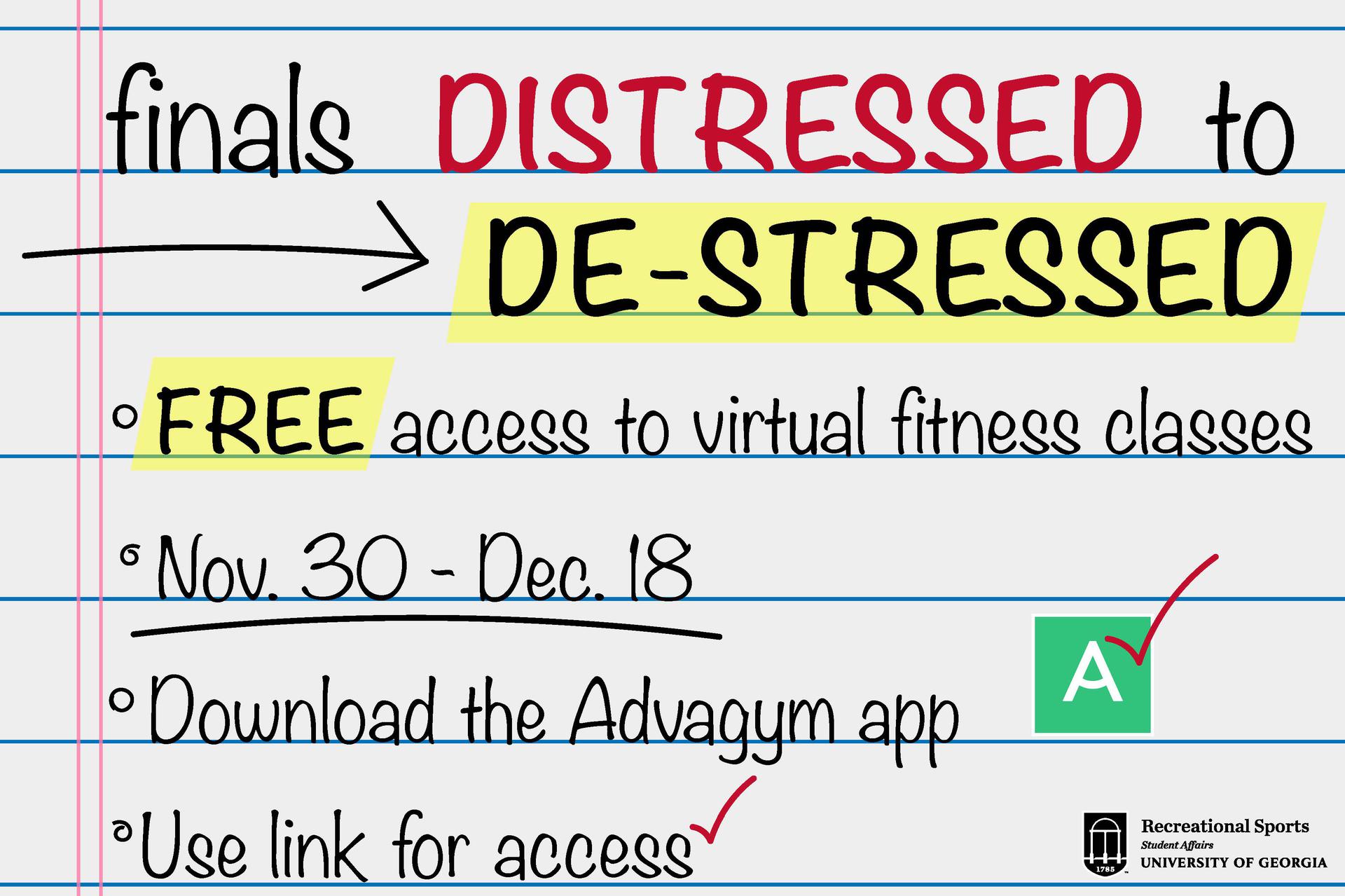 Recreational Sports is offering FREE access to virtual fitness classes through Dec. 18. Go from distressed to de-stressed with this limited-time, free fitness resource. Fitness on-demand classes are open to the entire UGA community by following these easy steps:
Download the Advagym app.

Use this link for access to the Rec Sports fitness
on-demand library.

Free access open through Dec. 18.

*Access to fitness on-demand classes will be available next semester to pass holders only. For more information, visit recsports.uga.edu.
Mark Your Calendar for a Stretch Class During Finals Week
Join Rec Sports for a free virtual gentle stretch class to relax during finals week on Monday, Dec. 14 from 2:00 – 3:00 p.m. Instructors will incorporate deep breathing and other relaxation techniques like progressive muscle relaxation to leave participants feeling focused, refreshed, and relaxed. Pre-registration is required. Zoom link will be emailed after registration.
Remote Learning and Commencement Supplies Available
at the UGA Bookstore
The UGA Bookstore offers a wide selection of desktops, laptops and tablets with integrated cameras ideal for remote learning.
Get ready for virtual commencement and/or graduation pictures with graduate and undergraduate regalia. These items are carried in stock, every day, at the UGA Bookstore.
Technology for Online Finals Available at Libraries, MLC
Students who need to access to Respondus software for online finals can find them at UGA Libraries.
Most desktop computers at the Main and Science Libraries and the Miller Learning Center are equipped with Respondus software, although the PCs are not equipped with the webcams needed for some tests.
To utilize Respondus Monitor, students may check out laptops at the circulation desks of the Main and Science Libraries or at the tech lending lab on the third floor of the Miller Learning Center. The MLC's Mac desktops are also equipped with webcams for Respondus Monitor testing.
Libraries locations have adapted hours to accommodate students' testing and studying needs during finals. For hours, see libs.uga.edu/all-hours.
Face coverings are required at all UGA Libraries locations, and furniture has been reconfigured to allow for social distancing to prevent the spread of COVID-19. All visitors should complete the DawgCheck evaluation prior to arriving on campus. For complete hours and services, as well as online resources and virtual chat, visit libs.uga.edu.
Chat with a Librarian Online for Help with Finals
Students who are preparing their final papers and conducting research from their dorm or from home can connect with a UGA librarian online. Librarians are ready to help you find e-resources, prepare your citations and answer research questions. The virtual chat option is available at libs.uga.edu/chat or you can connect with a specialist in your major at libs.uga.edu/subjects.
Capturing Science Contest Deadline Approaches
The UGA Libraries invites students to compete in the Fourth Annual Capturing Science Contest. The competition, co-sponsored by the Office of Research, offers cash prizes for students who convey STEM (science, technology, engineering and mathematics) concepts in creative and compelling projects that range from artistic endeavors to classroom activities, games and videos. The deadline for virtual submissions is 5 p.m. on Dec. 7.
In addition to the prizes of $1,000, $800, $600 and $400 to the top four submissions in any STEM field or medium, this fall the organizers are offering a special prize for students who engage with one of two topics that have greatly impacted the campus community in 2020. To be eligible for the $200 prize, students may submit projects that convey research or information on COVID-19 or racial and ethnic justice.
Undergraduate and graduate students pursuing any degree are eligible for the prizes.
Visit guides.libs.uga.edu/capturingscience for contest rules, previous winners and all past submissions.
Fuel Up for Finals
Fuel up for finals by feasting on a special menu featuring roasted turkey breast, maple glazed black oak ham, cornbread dressing, wild mushroom risotto, red velvet cupcakes and more. Savor this scrumptious menu at Bolton, O-House or the Village Summit from 4:00 p.m. to close on Dec. 9. And remember, these locations accept meal plans, Paw Points and Bulldog Bucks.
Be BOLD. Be an Orientation Leader.
Being bold means serving your university, mentoring others, and becoming the best leader you can be. Are you interested in becoming a 2021 Orientation Leader? Find more information here and be sure to attend one of the mandatory information sessions, all offered virtually. The applicant is open NOW will and remain open until Dec. 21. If you have any questions regarding the Orientation Leader position or the application process, please reach out to New Student Orientation at orientation@uga.edu.