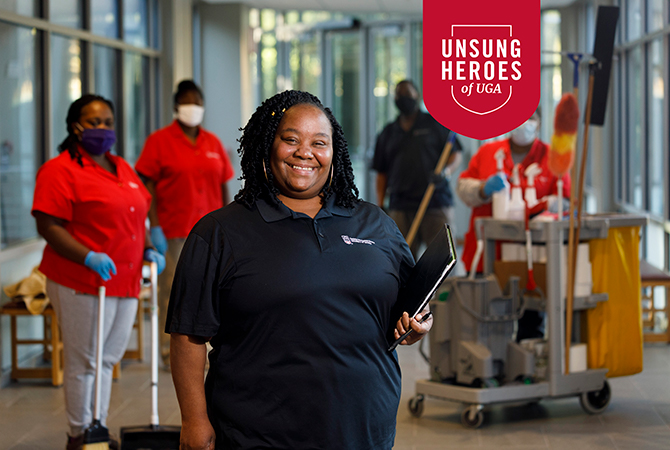 Even in a pandemic, Tiffany Teasley, this week's Unsung Hero, knows she doesn't have time to be down. As a building services lead covering Molecular Medicine, FMD Grounds Building, the CCRC and Campus Transit, Teasley and the six people she supervises have been busy suiting up to disinfect rooms touched by COVID-19 to make them safe to re-enter and keeping sanitizing stations well stocked with towels and plant-based cleaners so others can help keep spaces sanitized too.
In this Issue:
Remember to use DawgCheck while away from campus.

Get a COVID test before the holidays.

De-stress with virtual fitness classes.

Free access to daily mental wellness support.

Online resources available for faculty.

Join Between the Pages with alumnus Chuck Bryant.
Remember to Use DawgCheck While Away from Campus
While many students may have chosen not to return to Athens after Thanksgiving Break, the University remains open after the break and will continue providing regular campus operations and student life services—such as housing, dining, health/wellness centers and campus transit—until the end of the Fall semester. If you receive a positive COVID-19 diagnosis at any point, you are required to report those results through DawgCheck, even while not on campus.

You can Still Get Tested on Campus Before the Holidays!
The University of Georgia is urging the campus community to help reduce the spread of COVID-19 by getting tested prior to heading home for the holidays.
Symptomatic individuals:
Make an appointment with your community provider.
Asymptomatic individuals:
Asymptomatic-only testing is available at Legion Field. If you would like to schedule an appointment, you may register for surveillance testing. Walk-up appointments can be made Monday – Friday 9:30 a.m. – 3:30 p.m. while spots are available. The Legion Field testing schedule will follow the University of Georgia calendar for closure except for Dec. 24, when the surveillance testing site will be closed.
Get Your Flu Shot on Campus
Be prepared for flu season. Several options are available to get your flu shot this season.
All UGA Community (students, faculty and staff):
NEW for 2020: Walk-in flu shots are available at the UHC Pharmacy, Monday - Friday, 8 a.m. – 5 p.m.
Make an appointment with the UHC Travel Clinic: 706-542-5575.
Please bring your UGA ID and insurance information.
De-Stress with Fitness!
Recreational Sports is offering FREE access to virtual fitness classes through Dec.18. Go from distressed to de-stressed with this limited-time, free fitness resource. Fitness on-demand classes are open to the entire UGA community by following these easy steps:
Download the Advagym app.
Use this link for access to the Rec Sports fitness on-demand library.
Free access open through Dec. 18.
*Access to fitness on-demand classes will be available next semester to pass holders only. For more information, visit recsports.uga.edu.
Free Access to Daily Mental Wellness Support
As a member of the UGA community, you have free access to mental wellness support whenever and wherever you are, whether you are home for the holidays, or staying on campus until the end of the semester. The goal of TAO, Therapy Assistance Online, is to provide online and mobile tools to help you conquer the day-to-day struggles of general stressors like anxiety and depression, or specific troubles like relationships and addiction. TAO Includes interactive sessions, mindfulness exercises and practice tools all aimed at helping you achieve your goals. Click here for more information and how to access this free resource tool.
Libraries Course Reserves
UGA Libraries will continue to provide course reserve services for faculty planning their courses for spring semester, with some changes due to the continuing COVID-19 situation. Requests submitted by Dec. 11 are guaranteed to be completed and accessible by the first day of Spring Semester classes, Jan. 13.
The Libraries encourage instructors to utilize electronic course reserve resources, which can integrate with eLC and limit students' need to access physical materials and spaces. Electronic course reserves also position faculty for greater flexibility with hybrid, asynchronous or online instruction and ensure that students can access materials on time, as physical materials must be quarantined between uses.
Click here for more information. To request reserves, complete the online form at libs.uga.edu/contact/course_reserves_form.
Online Faculty Resources Website
UGA Online has a faculty website filled with resources for designing and teaching online as well as a place to request services and consultations for online teaching and learning.
Development & Alumni Relations
Between the Pages: Stuff You Should Know's Chuck Bryant
Register for @UGAAlumni's next Between the Pages virtual book club on Dec. 2. Preorder Stuff You Should Know: An Incomplete Compendium of Mostly Interesting Things by podcasting duo Josh Clark (M '99) and Chuck Bryant (AB '95). Our exclusive gathering with Chuck will be moderated by Mamie Shepherd (ABJ '13), a program manager with Seacrest Studios in Nashville, via Zoom on Dec. 2.