Fall 2021
News for Faculty and Staff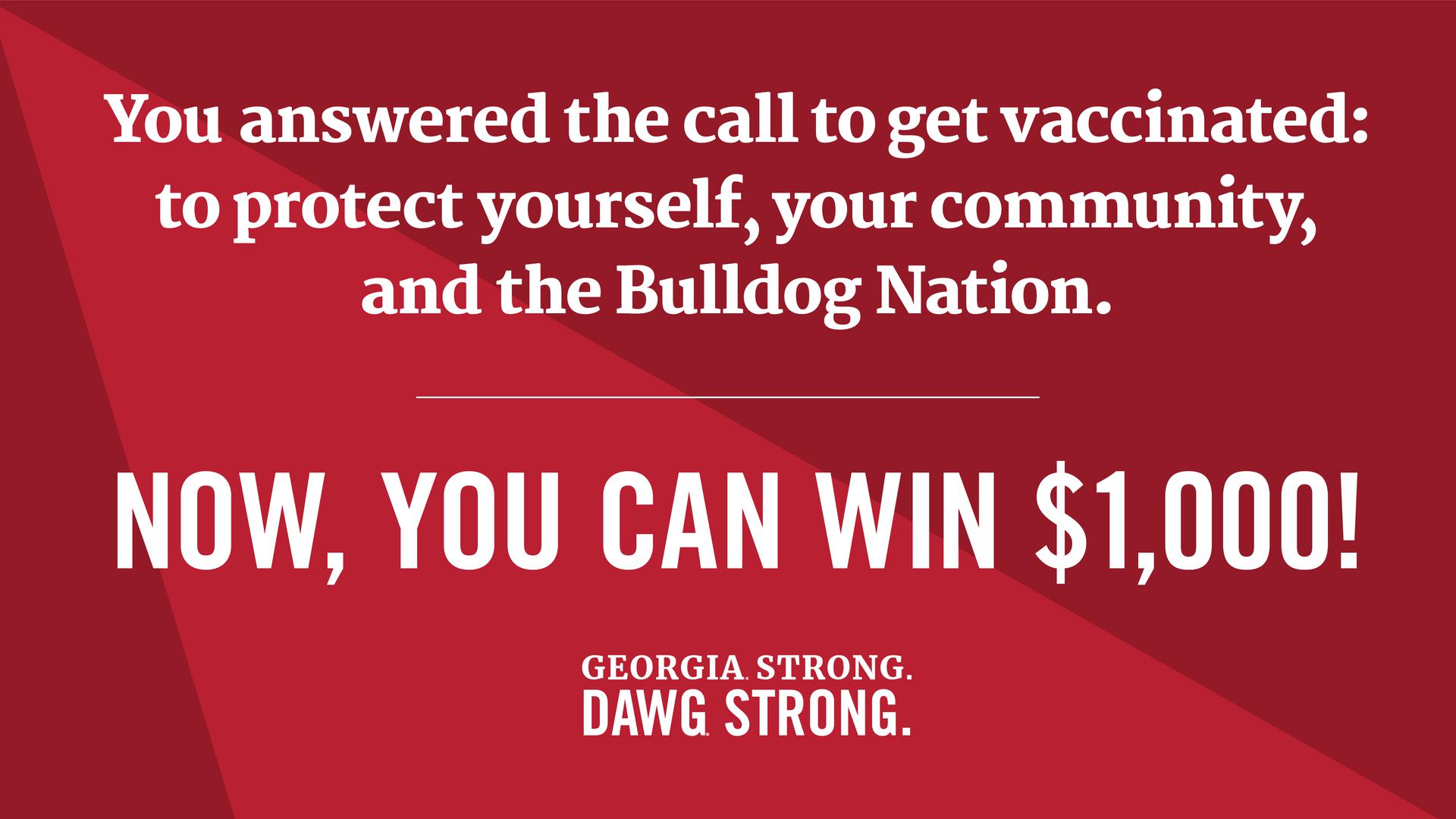 Have You Answered the Call to Get Vaccinated? You Can Win $1,000!
Beginning September 1, UGA will once again up the ante on vaccine incentives. Anyone among UGA's faculty, staff and students who has received a full series of the COVID-19 vaccine—whether at the University Health Center or elsewhere—can register to win one of 100 cash prizes of $1,000. The first 50 winners will be drawn on Sept. 15 with 25 additional winners being drawn on Sept. 30 and Oct. 15. Faculty and staff winners will be processed through UGA's payroll and taxed accordingly, and those at senior leadership levels (University Cabinet members and deans) will not be eligible to participate. Students will be provided the aid through their student accounts.
The federal Food and Drug Administration on Monday approved the Pfizer-BioNTech COVID-19 vaccine for those 16 years of age and older. With this long-awaited approval in place, senior officials at the University of Georgia renewed their push for students, faculty and staff to be vaccinated.

"The FDA's approval of the vaccine marks a crucial step as we seek to protect the entire University, as well as those in our surrounding community, from the COVID-19 pandemic," said UGA President Jere W. Morehead. "I hope this action by the FDA will remove any hesitancy that some might have had before getting vaccinated."
Faculty, staff and students who get vaccinated at the University Health Center or Tate Center Mobile Clinic may choose to enter a drawing to win a Visa gift card worth $100. This incentive ends Sept. 3, with 10 individuals being randomly selected each week to receive a $100 gift card. In addition, everyone vaccinated will receive a $20 gift card as well as a specially designed UGA T-shirt. While supplies last, options include gift cards to the UGA Bookstore, Starbucks, Chick-fil-A, Fully Loaded and El Barrio. Getting your vaccine is fast, easy and at no cost to you.
Vaccinations are available now at the UHC, and you can click here to make an appointment. The University Health Center is also partnering with the Georgia Department of Public Health to administer COVID-19 vaccines at the Tate Center. Walk-ups are available from 10 a.m.–2 p.m. on August 23-26, 30-31, and September 2 in room 137.
Gift card and T-shirt incentives are for new vaccinations only. Share the word with friends and colleagues!
Face Coverings Strongly Encouraged Indoors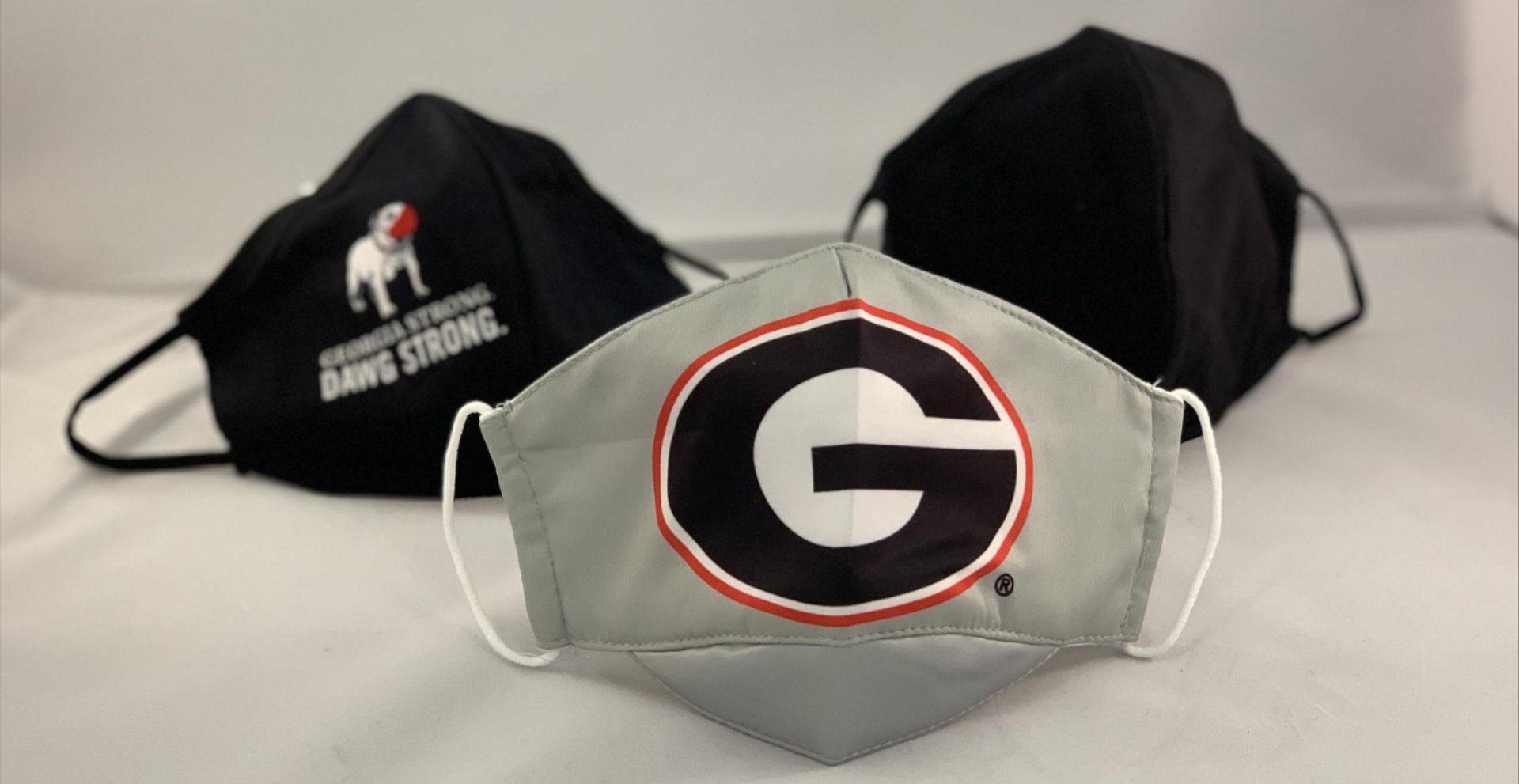 Please remember that face coverings are strongly encouraged when inside buildings on the UGA campus.
UGA has a number of face coverings available in several types and designs. Disposable masks are also available. Departments that are interested in having masks on hand can order them at no cost through UGAmart. Orders will be limited to the number of employees in the department or unit. Instructions for ordering face coverings can be found here.
Any students who want cloth face coverings can pick them up at no cost at Information Desks in the Tate Student Center and the Miller Learning Center.
Pursuant to state and USG rules, we cannot ask our students or fellow employees for proof of their vaccination status, and we should not treat vaccinated and unvaccinated individuals differently unless dictated by law or applicable guidance. In addition, students should not be asked about their vaccine status and segregated in a classroom or from other instructor-student interactions (e.g., office hours, group work, field trips, labs, etc.) based on their vaccination status.
However, students may be required by off-campus partnering organizations to wear masks and/or be vaccinated as a condition of participation in experiential learning opportunities such as study abroad programs, externships and delivery of medical services.
Off campus, masks are required indoors in Athens-Clarke County. As of 8 a.m. on Wed., Aug. 4, masks are required when indoors for most people while inside public spaces or private entities with limited exceptions. Click here for more details.
Face Coverings Required on Buses
The University of Georgia Transportation & Parking Services team is making a concerted effort to ensure masks are worn on our University buses. A few examples of the efforts that are being made include:
U.S. Department of Transportation signage is posted on all buses indicating masks are required.

Electronic bus signs include a notification that masks are required on UGA buses.

The automated annunciators on each bus regularly announce that masks are required on buses.

Disposable face masks are available for any riders who are not prepared with a mask.

Transportation ambassadors are posted at strategic stops where large numbers of patrons tend to wait for the bus and are handing out masks and explaining the requirement to passengers.

Also, please note the CDC order exempts several categories of persons from wearing a mask; such as a person with a disability.
Please know Transportation staff continuously remind patrons to follow public health guidelines.
The Daily Symptom Checker on DawgCheck has been discontinued. However, any faculty, staff or student who tests positive for COVID-19 is still REQUIRED to report their positive test through the online website and follow the guidance provided.
UGA will continue to offer free asymptomatic testing for COVID-19 to all members of the UGA community at the University Health Center. Based on CDC and DPH guidance, any individual, vaccinated or not, should get tested if they have had close contact with someone with COVID-19 within 3 to 5 days of that contact. Appointments for asymptomatic testing can be booked via the Vet View scheduling process. If you are experiencing symptoms, you should schedule an appointment with your provider. Students may obtain symptomatic testing at UHC, faculty and staff should contact their primary care provider or the local department of health for testing.
Asymptomatic testing is conducted outdoors where social distance may be maintained. Symptomatic students must enter the UHC for testing and are directed to waiting rooms designated for sick patients. Appointments are encouraged and students should visit the patient portal to schedule or call the health center.
Update Signage in Buildings
As we begin the semester, please take an audit of the signage in your buildings. As messages continue to evolve, it's critical that the signage displayed reflects the most recent messages put forth by the university and the USG. Units are encouraged to place updated signage in all classrooms, break rooms, common areas, and other commonly used spaces. Refer to this link for the most current COVID-19 Signage and Graphics.
Preventative Measures Advisory Board
The Preventative Measures Advisory Board (PMAB) remains actively engaged this fall, even though it is not meeting twice per week, as it did in the 2020-21 academic year. The group, comprised of campus health and environmental safety experts, continues to monitor the help desk and is providing assistance on an as-needed basis to colleges, schools and units.
PMAB is led by co-chairs Lisa Nolan, Dean of the College of Veterinary Medicine, and John McCollum, Associate Vice President for Environmental Safety. Many of its recommendations from the previous academic year are now standard operating procedures at UGA.
COVID-19 Vaccine Leave has been extended by Gov. Kemp through the end of September. This means employees may continue to use COVID-19 Vaccine Leave in order to be vaccinated and if they experience side effects from receiving the vaccine. We encourage employees who have not yet received a COVID-19 vaccine to do so and to use this leave while it is available. An employee may take up to eight (8) hours of Non-Closure Emergency Leave for the purpose of receiving a COVID-19 vaccine. In addition, an employee may also take up to sixteen (16) hours of Non-Closure Emergency Leave if he or she receives a COVID-19 vaccine and experiences severe negative side effects that prohibit the performance of their duties of employment.
Learn about the Science Behind Vaccines
August is National Immunization Awareness Month. At the Libraries, we invite UGA students, faculty and staff to learn more about the science behind vaccines and their history in defeating deadly outbreaks of diseases such as smallpox and polio. Visit guides.libs.uga.edu/vaccines for e-books and electronic resources on the topic or stop by the Science Library for a special display of books available for checkout.