Fall 2021
News for Faculty and Staff
UGA makes it easy, fast and free to get COVID-19 vaccinations on campus. Vice President of Finance & Administration Ryan Nesbit shares why he got the vaccine.
Face Coverings On & Off Campus
As we welcome students and families to campus this week, remember that face coverings are strongly encouraged when inside buildings on the UGA campus.
Off campus, masks are required indoors in Athens-Clarke County. As of 8 a.m. on Wed., Aug. 4, masks are required when indoors for most people while inside public spaces or private entities with limited exceptions. Click here for more details.
Face Coverings Available for Purchase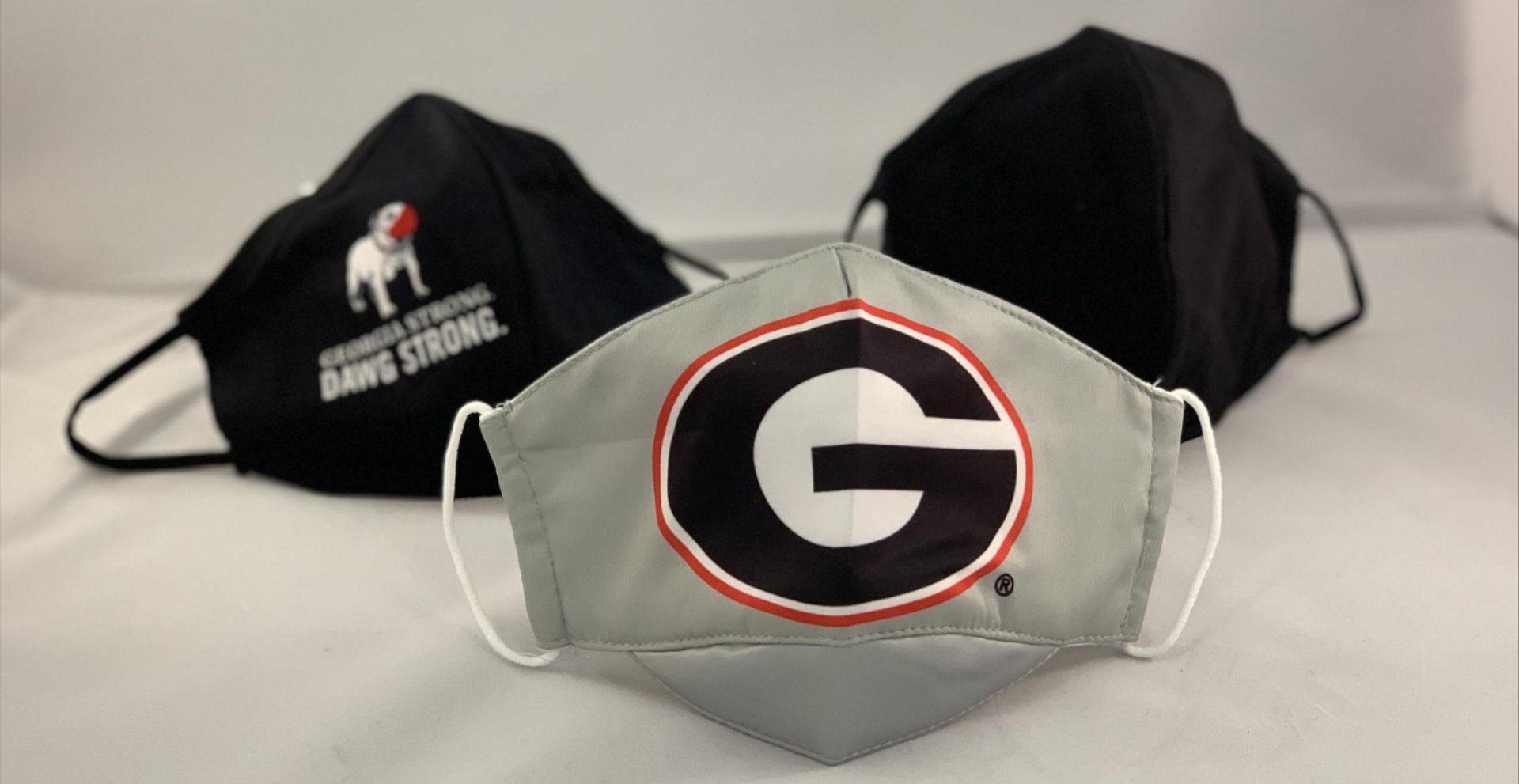 UGA has a number of face coverings available in several types and designs. Disposable masks are also available. Departments that are interested in having masks on hand can order them at no cost through UGAmart. Orders will be limited to the number of employees in the department or unit. Instructions for ordering face coverings can be found here.
Any students who want face coverings can pick them up at no cost at Information Desks in the Tate Student Center and the Miller Learning Center.
Pursuant to state and USG rules, we cannot ask our students or fellow employees for proof of their vaccination status, and we should not treat vaccinated and unvaccinated individuals differently unless dictated by law or applicable guidance. In addition, students should not be asked about their vaccine status and segregated in a classroom or from other instructor-student interactions (e.g., office hours, group work, field trips, labs, etc.) based on their vaccination status.
However, students may be required by off-campus partnering organizations to wear masks and/or be vaccinated as a condition of participation in experiential learning opportunities such as study abroad programs, externships and delivery of medical services.

Without question, the vaccine offers the best defense against the pandemic, and we urge all faculty, staff and students to get vaccinated, if they are able, either on campus or with a local provider. As demand for vaccination increases, the University Health Center is increasing capacity to ensure that every member of the UGA community who wants a vaccine gets a vaccine.
Faculty, staff and students who get vaccinated at the University Health Center or Tate Center Mobile Clinic may choose to enter a drawing to win a Visa gift card worth $100. Through Sept. 3, 10 individuals will be randomly selected each week to receive a $100 gift card. A total of 40 names will be drawn during the four-week period with our first winners being drawn last Friday. In addition, everyone vaccinated during this timeframe will receive a $20 gift card as well as a specially-designed UGA T-shirt. While supplies last, options include gift cards to the UGA Bookstore, Starbucks, Chick-fil-A, Fully Loaded and El Barrio. Getting your vaccine is fast, easy and at no cost to you.
Vaccinations are available now at the UHC, and you can click here to make an appointment. The University Health Center is partnering with the Georgia Department of Public Health to administer COVID-19 vaccines at the Tate Center later this month. Walk-ups will be available from 10 a.m.–2 p.m. on August 19, 23-26, 30-31, and September 2 in room 137.
Incentives are for new vaccinations only. Share the word with friends and colleagues!
The Daily Symptom Checker on DawgCheck has been discontinued. However, any faculty, staff or student who tests positive for COVID-19 is still REQUIRED to report their positive test through the online website and follow the guidance provided.
UGA will continue to offer free testing for COVID-19 to all members of the UGA community at the University Health Center. Based on CDC and DPH guidance, any individual, vaccinated or not, should get tested if they have had close contact with someone with COVID-19. Appointments for testing can be booked via the Vet View scheduling process.
As we begin transitioning back to normal bus operations, it's important to keep a few key tips in mind:
Utilize increased time between classes – with 20 minutes to get to your next class, alternative modes of transportation, like walking, are often a much faster way to navigate campus.
Familiarize yourself with bus routes – before arriving on campus, take a look at the various bus routes and where they go. You can familiarize yourself with the bus stops and route names by viewing routes online, looking at our interactive route map and exploring our 360º bus stop tour.
Live track the buses – download the UGA app or visit our website to live track our buses and their routes as well as get a street-level view of our bus stops.
Ask a bus driver – bus drivers are the most knowledgeable resources when it comes to knowing which buses and routes to take!
Transportation and Parking Services team members continue to use disinfectant sprayers to sanitize the inside of the buses at the end of each day. Railings and handles on the buses will continue to be periodically wiped down with disinfecting wipes between class breaks.
Additionally, full seating capacity has been restored on UGA buses and passengers will now be able to load / unload from the front and back doors. For more information on Campus Transit, please visit tps.uga.edu
As more faculty, staff, students and visitors return to the campus over the summer, our community will be busier and more active as individuals walk, bike, drive and ride the bus on shared road spaces. Remember to give yourself extra time to travel across campus and as traffic increases, remove distractions (phones, headphones, etc.) so that together, we can make all of our roads safer. Safety is our collective responsibility; please keep your head up and Watch for Dawgs!
Click here for class change schedule and transportation resources.
Expanded Library & MLC Hours
University of Georgia Libraries locations, including the Miller Learning Center, will expand hours of operation this fall to provide more in-person options for students and patrons during the 2021-2022 academic year.
The Miller Learning Center will be open 24-hours a day on weekdays, beginning August 18. During weekends, the building will close at midnight Friday night and reopen at 10 a.m. Saturday morning, closing again at midnight Saturday night to reopen at 10 a.m. Sunday morning, before returning to the 24-hour schedule.
The Main and Science Libraries will resume a schedule of 2 a.m. closures Sundays through Thursdays with earlier closings on Fridays and Saturdays, while some branch locations will provide extended hours, compared to the last academic year.
At the Special Collections Libraries, the UGA community can view exhibits and access primary source research materials during extended evening hours. The building, which houses three special collections units, will extend its regular weekday 8 a.m. to 5 p.m. hours to 7 p.m. on Tuesdays and Thursdays in response to requests from graduate students and other researchers.
In addition to visiting the libraries in person, faculty, staff and students are invited to take advantage of a wide scope of digital resources, including online chats with librarians and millions of journal articles, databases and e-books available at libs.uga.edu.
For a full listing of hours at all UGA Libraries locations and services, including branches for Art, Music, Curriculum Materials and the Carnegie Library on the Health Sciences Campus, as well as specialty labs and services, see libs.uga.edu/all-hours.
Made-to-Order Burritos and Quesadillas are Back
With the start of the fall semester, dining commons locations across campus are resuming full-service. This includes the return to full seating capacity, self-service stations and the ability to customize menu options at stations such O-Hacienda (O-House), The Bowl (Snelling) and Blue Steel Grill (Village Summit).
For more information on dining at UGA or to sign up for a meal plan, please visit dining.uga.edu.