Fall 2021
News for Students

Without question, the vaccine offers the best defense against the pandemic, and we urge all faculty, staff and students to get vaccinated, if they are able, either on campus or with a local provider.
Faculty, staff, and students who get vaccinated at the University Health Center or Tate Center Mobile Clinic may choose to enter a drawing to win a Visa gift card worth $100. Each Friday over the next four weeks, 10 individuals will be randomly selected to receive a $100 gift card. A total of 40 names will be drawn during the four-week period. The drawings will begin this Friday, August 13, and end Friday, September 3. In addition, everyone vaccinated during this timeframe will receive a $20 gift card as well as a specially-designed UGA T-shirt. While supplies last, options include gift cards to the UGA Bookstore, Starbucks, Chick-fil-A, Fully Loaded and El Barrio. Getting your vaccine is fast, easy and at no cost to you.
Vaccinations are available now at the UHC, and you can click here to make an appointment. The University Health Center is partnering with the Georgia Department of Public Health to administer COVID-19 vaccines at the Tate Center later this month. Walk-ups will be available from 10 a.m. – 2 p.m. on August 19, 23-26, 30-31, and September 2 in room 137.
Incentives are for new vaccinations only. Share the word with friends and colleagues!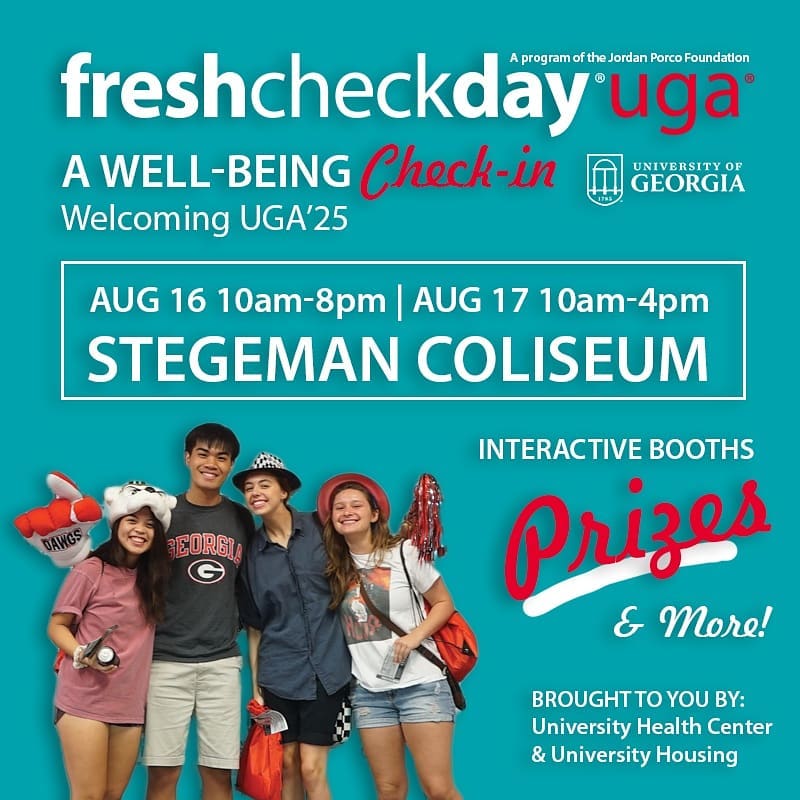 The University of Georgia (UGA) will welcome incoming freshmen to its annual Fresh Check Day UGA experience. Fresh Check Day UGA is an uplifting, wellbeing and prevention, peer-to-peer messaging experience. This year's event boasts 15 interactive booths throughout the Stegeman Coliseum, entertainment from Power 100, and exciting prizes and giveaways for all participants. Each participant will also receive a free ice cream by La Michoacana. The event is free and has been organized by the University Health Center and UGA Housing with support from campus departments including Auxiliary Services, the Office of Emergency Preparedness and more.
Fresh Check Day is a nationally recognized program of the Jordan Porco Foundation charity. The UGA experience has been made possible by UGA Parents & Families Leadership Council and President Morehead's President's Venture Fund.
Monday, August 16, 10:00 a.m.-8:00 p.m. and Tuesday, August 17, 10:00 a.m.-4:00 p.m.

Stegeman Coliseum, entrance gate H.
Student Well-being Resources
When it comes to your health and well-being, know that you have the support you need, any time, any place. Whether you are on campus, studying from home, or studying abroad, UGA is here for you.
Counseling and Psychiatric Services
CAPS is your go-to, on-campus resource for emotional, social and behavioral-health support. We support students in achieving both academic and personal life goals. CAPS is committed to providing high quality, affordable and confidential services to UGA students and their eligible partners. The benefits of CAPS includes:
No out of pockets costs for most services.*

In-person appointments with options for telehealth.

No session limits; services focus on brief, short-term and goal-focused needs.

Expansion of group offerings available both in-person and virtually.

Psychiatry services that do not require counseling services.

Continued access to urgent services (all you have to do is ask).

An amazing case management team to assist with finding off-campus resources when CAPS is not the best match.

24/7 support available by calling CAPS directly at 706-542-2273.

TAO Online Support is available for all students at UGA.
*For students who pay the health fee and bill insurance.
COVID-19 Student Educational & Response Team (CO-SERT)
The COVID-19 Student Educational and Response Team (CO-SERT) is a temporary collaborative team at UGA, charged and led by Student Affairs, to provide a central point of contact, review and response or referral on identified questions and concerns involving students and COVID-19 health and safety guidelines. Questions and concerns from faculty, staff and community members related to students and COVID-19 health and safety guidelines may be submitted to askstudentaffairs@uga.edu.
Dining Commons Extended Hours for Move-in
On Friday, August 13, O-House, Village Summit, Snelling, Bolton, and the Niche open for meal plan service with regular hours of operation. During move-in weekend, August 14-15, O-House and Snelling will be open for extended hours to accommodate students moving in across campus. A special Weekender Bus Route has also been added to service the dining commons.
O-House & Snelling: Open 11:00 a.m.-8:00 p.m.

Village Summit: Open 8:30 a.m.-9:00 p.m.

Bolton: Open 8:30 a.m.-10:00 a.m.
Before classes start, August 16-17, Snelling will be open for modified hours while the other dining commons on campus will resume regular hours of operation.
The Niche: Open 7:00 a.m.-2:30 p.m.

O-House, Snelling, & Village Summit: Open 7:00 a.m.-9:00 p.m.

Bolton: Open 7:00 a.m.-10:00 p.m.
All dining commons resume regular hours of operation on Wednesday, August 18. For a full list of locations and hours, please visit dining.uga.edu/locations. Live track the UGA Bus on the UGA app.