Fall 2021
News for Students
Get Your Flu Shot on Campus

Walk-in flu shots are available at the University Health Center Pharmacy for all students, faculty and staff Monday-Friday, 9 a.m.-5 p.m.
Students can also schedule an appointment with their UHC primary care provider online at healthcenter.uga.edu or by calling 706-542-1162.
Faculty and staff can make an appointment with the UHC Travel Clinic by calling 706-542-5575.

Questions? Visit healthcenter.uga.edu or call 706-542-9979.
COVID-19 Testing for Holiday Travel
If you are traveling this holiday season where official documentation of testing is not required, plan ahead and get free asymptomatic testing at the University Health Center. Test results take two to three days. Please note: asymptomatic test result print outs do not meet the requirements for airline travel/clearance.
UHC does offer travel clinic consults and testing for a fee, but individuals are not guaranteed same or next day appointments, so it is best to plan early. The Travel Clinic does provide appropriate and acceptable documentation that meets travel requirements for international travel. There is a fee for the visit and charges depend on what is ordered.
In addition, UHC's lab offers same-day testing for $100. Results are sent via email.
Pop-up COVID-19 Testing Before Holidays
The UGA College of Public Health, in partnership with the UHC, will offer pop-up COVID-19 testing at the Tate Center ahead of Winter Break. Walk-up testing will be offered from 10 a.m. to 2 p.m. Dec. 8 and Dec. 20. No appointments are necessary for these services.
Face Coverings on Campus and Buses
Please remember that face coverings are strongly encouraged when inside buildings on the UGA campus.
Any students who want cloth face coverings can pick them up at no cost at Information Desks in the Tate Student Center and the Miller Learning Center.
Additionally, regulations from the Transportation Security Administration require passengers to wear face masks on UGA buses, except for children under two and persons with certain disabilities. Disposable face masks are available on UGA buses for any riders who do not have a mask.
COVID-19 Cases Reach New All-time Low
With just two weeks left in the fall semester, reported cases of COVID-19 at the University of Georgia hit a new all-time low for the semester and a 22% decrease from the previous week.
A total of 18 cases were reported for the week of Nov. 22-28, a decrease of five cases from the previous week. This week's figure also marks a 97% decrease from the peak of cases reported around Labor Day. The University Health Center (UHC) posted the data as part of the weekly update on its website Wednesday morning. Of the 18 cases reported in DawgCheck, 12 were students, five were staff members and one was faculty.
The positivity rate for UGA's surveillance testing was low again this week, with two of 282 asymptomatic individuals testing positive for a rate of 0.7%. The UHC can test up to 800 individuals a day, and this service is offered free to the campus community.
Libraries Are Here for You During Finals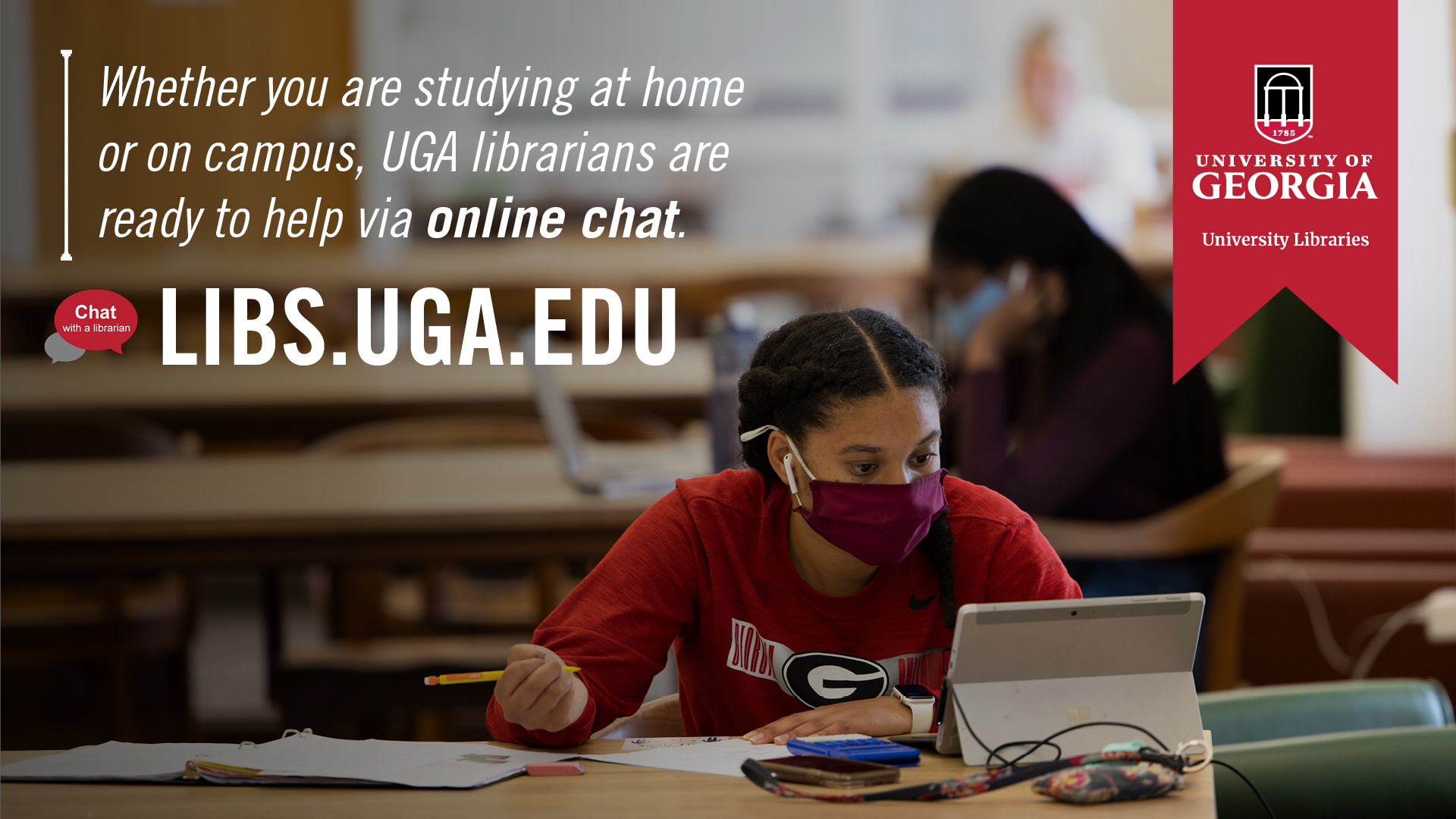 As finals approach, the faculty and staff at UGA Libraries are here to help! We encourage students to ask any questions about finding resources, citations or other needs either in person or via online chat. You can also find study spaces and tech to help during this time at the Main Library, Science Library, Miller Learning Center or our other locations. We're open late, and the MLC will be open 24/7 through finals. Find hours, online chat and more at libs.uga.edu.
UGA Nightly Rideshare Program Launching Dec. 1
The University of Georgia is excited to launch the previously announced partnership with Lyft to provide an on-demand late-night transportation program for students.
Launching Dec. 1, UGA Ride Smart will offer students discounted rides from 10 p.m. - 6 a.m. seven days a week. Transportation will be offered to or from any destination throughout the greater Athens-Clarke County community as long as the ride originates or ends within campus, which includes one block north of the Arch in downtown Athens.

Visit the UGA Ride Smart website at tps.uga.edu/ridesmart for more information, including the designated service area. If you have any questions, please contact onestopshop@uga.edu.