Sharing the latest news so your Terry family is "virtually" one click away!
BurgerFi Names Julio Ramirez CEO
Former Burger King executive, Julio Ramirez (MBA '77) was recently appointed CEO of BurgerFi, the leaders in the better-burger experience.
"BurgerFi has several unique brand differentiators with its premium natural ingredients, technology enhanced infrastructure and commitment to sustainability that has the potential to capture significant market share, both nationally and internationally, through a highly scalable model," Ramirez said in a statement. "I look forward to leading the team through its next chapter of expansion and the continued evolution of the brand." Ramirez was the recipient of the 2013 Terry College Distinguished Alumni Award. Full press release available here.
Class of 2020 Already Make
Amazing Alumni


When it comes to achievements, Tony Thawanyarat sets the bar high. He concluded his final year as a 2020 Deer Run Fellow, Terry ambassador, recipient of the 2020 Presidential Award of Excellence from President Morehead, a two-term senator in the Student Government Association, and Terry student of the Year. These are just a few of his many stellar accomplishments. Tony is now studying to become a physician as a first-year student at the August University/University of Georgia Medical Partnership. Discover more about our amazing former student in the UGA Today feature.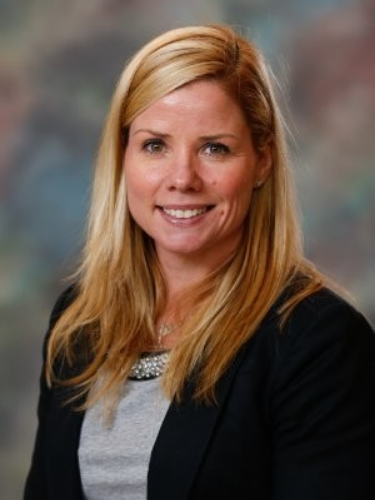 Beck Recognized As 2020 Woman to Watch
Danette Beck (BBA '94) was selected by Business Insurance as a 2020 recipient of their annual Women to Watch awards program. This award recognizes women leaders that are doing outstanding work in risk management and commercial insurance. As National Construction Practice Leader for USI Insurance Services LLC, Danette is responsible for expanding USI's construction practice, which covers clients including general contractors, trade contractors, property owners, investors and construction professionals. For the full list of honorees, you can read the Business Insurance article here.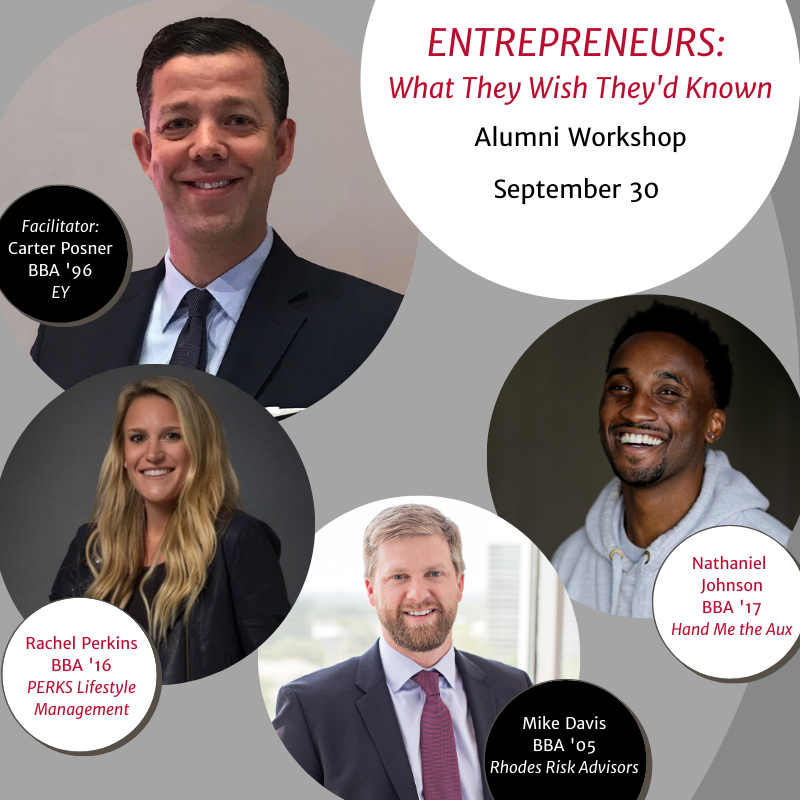 We want to thank our alumni participants for taking the time to share their experiences with current students during our virtual alumni workshop on September 30. We learned the importance of growing your network, chasing your vision, and remaining humble when you become an entrepreneur. Thank you to these outstanding Terry alumni for sharing their professional experiences with us:
Moderator:
Carter Posner - EY
Panelists:
Rachel Perkins - PERKS Lifestyle Management
Mike Davis - Rhodes Risk Advisors
Nathaniel Johnson - Hand Me The Aux

Terry Student Finds Passion for Business As Teen Entrepreneur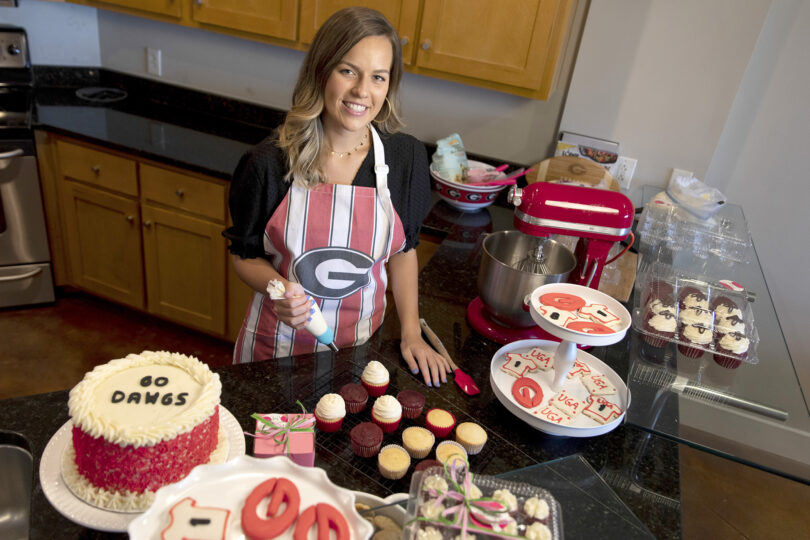 Darby Day developed her passion for business at an early age. At just 15 years old, she obtained a business license to establish Darby's Delicious Delights as an official LLC. She started out baking goods for her friends as a way to brighten their day or celebrate their achievements. She continues to spread her positivity around campus where she delivers bulldog themed cookies and cupcakes for her fellow students. She recently finished the UGA Entrepreneurship program where she perfected her business skills and learned more about the importance of branding and consumer She is a current senior and economics major and tour guide at the UGA visitors center. You can read her entire Student Spotlight in Terry News here.

Join us November 18 for the final Terry Talks Fall 2020 session "Back to Business During a Global Pandemic" with Dean Ben Ayers. He will be joined by Alumni Board Chair, Blake Bruce, and Young Alumni Board Chair, Matt Beacham. Their discussion will provide an informative look at the challenges and opportunities that Terry College has faced while navigating the current pandemic.
Join us on TerryConnect every Tuesday, to chat with our Alum of the Day!
Each week we will feature one of our very own Terry alumni as they offer insight into their industry, their company, and their professional journey. We invite our alumni to join the conversation by posting questions to the discussion board or reaching out to our Alum of the Day via direct messages.

Introducing... Helping Hands
TerryConnect is rolling out a new feature called – Helping Hands! This flash mentoring opportunity allows alumni to support current students by providing assistance in: Resume Critique, Interview Skills, Job Negotiation Skills, Job Search, and Networking Skills. This will be an ongoing opportunity to provide one-on-one connections. Log in and click on the "Lend a Helping Hand" tab to search for opportunities to help today!


Follow us on social to see what's happening with Terry alumni!
Have news to share with us?
Let us know!
Click here to send us a message.
Copyright © 2020 Terry College of Business
Our mailing address is:
Terry College Office of Development & Alumni Relations
University of Georgia
600 S Lumpkin St
Athens, GA 30602