May graduates mean new alumni - welcome Class of 2021 to the network!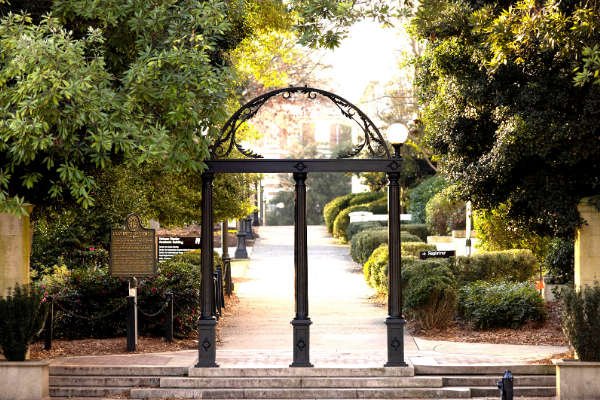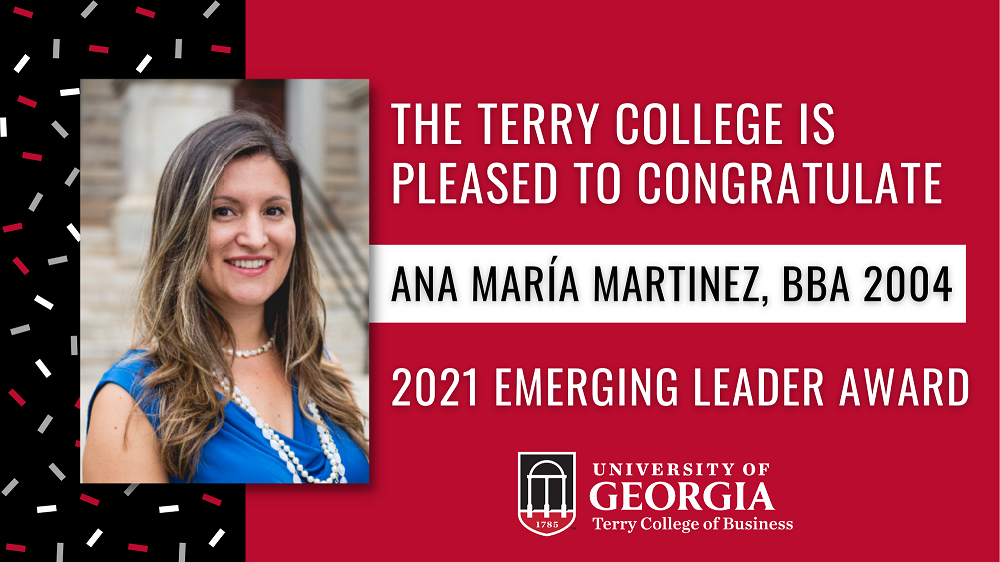 UGA Alumna Received 2021 Emerging Leader Award
Ana Maria Martinez (BBA '04) was presented with the 2021 Emerging Leader Award at this year's ADL Virtual Jurisprudence Luncheon on April 13. Recipients include attorneys in Metro Atlanta who, through pro bono or community service, have demonstrated an extraordinary commitment above and beyond their legal practice. Their commitment to servant leadership expands ADL's mission to seek justice and fair treatment for all citizens. Ana has led various efforts to support more inclusivity in the legal profession including the Georgia Latino Law Foundation, which she co-founded in 2015. The GLLF is dedicated to increasing diversity by supporting the Latino legal community pipeline and to increase the Latino community's access to the legal system by educating and empowering Latinos to join the legal profession. As President of the GLLF, she oversees the organization's Latino Law Students' Law Day, Leadership Academy and Mentoring Program, and Fellowship Program. Her leadership continued throughout 2020 as GLFF championed the Virtual Judicial Internship program. This initiative was able to provide significant law experience to 29 law students who had lost their internships over the summer, due to the pandemic.
Ana Maria served as the only Latina in the State Bar of Georgia Board of Governors from 2018-2020. She currently serves on the DeKalb Bar Association Board. In addition, she is currently a Barrister in the Bleckley Inn of Court and a Master in the Emory Inn of Court, where she is the current President-Elect. Ana Maria is a graduate of LEAD Atlanta, and has been selected as a member of the 40 Under 40 class by the Atlanta Business Chronicle, Georgia State University, and Georgia Trend Magazine. The last three years, the Georgia Hispanic Chamber of Commerce has recognized Ana Maria as one of Georgia's 50 Most Influential Hispanics. She is currently a member of the Leadership Georgia Class of 2020/21. There is certain to be more outstanding achievements in store for Ana in the future. For more information about this year's ADL program and the other award recipients, visit the ADL website.
HONEY BAKED HAM COMPANY ANNOUNCES CEO
Jim Dinkins (BBA '84) will take the lead as Chief Executive Officer of The Honey Baked Ham Company, bringing with him a background in sales, marketing, operations, franchise leadership and general management from The Coca-Cola Company. He retired as President, Coca-Cola North America (CCNA) in August 2020 after working for the company since 1988. Over the years, he served in a variety of leadership positions including president of the Minute Maid business unit and chief retail sales officer for Coca-Cola North America. Dinkins will enter his new role effective May 10 as current CEO and granddaughter of the HBHC founder, Linda van Rees, passes the torch and enters her much-deserved retirement. "We're thrilled to welcome Jim Dinkins to the Honey Baked Ham Family. Jim's holistic view of the food industry, highly regarded leadership and deep experience in operations makes us confident that he's the right person to lead our company through this next chapter," said Linda van Rees. "It's been the greatest privilege of my career to serve as CEO of our consolidated family business for the last three years. I look forward to continuing my grandfather's legacy as a member of the Board of Directors." The Honey Baked Ham Company, LLC was founded in 1957 and now hosts over 436 locations nationwide, as well as a direct consumer site. Visit their website to find a location or get more information about catering and other services.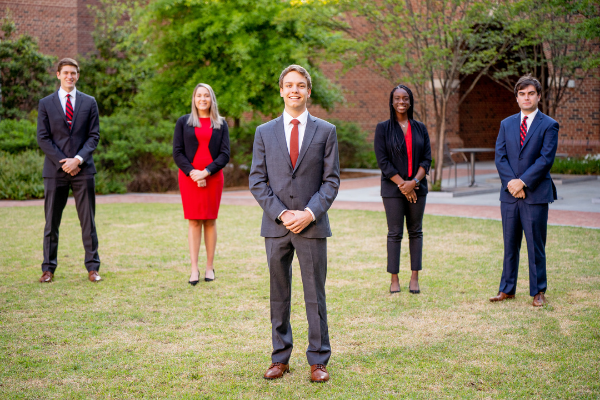 Pictured left to right: Finalists Cameron Falk, Amanda Arboleda, Jan John, Zakiyya Ellington, and Brennan M. Cox
The Terry College Student of the Year Award was established by our Alumni Board in 2012 to honor the current senior who best exemplifies Terry College ideals and demonstrates the skills and commitment required to succeed in college, business and life. Five finalists were selected based on academics, financial responsibility, and community and campus leadership. The awards selection committee is composed of emeritus members of the Terry College Alumni Board and is chaired by Ruth Bartlett (BBA '76).
This year's Student of the Year is Jan John. Jan is an Honors student from Framingham, MA. He is studying Economics, Finance and International Business, and German. He has a certificate in Personal and Organizational Leadership, is a member of the Corsair Society, Terry Student Consulting, University Judiciary, and Demosthenian Literary Debate Society. Jan conducted research with Microeconomics faculty from the University of St. Gallen in Switzerland. He created the Terry Student Researchers student organization while at Terry. Jan has professional experience with the Low Impact Hydropower Institute, Boston Consulting Group, and Give Power. Upon graduation, Jan will join return to the Boston Consulting Group. Congratulations to this year's finalists!
The University of Georgia celebrates Honors Week 2021 with a Virtual Celebration of Academic Excellence.
The Terry College hosted the annual Honors Day ceremony on Wednesday, April 21. You can re-watch the previously recorded event on YouTube by clicking above. (Fast forward to 1:05:00 for program.)
2021 J.M. Tull School of Accounting Banquet Awards and Recognition
Check out this year's award winners and scholarship recipients.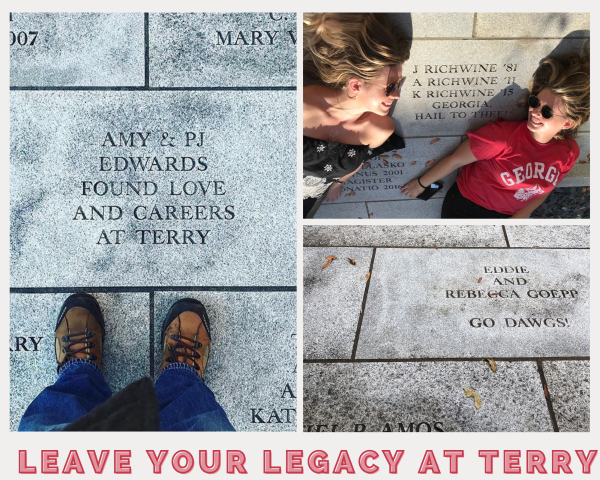 Looking for a way to honor a loved one? A recent grad? A multi-generational Bulldog family? We have a limited number of granite pavers available in the Foley Courtyard at the Business Learning Community. For more information or to purchase a paver, please contact Cate Scruggs (cgscruggs@uga.edu) Pavers purchased before May 31, 2021 will be engraved on campus this summer.

Follow us on social to see what's happening with Terry alumni!
Have news to share with us?
Let us know!
Click here to send us a message.
Copyright © 2021 Terry College of Business
Our mailing address is:
Terry College Office of Development & Alumni Relations
University of Georgia
600 S Lumpkin St
Athens, GA 30602