Terry College Loves Our Alumni!
MASQUE MATE KEEPS YOU MASKED UP
Isabel Strong Schmidt (BBA '99) recently created Masque Mate, a stylish, comfortable, and secure face mask lanyard designed for both men and women. The idea for her new business arose during a trip she took out west in June 2020. Throughout the 12 hours of air and car travel – her first travel during the Covid-19 pandemic – Schmidt was faced with the challenge of wearing a mask for long periods of time. At that moment, she discovered there was a need for a convenient 'mask holder'. During her return flight, she tied a shoe lace to her face mask and began experimenting with the concept of a lanyard.

Home in New Orleans after her trip, she scoured craft stores for ideas for materials and created her first prototype. Schmidt was thrilled with her design and the reactions her friends gave to her new product idea. She sent prototype photos to the manufacturer who also produces her husband's clothing company, DatMamboShirt. She then worked out minor design tweaks before placing her first bulk order less than two weeks after her idea-inspiring trip.


Today, Masque Mate is sold online and in over 35 retail shops nationwide. The holders are made of vegan leather and come in a variety of colors. Visit their website or follow @masque.mate on social to get yours today! "Masque" Up Dawgs!
INTRODUCING THE TERRY TRAILBLAZERS CLASS OF 2021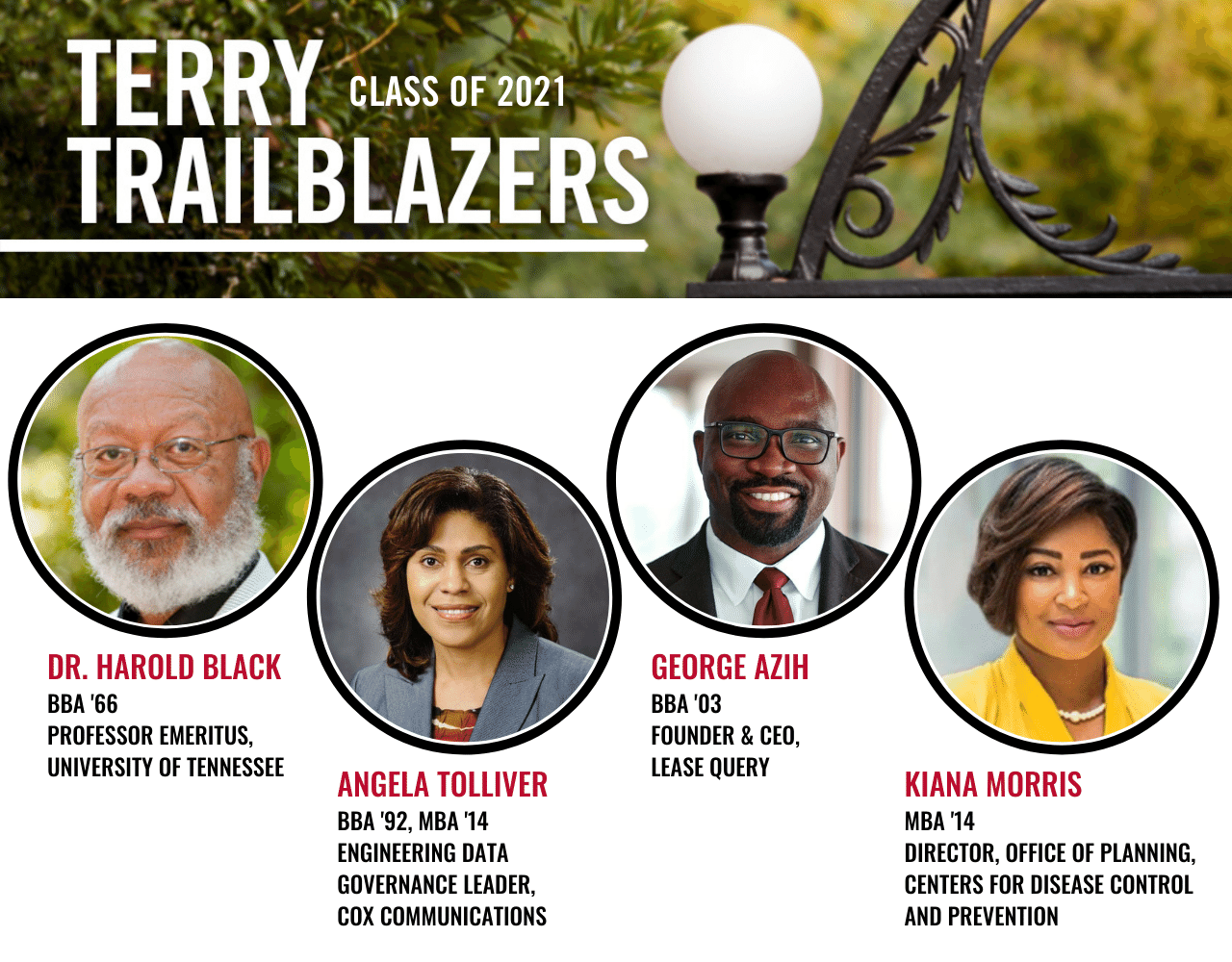 As we kick-off Black History Month, we are honored to celebrate four outstanding African-American alumni who are pioneers in their industry. The Terry College recognizes these business leaders who achieved career success while making a meaningful impact on their organizations and communities.
Congratulations to the Terry Trailblazers Class of 2021!
You are invited to join us for a portion of the Terry Trailblazers program on February 9. We will host a virtual presentation of the Terry Leadership Speaker Series featuring honoree and guest speaker, Dr. Harold Black. The program will be held on February 9 at 9:30 am - registration is available here.
BULLDOG 100 CELEBRATES THE 2021 HONOREES
To the hard workers, the night owls and the early risers. We see you.

We are so proud of the Terry alumni led businesses that are recognized in this year's Bulldog 100. We look forward to the virtual celebration on February 11 when we find out this year's No.1 fastest-growing Bulldog business. You can show your support by registering for the virtual event here. For the full list of honorees, visit the UGA Alumni Association website.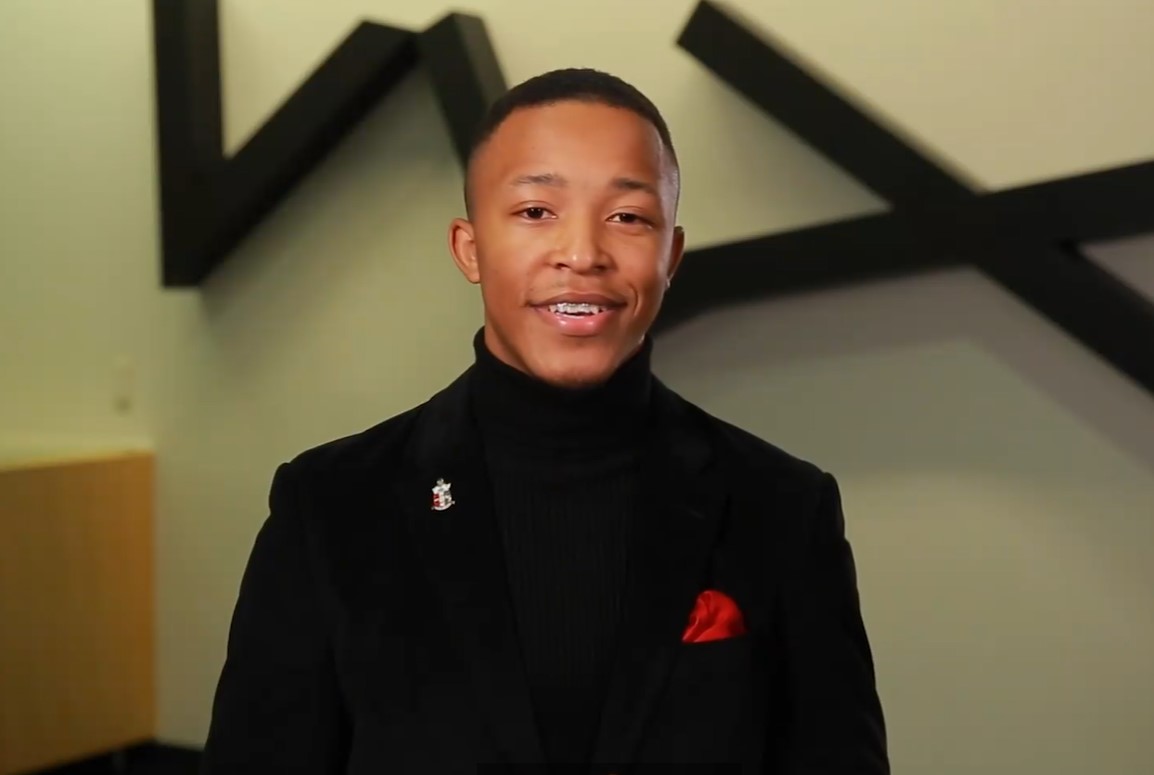 POLK RECEIVES 2021 FULFILLING THE DREAM AWARD
Jalen Polk, a senior economics major and ILA fellow, was recognized at the annual Martin Luther King Jr. Freedom Breakfast event as one of five recipients of the President's Fulfilling the Dream Award. During the program, the assistant to the president Alton Standifer stated "Jalen is admired for his intentionality, thoughtfulness, and sincere care for others around him". This can be seen through his work as President of the Black Male Leadership Society. In this role, Polk leads the BMLS mentoring based empowerment program - Young Black Kings. Their mission is to help young Black teens in the Athens-Clarke County community develop the skills and motivation necessary for success in school through a holistic 20-week curriculum. Following graduation, Polk plans to continue his education by pursuing a master's degree. We look forward to seeing many more accomplishments from this future Terry alumni. You can watch the entire Freedom Breakfast presentation via University of Georgia's Facebook page.

We are kicking off our Alum of the Day series for Spring semester starting February 2! Join us on TerryConnect our online networking platform, every Tuesday, for an exclusive virtual networking opportunity. As Alum of the Day, these individuals will be available to answer your questions regarding their industry, company, and professional journey. We invite you to join the conversation by posting questions to the discussion board or reaching out to our Alum of the Day via direct messages. Don't miss this exciting opportunity to expand your network!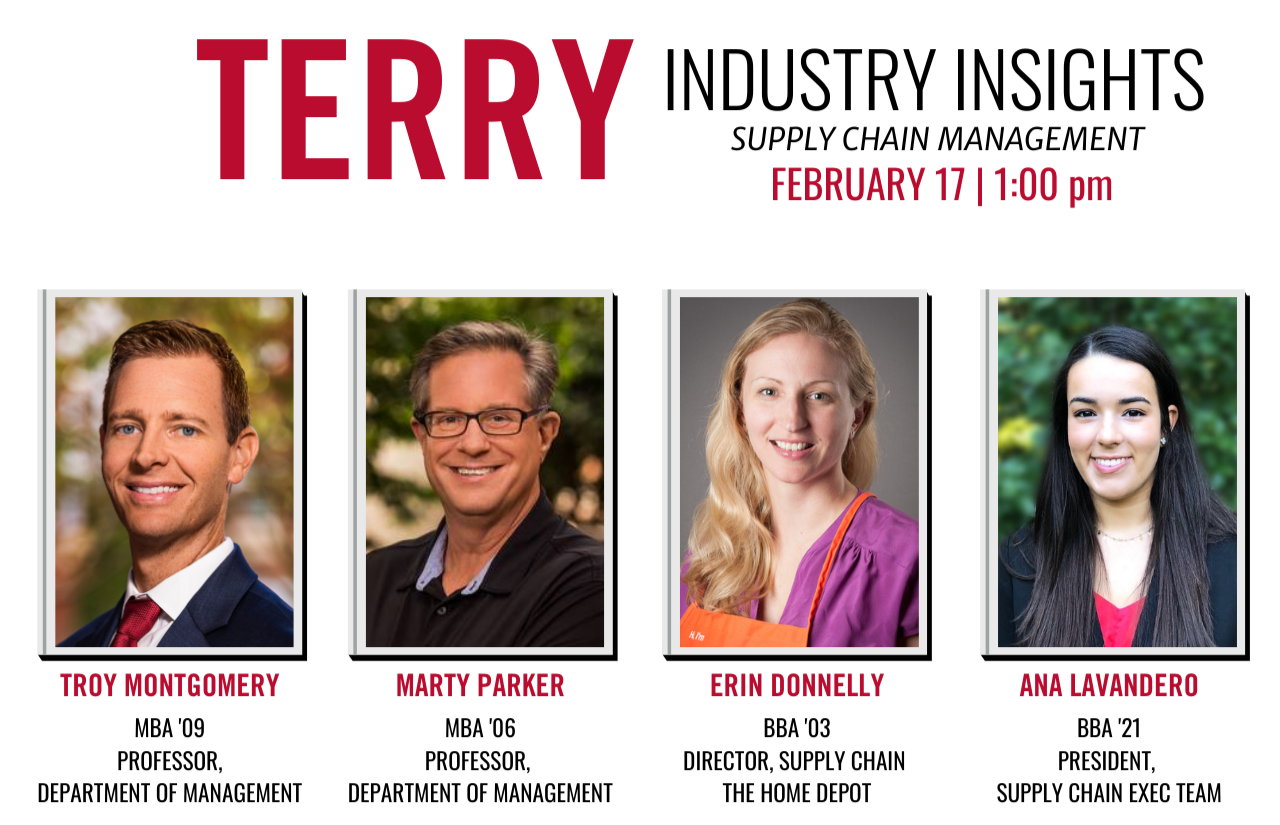 Join us February 17 as we launch our new series - Industry Insights! We look forward to hearing from Terry faculty and alumni leaders as they discuss the current trends in their industry. Our first event will feature Professors of Management, Troy Montgomery and Marty Parker, as well as Erin Donnelly, Director, Supply Chain at The Home Depot, and will be moderated by Ana Lavandero, senior management major and president of the Supply Chain Executive Team.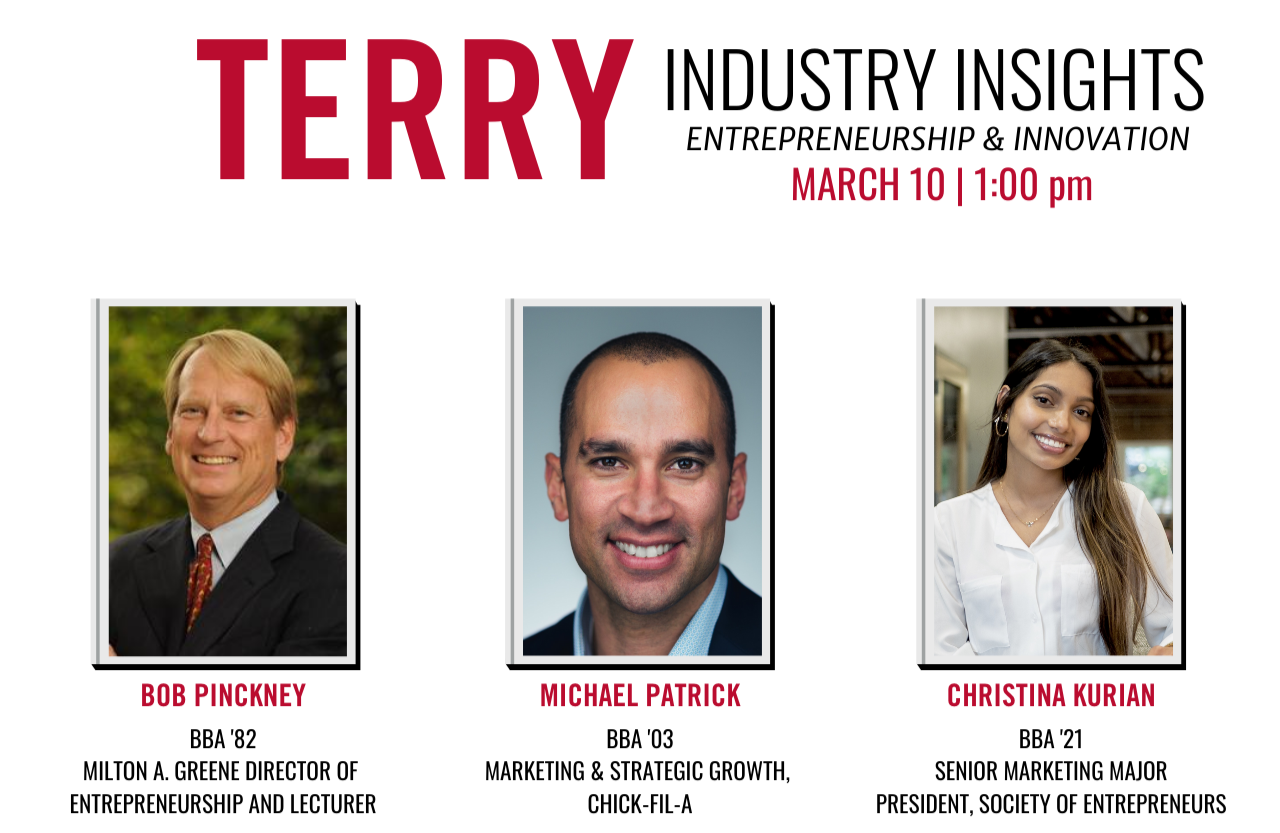 Our second Industry Insights event will include an informative look at the role of Entrepreneurship and Innovation in today's business world. Hear from UGA's Entrepreneurship Program Director, Bob Pinckney and Chick-fil-A's Marketing and Strategic Growth expert, Michael Patrick as they discuss the latest trends in start-ups and innovation. Senior marketing major and president of the Society of Entrepreneurs, Christina Kurian will moderate the event.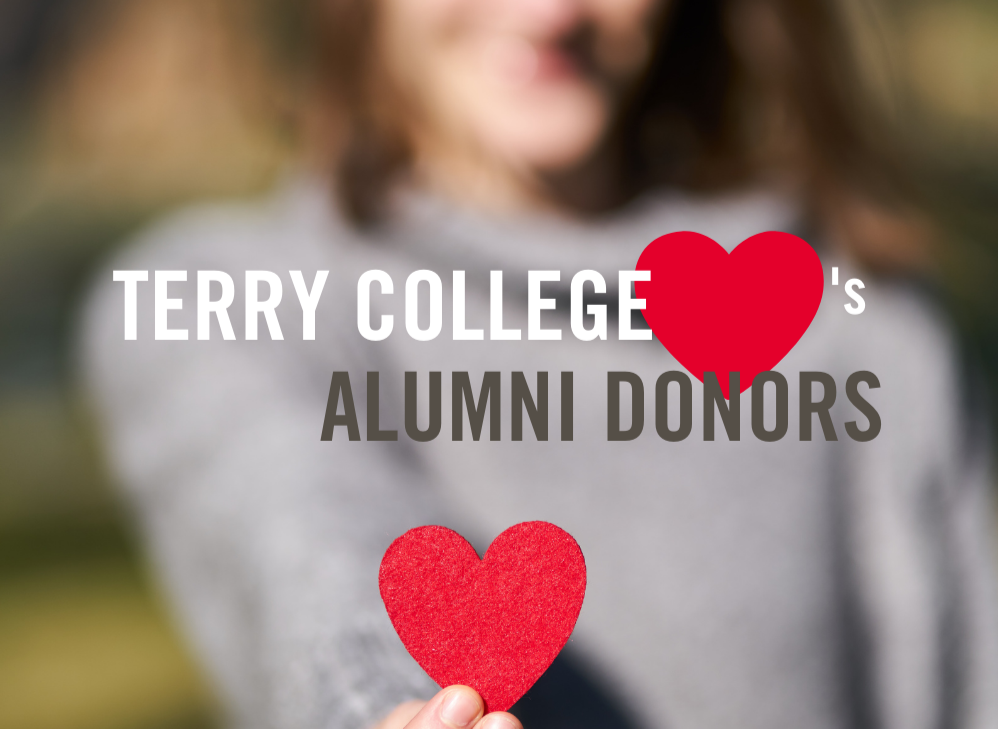 Terry donors have a special place in our heart! We are forever grateful for their generosity that allows us to make opportunities available for our students.
Visit love.terry.uga.edu today to join them in showing your support!

Follow us on social to see what's happening with Terry alumni!
Have news to share with us?
Let us know!
Click here to send us a message.
Copyright © 2020 Terry College of Business
Our mailing address is:
Terry College Office of Development & Alumni Relations
University of Georgia
600 S Lumpkin St
Athens, GA 30602