Sharing the latest news so your Terry family is "virtually" one click away!
MIS GRAD TO MIS FOUNDER
Tope Awotona (BBA '02) spent many years looking for his place in the business world as an entrepreneur. After experiencing minor setbacks and starting over from scratch, he finally discovered what all entrepreneurs strive for - a need to be filled. In 2013, he started his company Calendly, a free scheduling service that allows users to create customized meetings without the back and forth email threads. With the help of Atlanta Tech Village, he has seen his company grow to serve millions of people worldwide. His advice for other startups, "Decide what is most important to you and write it down, make that your mission. Create core values and write them down, hold them at the center of every decision you make. Create a culture that you're proud of, and hold everyone at the company accountable to exemplify those traits".
HAMPTON NAMED CEO GEORGIA TRANSMISSION


Congratulations to Emeritus Board Member, Barbara Hampton (MBA '06), for being named CEO of Georgia Transmission Corporation. She has served as the senior vice president and chief financial officer since 2005. With over 34 years of experience in the energy industry Hampton specializes in finance, accounting, auditing, budgeting, strategic planning, procurement, information technology and rate design. In her new role she will oversee one of the country's few electric transmission-only businesses. "In addition to impressive credentials, Barbara is a natural leader," said GTC Board Chairman Charles R. Fendley. "She is level-headed and her sincerity and strategic thinking help her connect with the EMCs' managers and employees as well as the financial community." Visit this website for the full press release from GTC.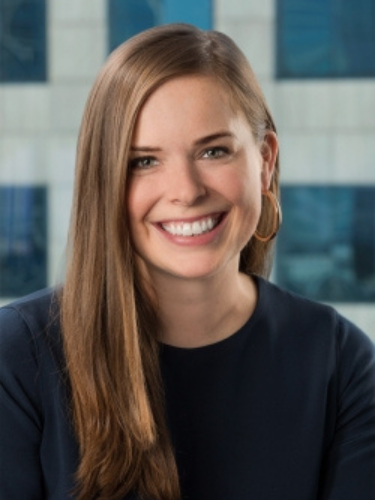 COUSINS PROPERTIES ANNOUNCES NEW EVP
Kennedy Hicks (BBA '05) was named Executive Vice President - Investments at Cousins Properties. She has served as Senior Vice President since November 2018. Prior to joining Cousins, Kennedy was a Managing Director with Eastdill Secured where she was instrumental in securing and executing over $22 billion in office sale or joint venture assignments. "Kennedy is an invaluable member of our leadership team and has played a key role in our transaction activities," said Colin Connolly, President and Chief Executive Officer of Cousins. "I look forward to working with Kennedy as she continues to make meaningful contributions to the Company across our Sun Belt markets." Hicks was a finance major and honors graduate and previously served on the Young Alumni Board.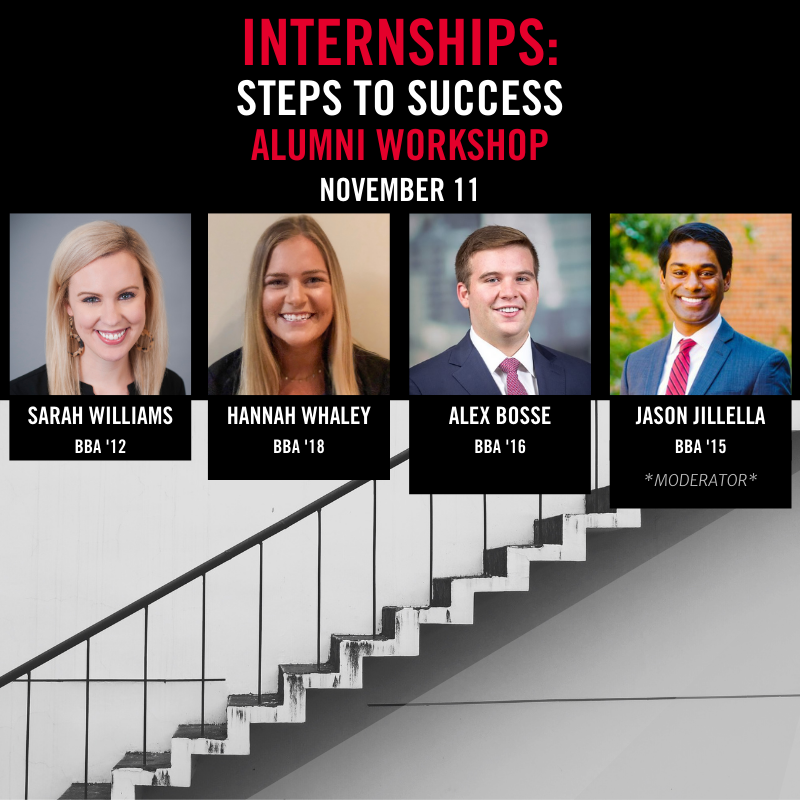 We want to thank our alumni participants for taking the time to share their experiences with current students during our virtual alumni workshop on November 11 - "Internships: Steps to Success". This panel discussion provided insight into recommended best practices for finding internship opportunities and how to set yourself apart from your peers. Panelists described the impact that every experience can have on your overall career readiness from student organizations, volunteer opportunities, and professional development. They also mentioned the value of networking and not being afraid to step out of your comfort zone to make a connection.
Thank you to these outstanding Terry alumni for sharing their professional experiences with us:
Moderator:
Jason Jillella
Panelists:
Sarah Williams
Hannah Whaley
Alex Bosse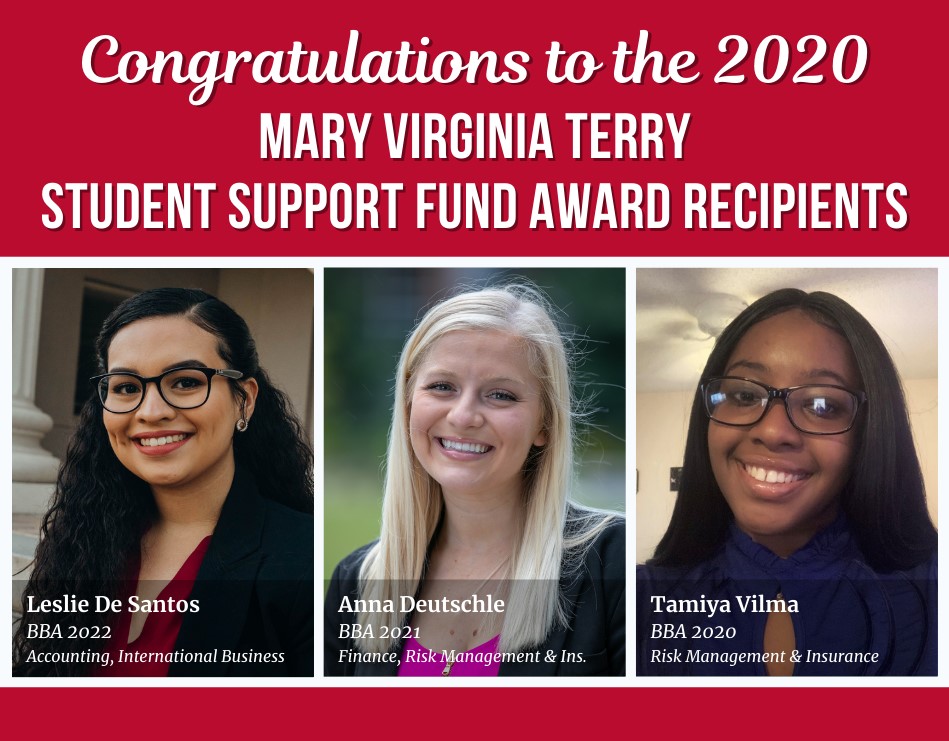 Congratulations to 2020 Mary Virginia Terry Award winners Leslie De Santos, Anna Deutschle and Tamiya Vilma! Selection for the Mary Virginia Terry Award is based on academic achievement, community service, commitment to advancing women in business, & leadership qualities.
Terry Student Provides Opportunity for Peers to Dress for Success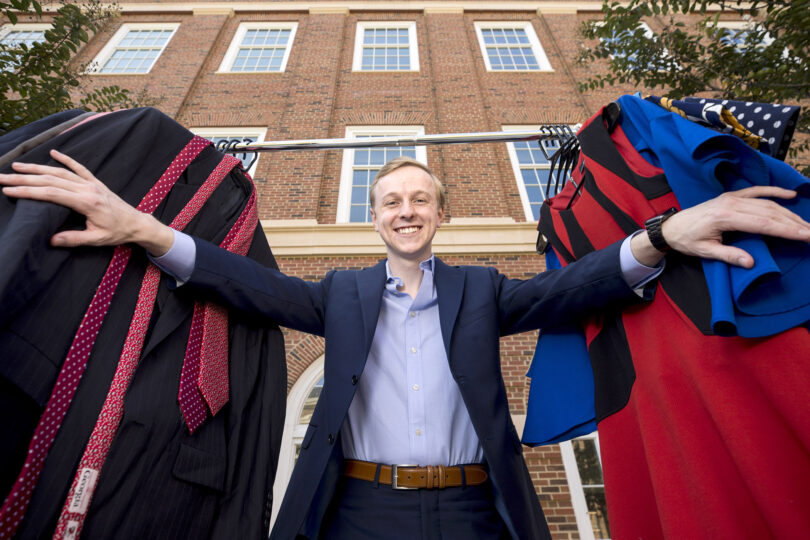 As a senior Accounting major, Matthew McDaniel is involved in many programs on campus. Along with his volunteer role for UGA HEROs and University Judiciary, he served as a senator for the Student Government Association. Through SGA, he was able to found UGA's Professional Clothing Closet to help his fellow students prepare for job interviews. The clothing closet provides free, professional clothing including suits, ties, belts, skirts, shirts and accessories for students. All UGA students have access to this program and the ability to receive one free, professional outfit each school year. If you are interested in donating items to their program, you can visit their website for more information. To read Matthew's entire feature in UGA Today Campus News, click here.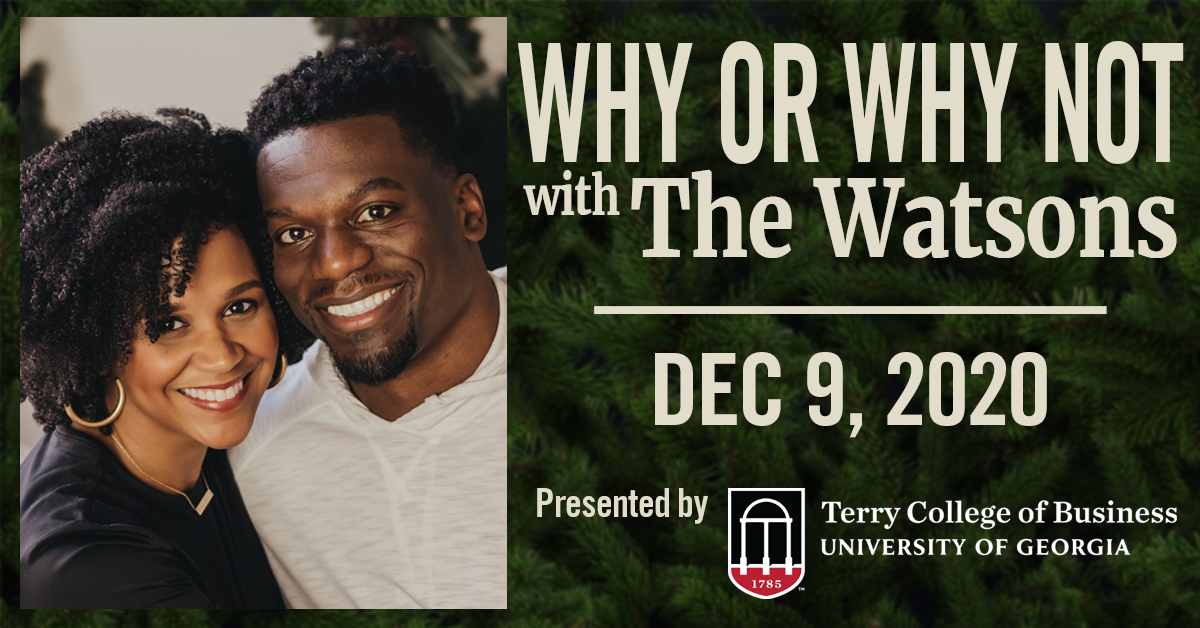 We invite all Terry College alumni to join us for a special virtual event to hear from two prominent and influential Terry graduates: author, former Georgia Bulldogs tight end and Super Bowl winner Benjamin Watson (BBA '03), as well as speaker, author and wife to Ben, Kirsten Watson (BBA '03).
During this virtual conversation, the couple will discuss their journey together, America's struggle with race relations, and the path to becoming good citizens and ambassadors for UGA and the Terry College.
Why or Why Not with The Watsons
December 9
1:00 pm

Registration is now open for the 2021 Georgia Economic Outlook scheduled for Thursday, December 3, at 10:00 a.m.

The Georgia Economic Outlook brings the expertise of the Terry College of Business and Selig Center for Economic Growth to alumni and business leaders across the state, offering specific and reliable insights into next year's economy. Keynote speaker Dr. David E. Altig, Vice President and Director of Research at the Federal Reserve Bank of Atlanta, will deliver the national forecast, and Dean Ben Ayers will deliver the state forecast.

All Georgians can benefit from this information — and this year, it's open to all. Register now for this free, virtual event, and encourage your colleagues, friends and associates to do the same!

Calling all MBA, MSBA, MMR, MAcc, and other graduates of our specialty masters programs!
Have you recently started a successful business venture? Have you make a positive impact on your community during the COVID-19 pandemic?
We want to feature YOU! Let us know what big things are you doing post-graduation for a chance to be featured on the Terry alumni social channels.
Click here to submit your story.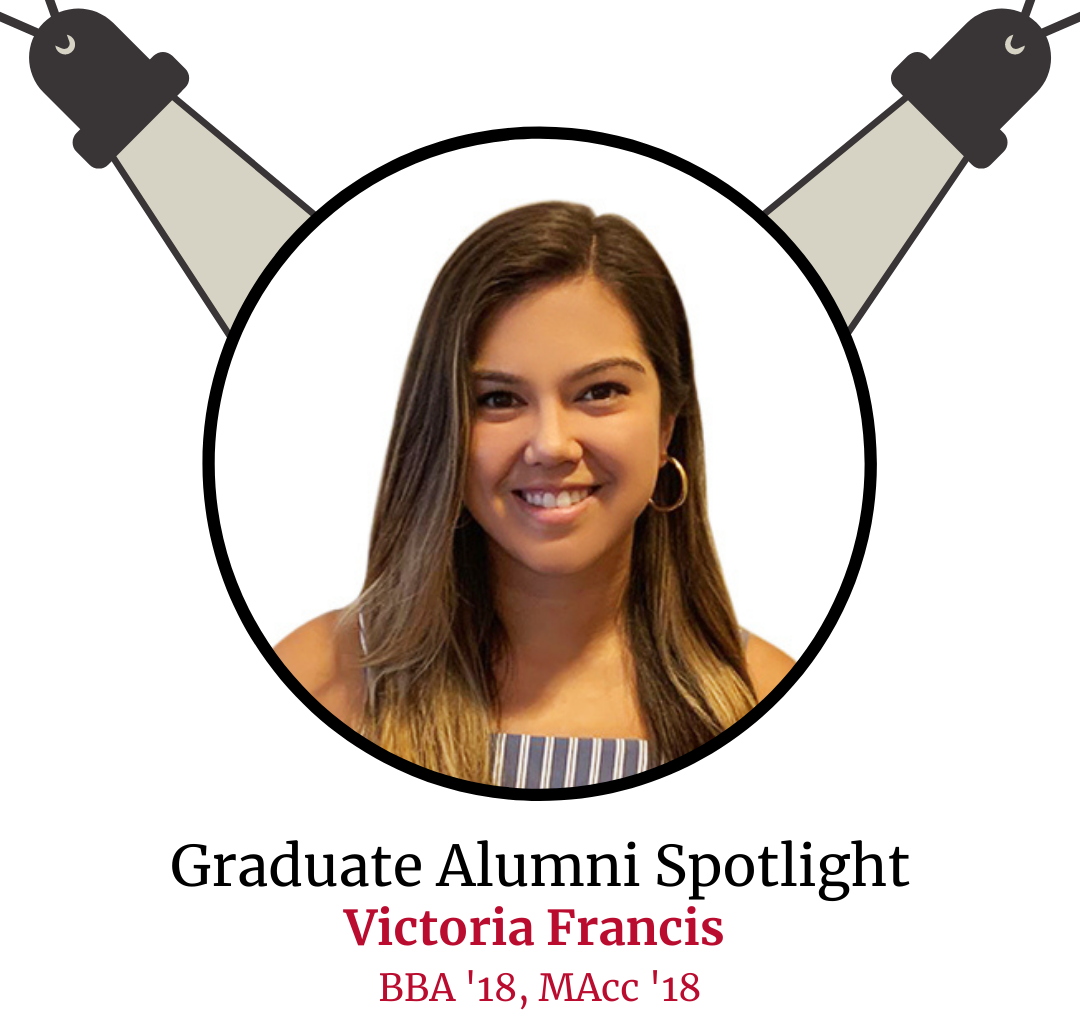 After graduation, Victoria Francis was able to spend the next year traveling around the world to broaden her perspectives. She was able to travel to 17 countries in South America, Asia and Europe before starting a position at EY in August of 2019. Recently, she accepted a new position within the Accounting Department at OneTrust, a privacy company that was recently featured as #1 in the Inc. 5000's Fastest-Growing Private Companies in America, leading with 48,337.2% three-year growth. Victoria shared, "I'm learning a lot and excited to see how this company continues to grow and expand." We are excited to see what's in store for Victoria as she continues to use her "Terry Edge" to grow as a professional.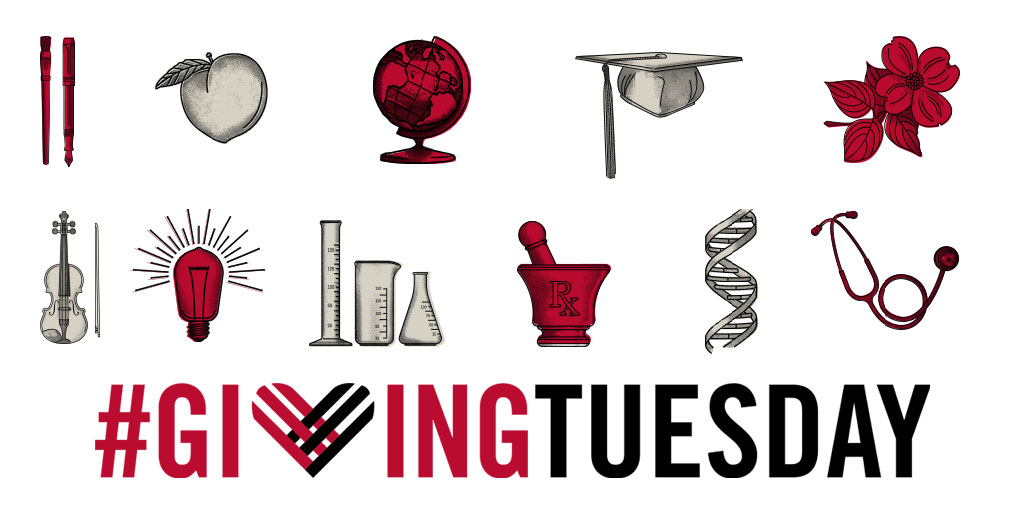 Remember your Terry alumni family on #GivingTuesday this year! Make a gift to the Terry Excellence fund on Tuesday, December 1st to show your support for your alma mater and the future business leaders of the state, nation, and world. We celebrate your generosity and the impact it makes each and every day.

Follow us on social to see what's happening with Terry alumni!
Have news to share with us?
Let us know!
Click here to send us a message.
Copyright © 2020 Terry College of Business
Our mailing address is:
Terry College Office of Development & Alumni Relations
University of Georgia
600 S Lumpkin St
Athens, GA 30602