Springing forward into the future of business.


DUSTMANN TO RECEIVE CARL-FRIEDRICH-VON-WEIZSÄCKER-PRIZE 2020
The Stifterverband and the German National Academy of Sciences Leopoldina have selected Christian Dustmann (MA '86) as the 2020 recipient of the Carl-Friedrich-von-Weizsäcker Prize. As Professor of Economics and Director of the Centre for Research and Analysis of Migration at University College London, he is recognized for his research in the field of migration and the labor market. "The Carl-Friedrich-von-Weizsäcker-Prize is an award for science-based policy advice. In their research, the recipients develop solutions for tackling significant societal challenges and actively communicate these to policymakers and the public. For more than 30 years, Christian Dustmann has been committed to fostering an informed discussion on migration and integration based on scientific findings. In times of the refugee crisis in Europe and the Brexit decision in the UK, he is an important and influential voice in the scientific and political debate," says Prof. Dr. Andreas Barner, President of the Stifterverband.
Dustmann studied business administration at the University of Bielefeld, Germany and economics at the University of Georgia. He received his doctorate from the European University Institute in Florence, Italy in 1992. In 2004, he founded the Centre for Research and Analysis of Migration (CReAM) and was appointed Professor of Economics at University College London. He has also held several visiting professorships in Italy, Australia, and the United States including Harvard, Princeton, Stanford, and Yale, among others. The Carl-Friedrich-von-Weizsäcker-Prize is the science prize of the Stifterverband and endowed with 50,000 euros. Jointly awarded with the Leopoldina, it is presented every other year to individuals or teams for advising social policy based on their research findings. The award ceremony traditionally takes place on the occasion of the Leopoldina Christmas Lecture. Due to the coronavirus pandemic, last year's program was canceled. Therefore, the prize will be presented to Christian Dustmann in October, by Gerald Haug, President of the Leopoldina, and Andreas Barner, President of the Stifterverband. Full press release available here.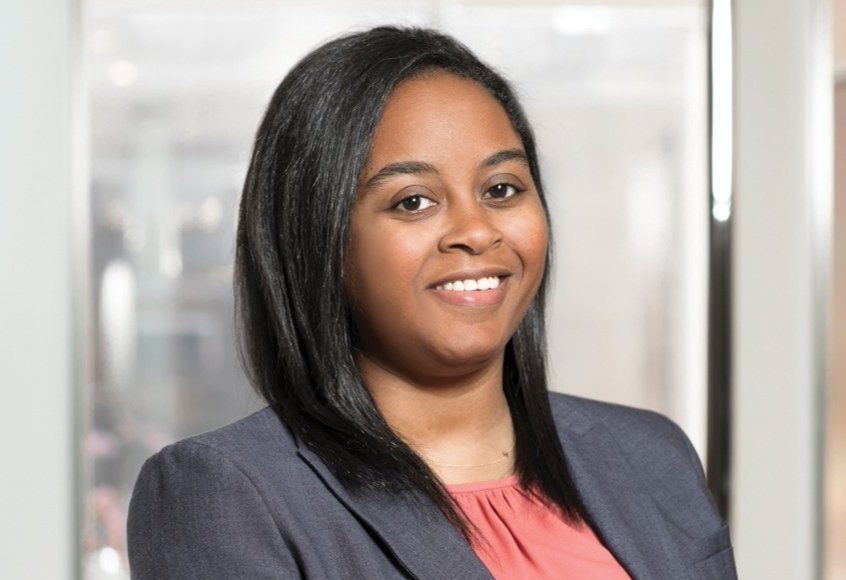 ALSTON & BIRD NAMES RIPLEY PARTNER
Heather Ripley (BBA '06, MAcc '06) was newly announced partner at leading national and international firm, Alston & Bird. In her role as a tax lawyer, she combines her experience at Terry College and Harvard Law School to help her clients navigate the complexities of U.S. federal and international tax laws. She was recently interviewed by Law.com for their "How I Made Partner" feature where she shared the importance of forming and maintaining relationships as well as producing good work and solutions. "Between the pandemic and new administration, there has been and will continue to be a lot of new legal developments. Try to stay abreast of those developments and how they could affect clients—consider teaming up with others to provide internal or external guidance". Heather has received many accolades over the past few years including recognition in the UGA Alumni Association's 40 Under 40 class of 2016. When she is not practicing law, she spends her time creating award-winning artwork including paintings, illustrations, murals, and even the Terrell Hall bulldog statue outside of the UGA Admissions office. You can follow her on the Alston & Bird tax blog to read about current issues and events in international, federal, state and local tax and wealth planning related to business.
Pictured left to right: Jimmy Allgood, Roy Reeves, Jennifer Frum (vice president of Public Service and Outreach) and Matt Bishop (director of the J.W. Fanning Institute of Leadership Development).
REEVES LEAVES LASTING IMPACT ON ARCHWAY PARTNERSHIP BOARD
Colquitt County bids farewell to Roy Reeves, BBA '81, as his 15 year tenure with the Archway Partnership board comes to an end. As one of the founding leaders, Roy chaired the executive committee for the Colquitt Archway Partnership, a UGA Public Service and Outreach program, for 12 years. The program was piloted in Colquitt and has now served 13 Georgia communities including Grady, Hart, Pulaski, and Washington. Roy is credited for facilitating support from UGA faculty and staff to identify and address needs and opportunities throughout the district. In 2017, he was presented with the inaugural Innovation in Community Leadership award for his decades of public service, by the University of Georgia. "His leadership in public education, the faith community, youth development, and community engagement has resulted in hundreds of emerging leaders being trained to take on community leadership roles," said Matt Bishop, director of the J.W. Fanning Institute for Leadership Development, when he presented the award during Fanning's annual Community Leadership Conference. Reeves' servant leadership extends to additional volunteer work with the Moultrie Kiwanis Club, United Way of Colquitt County, and the Moultrie-Colquitt Chamber of Commerce. He will continue to partner with the university in his role on the J.W. Fanning Institute advisory board.

For more information about this project visit UGA Archway Partnership website.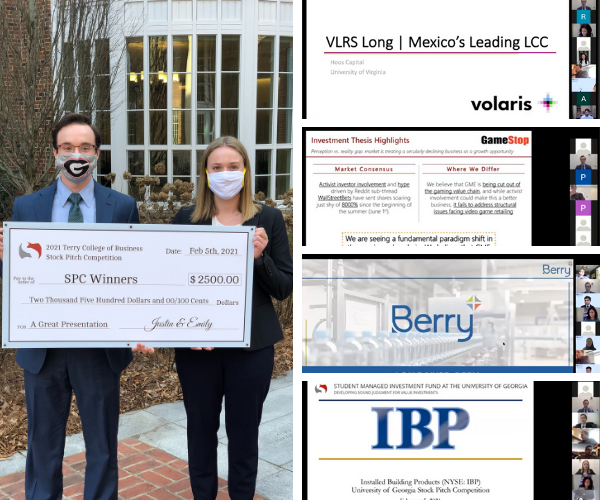 Pictured above: Justin Horne, SMIF President & SPC co-Chair and Emily Gonsoulin, SMIF Vice President & SPC co-Chair
HISTORICAL YEAR FOR STOCK PITCH COMPETITION
On February 5, the Terry College of Business hosted the 7th annual stock pitch competition, sponsored by the Department of Finance and the Student Managed Investment Fund (SMIF). This year was unique in that it was the first one held virtually. The virtual format created a new opportunity for many students that would not have been able to participate otherwise. This brought the competition a record number of applicants that produced 25 teams from peer and aspirant universities around the country. This pivot would not have been successful without the support from the SMIF board, led by Terry College alumni board member, Allison McLeod; faculty members Jeffrey Netter, Annette Poulsen, and Johannes Kohler, as well as the outstanding group of volunteer judges. The judges had a difficult time narrowing down the winners due to the high-caliber presentations from each team. Ultimately, the winners and stock presented were as follows:


1st Place (1st Place ($2,500): University of Virginia – Volaris (NYSE: VLRS)
2nd Place ($1,000): University of Texas at Austin – GameStop, short (NYSE: GME)
3rd Place ($500): University of California, Berkeley – Berry Global Group (NYSE: BERY)
4th Place: University of Notre Dame – Installed Building Products (NYSE: IBP)
You can visit the SMIF website for more information about the competition and how to get involved.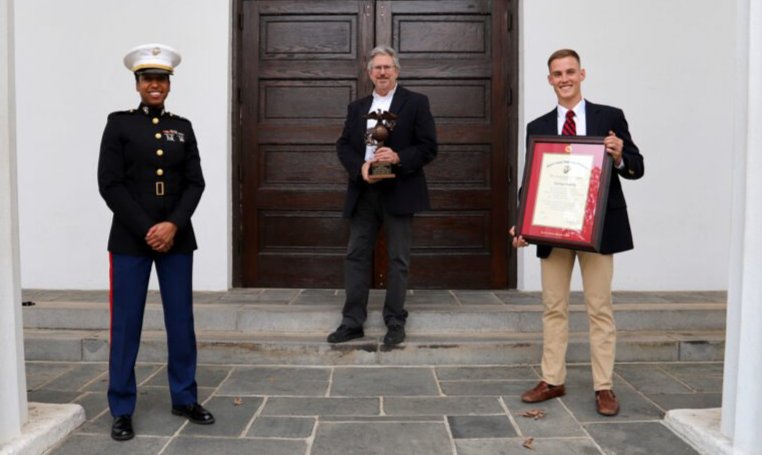 Pictured left to right: Capt. Alicia Chambers, U.S. Marine Corps officer selection officer; David S. Williams, associate provost and director of the Honors Program; and George "Tripp" Koenig, UGA senior. (Photo by Stephanie Schupska)
TERRY STUDENT RECEIVES TOP MARINE OFFICER TRAINING AWARD
The Marine Corps Commandant's Trophy was presented to George "Tripp" Koenig on March 12 for receiving the highest aggregate score in leadership, academic performance, and physical fitness during the six-week Platoon Leaders Class. He received recognition for his time in Quantico, Virginia completing the U.S. Marine Corps Officer Candidate School. "The Commandant's Trophy is definitely one of those awards you can't win alone," said Capt. Alicia Chambers, Koenig's Marine Corps officer recruiter. "Tripp was able to be a selfless leader to help out his peers, to make his entire unit more cohesive as they attacked missions together and accomplished them together." Koenig is an Honors student and senior finance and international business major at Terry College. The award is given to both the recipient and the university they attend. Associate provost and Director of the Honors Program, David S. Williams, was present to accept the award on behalf of the university. Following his graduation in May, Koenig will commission as a second lieutenant later that month. In November, he will attend The Basic School in Quantico, and after six months of training, he will be assigned his specialty.
To read more about Koenig's recent recognition, visit UGA Today.
Join us on TerryConnect our online networking platform, every Tuesday, for an exclusive virtual networking opportunity. As Alum of the Day, these individuals will be available to answer your questions regarding their industry, company, and professional journey. We invite you to join the conversation by posting questions to the discussion board or reaching out to our Alum of the Day via direct messages. Don't miss this exciting opportunity to expand your network!
Register now for the Terry Student & Alumni Virtual Networking Night to connect with Terry College undergraduate students and alumni.
Hear from Chick-fil-A triple franchisee and author of Irrational Kindness, Kevin Williams, and participate in breakout groups facilitated by Terry College Board members.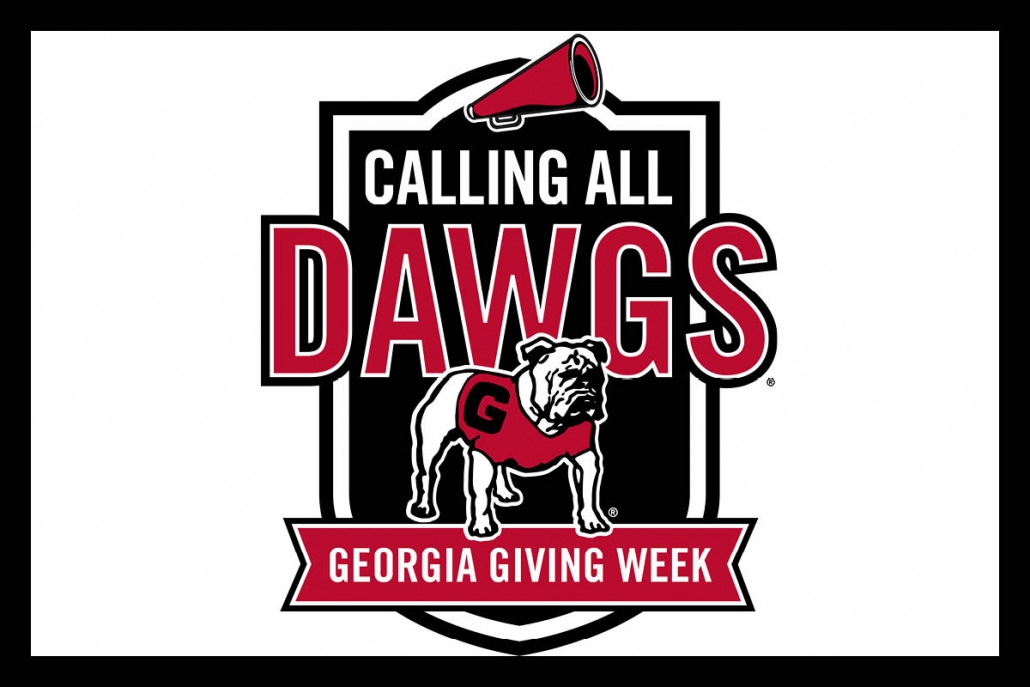 Mark your calendars starting April 17! For seven days in April, we're "Calling all Dawgs" to support the Red & Black. That's 168 hours of unbridled, Bulldog generosity. Stay tuned for more information!


Anyone who's ever passed The Arch on their way downtown, ever rang the Chapel Bell, or ever felt that a "G" is more than a letter can make a difference and help build tomorrow today at UGA.

Follow us on social to see what's happening with Terry alumni!
Have news to share with us?
Let us know!
Click here to send us a message.
Copyright © 2021 Terry College of Business
Our mailing address is:
Terry College Office of Development & Alumni Relations
University of Georgia
600 S Lumpkin St
Athens, GA 30602